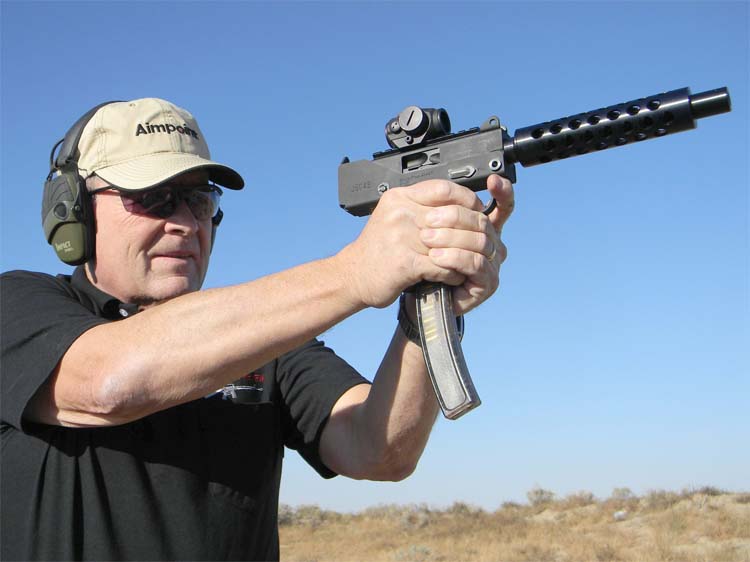 Masterpiece Arms has long been known as the "company that fixed the Mac-10". The Mac-10, as it started life when made by Gordon Ingram in the 1960's, was a very reliable and robust submachine gun. It later lost its well deserved reputation for being one of the most trouble free subguns when "other" companies started to produce this compact piece of firepower. Masterpiece Arms has changed all of this and has brought the Mac-10 firearm back with a vengeance. They call their guns the Defender series and they are the most reliable and well made Mac's ever produced.
The guns are all CNC machined and all parts fit and function perfectly. When Ingram introduced the first Mac-10's he offered it in two calibers, 9mm and .45acp. These first guns were select fire and had collapsible shoulder stocks. The guns boasted a lot of firepower in a very small package. Later another Mac was introduced, the Mac-11. This gun was chambered in .380 acp and was even smaller that the Mac-10. It was so small in fact, this author remembers the advertising campaigns showing the little gun compared side by side with a Colt 1911 pistol and they were both about the same size. This tiny buzzgun has a cyclic rate of around 1300 rounds per minute depending on the ammo used. Because all of the MAC series of guns fired so fast they were very expensive to feed even at yesterdays ammunition prices. In the late 1970's and through the 1980's there were several attempts to manufacture .22 LR conversion kits for both the Mac-10 and Mac-11 guns. These attempts had varying degrees of success. Some worked well and some didn't work, no matter what ammunition you used in them. My friend Bill Fleming of Fleming Firearms built one of the best. His conversion used Ruger 10/22 magazines that stuck out the side of the upper receiver much like a sten gun. This unit consisted of an entire barreled upper receiver that you just swapped with the existing upper receiver. Talk about a fast firing gun, these conversions literally poured brass from the ejection port.
Masterpiece Arms makes the Defender series of handguns and rifles in both 9mm and .45acp. They are made in both pistol and carbine versions. Now they have introduced a new pistol in their Defender series of firearms. Designated the MPA22, the gun is chambered in .22 long rifle. It is not a conversion. It was designed internally from the ground up as a .22 firearm. It is very small. In fact it is the same size as the Mac-11 in .380. The gun is semi-auto with no provision for a shoulder stock and has a 5 inch barrel which is threaded 1/2 X 28. It is fed by 25-round magazines that are designed and built by Black Dog Machine LLC. The magazines are transparent smoke colored so you can see the rounds remaining. The magazines are very easy to disassemble for cleaning which is nice as .22 LR ammunition is inherently dirty when fired. The operators manual lists the magazines as 25 rounds but the authors mags would hold and function the 30 rounds in them. It's a nice touch that Masterpiece Arms decided to thread the barrel and offer it as standard equipment. It helps the MPA22 look like its big brothers and makes adding a barrel extension or suppressor very easy.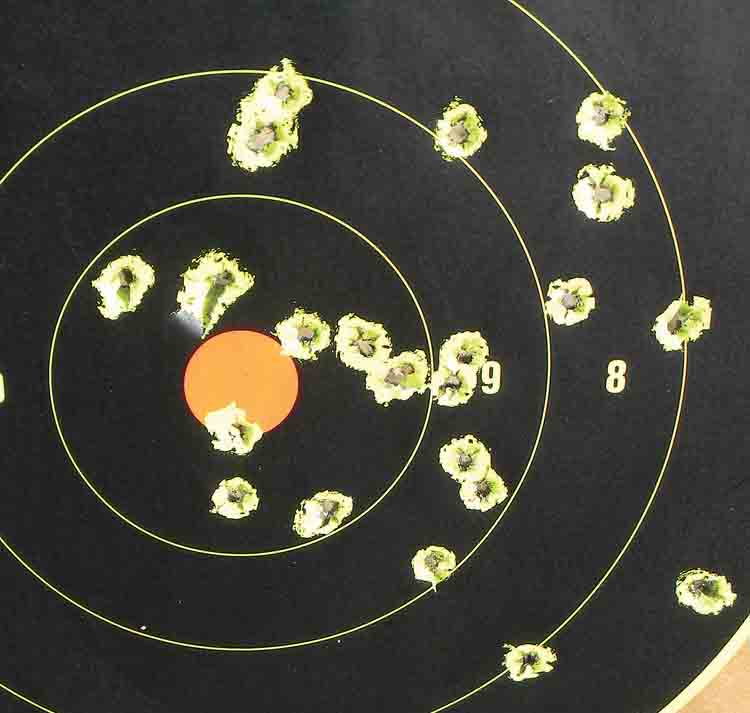 The MPA22 comes in two different models. The first is the MPA22T that looks like the traditional series of Mac pistols and subguns. It has a cocking knob located on the top of the upper receiver which rides in a corresponding cocking slot. The other model is the MPA22SST and has a side mounted cocking handle. The side mounted handle leaves the top of the upper receiver open to accept a 4.5 inch optic rail. This model is the subject of our test.
The MPA22 comes from the factory in a nice plastic case that is big enough to hold the pistol, magazines and some accessories. It is lined with egg crate foam, is lockable and features secure latches. The guns comes standard with one 25-round magazine, a solid aluminum barrel extension (which looks like a suppressor), and a magazine loading tool. The author found that it was easier to skip using the loading tool and just load the mags by hand. They load very easy and 25 rounds can be loaded in record time. A ventilated barrel shroud is available as on option.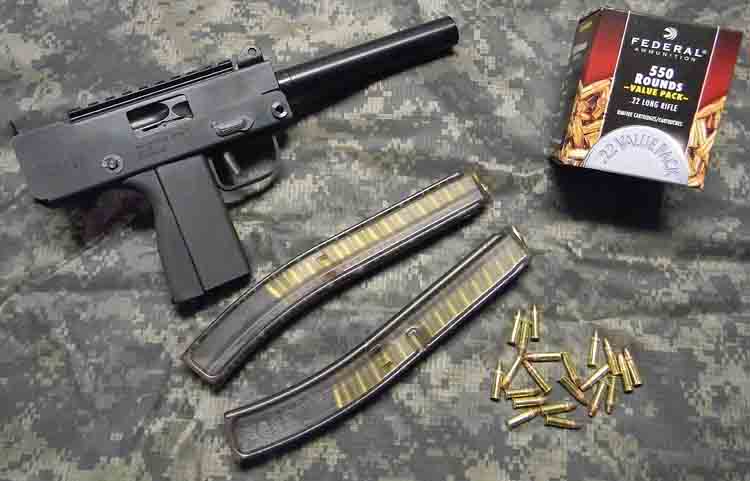 When the gun was sent for testing I had a conversation with Jimmy Payne, co-owner of Masterpiece Arms, discussing different attributes of the gun. He told me to try using Federal Value Pack ammo that was available most anywhere. I told him that I always used CCI Mini-Mags when I tested a gun chambered in .22LR. He recommended trying several different kinds to see what the gun liked best. So I tried about 10 different brands and styles of .22 shells. I used hyper-velocity ammo like CCI Stinger as well as Remington Subsonic. Like Jimmy said the gun runs the best using Federal Value Pack. This is great as it's usually the cheapest anyway. As for the other brands that I tried, let's just say if I had read the manual I would have known what Masterpiece Arms recommended.
I chose to test the MPA22SST model as I wanted to try using the gun with an optic attached. The gun comes with the same pressed metal type sights that the first MAC's had. They are adequate for a fast firing submachine gun at close range but not for a serious plinker handgun. For a small gun like this I chose the Aimpoint Micro T-1. For those who haven't tried one of these diminutive red dot sights they are of the highest quality, feature long battery life and are nearly indestructible. They also weigh next to nothing. The Micro comes in three models, the H-1, the R-1 and the T-1. All feature different finishes and all have features that allow the user to tailor the scope to his or her needs. The T-1 features 12 brightness settings, 4 for night vision and 8 daylight settings, one of which is extra bright. It is a 1X non-magnifying scope that is parallax free. The Micro can be used as a primary sight or it can be piggybacked with larger magnifying scopes. It has a 4 MOA dot and battery life is advertised at 50,000 hours. If that's not enough it is even submersible to 80 feet.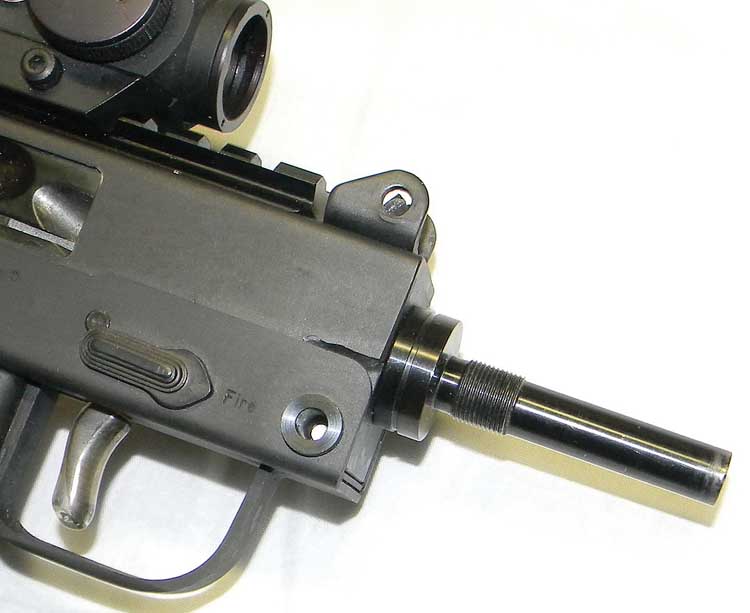 Loaded with Federal .22 ammo the gun is a plinkers dream. It spits out 25 rounds as fast as you can pull the trigger. It doesn't just spray bullets everywhere, like it's submachine gun cousin, it is actually a very accurate little gun. Five shots groups fired from a rest, using the Aimpoint, measured around 1 inch at 25 yards. As for reliability, as I said before, it's fine as long as you use Federal Value Pack. Everything else I tried caused as least one or two malfunctions per 25 round magazine. As long as I stayed with the Federal it ran like a sewing machine. As the gun has a threaded barrel I just had to attach a suppressor to the gun. I switched to Remington Subsonic and still had a few malfunctions (the owners manual recommends not using subsonic ammo). Mostly it seemed to be failures to fully eject. It seemed like the Remington just didn't have enough "oomph" to always cycle the gun. Maybe a subsonic round with a heavier bullet would cure the problem. It would be a shame to have such a "cool" little gun with a threaded barrel and not be able to quiet it down. A word of warning is in order here. There is a full 1 5/8 inch of barrel extending past the threaded part of the barrel. This presents a problem as it makes the barrel extend into the suppressor. With that length of barrel extending inside the suppressor the barrel will come in contact with the rear "blast" baffle on most suppressors and not allow the suppressor to screw all the way on. Masterpiece Arms is in the process of making their own suppressor to alleviate this problem.
My conclusion on the Masterpiece Arms MPA22 is that it is a very well built plinkers delight. With the right ammunition it will go bang every time you pull the trigger and equipped with an optic sight it is capable of outstanding accuracy. It also has a "cool factor" that is way above any other .22 long rifle handgun out there. If shooting one of these doesn't put a smile on your face there's something wrong.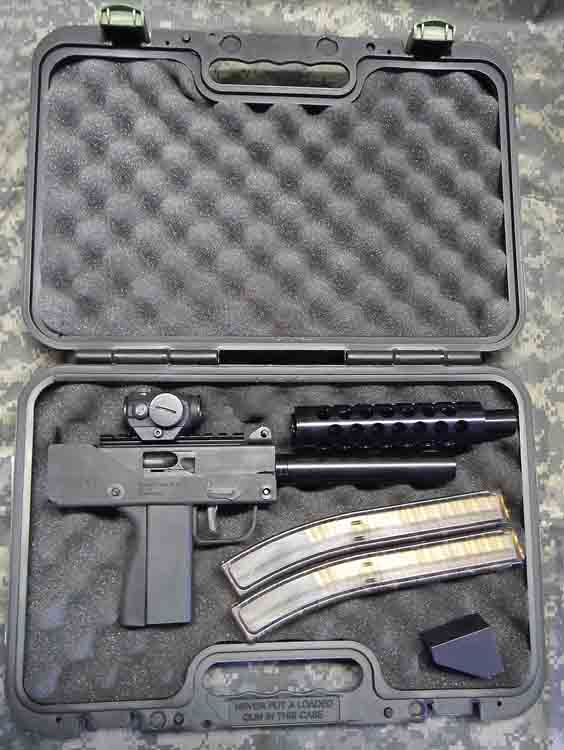 Masterpiece Arms, Inc.
105-A Kingsbridge Drive
Carrollton, GA 30117
Phone: 1-770-832-9430
Fax: 1-770-832-3495
Website: www.masterpiecearms.com
Aimpoint, Inc.
14103 Mariah Court
Chantilly, VA 20151
Phone: 1-703-263-9795
Fax: 1-703-263-9463
Website: www.aimpoint.com
This article first appeared in Small Arms Review V14N5 (February 2011)