By Todd Burgreen
The urge to capitalize on AR modularity, firepower, ergonomics and accuracy potential with cartridges other than a 5.56mm cartridge has constantly appealed to the shooting community. Rock River Arms (RRA) is a manufacturer that tapped into this sentiment early on. RRA models and configurations have grown significantly since 1996. Rock River Arms was founded in 1996 by brothers Mark and Chuck Larson. Their initial product focus consisted of custom 1911 pistols before turning their attention to AR-style rifles. The attention to detail associated with creating Match-grade 1911s was transferred over to AR production methods. RRA quality control was rewarded within only a few years of emerging on the AR scene, as RRA was quickly brought to the forefront by winning contracts to provide AR rifles to the DEA and FBI. This has been followed up with multiple other procurement deals with federal, state and local law enforcement entities.
Two recent RRA firearm introductions, the BT-3 Precision .308Win and BT-9 9mm, highlight Rock River's adaptability. The 18-inch barreled BT-3 and 4.5-inch barreled BT-9 show the full gamut of Rock River Arms' capabilities and configurations involving the AR; sort of a "long and short" of AR life.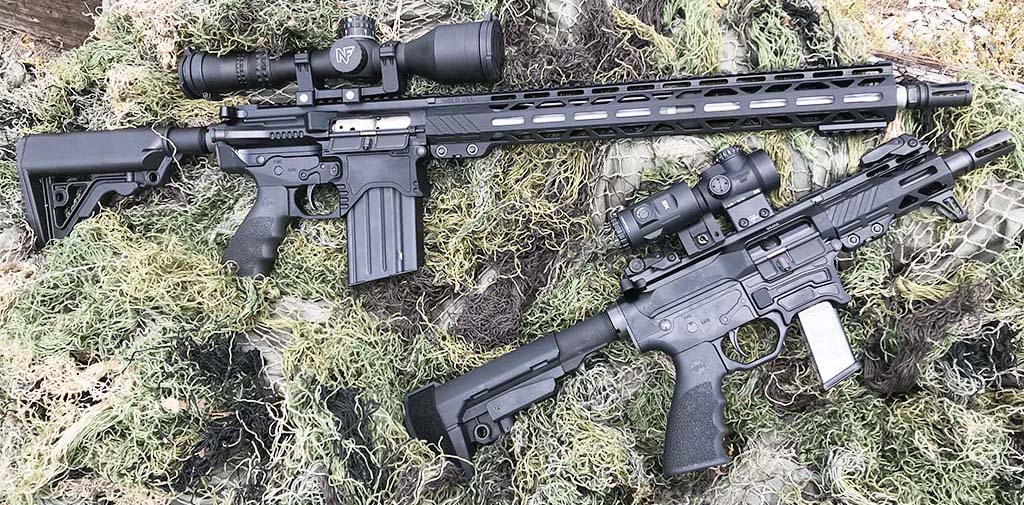 RRA's goal with the BT-3 is to wring the most out of Eugene Stoner's design in terms of reliability and accuracy. These two objectives are often at odds with each other. The tight tolerances associated with accuracy can hinder reliability if not applied properly. By improving fit and finish, including the use of a billet lower receiver with the BT-3, RRA sets itself apart from the majority of AR manufacturers in existence today. The BT-3 Precision comes with a fluted 18-inch cryogenically treated barrel. The BT-3 Precision features an extended, free-floated 17-inch M-LOK forend rail system. The BT-3 Precision being direct impingement versus piston-driven assists in maintaining weapon balance. The accuracy potential of a quality AR-type weapon is often on par or superior to a bolt action.
The Rock River BT-9 braced pistols are the latest twist on what Colt started in the early 1980s with its Fourth Generation SMG Model 635 9mm. The Colt Model 635 was patterned off of the M16/AR platform. Other differences between a 9mm AR and a 5.56/.223 AR are related to the 9mm AR working via blowback. The bolt carrier on the 9mm AR needs to be much heavier due to this operating method. It is one piece as compared to the 5.56/.223Rem rotating bolt head. The bolt still recoils into the buffer tube located in the stock; thus, side folding stocks are not an option. The 9mm bolt face is integral to the bolt, and the bolt itself is totally different in configuration due to making room for an ejector that protrudes up from the magblock sliding along its length. Lastly, there are no rotating/locking lugs on the 9mm bolt face.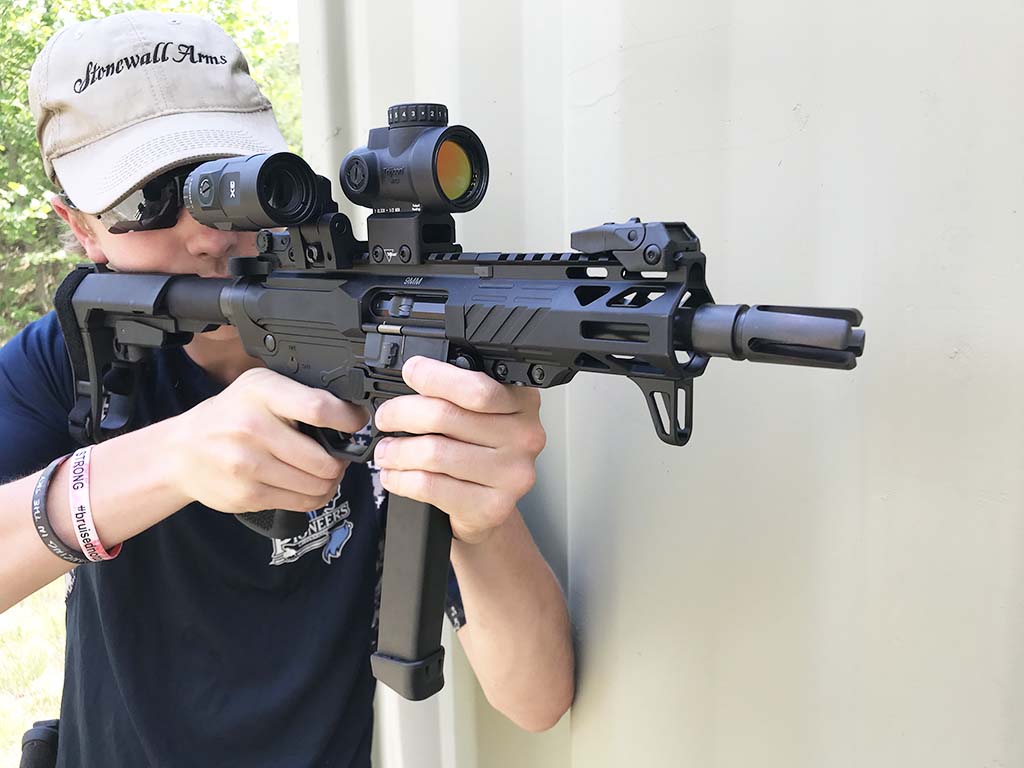 The Rock River BT-9 has eschewed using Colt or modified Uzi magazines to feed rounds from. The BT-9 is GLOCK-magazine compatible. While the original Colt was select fire, the RRA BT-9 braced pistol evaluated in this article is not. Full-auto is overrated unless you are the lucky individual to have a fun switch-equipped weapon. In all seriousness, the semiauto-only path is not that much of a compromise due to the weapon retaining the handling characteristics of the original design.
Rock River offers a full line of BT-9 pistols with 4.5- (featured herein) 7- and 10.5-inch barrels along with a BT-9 rifle featuring 16-inch barrel. The RRA BT-9 weighs just over 5 pounds with the 4.5-inch barrel surrounded by a free-floated, M-LOK-compatible quad rail and measures 23.5 inches with a 5-position adjustable SB Tactical® SBA3™ brace extended. A Smith Enterprise Vortex® flash hider is mounted with .5-inch-36 thread pattern. The 4.5-inch chrome moly barrel features 1:10 twist rate. This twist rate is well suited to take advantage of the full range of 9mm loads—115 grains to 147 grains. The 4.5-inch barrel gets the most out of the 9mm, while allowing for a suppressor to mount while staying below what a 16-inch barrel length and weight would be even with a suppressor mounted.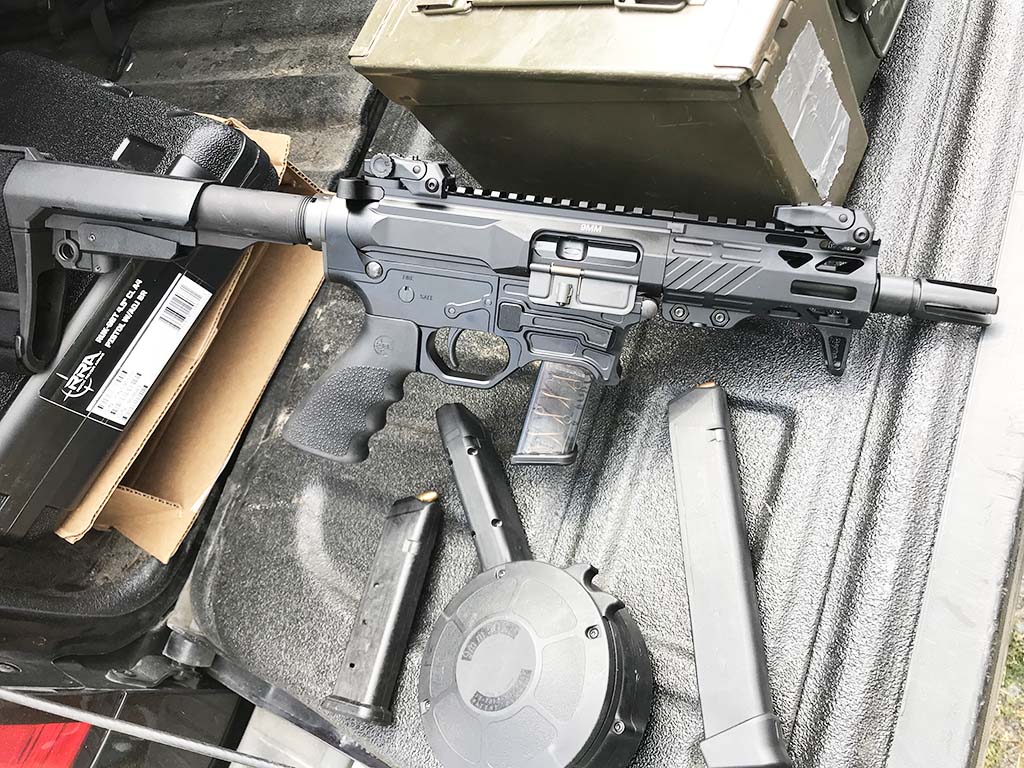 The Rock River BT-9 is an excellent example of a classification of weapons that can be no longer ignored or not taken seriously—the braced pistol. The number of pistol models stemming from what was typically associated with rifle-pattern weapons has exploded. Every major manufacturer is now compelled to offer a pistol version of rifle models. AR-type pistols dominate the brace pistol genre due to not only the overall popularity of the AR in the U.S. but also the way the AR buffer tube interacts with the user. Early AR pistols relied on the buffer tube only for user interface. People forget that the plethora of brace options were not present initially. The whole trend exploded with the arrival of braces pioneered by SB Tactical. The AR buffer tube proved an ideal, natural mounting point for braces.
For individuals who have no legal access to an NFA Class 3 Short Barrel Rifle (SBR), the brace-stabilized pistol may well be the closest they can get to achieving SMG-like firepower in such a compact package. Along these same lines, the expansion of states issuing concealed carry permits and other states honoring these permits are another reason why braced pistols are so popular currently. The ability to maintain handgun status with a semblance of SBR performance cannot be resisted. The legal classification as a handgun offers users who have a concealed carry license a certain amount of flexibility compared to a true rifle or NFA-SBR-classified weapon.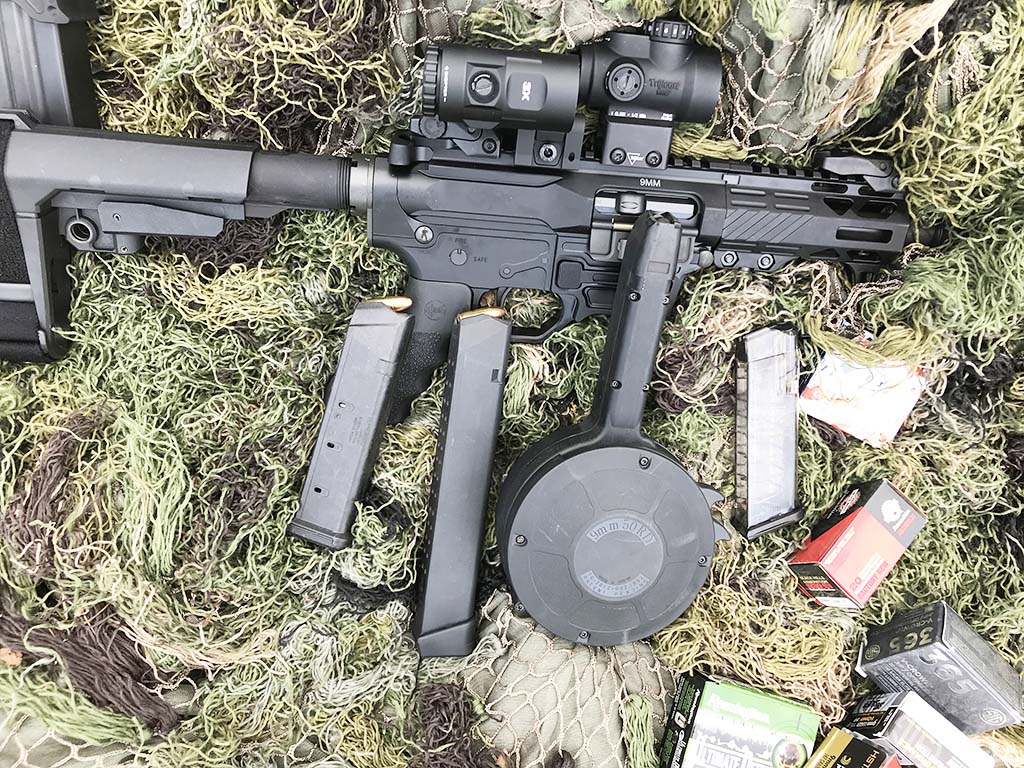 To exploit the Rock River BT-3's versatility, a Nightforce® NX8™ 2.5-20×50 F1 optics was mounted. This scope has a low-power setting for quick target acquisition at close range, and a turn of the knob provides longer or precision shots as the mission dictates. The BT-3's Picatinny flat-top receiver allows for one of the sturdiest and versatile scope-to-rifle connections available. Variable power magnification optics are becoming more the norm in military and law enforcement circles, especially as available power ranges expand.
A Word on Nightforce
Most have no idea what they are missing in terms of rifle optics offered by Nightforce. Nightforce produces some of the most diversified, high-performing scopes on the market. The low magnification setting with wide field of view, edge-to-edge clarity and illuminated reticle options allow for extremely fast, accurate target acquisition. This is an ideal scope for when fractions of seconds count, and a lethal shot placement is a must. The Nightforce NX8 2.5-20×50 F1 can handle close-quarter situations and much longer shots with a quick turn of the magnification dial.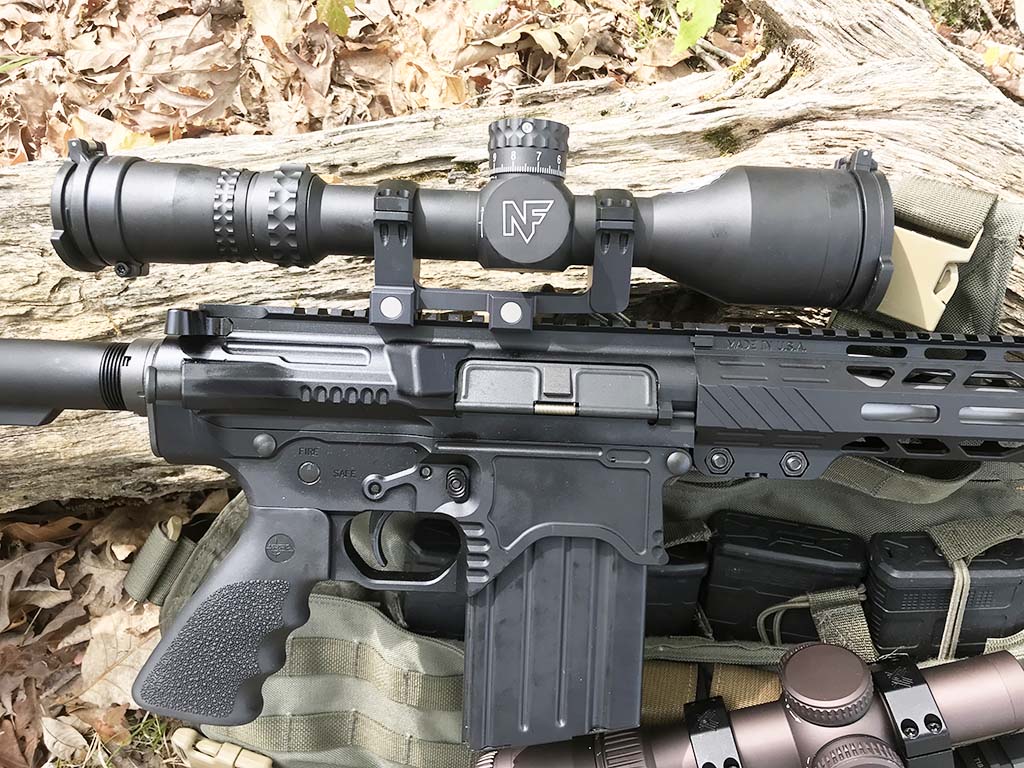 Accuracy Tests
Various .308Win loadings from Remington, SIG SAUER and Federal provided the basis of accuracy tests. No ammunition, including full metal jacket ammunition, generated greater than 1.75 MOA accuracy levels. The direct-impingement BT-3 AR proved reliable throughout this evaluation with over 350 assorted rounds each sent downrange. The Rock River BT-3 initial group was fired with SIG SAUER Elite 168-grain BTHP. Three rounds nestled into a ¾-inch cluster at 100 yards.
Echo Valley Training Center has been hosting the Hesco® Zombie Invitational for the last 6 years. The Zombie Invitational is a precision rifle, pistol and shotgun match with a zombie theme. A participant is tasked with carrying all weapons, ammunition and supplies for the entire day of activities … no returning to vehicles or campsites to top off ammunition or resupply. We all know that a round to the brain is the best way to deal with a zombie; thus, precision is the key for all the timed stages encountered. The Rock River Arms BT-3 was evaluated using this format. There is no better way to get a feel for a weapon than humping it around all day and then being timed in front of your peers while engaging targets. As expected, the BT-3 was ideal for the longer range engagements where hitting a 4-inch round target at 300-plus yards is no easy task. The CQB stages, thought of as the realm of the AR-15, were handled without issue with the BT-3 as well.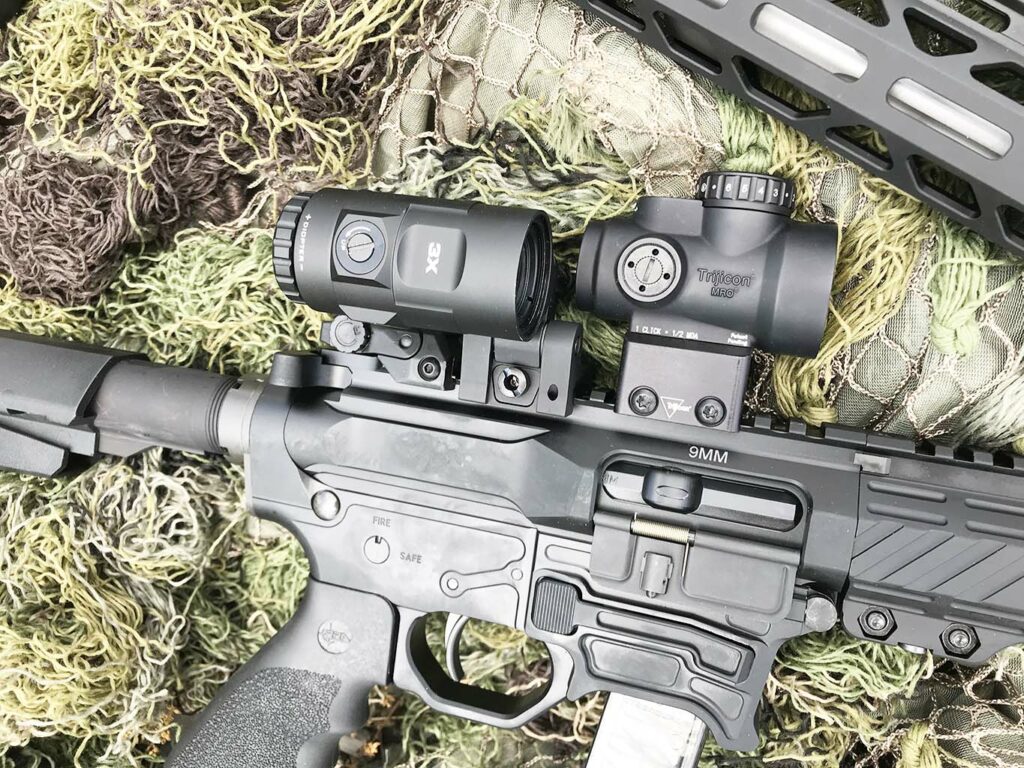 Even though chambered in the 9mm pistol cartridge, the BT-9 braced pistol is a much more potent package than any handgun due to its increased accuracy, and therefore effective range, and ammunition capacity. The muzzle blast differential between a 9mm carbine versus an obnoxious rifle muzzle signature is further accentuated in confined spaces—such as inside a home if serving in a personal defense role. The old standard touting the advantage of having both a carbine and handgun chambered in the same caliber should not be casually dismissed, especially if one is not supported by an organized logistics chain. The Rock River BT-9 further accentuates this by accepting GLOCK-compatible magazines, including 33-rounders.
The RRA BT-9 benefits from proven M16/AR-15 ergonomics, operating controls, ease of accessorizing, sights and other modifications that have evolved over the years since the original Colt Model 635 was introduced; not to mention broad familiarity with the M16/AR-15 platform in the shooting culture. The BT-9 this author tested featured a free-floated quad rail and A4 flattop receiver, allowing for easy mounting of accessories. A conscious decision was made to minimize any weight added, and any accessory was scrutinized for its benefit added versus its weight added.
Drills quickly moved past stand-and-deliver drills to more dynamic drills involving movement, magazine reloads and firing from behind cover. A Trijicon® MRO® (Miniature Rifle Optic) HD was mounted. The MRO HD expands upon on the original MRO by offering both a 2MOA dot and segmented reticle more likely found in a laser holographic sight than a sealed reflex sight (SRS). For certain scenarios, a Trijicon 3x Magnifier was mounted behind the MRO HD. The MRO HD was designed to mate up with the Trijicon 3x Magnifier. The Trijicon Magnifier is on a tilt mount, allowing for it to be swung out of the way until a situation calls for its use. The MRO HD large tube provides a superior field of view compared to many competitor red dot sights. For the civilian, the Trijicon MRO HD and 3x Magnifier combination is worthy for consideration as it enhances performance via flexibility of offering pure red dot or magnification for longer ranges.

The author decided to concentrate on using the Rock River BT-9 in training scenarios involving team tactics and patrolling to contact through Echo Valley Training Center's (EVTC) 360-degree MOUT Village and Jungle Walk ranges. A wide range of 9mm loads were tested consisting of multiple bullet profiles and weights. 115-, 124- and 147-grain JHP and FMJ loads from Black Hills, Federal®, Hornady®, Remington and Winchester® were tested. The RRA BT-9 SBR was sighted in at 1-inch high at 25 yards which gives a 50-yard zero and -9-inch low at a 100-yard trajectory. Range sessions consisted of nearly 500 rounds to gain confidence in the RRA BT-9's reliability. The first evaluation was a function test consisting of dumping multiple magazines in quick succession. Nine millimeter ARs have a reputation for being finicky at best and cranky at worst. The RRA BT-9 exhibited neither of these characteristics.
The case can be made that the Rock River Arms' BT-3 and BT-9 combine to satisfy any imaginable scenario encountered. All of the Rock River features are intended for maximizing effectiveness during a fight or realistic training on the range. The key component is reliability. No matter how accurate or powerful chambering is, if it does not work 100% of the time, it is a liability. Selection of a fighting weapon is as personal as it gets. The Rock River BT-3 and BT-9 are intended for serious practitioners who plan on using them for patrolling, training or defense.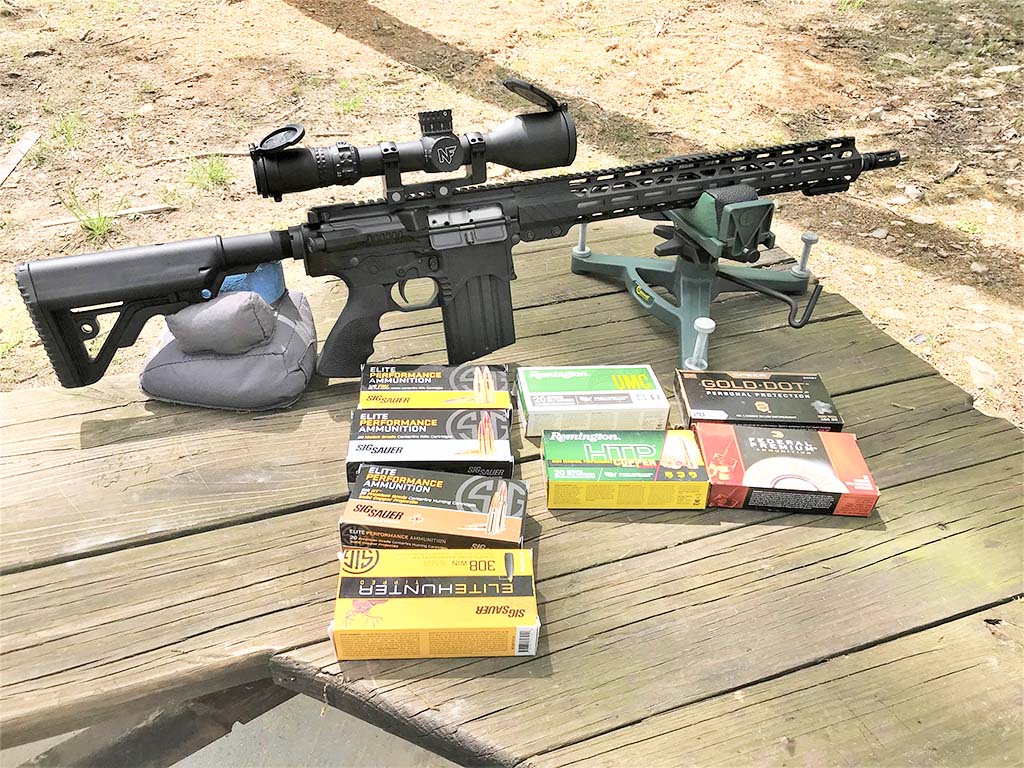 SPECIFICATIONS:
Rock River Arms BT-3
CALIBER 7.62NATO
BARREL 18in cryo-treated
OA LENGTH 36.5in–39in
WEIGHT 8.5lb empty and no scope
ACTION Semiautomatic
CAPACITY Magpul® PMAG® 10-, 20- or 25-round detachable
PRICE $1,550
Rock River Arms BT-9
CALIBER 9mm
BARREL 4.5in
OA LENGTH 23.5in with SB Tactical SBA3 brace
WEIGHT 5.1lb empty and no scope
ACTION Semiautomatic
CAPACITY Detachable GLOCK-compatible magazines
PRICE $1,380
Rock River Arms
rockriverarms.com
Nightforce Optics
nightforceoptics.com
Trijicon
trijicon.com
Echo Valley Training Center
echovalleytraining.com
This article first appeared in Small Arms Review V25N2 (February 2021)