By Todd Burgreen
The operating standard for the combat shotgun is traditionally that of pump-action, fed via a tube magazine located under the barrel; John Browning showed the way with the Model 1897. There have been lever and bolt action shotguns as well, but these did not threaten the pump action's dominant status. This is based on the latter's simplicity of operation, reliability and ability to handle a multitude of ammunition types. While semi-automatic shotguns have showed capability, few have demonstrated the "hell and back" reliability necessary to gain the confidence of users. Leave it to the Russians to adapt their extremely reliable AK operating system to the combat shotgun, thus challenging assumptions of what a combat shotgun should be with a scaled-up, AK-style action fed from detachable magazines.
Unfortunately, politics has again denied access to Russian-manufactured weapons. Fortunately, Legacy Sports International has been able to access a source of Turkish-manufactured AK shotguns in the form of the Citadel RS-S1.
AK-Style Design
The Citadel RS-S1 uses a rotating bolt operated by gas-piston à la AK. For clarity's sake, Gennady Nikonov is the Russian designer responsible for taking Kalashnikov's AK design and adapting it into shotgun form. Thankfully, not believing in capitalism, the communists neglected to patent-protect designs. Obviously, a 12-gauge shell is much larger than a 7.62×39 rifle round. The 12-gauge's flat hull design further compounded design adaptation issues, especially in terms of magazine design. In brief, the rear and forward trunnions needed reinforcement, along with shortening of the op-rod piston and modification of the bolt carrier to permit shell clearance during the ejection process in the firing cycle. The bolt head and top cover opening were enlarged to allow the accommodation and clearance, respectively, of the larger 12-gauge shell face.
Though modified to meet import requirements via a mono stock that connects to a pistol grip, an AK operating system is still at the heart of the RS-S1 shotgun. The Citadel RS-S1 is all business with its matte black finished receiver and its enlarged-diameter, chrome-lined, 20-inch barrel, which includes internally threaded Beretta/Benilli-compatible chokes with a Modified choke provided. The RS-S1 is compatible with Molot Vepr accessories such as magazines, buttstocks and so on. Standard AK sights are present. However, the tilt-open dust cover with an integral rail over the receiver screams out for a red dot. A SIG SAUER ROMEO4 was mounted. The overall length of the RS-S1 is 40 inches, and its weight is 8 pounds. Two five-round detachable magazines arrive in the foam-lined hard plastic case. The magazines do feature a last round hold open feature as well as not requiring to be "rocked" into place as for a typical AK—simply insert straight into the magazine well. Both features are huge improvements to the original Russian Saiga design.
Operating Action
The AK operating action is the gold standard for reliability in assault rifles, with the Legacy Sports Citadel RS-S1 following this pattern. The RS-S1 is intended as for sporting/competition purposes, with an obvious default role to play in self-defense. We should guard against being biased against the AK-based magazine-fed system because of our proclivity for tube-fed designs. The magazine-fed RS-S1 positively impacts handling by locating the ammunition at the center of the weapon, which allows faster handling. The RS-S1 forces deviation from previously instilled training with tube-fed shotguns, such as "shoot 2 reload 2" tactics. The RS-S1 is closer to an assault rifle in its manual of arms than it is to the tube-fed shotgun most are more familiar with.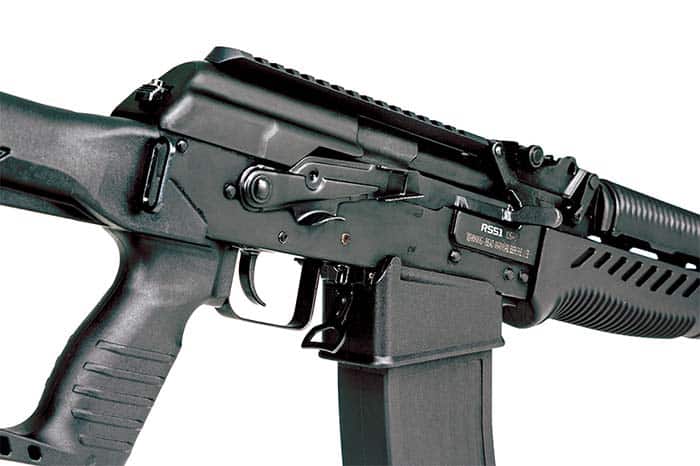 Firepower
The shotgun's utility should not be doubted or held in disdain once its role is understood. The "combat" shotgun has been around for centuries, dating well back to muzzle-loading era. The shotgun's popularity is derived from the ability to hit targets at moderate ranges better than any other weapon with its cone of firepower. British studies of the 1960 Borneo conflict and recent Joint Service Combat Shotgun Program show that "the probability of hitting [a] man-sized target with a shotgun was superior to that of all other weapons." This is referring to buckshot, which sends multiple projectiles downrange to inflict damage at up to 75 yards. The British study on battle statistics proved the shotgun to be the most effective short-range weapon, with a hit probability 45% greater than an SMG and 100% greater than an assault rifle. Yes, the smaller individual buckshot pellets are comparable to a small-caliber handgun in wounding potential, but firing multiple projectiles increases the likelihood of hits and therefore damage.
There is something re-assuring about the power of a shotgun for any close-range engagement, which is what most civilians and Law Enforcement face. In terms of personal defense, buckshot loads predominate. A multitude of load options do exist. There are various buckshot loads/sizes. We will confine our discussion to #00 buckshot and #4 buckshot. #00 is generally loaded with eight to nine .33-caliber pellets weighing 54 grains each. #4 buckshot utilizes .24-caliber pellets weighing 21 grains each, with up to 27 pellets on board depending on the brand. As a side note, many advocate the use of #7.5 or #8 birdshot in a shotgun for use in a home to limit any chance of overpenetration. A column of birdshot at close range, such as across a room, is lethal due to the minimal dispersion of the shot column, while penetration characteristics are simultaneously minimized due to the lightness of the individual pellets.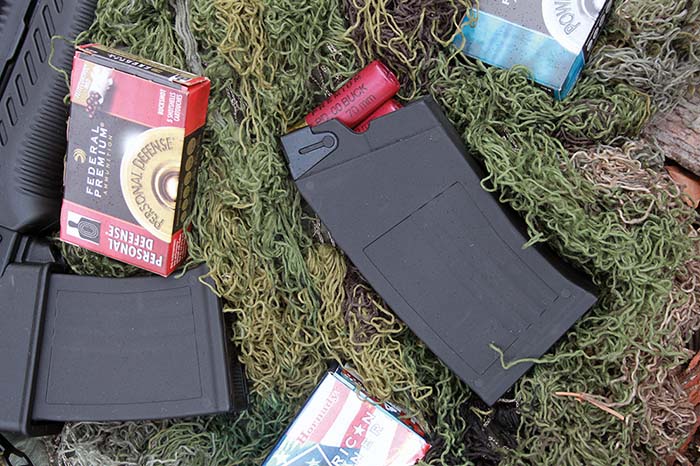 The Legacy Sports Citadel RS-S1 was tested with Hornady American Gunner Reduced Recoil #00 and Federal Premium Low Recoil FLITECONTROL #00 buckshot (9 #00 pellets). While both of these reduced recoil loads functioned/cycled the RS-S1 fine, other reduced recoil loads did not. This is not the fault of either shotgun or ammunition; just the way it is when it comes to running reduced recoil shotshells in any semi-automatic shotgun. RS-S1 owners, or anybody else with other brands of semi automatic shotguns are urged to proof all loads before considering serious use.
The Federal Premium buckshot load utilizes a special wad for tighter buckshot patterns—thus longer effective range. However, the role of the RS-S1 as a close-range blunderbuss could justify the use of "normal" patterning buckshot represented by the Hornady American Gunner load. The newer buckshot loads with specialized wads could maintain too tight a pattern limiting its greatest attribute of lead dispersion at distances most associated with shotgun deployment. For example, the Federal FLITECONTROL at 20 yards produced patterns in the 6-inch range. The standard buckshot generated a 5-inch pattern at 10 yards. Users will have to determine what bests suits their needs.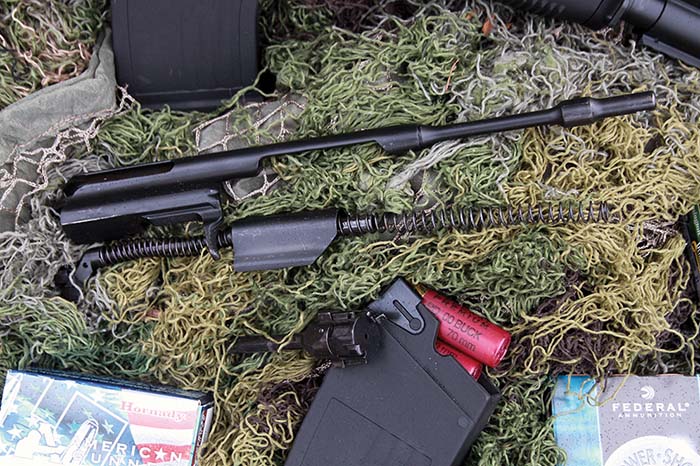 Supplementing the buckshot for testing was the Winchester PDX 1 12-gauge loading combining a 1-ounce slug and three-#00 pellets. The Winchester PDX 1 load harkens back to the "buck-n-ball" loads used by our forefathers against the British in the Revolutionary War and each other during the Civil War. The Winchester PDX 1 loads stretch preconceived 12-gauge lethality notions even further with its combination of slug and buckshot. Range testing of the Winchester PDX 1 raised eyebrows with its performance combining the best of both worlds for the combat shotgun—single projectile performance and 10-inch buckshot pattern spread out to 20 yards with one of the holes being made by the 1-ounce slug! If only one load is possible for use in a tactical shotgun, the Winchester PDX 1 may very well be it.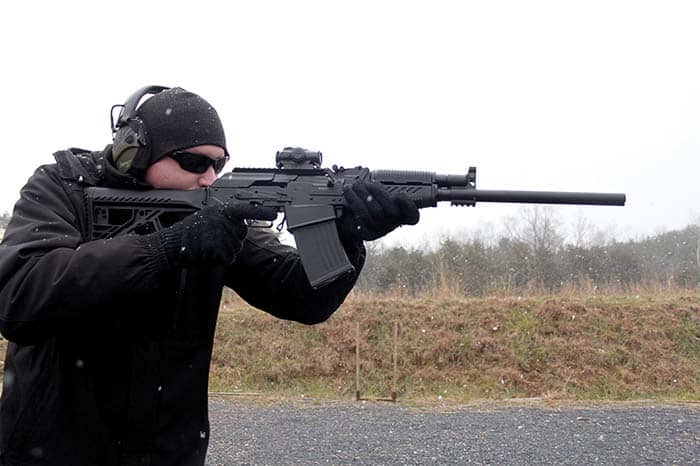 The Citadel RS-S1 is a close range hammer and was treated as such for this review. The shotgun was evaluated via drills involving moving between barricades; think emerging from a bedroom into a hallway or running and gunning in a 3-Gun match. Echo Valley Training Center (EVTC) range cars were utilized simulating responding to bad breath distance ambush. A couple hundred rounds comprising of buckshot, birdshot, and even slugs were fired from the RS-S1. No issues were encountered once certain low recoil rounds were removed from consideration. The RS-S1's long stroke gas-operated action is simple, effective, and reliable as expected considering it is derived from the AK operating system. Disassembly for maintenance is simple and allows for effective cleaning in minimal time. Anyone that is familiar with the AK rifle will be right at home on the Legacy Citadel RS-S1 shotgun.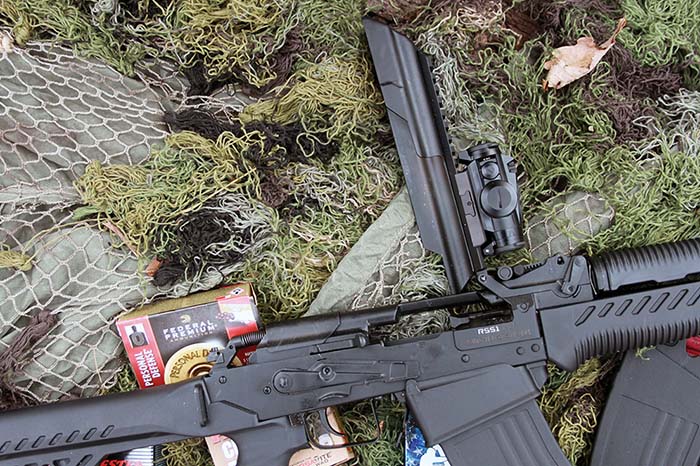 Smooth Simplicity
The Legacy Sports International Citadel RS-S1's simplicity/reliability and raw power exemplify why the 12-gauge continues to attract users. Eight or nine .33 caliber pellets smashing into a target is a fight stopper. Use in a competition setting is just as viable. The AK-type semiautomatic operating system is renowned for fast cycling and taming recoil, which is perfect for running through a 3-Gun course of fire. The ability to change magazines for reload versus shoving shells into a tube is a plus. The AK-like RS-S1 has its own unique characteristics that need to be accepted for the most efficient use of the platform. An oversized safety lever tab aids in safety lever manipulation. Unlike some other AK shotgun variants, the RS-S1 had no issue with locking in place a loaded magazine on a closed bolt. The bolt hold open feature was another advantage.
The SIG SAUER ROMEO4 sight proved an enhancement to the RS-S1. It is important to remember to mount a red dot as close as possible to the rail; that is, do not use an elevated setup more typical of an AR rifle. This will take advantage of the natural cheek weld present on the RS-S1. The ROMEO4 gave nothing up in terms of CQB ranges, especially with the "circle with dot" reticle chosen. A great handling test for any shotgun, especially one to be used in a quick reacting scenario, is shooting clay targets. This also verifies reliability with ammunition with less recoil impulse than slugs or buckshot and helps get more rounds fired to verify operating soundness. Winchester #7.5 shot was used with no issue. The ROMEO4 red dot had no problem at all while the eye focused on the flying clay target and the red dot sight led it.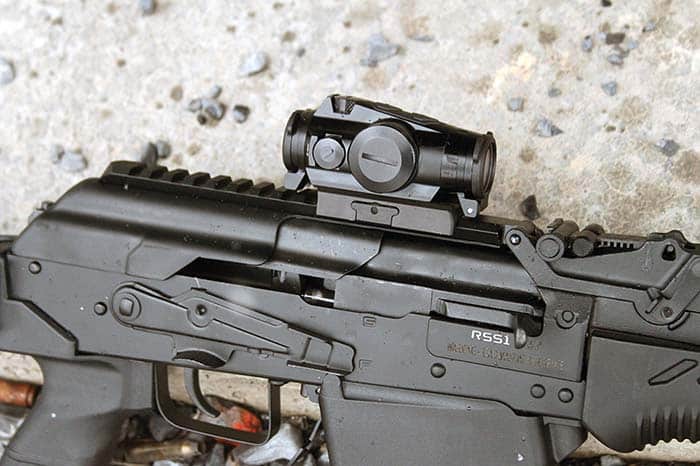 Worthy Alternative

The Legacy Sports International Citadel RS-S1 is a significant upgrade over other standard AK-style shotguns arriving in the U.S. Vepr-type magazines that insert directly into the magazine well and are not reliant on the bolt being back for loading are a nice touch. Finishing this sentiment is the integral rail on the tilt-up dust cover ready made to mount an optic. The magazine-fed RS-S1 is a different beast entirely to an eight-round tube-fed shotgun. Time with the Legacy Sports International RS-S1 will convince you that the AK-style shotgun is worthy of consideration as an alternative to the tube-fed shotgun.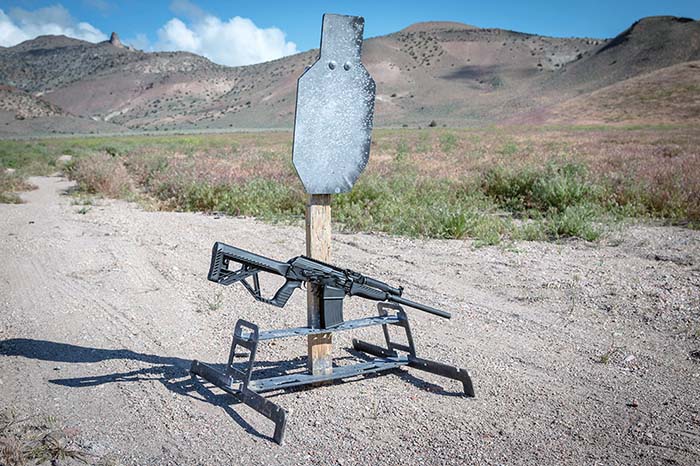 FOR MORE INFORMATION
This article first appeared in Small Arms Review V23N4 (April 2019)