By Dickson Ly
The first things that typically come to mind when someone mentions the country of Sweden are IKEA and Volvo. What most people do not know is Sweden, a neutral country for both World Wars, has a long history of arms manufacturing dating back all the way to the mid-1300s. Bofors was a world renowned manufacturer of artillery and cannons dating back more than 350 years and was so famous there was even a British movie made in 1968 called "The Bofors Gun." Saab is most known for its cars, but Saab Group—its aerospace and defence division—has a proven track record of producing military jets such as the famous Draken and Viggen and the current Gripen at their plant in Linköping. The Carl Gustaf recoilless rifle was first in use in 1948 and is still used by many countries today including United States and Canada. Saab's Gotland-class, diesel-electric submarines were able to penetrate the US Navy Carrier Battle Group during wargame exercises and are recognized as one of the quietest submarines in use today. There's no question that Sweden produces high quality, well-engineered goods for their own military as well as for militaries around the world.
This article, however, focuses on another Swedish invention—the modern red dot sight. I had the honor to be invited to visit Aimpoint in Malmö, Sweden for a factory tour. Upon my arrival to the facility, I noticed they hung not one, but two Canadian flags outside the building flying next to the Swedish flag as a warm welcome. That was certainly a nice surprise! At the building lobby, I was greeted by their President, Lennart Ljungfelt. Mr. Ljungfelt joined Aimpoint in 2003, and he previously spent 6 years working at Bofors, now part of Saab AB. He first came in contact with Aimpoint products when he was in the Swedish Army in the 80s.
The idea of a red dot sight was first conceived in 1974 by Helsingborg engineer John Arne Ingemund Ekstrand, who was an IPSC shooter who wanted to increase his shooting speed and accuracy. The story goes, while he was shaving one morning, he gazed into the concave shaving mirror and noticed that the reflection of a light on the wall behind him remained stationary when he moved his head. That is when the "light bulb" moment occurred. Ekstrand built a prototype sight using an empty cardboard paper roll, and he approached a few companies with the idea. One of these companies was run by a visionary entrepreneur named Gunnar Sandberg, and the Aimpoint company grew from this beginning.
At the time, except for some low production sights using the "Occluded eye concept," red dot sights powered by an LED (light-emitting diode) did not exist. This was a new and innovative concept. In fact, red dot sights were actually not seen through so shooters were forced to shoot with both eyes open. The disadvantage of this design was having to fool your brain into superimposing images of both eyes into one, which caused headaches after prolonged use for certain people.
This brings us to the "Aimpoint aiming philosophy." As per their research, most shooting engagements tend to occur between 0-650 yards and under low-light conditions. It's only natural to use both eyes to aim, since, as humans, we do a majority of regular daily tasks with both eyes open.
Aimpoint claims their optics offer close to full-light transmission due to superior lens material and coating processes. The Micro T2 has 45 layers of coating on the lens elements, partly in order to offer night vision compatibility versus the Micro H2 which only has 4 layers. The color spectrum of their red dot is in 650 nano meter wavelength, providing deep red color that can be seen in all lighting conditions in various environments.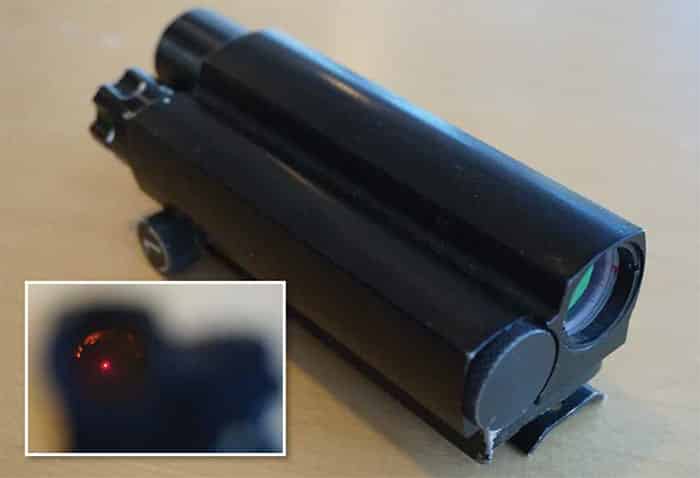 Sandberg Development Group
While Aimpoint was ahead of its time with its introduction of the Aimpoint Electronic sight in 1975, shooters did not fully trust this innovative product with its yet-to-mature technology. We have to keep it under context that in the 1970s, electronics in general were not reliable, and battery technology was not dependable. From 1975 to 1996 the company was not in good financial shape. Thankfully, it now operates under an umbrella called Sandberg Development Group. The group owns Camurus, a pharmaceutical company that specializes in lipid-based drug delivery, and Granuldisk, manufacturer of industrial pot washing machines. These companies provide support for one another to maintain long-term profitability. It's unusual to have this type of diversity in a company portfolio; however, it does make one feel better that when buying an Aimpoint sight, you could possibly support medical research.
In 1996, the US Army awarded Aimpoint with the world's first military contract for 100,000 units of their CompM red dot sights. The sights were tested for 3 years prior to the decision, and it was based on the ruggedized version of the Comp model. From then on, they continued to supply their optics to the Swedish, Italian, Danish, and Finnish Army as well as the US Air Force and US SOCOM.
Under request of the Swedish Army, Aimpoint produced 55,000 units of the special-made CS red dot sight from a 2004 military contract. It is based on the Comp model but has a rubberized housing and a Picatinny rail on top. The battery is sealed within the unit and is not removable by the user. With a 10-year, constant-on battery life, this has never proven to be a problem.
Today, Aimpoint has approximately 260 employees and has produced well over 3 million sights to date. There are over 200,000 T1 and 100,000 T2 sights currently in use. The facility is ISO 9001 certified and soon to be certified with ISO 9001:2015. They also have a smaller production facility in Gällivare, Sweden located above the Arctic Circle in northern Sweden that is dedicated to producing sights for military contracts.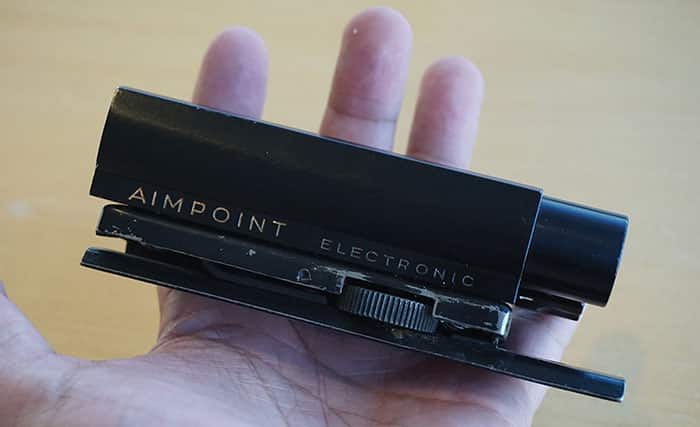 Production Floor
The building consists of main office and production area. The tour begins in the receiving area, where the external housing, inner tube, lenses, etc. arrive in boxes from various external suppliers that are each labeled with a unique batch number. The first step is to check for quality by randomly selecting components from each shipment. The technicians measure the dimensions with a laser probe to ensure it is within its required tolerance. Batches that meet the company strict standards will have a green label which is a pass. Components with questionable quality will have a yellow label which means the batch will go through further inspections. Boxes with a red label will be returned to the supplier. Even though Aimpoint chooses the best suppliers from the industry, it is not surprising to see the amount of boxes with yellow and red labels on them.
While on the topic of quality, Aimpoint maintains an astonishingly low return rate of 1% for all their sights produced to date, including sights that were made well over 40 years ago! The number of actual failure is even less, mainly due to customers returning their Micro red dots with loose battery caps which cause the red dot to flicker and/or turn off during use. It can easily be solved by tightening the cap and is not an actual manufacturing defect or failure. This is the most frequent warranty issue for them, even though they try to educate and inform their dealers as well as customers. All Aimpoint sights carry a 2-year warranty, but this author is certain it is a rare occurrence to return the sight due to a defect.
It was also interesting to hear their customer support receives a lot of complaint that the front lens of their sight is tilted. In reality this is not a manufacturing defect as the front lens has to be tilted at an angle in order for the LED mounted offset from the center to reflect back to the shooter's eye. It's simple physics that people often forget.
After inspection, the components then go into rapid, vertical automated storage called the Tornado. All the technician has to do is key in the part number and quantity into the computer, and the parts will automatically be retrieved from the shelf to the technician's hands. This saves time from searching for the correct part; additionally it keeps the parts inventory to 99.99% accuracy.
Once the components are picked from the warehouse, they get put through an air lock in batches of 20 pieces at a time. The production area is air sealed with positive air pressure designed to push out any dust and small particles in the air. Anyone who enters must gown up and wear hair nets. In addition, technicians must wear anti-static wrist bands as even a minor static charge can damage the diode during assembly. Thankfully, the production area can be seen from the outside as it is visible behind glass.
Before the components get assembled, they all have to go through an ultrasonic cleaning process. Each lens then gets checked against a black background to ensure there is no dust on the element. Once the lens is glued to the inner tube, the tube is then put into the UV oven to cure. UV glue is used due to it being able to withstand a wide range of temperatures. Once the circuit boards are installed and cables soldered in place, the diode will get calibrated to the center of the lens, ensuring that it is parallax-free.
Production operates on two shifts, one in the early morning and one in the afternoon.
All sights get tested to meet their water-resistant rating. Similar to testing dive watches, they use a pressure chamber filled with air instead of water to do this test. Each sight has a "birth certificate" containing all steps of manufacturing, and each step is check-marked once completed to ensure perfect tracking.
The floors are painted pure white, and it's basically spotless. I felt like entering a medical lab rather than a normal production facility. It's also notable that every step of the assembly process is done manually. There is no automation, and technicians must go through 6 months of training before they are fully qualified to do their jobs.
I had lunch at their large cafeteria which was well lit with natural light coming from the high ceiling windows with a view of the front lawn. You can tell the company cares for its employees as they also have a large exercise room and an in-house chiropractor due to the increased likelihood of technicians getting sore backs from sitting in their chairs for prolonged periods. Every well-run company understands the better the employees feel coming to work the less errors they make on their jobs.
In the shipping area, there were dozens of skids with shipping labels on them destined to the United States. They are for the US Army contract of 30,000 M68 Close Combat Optics awarded in March 2017.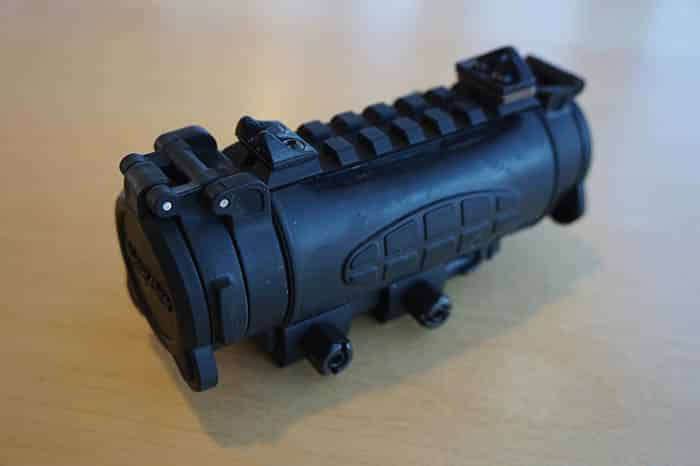 New CompM5
Aimpoint's latest product, the CompM5 was officially announced earlier this year at the DSEI defense trade show in London, UK. It uses a single alkaline AAA battery that provides up to 50,000 hours or over 5 years of battery life. With a 2 MOA dot, it has the durability of the bigger CompM4 in a size and weight closer to the Micro T2 with an improved waterproof rating of 150 feet. It is also the first Aimpoint sight made of machined 7075-T6 aluminum. These sights were made under request for a US federal agency to use in countries it operates in, where AAA batteries are more commonly found. They have been in production for over a year, and photos of this sight were first leaked online from an official US Department of State photo, much to the company's surprise. I was assured this is the best sight the company makes, superseding the Micro T2.
Future Products and Development
When it comes to the topic of future products and product development in general, Mr. Ljungfelt was reluctant to share information on any upcoming products. He assured me that the company continuously researches new technologies and seeks improvements on their current line of sights. This is understandable as the company is facing intense competition now more than ever from manufacturers in Western and Eastern countries. For instance, American company Trijicon released the MRO (Miniature Rifle Optic) back in 2015 to match, both in size and features, the Aimpoint Micro line of sights. Holosun from China has also made a name in the industry for producing quality sights at a fraction of the cost, which is catered to those who simply do not wish to spend on an optic that costs as much as the rifle itself and who only intend to use the rifle at the local shooting range. Aimpoint is also vigilant on counterfeits from overseas, with the most recent court case won in July 2017 against the owner of several airsoft stores in Spain. He was jailed for 6 months and paid thousands of dollars in fines.
With user request for a smaller red dot for mounting on pistols, Aimpoint currently produces the Nano red dot that is included with the B&T USW machine pistol. Unfortunately, Mr. Ljungfelt said the company has no plan to offer it as a separate product at this point in time.
Virtual Reality
I was taken to a room which has infrared sensors on two corners with a small table that had a laptop computer. First showcased at the NRA Annual Meeting in April 2017 with great positive feedback, Aimpoint has created a tailor-made virtual reality shooting simulator designed for training hunters, competition shooters, law enforcement and military personnel. The shooter wears a virtual reality headset and holds a rifle stock that has a sensor in the middle. He or she is able to immerse himself or herself in any environment such as wild boar hunting, duck hunting, an IPSC stage or military/law enforcement training scenarios. The program was originally conceived from an idea that they need to design a product demo for their website. I was a bit skeptical at first, but the program has proven to be very effective in demonstrating the use of red dot sights in point and shoot scenarios, where aiming speed and fast tracking on moving objects are critical. In addition to giving you a score, the program also analyzes your response time and other metrics that are arguably more effective than real-life training.
Conclusion
There is little doubt that Aimpoint is the only choice for those who want to buy the best of the best. They are simply the most rugged sights made for the police, military, hunters and sport shooters. With over 40 years of experience, one has to assume Aimpoint has tested every single new "bells and whistles" feature found in competitors' sights, such as auto-brightness level and solar-powered solutions. These features simply do not withstand the rugged testing the company sets for law enforcement and military applications. When and if they are ready to be implemented, we will certainly see them on upcoming Aimpoint products.
This article first appeared in Small Arms Review V22N4 (April 2018)