One of the most spectacular military museums found in America is the gigantic military museum that goes by the mouthful of a name of: American Armoured Foundation, Inc., Tank and Ordnance War Memorial Museum: also just known as The Tank Museum.
Nestled away in the peaceful farm country area of Danville, Virginia, the A.A.F. Tank Museum rests on the Virginia/North Carolina border. The city of Greensboro, North Carolina is just 1 hour south, and Roanoke and/or Lynchburg, Virginia, are only about 1 hour north of the museum; all being a pleasant drive through the country to get there. But once there, you may be startled by the sheer magnitude of this tucked away treasure. The sprawling museum facility and yard stretches on and on for almost a quarter mile. That's because this once shuttered mill is an amazing 1/3 of a million square feet inside, with the building and parking lots taking up over 20 acres of the total 90 acre site.
Visitors will be greeted by a beautiful U.S. Army M-75 Armored Personnel Carrier named "Colorado," which stands sentinel as a front lawn ornament. Walking up the walkway, the visitor will pass a genuine WWII period U.S. Army observation tower that has been restored to resemble the exact tower seen on the POW/MIA memorial flag. The tower is thoughtfully dedicated as such to our oft forgotten soldiers. The visitor will then walk past a pristine WWII period U.S. Army M-5 3-inch anti-tank gun.
Inside the Tank Museum, the facility is so enormous that each visitor is given a "road map" of the inside of the museum so that the visitor will not get lost. Being a renovated old factory, this museum is the quintessential maze if ever there was one. The museum staff is continually assisting its visitors in navigating through its endless hallways. There is a limitation however, to this immense size, and that is that most visitors do not leave nearly enough time needed to see the entire museum. Most visitors spend about 3 to 4 hours viewing the thousands of artifacts before their feet give out, leaving much more un-reconnoitered.
Focusing for now on our mission of what the readers of this magazine will probably find closest to their hearts is the enormous and wide ranging display of automatic weapons in the collection. If the reader of this article is interested in military uniforms, headgear, medals, patches, photographs, and just about everything else Tank and Cavalry related, then you will just have to visit the museum to view and appreciate this world class collection. Do remember that the focus of the Tank Museum is on anything related to international armor, with the Tank and Cavalry branches being most prominent. Other armored organizations such as Mechanized Infantry, Armored Field Artillery, and the Air Cavalry, etc. are also duly represented.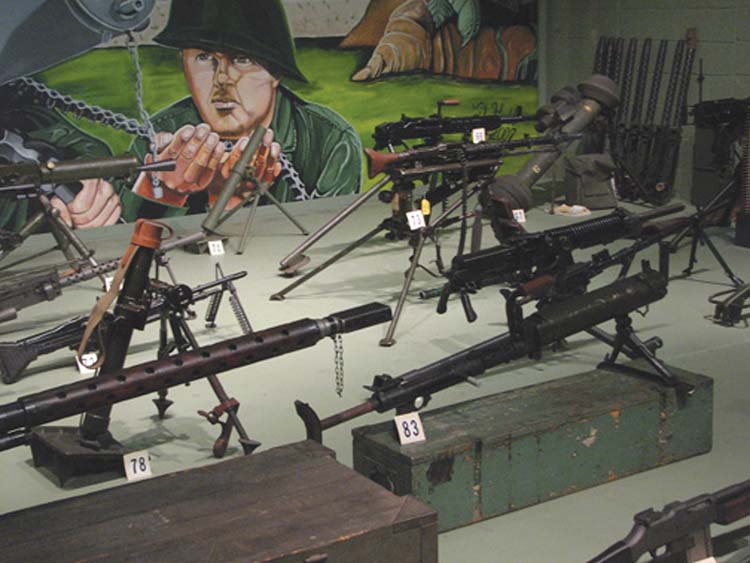 The spectacular "Weapons Room" exhibit displays over 150 international machine guns, and similar sized weapons. The smaller sized arms room collection is in addition to the above mentioned room, and is entrenched in its own separate bivouac area, as are the dozens of mortars, cannons, field artillery pieces, etc. In the Weapons Room, which has a spectacular 25-foot long mural of 2 GIs manning an M1917-A1 machine gun on Bataan, there are live weapons from most nations deployed throughout the display. Classics such as all of the Thompson series of submachine guns will be found in pristine condition as well as a mint BAR and a .30-06 Lewis gun. There is a like new Model 1895 Colt Automatic Gun (Potato Digger) nearby. There is a very unusual U.S. Army, National Match marked, phenolic stocked, M14 rifle on display, which was donated by the Department of Defense. For a few of the many types of German guns in residence, there are the usual garden variety of MP44, MP40, Erma's, MG34s, and the like. For a high point in the room, there is a beautifully restored, amnesty registered, Normandy beach captured, MG42 (it had not one trace of finish left on it when brought home by a G.I.). For the Japanese aficionados, there are many types on display in that part of the collection including a gorgeous Type 92 "Woodpecker" on its tripod. Most are nice originals, or fully restored guns. The museum's UDM-42 Marlin SMG is "exercised" once a year along with the venerable, but ugly M3 Grease Gun, and many others, at the annual "Extravaganza" in April where many weapons are fired for the museum's visitors.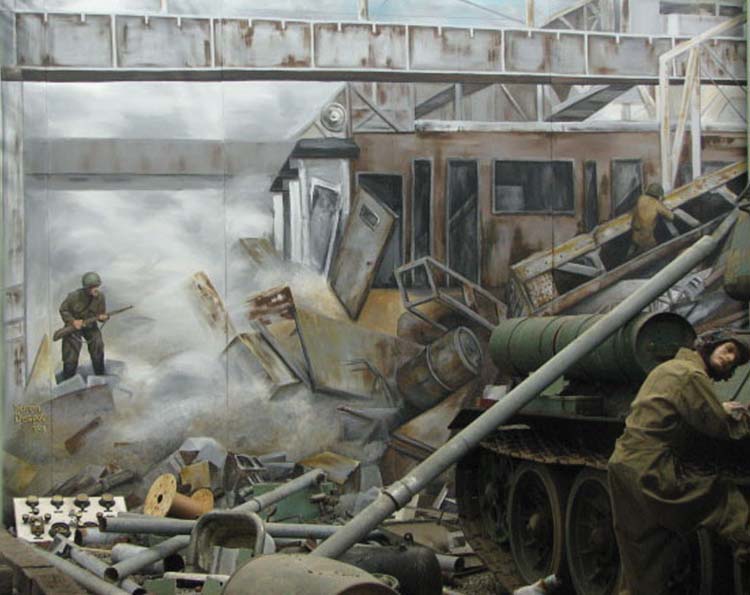 The museum's Weapons Room has all kinds of other different, rare and odd weapons often missed in many advanced collections. Such weapons range between a French Mle 1931 Chatellerault with the odd side mounted drum, an XM-129 40mm grenade launcher for a Cobra Attack Helicopter and the really rare, pneumatic, U.S. Army "Bishop" Artillery Trainer that can still fire its 1-inch diameter ball bearing style projectiles. Besides many rocket and spigot launchers, there are plenty of other weapons that include several fully operational flame throwers such as the very early M1, and the even much rarer Tank Flame Thrower. Of course there is also the standard, M2A1-7 Flame Thrower, along with its later Vietnam conflict counterpart. In the really Light Artillery category there is one of the only two reportedly known, iron, 1768 dated, David King Howitzers with it's rather odd 2 5/8 inch bore size. This thing is only about 1 foot long and the museum staff loves to jokingly tell it's visitors that it is a "Pocket Howitzer" made to fit in a holster.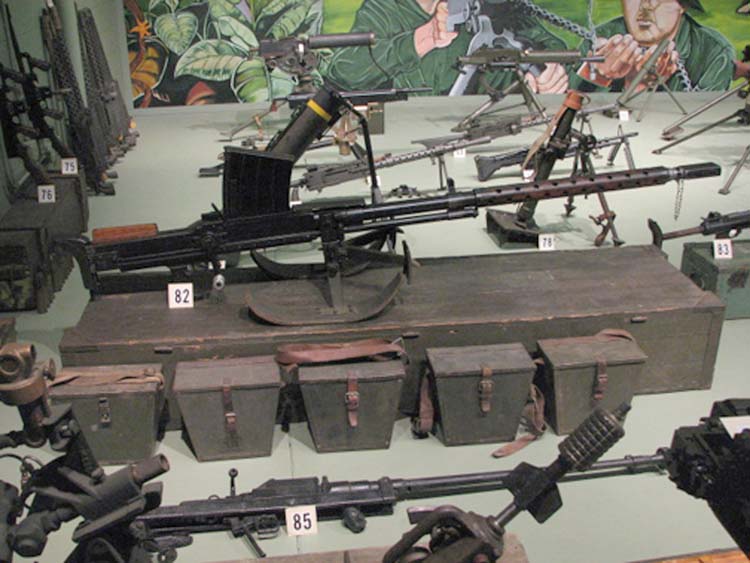 The mission of the Tank museum is to collect, restore, preserve, and exhibit, a significant part of military tank and cavalry artifacts from all time periods and nations as is possible, and to educate present and future generations to the service and sacrifices given by the men and women of the armed services.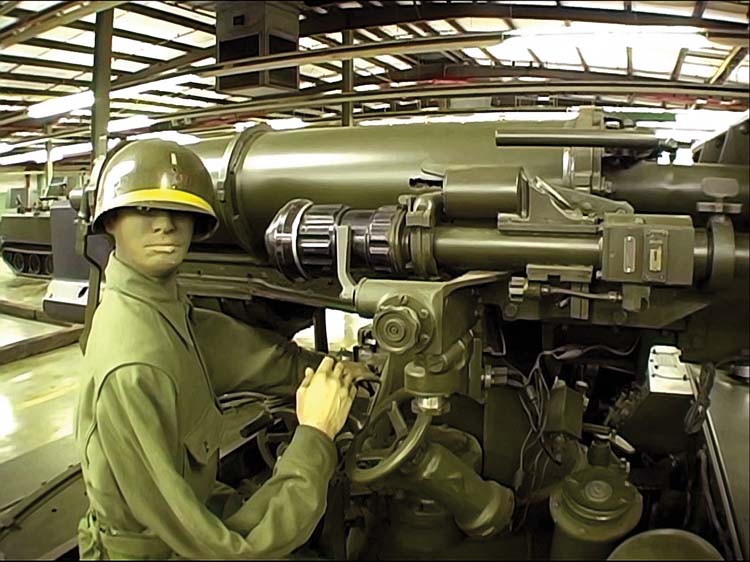 The Tank Museum has the most extensive collection of International Tank and Cavalry artifacts in the world. The Museum collection is exhibited in a 330,000 sq. foot facility and just a small sampling of their collection includes:
117 tanks and artillery pieces
150 machine guns, mortars, flame throwers, recoilless rifles, rocket launchers, etc.
Over 65 small arms
300 international tank and cavalry General's uniforms
Over 700 hats and helmets
100s of tank and artillery optical instruments
1,000s of pennants, banners, flags, pins, patches, medals and presentation pieces
Museum Hours: Monday-Saturday – 10:00 to 17:00 hours. Opened weekly Monday through Saturday; closed Christmas Day and Thanksgiving Day Only. Admission cost: Adults $10 – under 12 & over 60 $9.50. Note: Starting January 1st, 2011 thru March 12th, 2011 they will ONLY BE OPEN ON SATURDAYS. During these listed dates the museum will be closed Sunday thru Friday.

A.A.F. Tank Museum
3401 U.S. Highway 29B
Danville, VA 14540
Phone: (434) 836-5323
Fax: (434) 836-3532
Website: www.aaftankmuseum.com
Email: aaftank@gamewood.net
*Donations are tax deductible and greatly appreciated.
This article first appeared in Small Arms Review V14N11 (August 2011)