By Robert G. Segel

The War and Peace Revival, in association with the Invicta Military Vehicle Preservation Society, once again held the world's greatest gathering of military vehicles along with hundreds of militaria vendors and thousands of re-enactors on July 16-20, 2014. This was the second year at their new venue at the RAF Westenhanger Folkestone Racecourse in Hellfire Corner in Kent, England after 25 years at the Hops Farm in Paddock Wood, England. This year's event actually represents the 32nd annual get together. Not far from Hythe, Ashford and Folkestone, this new location met all of their expansion needs. 2014 was a special year, and the War and Peace Revival commemorated the Centenary of the start of World War I, the 75th Anniversary of the start of World War II and the 70th Anniversary of D-Day and Arnhem.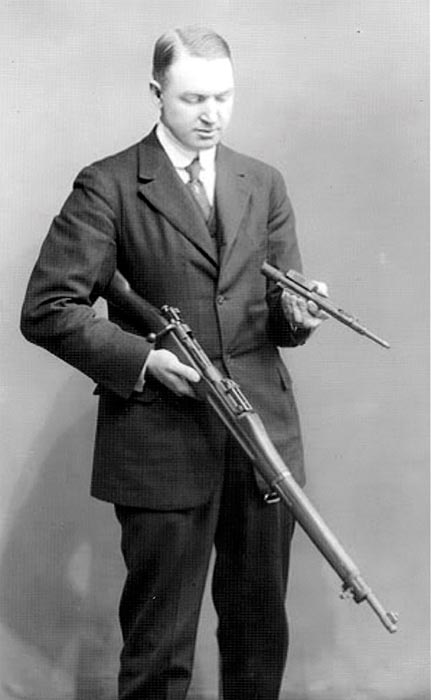 With the 100th anniversary of the start of World War I, The War and Peace Revival presented a vast array of exhibits, information and displays with the Great War Exhibition as a tribute to this momentous anniversary. There was an above ground trench system complete with twists and turns. Another fighting trench was presented representing Christmas 1914. This 30 foot trench was atmospheric and mysterious. Set at night, you would move through the background of original WWI sounds coming from an old gramophone in the Officer's dugout. You could hop up the firing steps all along the trench and aim at the enemy using the rifles. Inside the exhibit tent, original period artifacts consisting of uniforms, weapons and equipment were displayed along with an incredible life-size sculpture created by artist Johanna Domke-Guyot of an iconic picture featuring five gassed and blinded wounded soldiers, faces bandaged, holding onto each other's shoulders as they make their way back to an aid station. A 9 foot tall bronze statue of an advancing World War I soldier on a 3 1/2 foot square granite plinth was installed just to the rear of the Main Grandstand entitled "Bertie" The Advancing Soldier. Out on the living history field there was as 60cm gauge First World War Light Railway with Motor Rail locomotive and a 1916 pattern Class D 10T drop-side wagon and a working scaled replica of a British Mark IV tank first introduced in 1917.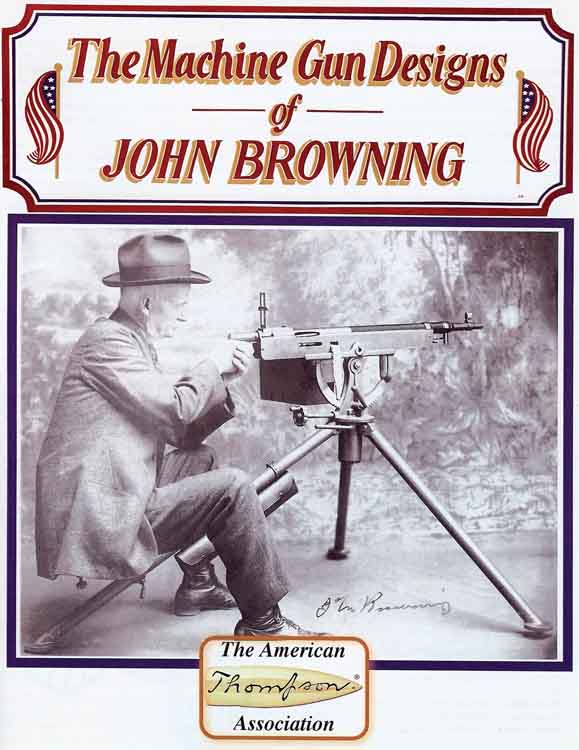 The permanent facilities at Folkestone Racecourse are a delight. Viewing of the entire grounds and the military reenactments are comfortably provided by the Main Grandstand and Victorian Grandstand that have open seating, hospitality boxes and a large display area for modelers. There are loads of food choices at War and Peace. Restaurants include the Battle of Britain Carvery on the first floor of the Main Grandstand, the Victorian Bar and Grill on the ground floor of the Victorian Grandstand, the Spitfire Tea Room where you can experience the relaxing social atmosphere where you can have a fine cup of tea in a bone china cup poured from a tea pot and served by elegant waitresses in the Lyons' Tea Rooms uniforms. The Jazz Bar swings and also serves hot drinks, sandwiches and baguettes. There are also two food courts around the show grounds, each with a specialized coffee unit and a fantastic selection of food to choose from that includes kebabs, Indian, gourmet sausages, pasties, noodles, chicken wraps, fish and chips, specialized steaks, hog roast, burgers and hot dogs, Panini and jacket potatoes, chicken and chips, Chinese, and donuts, cakes, tarts, ice cream and other confectionary. You will not go hungry while attending this show.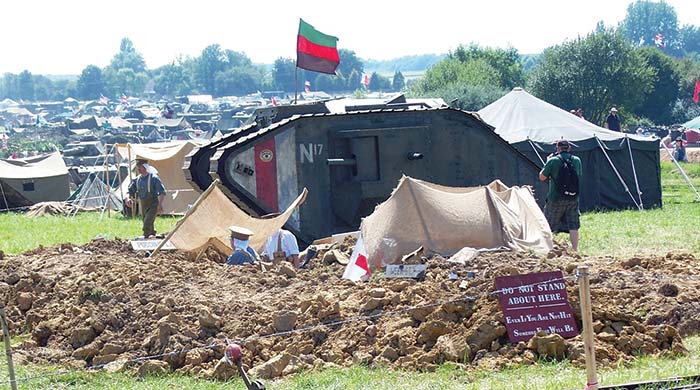 With the vast number of military vehicles, the new venue allows a way to effectively showcase these rare, interesting and varied military vehicles. Shown in five fields, the World War II and Post War vehicles are given their own spaces. World War II vehicles are on display in Patton's Field and post war vehicles are displayed at Dannatt's and Col. H. Jones Fields respectively where one will find more realistic displays with "green" camping – which means military tents only. Haig's and Kitchener's Fields also have military vehicle displays, but with non-green camping.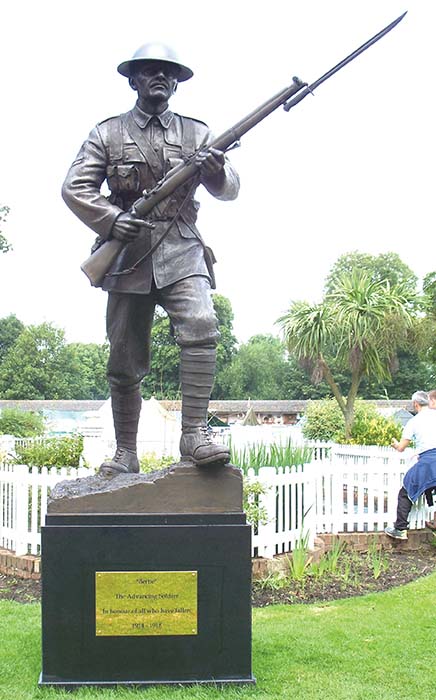 The reenactment encampments are an exciting place to visit. Regardless of the military country, branch or time period being represented, the attention to the smallest detail is truly amazing. Everything is period from all military kit, field kitchens, utensils, homefront items such as sewing kits, cigarettes, and candy. The re-enactors are proud of their collection of kit and are very approachable and are eager to answer any questions and show and explain the details of their display. Additionally, they are always happy and available for pictures.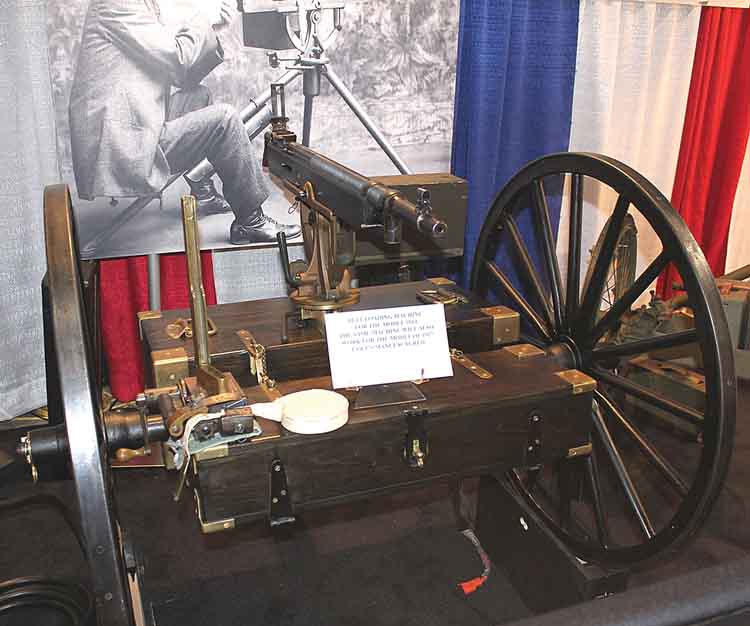 Every day of the show, in the arena, events are scheduled all day long highlighting military vehicles in operation on parade and battle reenactments that utilize accurate equipment in the utmost detail of both Allied and Axis armies complete with pyrotechnics and firing scenarios.

Finally, the War and Peace Revival is home to one of the largest militaria fairs in the world. Nearly 400 militaria trade dealers set up tents or just lay their goods on a tarp on the ground to offer military relics from all periods for sale to collectors and re-enactors consisting of uniforms, medals, helmets, headgear, webbing, vehicle spare parts, trench art, accessories, home front period items, ephemera, etc., – you name it and it is probably there somewhere. The collector's treasures await discovery. Of interesting note are the number of deactivated machine guns for sale; some surprisingly rare and desirable – at quite reasonable prices. U.S. attendees beware: As much as you would like to buy one, maybe take it all apart, and squirrel it in pieces in your luggage or try to ship it home, you are courting disaster with a federal fine and possible jail sentence. Don't do it!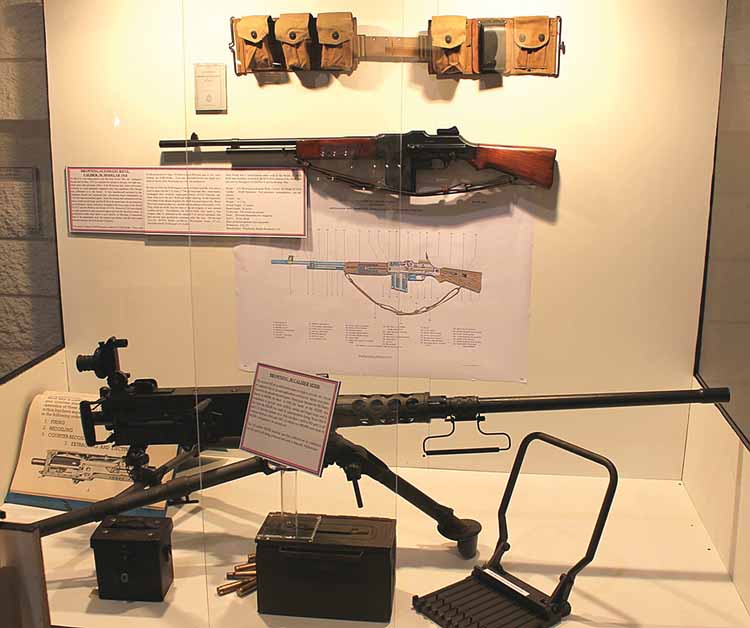 2015
Mark your calendars and start making your arrangements for the 2015 War and Peace Revival that will be held on 22-26 July, 2015. This year will be commemorating World War I, the 75th Anniversary of the Dunkirk evacuation and the Battle of Britain, the 80th Anniversary of the end of World War II and celebrating the Gurkha's 200th Anniversary of service to the British Crown. This five-day military and vintage festival at Folkstone Racecourse, RAF Westenhanger, Hythe, will be packed full of education and entertainment.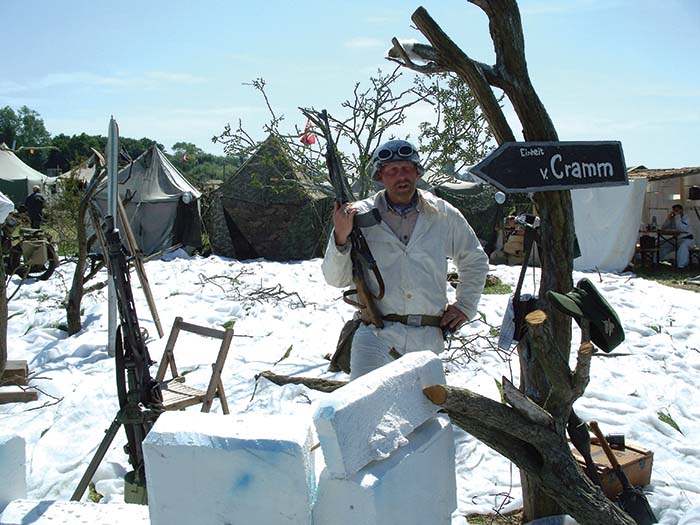 Living History scenes will provide a unique picture of life in conflict with depictions from WW1 to the present – see the British living in trenches, GIs in Vietnam, Russians relaxing with an accordion after a hard day in battle, or Germans plotting their next moves.


Trade stalls will give collectors and shoppers the opportunity to browse through marquees packed full of treasures including militaria, antiquities, vehicle parts, books, memorabilia, clothing and uniforms and all manner of essential finds for the discerning enthusiast – everything from a shirt button to a tank.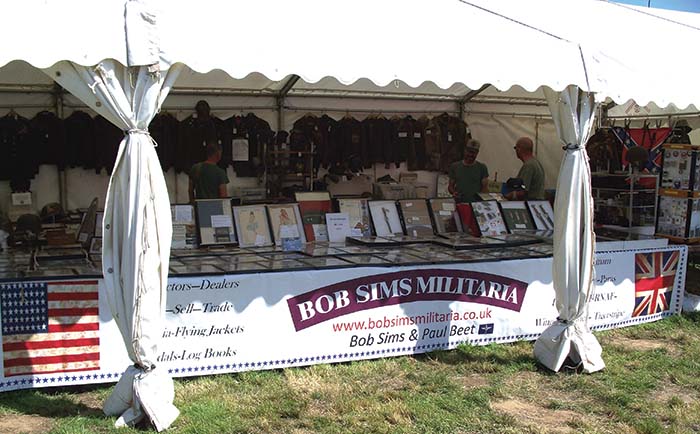 As befits the new venue, The War and Peace Battle of Britain Experience will be a prominent exhibit with its full-sized replica Spitfire, Hurricane and Me 109. Attended by a superb group of RAF and ATA re-enactors who give incredible authenticity, these planes have attended many air shows and events this year and the Spitfire has been used as an educational tool in schools, accompanied by a genuine WW2 Spitfire pilot.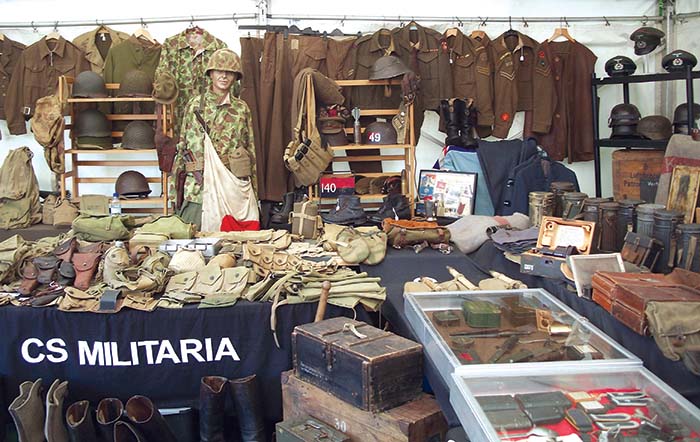 And for those who prefer the real thing, full-sized real aircraft will take to the air to give impressive displays and flypasts through the blue of the Kent skies, so evocative of the Battle of Britain period.

The Racecourse location was chosen due to its unique relevancy to The War and Peace Revival. Right in the heart of Hellfire Corner, so named due to the battering it received during the Battle of Britain in 1940, the area is packed full of military history – from the start of time until now including Roman landings, Vikings, cavaliers and roundheads. At the start of WWI millions of soldiers departed from Folkestone for the battlefields of France, many never to return, and Sandwich had a prisoner of war camp. During WWII Hitler's biggest battleships sailed past Dover, firing salvos into the cliffs with an escort of hundreds of planes and ships; Kent suffered heavily during the Blitz; rescuers were dispatched to Dunkirk from Ramsgate with a flotilla of Little Ships and the cross-channel guns Winnie and Pooh at St Margaret's Bay boomed regularly firing across the water. Sandwich welcomed hundreds of German refugees to a Kitchener camp who integrated well into the welcoming community.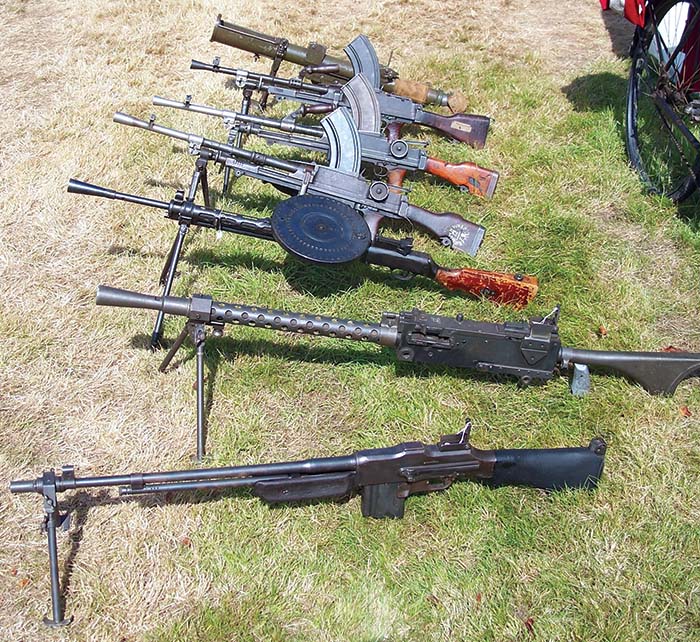 The Racecourse itself was used as part of Operation Fortitude (South) during WW2 – the great deception designed to fool the Germans into believing the D-Day landings would be in Calais, not Normandy. Inflatable aircraft were set up along the Racecourse to make it look like an active airfield and in 1944 660 Squadron used it to practice operations with local army units, prior to leaving for France three months later.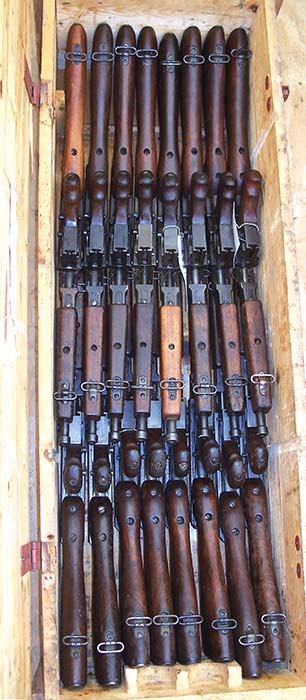 There is good reason why many Americans travel every year to experience the War and Peace Revival in England because it is such an extravagant event that touches on all aspects of military history. If you haven't experienced the War and Peace Revival, you should add it to your bucket list. You won't be disappointed.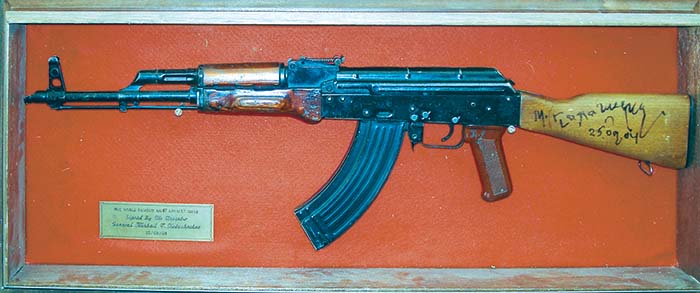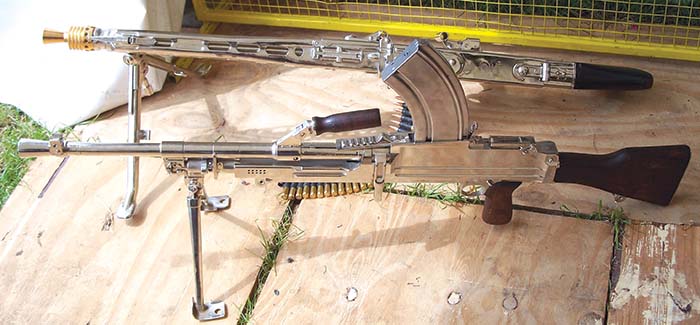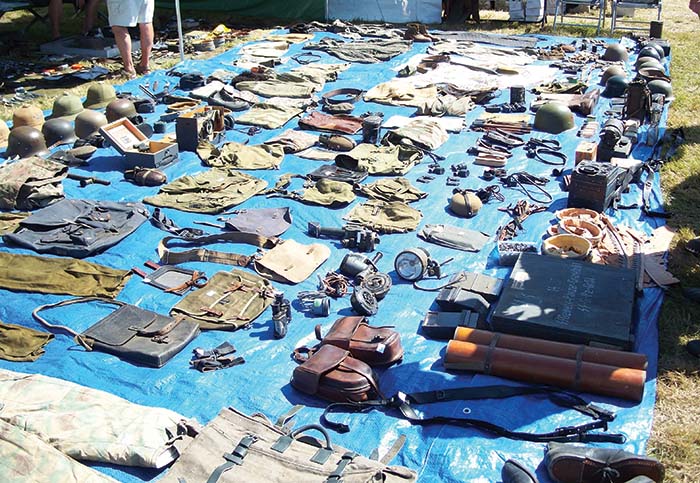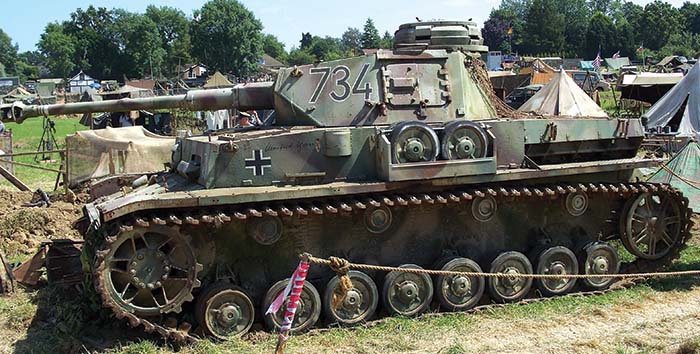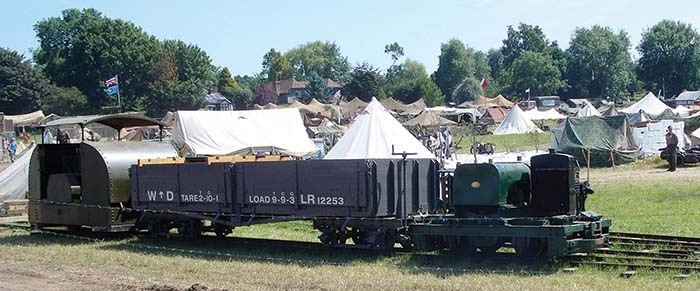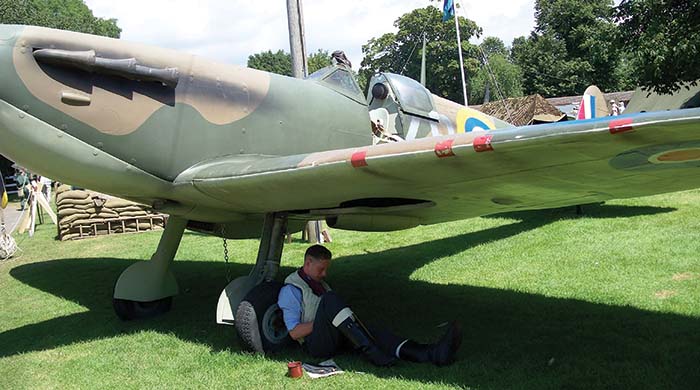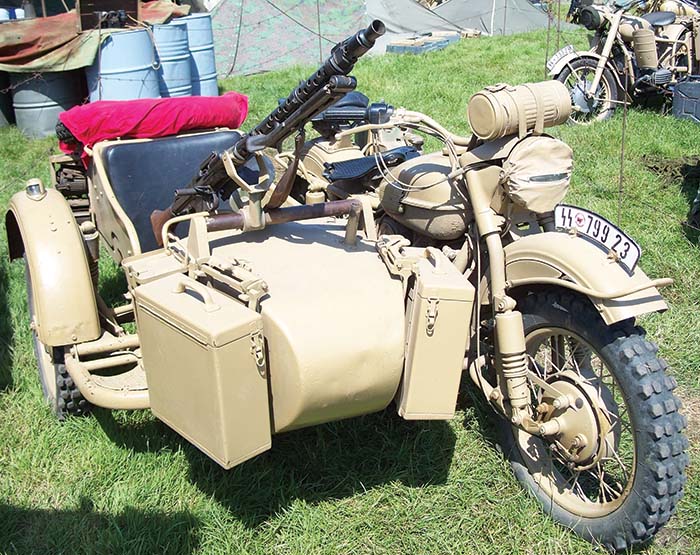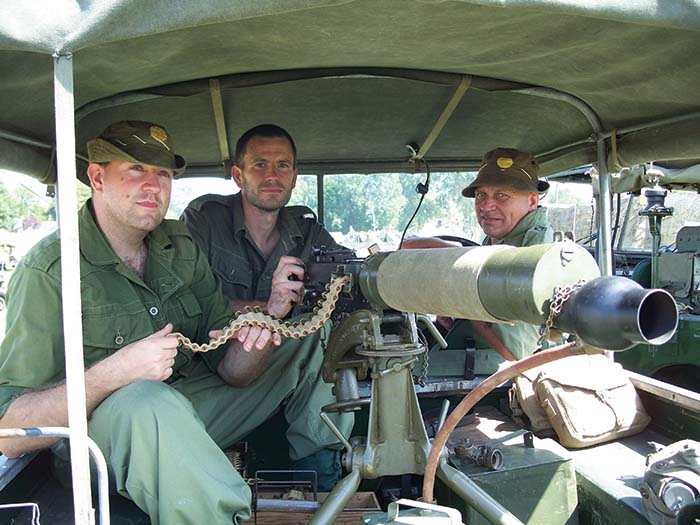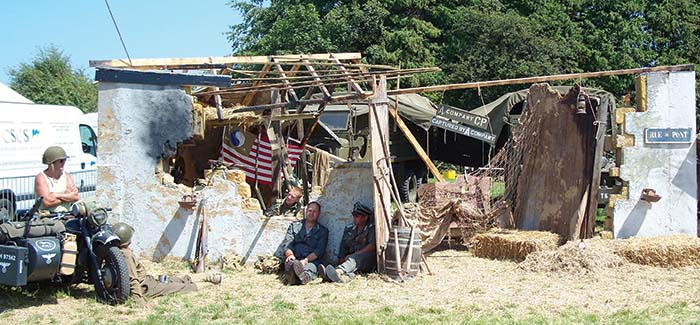 This article first appeared in Small Arms Review V19N4 (May 2015)