By J. David Truby
The bulky, big, plastic/metal pistols command a utilitarian following. The classic Kalashnikov boasts military aficionados. But great things also come in small, aesthetically pleasing packages. That's why I class the Sidewinder as a sub-subcompact or miniature pistol. It's one of the smallest concealable backup handguns available.
It's a gun you can carry when and where you can't carry a gun.
When you Google the .22 Sidewinder, manufactured by North American Arms, you can almost hear the virtual happy verbal applause of fans from various online forums.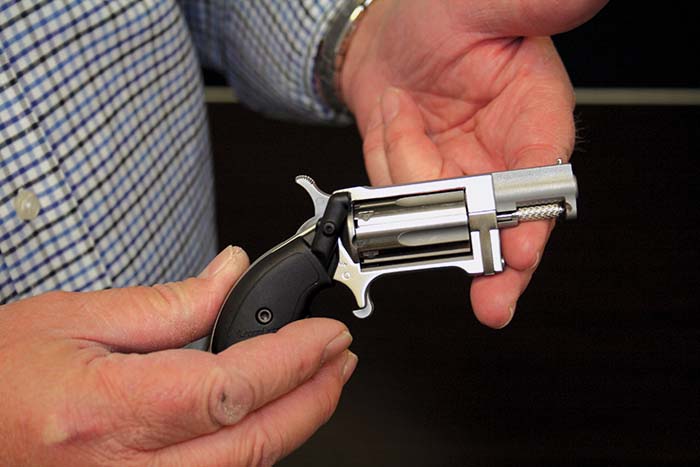 "I think that the Sidewinder is the best NAA mini-revolver platform yet, offering more convenience with few negatives," Randy Wakeman, Guns and Shooting Online senior editor wrote, "…If you are looking for maximum convenience in an extremely small, well-crafted package, the Sidewinder will delight you."
"I want the Sidewinder like you wouldn't believe," online commenter D.J. raved. "NAA made a great revolver and it will retire my Wasp to a show piece."
Even though it's not much bigger than a box of 50 .22 cartridges, its name is inspiring. "Sidewinder" is the demarcation for two species of venomous reptiles, at least two military aircraft, a short-range surface-to-air-missile, a baseball pitcher, Dodge and Kia concept cars, three roller coasters, and a handful of diverse musical groups and songs of varying quality. But the design of this pistol is simply unmatched for shooters needing this specific genre of pistol.
The basic specs for the Sidewinder are that it is a five-shot, .22 (both LR and Magnum cylinders available), with a one and a half inch barrel and five inches overall. The height is just less than three inches, width is just over an inch and the unloaded weight is 6.7 ounces. Trigger pull data are in the five to six pound range and most shooters describe the recoil as surprisingly moderate.
The revolver features marbled wood grips and clean lines. But besides being a pretty piece of hardware, why do people like the Sidewinder so much? That's easy, it is both plain, simple, plus it's easy to load and unload the five-shot revolver. The "swing-out" style cylinder assembly is similar to most modern revolvers. This miniaturization of a traditional technology is what sets the Sidewinder apart from other smaller handguns. In a typical miniature firearm, first you must pull a pin here, scoop out the cylinder there, and reload. By the time you've fumbled the cylinder back into position, taking care not to accidentally pinch off your thumbnail, the Sidewinder has long been ready to shoot. Best of all, the spent shells shake loose easily, or the extractor allows you to pick spent brass out from the side.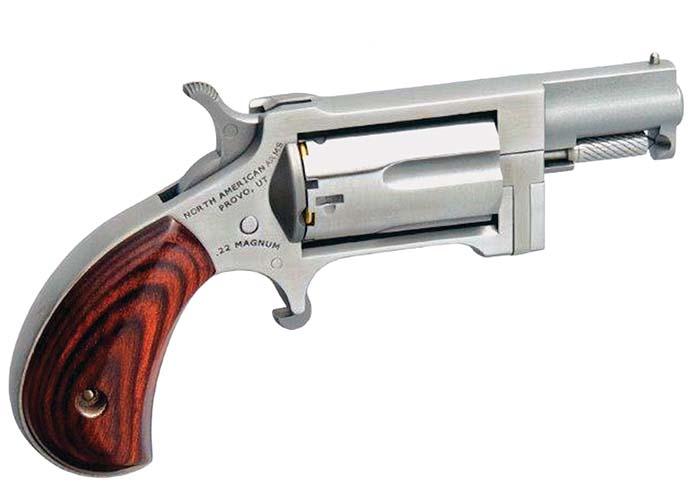 Not only is the design simple, clean, functional and totally dependable, but the Sidewinder is also very safe to carry, thanks to NNA's exclusive safety notch cylinder. It is also a very "easy on the eyes, and great to handle firearm, too," as Conti Industries & Black Ops Tactical executive Heidi Conti told me. "Plus, with the proper ammo, you've got a great little pistol in your power."
The self-defense effectiveness of the Sidewinder was greatly boosted with the introduction of Hornady's purposefully designed 45 grain FXT Critical Defense .22 magnum load. It rips out of the barrel at 1000 fps and has penetration of test gel better than most .380 loads. Speer offers a 40 grain Gold Dot load which also has major target punch, real or test, as well.
NAA strongly suggests that you do not use any PMC ammo, long rifle or Magnum, in their pistols due to double discharge possibilities. Extensive testing shows that only PMC ammunition has this hazard with NNA .22 revolvers.
Interestingly, NAA's General Manager, Ken Friel, told me that some Sidewinder owners have used the CCI Shotshell load in their pistols. The load has 52 grains of #12 shot in each round. When fired at three yard range, the coverage is group is a 9-inch square. I imagine a load of that in the face of a bad guy at that range would stop most any assault.
The pistol's safety mechanism is ingenious, so there's a lower risk of accidentally nicking a finger when preparing to fire. What the Sidewinder lacks in stopping power when compared with other, more intimidating calibers, it makes up with more utility. You can slip it into a pocket or a purse much more easily than its larger handgun brethren and be on your way, unseen by our new world's highly suspicious eyes and all powerful video surveillance.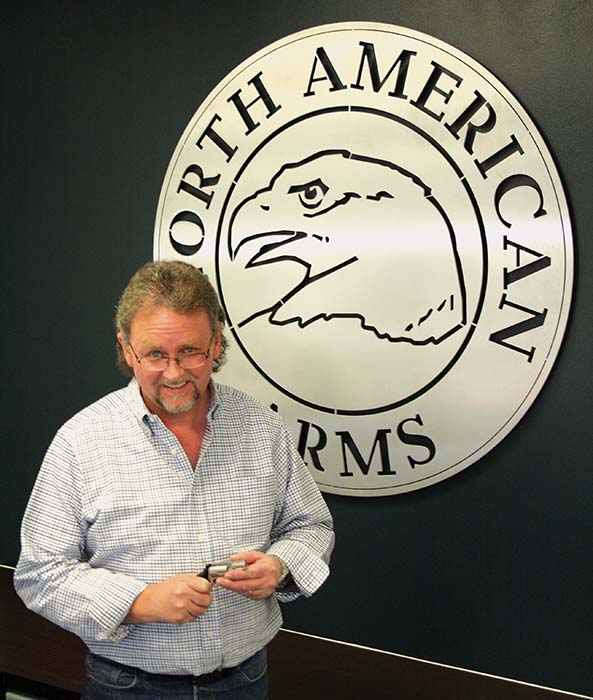 The accuracy is admirable for its class, too. In his firing tests, J B Wood noted that his Sidewinder performed really well. He reported, "In classic encounter range of 7 yards, it kept all five rounds centered in the black on a Champion VisiShot target." Likewise, Heidi Conti came away from their Conti Industries range totally impressed with the Sidewinder.
"I tested five shots on a printed groundhog target from fifteen feet away. Three shots punctured the body just below the target spine. The other two hit solidly within the crosshairs, while two of the outer three shots grouped tightly together, as you see in the photo. Not bad for paper varmint disposal duty," she added with a chuckle.
Most commendably, the recoil won't knock your hand off-balance, so you can squeeze off a second shot," she added. Sadly, though, it is a single action revolver, meaning you have to cock it for each shot.
Ms Conti also said, "But, do pay attention to the sight radius when aiming as it is tiny and it doesn't take much tremor to mess up your aim."
Yet, as Randall Kari, an LEO with whom I used to work, said, "You don't hunt deer with it at 50 yards out, but when and where it counts at close range defense, it'll hit where you aim. It's a great back up and a very easily concealed defense pistol."
Part of the Sidewinder's factual legend is the narcotics agent who did a buy on a Florida beach wearing only a Speedo. No room for a standard piece, so the agent hid his NAA Sidewinder in a drinking cup.
As an aside, for those of you considering a .22 for maximum conceal self-defense, I suggest you read Richard Mann's article in the June 2013 issue of AMERICAN RIFLEMAN; good reportage there.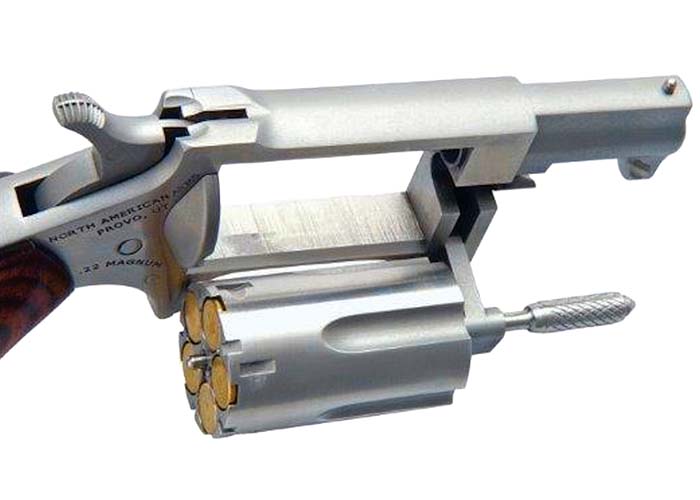 Though industry rumored for weeks, the first public hint of the Sidewinder came in March of 2012, when NAA CEO Matthew "Sandy" Chisholm said, "The Sidewinder will be a single-action mini-revolver, solidly built on our stainless steel magnum frame, whose cylinder is mounted on a side-releasing crane, just like most revolvers…an easy loader, too."
And, just as everything else in our hyper-online lives, the young, traditional Sidewinder is subject to change, too. Even as Ken Friel and I were ending our interviews today, he told me about the new model 4-inch barrel Sidewinder coming to market late summer of 2015.
Phew!
But, as with everything, NAA gets it right and shares that with the rest of us users. Their NAA instruction book includes photos with the detailed printed instructions for loading, unloading and using the Sidewinder. There's also a video showing the entire process on NAA's
very elaborate website.
It's no surprise, then, that the current Sidewinder models remain somewhat back ordered. Yet, you don't have to stand in a backed up waiting line at major retailers to own the old fashionedly modern Sidewinder. In my case, a quick trip down the road to Bee's Guns, a truly old school kind of small town real gun shop in Saltsburg, PA made it all happen, thanks to owner Ken Bee and very knowledgeable assistant Jesse Syster. Within the week, my Sidewinder was there.
Fortunately, gun shops aren't left waiting for a slow boat from overseas for Sidewinders. These stainless steel mini-revolvers and other small pistols manufactured by North American Arms are handcrafted and manufactured in Provo, Utah. And they carry a lifetime warranty.
As Chisholm predicted, NAA's Sidewinder actually made its debut in 2012 to much hoopla and fanfare, all quite deserved.
North American Arms started as the short-lived Rocky Mountain Arms, and then became a subsidiary of an aerospace manufacturer, that was absorbed by Teleflex.
In the late 1980s, Philadelphia business man Matthew "Sandy" Chisholm III was working in mergers and acquisitions for Teleflex, which owned NAA at the time. The company wanted to get out of the small arms business, but was having a hard time finding a buyer. For one thing, according to Chisholm, the business was profitable, self-sufficient, and Teleflex wasn't budging on their selling price or terms.
So Chisholm decided to become a small [arms] business owner. He explained, "…I saw first-hand the capabilities of their management team and the opportunities available to the business, given just a modest investment of time, love and money. So, in a 'Victor Kiam/Remington moment,' I chose to leave the corporate world and become a small business owner in November of 1991.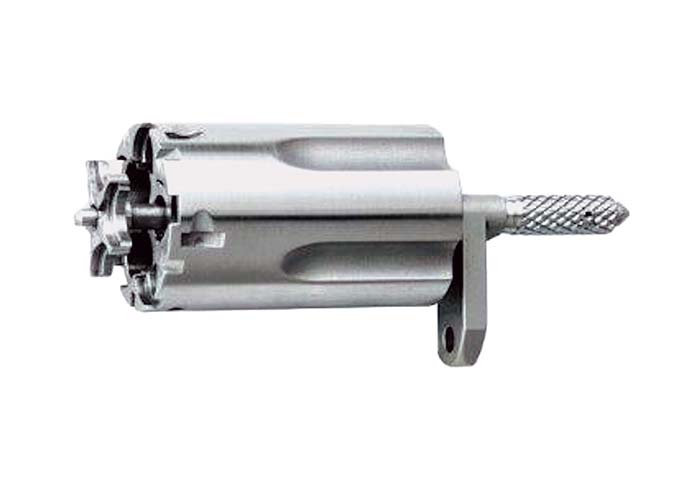 "Shortly after the purchase, I built a new home for the business in Provo, where it has remained ever since. I have respect for and confidence in Ken Friel and his team and their ability to responsibly and successfully make the operational decisions regarding our business. I add my value on the legal, accounting and strategic planning issues.
"Things have worked exactly as we planned. And with remarkably few exceptions, both the management team and work force are exactly as they were when we began."
Others in the field agree. According to NRA Board Member and publisher of SOLDIER OF FORTUNE magazine, Robert K. Brown, "Sandy Chisholm, General Manager Ken Friel and Sales Manager Ken Barlow are, "Three of the truly 'Top Good Guys' in the shooting sports Industry."
Oh, and why did NAA name their tiny revolver The Sidewinder? As Ken Barlow explained, "It's simple, it is a revolver with a swing out cylinder and someone in a John Wayne western called those guns 'Sidewinders'."
Thus, exactly like their expertly designed Sidewinder, North American Arms also has a very smooth and on-target operation.
This article first appeared in Small Arms Review V20N9 (November 2016)