By Timothy Kast

The role of a tactical pistol is to defend life and limb as well as combat the unknown. Combat the unknown? What exactly does that entail? In nighttime defensive or even offensive situations you are at a distinct disadvantage because you not only do not know exactly what lies beyond you, you cannot tell exactly where your sights are and what alignment they might be in. To engage a target at that moment would be shooting blindly. You couldn't tell exactly where your rounds might fall. You are in effect attempting to combat the unknown.

Trijicon is perhaps the world's most well known tritium sight manufacturer encompassing civilian, law enforcement and military alike. The use of night sights on a weapon, handgun or long gun either one, increases your likelihood of engaging your target with confidence. Trijicon insures that the quality that law enforcement and military cadre rely on is the same you find on civilian home-defense and sporting guns. This has led to them becoming the most prolific in tritium sight availability.

I recently tested a former Spec-Ops Sig P226 9mm handgun equipped with Trijicon sights and was so impressed with the overall quality and performance that I inquired about testing them on a larger, more aggressive handgun, a .44 magnum Desert Eagle. These two weapons represented a more than normal level of stress and abuse a night sight system would be forced to endure. That, I felt, was an adequate trial of what tactical sights must measure up to: the punishment of a heavy large caliber pistol and the heavy usage that Special Operations personnel routinely subject their equipment to.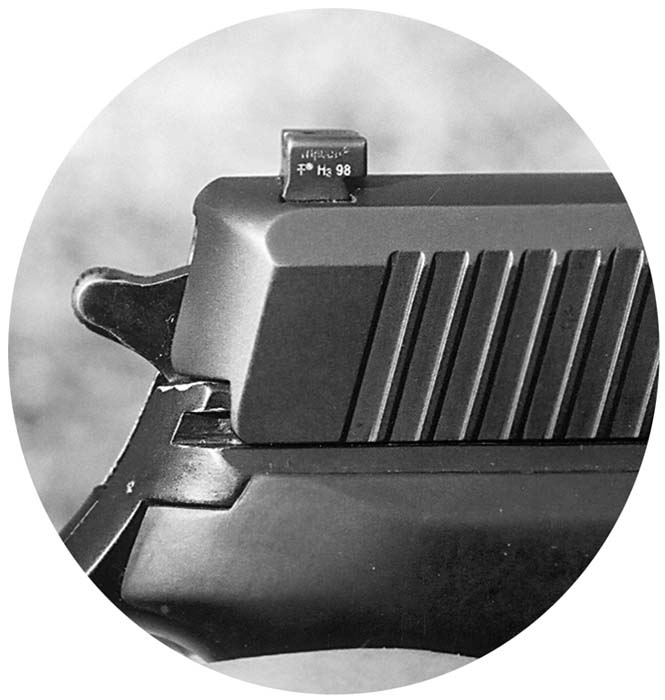 The Spec Ops sidearm had already been augmented with the Trijicons and was dated 1998. The intensity of the tritium glow seemed to be holding up rather well taking into account the four-year span of use. Once received, I took the Desert Eagle set with the pistol to Phil Flack at PF Custom Guns in Asheville, NC. There Phil removed the original sights and adeptly installed the new tritium sights. This was a noticeable improvement over the stockers. The front sight appears a bit more professional and sturdy, while the rear looks like a German bunker emplacement. It has a more narrow light gathering delta to the front of the rear sight than the originals, but it exhibits a massive construction designed to house the twin tritium vials necessary in a big handgun like the Desert Eagle. The Desert Eagle set, being new, were dated 02 and were noticeably larger in diameter and fresher than the Sig's. That came as no surprise since the Sig is considerably smaller in size than the .44 mag.

The overall installation went smoothly. Both guns are dovetailed, so changing one sight over another is a simple process of carefully removing the previous set, then sliding the new ones into place. Phil had to file a minute bit of clearance from the new set, then using a hard nylon punch, tapped the Trijicons into place. He checked the alignment with a dial caliper and adjusted them accordingly. A cotton swab dipped in Brownell's cold bluing for touchup completed the service and installation.

Once afield I immediately noticed that the sights seemed to hunker down to the receiver better than the originals. They appear to be low profile tactical sights despite the fact that they are approximately the same height as the standard sights. While the Desert Eagle is a bit large to be wearing in a holster, it is a big rough and tumble gun, and you wouldn't want the sights hanging up on clothing anymore that you would with a more compact firearm. It is doubtful that you would encounter the Desert Eagle in a tactical role as the primary carry pistol because of its size and weight; however, I included it in the test because those same factors work against things like sights from wear and recoil. The Sig Sauer P226 on the other hand is the popular firearm among Special Operations and the Alphabet Agencies these days. Many law enforcement departments have chosen the P226 over others because of the presence of the de-cocker lever. This clever addition reduces the Murphy factor in a shoot, no-shoot transition. Night sights are generally added to properly develop a tactical sidearm which you will be using everyday. This is simply an additional accessory that better equips you for the unknown. There are some guidelines for selection though. With any sort of sight system the general criteria must always be effectiveness, fit, finish, ergonomics, aesthetics, and overall field performance.

Trijicons are chosen over other sight systems available to the military because they measure up to a specific set of guidelines such as these, with evaluations from the operators who finally use the end product. It is not a simple arbitrary process such as selecting Brand A over Brand B. A distinction should be made that many of the operator level evaluations involve real world kill house scenarios before the product ever reaches an operation where the gun will be relied on. These are designed to weed out the good from the not so good, as bad products seldom make it this far. This represents extremely rough usage, not the sort of gentle treatment you or I would give a treasured firearm. Under these circumstances design shortcomings, flaws or impediments become readily apparent so that the preferred products stand head and shoulders above the competition. In fact, I spoke with several operators that stated that much of the time Trijicon sights are specified even when weapons arrive with other manufacturer's sights installed from the factory as original equipment. The Trijicon ACOG Scope sets the standard that Special Operations require for combat scopes. Their night sights are made with the same attention to detail.

As with any tritium night sight system you must always be aware of the possibility that if you can see them in the dark, then the bad guys may also use them to your disadvantage. The positives far outweigh the negative and most shooters know to shield their sights with their weak hand palm when not being properly employed.

In the field both weapons had a greater perceived capability over their plain sight brethren in and out of low light gradients. Even at dusk, just dark enough to appreciate the tritium, but light enough to still see a paper target, the groups I shot were considerably tighter that the ones shot without a luminous sight. Indeed as the light faded one evening shooting a similar Sig without Trijicons, I missed the target entirely. Mute testimony to the validity of an honest tritium sight system.

The overall effectiveness of the sights in a tactical role doe not seem to be diminished in any way by rough usage. The brunt of the abuse is borne by the front sight. The lettering on the front sight of the Sig was completely worn away by handling and holster wear, yet the brightness remained unaffected except by the attrition of age. Comparatively speaking however, the tritium was holding up quite well since they were only four years old by date of manufacture.

The only problem encountered with fit was the rear sight on the Desert Eagle requiring a tiny bit of hand filing. This was probably designed that way since the Desert Eagle pistols are not built with exceptionally tight tolerances. You would naturally want the sights to require some hand fitting since the alternative would be that they might be too loose.

Characterized by a sturdy black professional looking finish marked with the manufacturer's logo and the date of manufacture, these sights look as if they belong on the gun. Both weapons appear the better when compared to the original equipment sights. The ergonomics too were improved over the standard shelf items. I was impressed by the smooth, no-snag outline of the sights on both guns.

The field performance is where these guns really shine. The recent manufacture sights on the Desert Eagle were clearly brighter than those on the four year old Sig Spec Ops pistol, but they were also smaller in size than those on the Eagle. The Sig 226 had obviously had a rough life but the sights had not degraded in an appreciable manner. Despite several boxes of Remington and CCI Blazer full power loads (240 gr JHP) the Desert Eagle's sights were as rock steady as when Phil first installed them. I didn't take any special care with either weapon, but tossed them about with relative abandon. They feel more rugged and heavy duty than some of the others I looked at. I noticed from the specifications that the lamps are mounted in silicone-sealed metal cylinders, rather than the plastic used by some manufacturers. The crystal windows are polished sapphire and are designed to give a crisp, round aiming dot in low light situations. They follow this up with white inlaid rings around each window to give the appearance of a white dot sight in the daylight. I had no problem whatsoever with either of the sight sets and can easily understand their popularity among Spec Ops and law enforcement. They did what they were advertised to and held a bright, luminous beam without any pampering. Although the endorsement of the military elite and police is not always correct, in this case their preference is spot-on. If you have the need for a good tough set of night sights, don't hesitate to contact your dealer or Trijicon for your application.

Trijicon , Inc.,
Dept SAR
49385 Shafer Avenue,
P.O. Box 930059,
Wixom, MI 48393.
Toll free: 800-338-0563.
Website: www.trijicon.com
Email: info@trijicon.com
This article first appeared in Small Arms Review V6N2 (November 2002)