By Robert G. Segel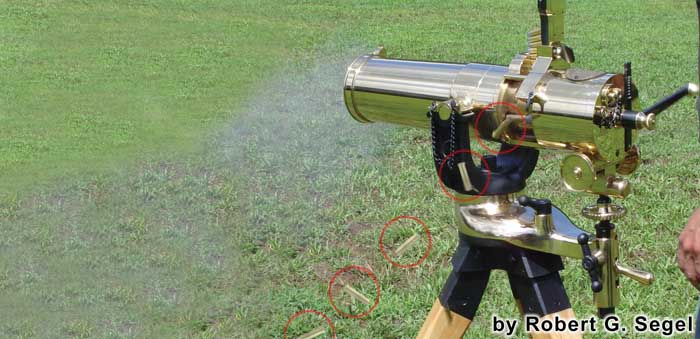 The Gatling Gun is an iconic American firearm. Instantly recognized regardless of its configuration, it was the epitome of advanced technology of manually operated rapid fire weapons before Hiram Maxim broke the technology barrier and invented the world's first truly automatic machine gun in 1884.
Conceived by Dr. Richard Jordan Gatling in 1861 with a working prototype that same year, he was granted a patent on November 4, 1862 for "Improvement in Revolving Battery-Guns."
Gatling continued to perfect his gun by designing a breech system that would allow the cartridge to be inserted and withdrawn from a chamber that was an integral part of the barrel requiring the breech mechanism to have a reciprocal motion. This led to the design of the Model 1865, the precursor to all later Gatling guns. Gatling continued to refine the operation and mechanism of his gun.
The Model 1877 "Bulldog" was the first Gatling to feature a fully enclosed bronze housing over the barrels and breech. The "Bulldog" was a five-barrel .45 caliber tripod mounted weapon. A few were mounted on a light cavalry wheeled field carriage. A rear mounted hand crank permitted a very high rate of fire of up to 1,000 rounds per minute, almost twice the rate of a typical World War II machine gun.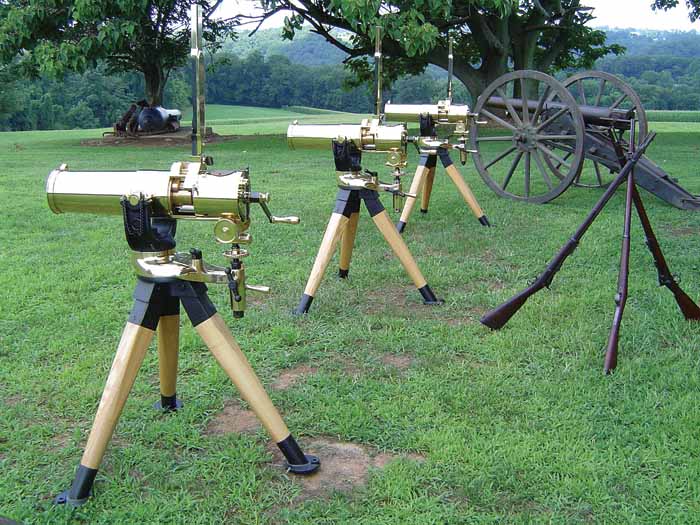 The Bruce feed system, named after its inventor L.F. Bruce, permitted the Gatling to be loaded directly from 20-round cardboard cartons or wooden feed blocks into a two slot vertical bar. When one slot emptied, gravity forced a full slot over the feed hopper. By alternately loading the empty slot, a continuous fire could be sustained. The original Model 1877 "Bulldog" was tested for accuracy and scored an incredible 996 direct hits out of one thousand rounds at a distance of 500 yards.
U.S. Armament Corp
Incorporated in 1988, U.S. Armament Corp is a leading manufacturer of quality firearms and parts with decades of experience in the trade. After two years of research and development, U.S. Armament began production in 2007 of a museum quality reproduction of the Model 1877 "Bulldog" Gatling Gun manufactured to Dr. Gatling's specifications and design. Using the latest CNC equipment and technology combined with their skilled hand craftsmen, the 1877 "Bulldog" is a fully functioning work of art that is at home in the field or proudly on display.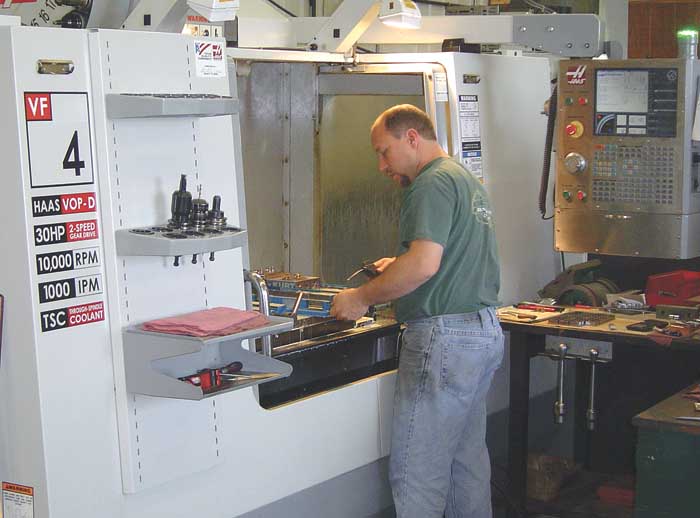 The U.S. Armament Model 1877 "Bulldog" is chambered in the original .45-70 Government Caliber and is equipped with a Bruce Feed gravity fed system (not a magazine) that holds 40 rounds in parallel and is fed with wooden feed blocks.
The "Bulldog" was the first rear crank gun that Gatling ever produced. Each turn of the rear crank produces a complete revolution of the 5 barrel unit thus firing the gun five times. Once the rounds are fired, they are automatically ejected from the gun.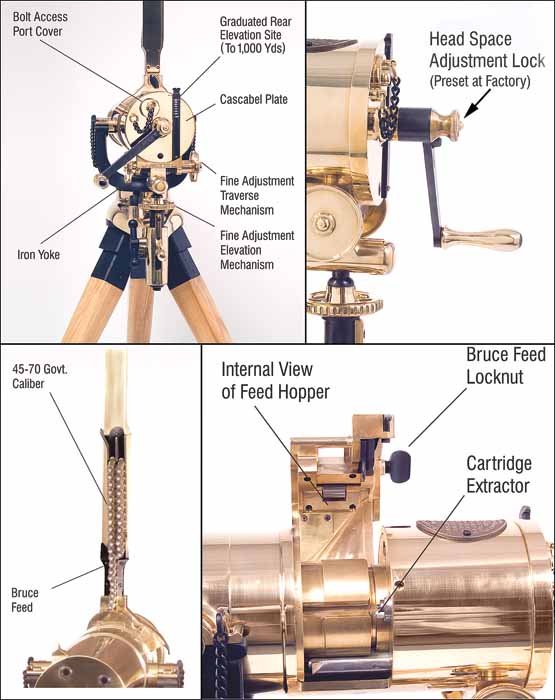 The Model 1877 "Bulldog" has five fully encased 18-1/4 inch barrels with an overall length of 34 inches. The gun weighs 135 pounds and the tripod an additional 135 pounds. The tripod mount includes beautiful brass and iron components with legs of solid ash wood.
Sights include a front sight drift adjustable for windage and a rear sight graduated to 1,000 yards that moves up and down for elevation in a groove in the cascabel plate.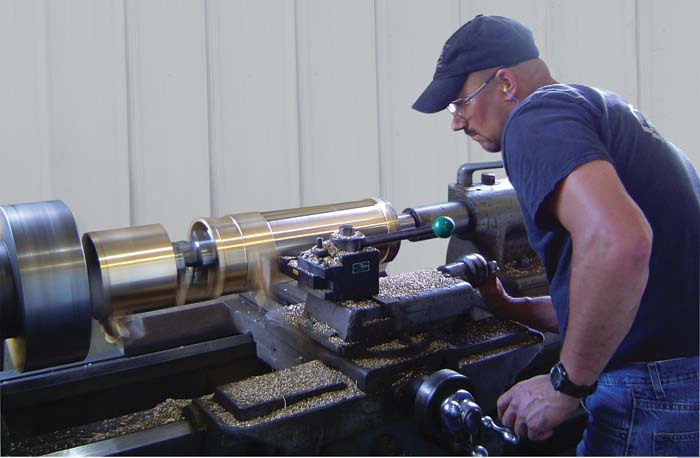 Included Accessories
The "Bulldog" comes with three original-type transit chests for the gun, tripod head and tripod legs; original style bolt tool used to disassemble and reassemble the firing pins from the bolts; five barrel alignment tools that help align the front barrel cluster for reassembly after a full tear-down of the gun; five 20-round wooden loading blocks used in conjunction with the Bruce Feed System for loading; a crank handle collar that locks down integral mechanisms for transportation in the transit chest; and a technical operators manual of the 1877 Gatling that includes a complete tear down and re-build of the gun, including maintenance and part numbers for re-order if needed and everything necessary to operate the gun. U.S. Armament Corp also backs up their product with a 1 year limited warranty on all parts and labor.
Additional Accessories
Other optional accessories include three tripod foot raiser pads made from solid ash that keep the tripod feet from scratching or marring flooring while cleaning or displaying; a complete custom made cleaning kit made by Kleen Bore containing all the accessories needed to maintain the 1877 "Bulldog" all contained in a suede cowhide roll; a net weight 1/2 pound (227g) of Dieco Lithium grease (recommended for use with the "Bulldog"; a tool kit that contains all the necessary components to completely tear down the "Bulldog" for cleaning and maintenance using the highest quality American made tools that include an 8 oz. Grace brass hammer, a #3 Garland rawhide hammer, a Dondus T-handle 5/32-inch hex key, a standard 5/32-inch Allen wrench, a 1/8-inch steel tool punch and three Grace straight slot screwdrivers #G2, H4 and N4; and 100 or 500 round quantity boxes of Hardcast 382-grain lead bullets sized at .458 and lubed.
Conclusion
Fully made in the USA with a limited one year warranty on all parts and labor, the quality of workmanship and smoothness of operation is evident in every gun produced. Each receiver is manually fitted, all parts meet or exceed their highest quality standards and every "Bulldog" is field tested prior to delivery. This gun will please the most ardent shooter or discerning collector. With a MSRP of $36,500, the U.S. Armament Corp Model 1877 "Bulldog" Gatling Gun is an economical solution (versus trying to obtain an original) to enjoy this class of weapon whether shooting it at the range or filling that hole in your collection. U.S. Armament Corp manufactures a certain quota of Gatling Guns each year, so please consider this when ordering. Additionally, U.S. Armament is well along in adding a Gardner Gun to their offerings.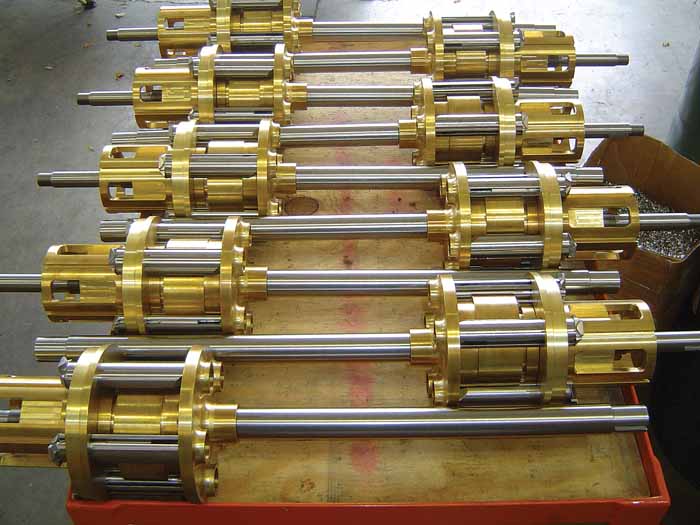 U.S. Armament Corp Model 1877 "Bulldog" Gatling Gun Specifications
| | |
| --- | --- |
| Weight of gun: | 135 lbs. (61.23Kg.) |
| Weight of tripod: | 135 lbs. (61.23Kg.) |
| Maximum effective range: | 1,000 yards (914.4 meters) |
| Number of barrels: | 5 |
| Barrel length: | 18.25 inches (46.35 cm) |
| Rate of twist of rifling: | 1 in 22 inches |
| Overall length: | 34 inches (91.44 cm) |
| Ammunition: | .45-70 U.S. Govt. |
| Firing rounds per minute: | Max. 1,000 rpm |
| Bruce gravity feed capacity: | 40 rounds |
| Adjustable rear sight: | Graduated to 1,000 yards |
This article first appeared in Small Arms Review V12N9 (June 2009)