By Jean Huon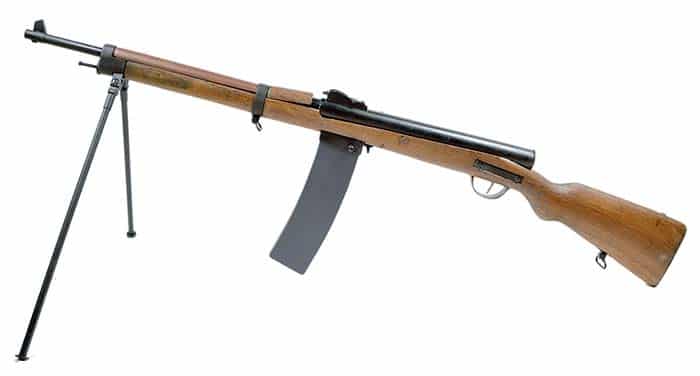 From Bicycles to Ribeyrolles' Automatic Weapons
As early as September 1914, the French government moved to Bordeaux and set up an ambitious strategic plan to exert all the potential of the French industry so as to produce small arms, ammunition, provide furniture, energy and workers for a wartime economy.
Later, production was dispatched to all factories according to their production capacities. At first, production of 75mm shells was the main production throughout WWI.
Concerning small arms, many factories were designed to produce various parts such as: cars, bicycles, plumbing, hardware or locksmith accessories, sewing machines, photographic material, electric components, etc., from far or near pertaining to mechanical works. Few factories produced complete guns: Darne produced the Lewis light machine guns for aircraft and so did "Gladiator."
These factories were ordered to produce the M1915 light machine gun, developed by Jacques Louis Chauchat and Charles Sutter. The Gladiator factory was founded by Alexandre Darracq and Jean Auroc in Le-Pré-Saint-Gervais, a small city in the East of Paris. It produced bicycles and cars.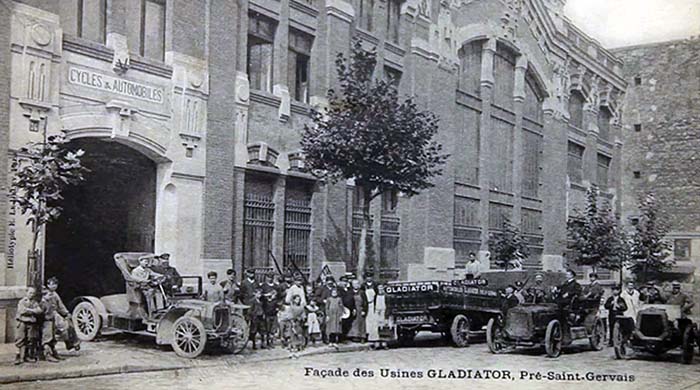 We don't know why Gladiator was chosen to produce the Chauchat, but the factory had all the required equipment to produce crude small arms, using a few milled parts, except for the bolt and barrel extension. The bolt housing was made out of a tube, the frame was manufactured with shaper tooling and riveted, and barrels came from discarded Lebel rifles. Between 1915 and 1918, Gladiator manufactured 250,000 M1915 Chauchat LMGs. Production was organized by Paul Ribeyrolles, technical manager of the factory.
Paul Ribeyrolles' Invention
In 1917, the French Army adopted a semi-automatic rifle presented as an improved Lebel, but it used only a few parts of the old rifle. This model was designed by Chauchat, Sutter and Ribeyrolles. Paul Ribeyrolles worked on other projects, which did not pass the prototype status: an automatic weapon intended for the protection of tanks, firing through a port and a machine carbine shooting an intermediate caliber cartridge.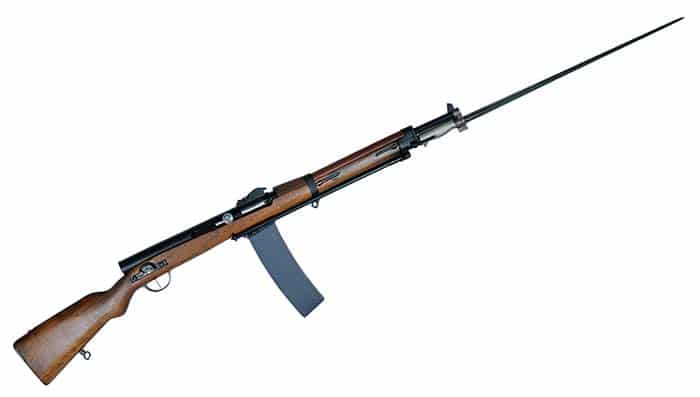 .
These guns are not well known:
One file exists in the Archive Armament Center in Chatellerault (former MAC factory);
One model is now owned by the Musée de l'Armée in Paris (access not possible for individual researchers).
In the MAS factory collection— One negative picture on glass was found in a garbage can many years ago at the Bourges Proving Ground;
At least two reports about a test of these weapons made for French, American and British observers in July 1918 and 1919; a copy of these were sent to me by the late Herbert Woodend, former curator of the MOD Pattern Room.
Ribeyrolles Submachine Guns
Jacques-Louis Chauchat died in 1917, and in 1918, Paul Ribeyrolles, perhaps with the help of Charles Sutter, developed a gun he called a "machine pistol." It was designed to be used by a tank crew for short range defense. They developed the gun that Americans would design 60 years later as a Firing Port Weapon. It was made with the frame and locking system of an M1917 semi-automatic rifle. The stock was replaced by a pistol grip. A shortened barrel was fitted with a muzzle brake made with the recoil booster of a Vickers aircraft machine gun. The rear sight came from a Springfield M1903 rifle. The gas cylinder was also shortened and shifted to the right. A safety lever was on the left side, but there is no selector.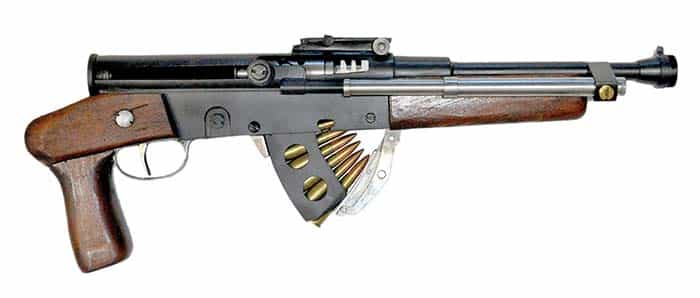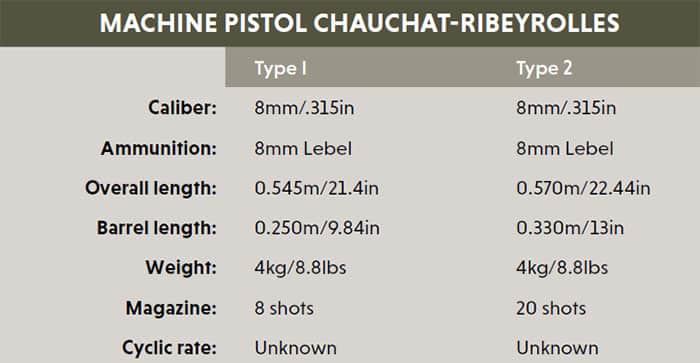 The first trials took place in 1918 with a gun loaded with a special eight-shot Mannlicher Berthier loading clip, but the piston broke during the test in October 1918. Other trials took place a few months later with a new model that had an aluminum frame fitted with pistol grips. The barrel and gas cylinder were slightly longer. The gun had no sights and could be fitted with a scope. The use of mixed ball and tracer bullets was recommended. It received a 20-shot Chauchat magazine. Tests went on until July 1919 with good results, but the gun was too powerful for the intended purpose.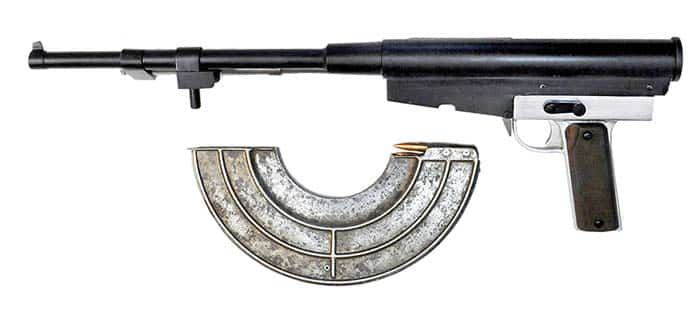 Ribeyrolles Automatic Rifle
The Ribeyrolles Automatic Rifle is the first French assault rifle. It shoots an intermediate "wildcat" cartridge obtained from a .351 Winchester (used by the French Air Force in WWI), necked down to 8mm (.32 inches) and fitted with an armor-piercing Lebel bullet.

The weapon was first presented at the Versailles Proving ground in Satory Camp on July 6, 1918. Later in 1921, it was tested again at the Commissions d'Expériences des Armes, Engins et Munitions du camp de Chalons (Small Arms and ammunition proving center in Chalons-sur-Marne, East of Paris, in the Champagne area). It was delivered with three magazines and 3,000 cartridges. The idea of an intermediate caliber cartridge was interesting, but 20 years were necessary to come back to the idea!

The Ribeyrolles automatic rifle looks like a carbine; the stock features a pistol grip. The cylindrical frame is made out of a tube, with a rear plug. Cocking lever and ejection port are on the right. Bolts are made of two cylindrical parts with linear hammer and a small diameter recoil spring inserted in a tube. The barrel is covered by a handguard and fixed by a swivel band and a forward band. Action is blowback. A bipod (from the Chauchat M1915 LMG) is fixed under the forend, and the M07/15 Berthier rifle (or Lebel) bayonet can be used.
A selector located on the right side, allows single shot, safety and burst. Shooting and ballistics did not provide good results:
Single shot firing of 75 cartridges led to 53 malfunctions;
When shooting eight bursts, only one could be stopped at will by the shooter;
Accuracy beyond 400 meters (438 yards) was insufficient.
The tests were stopped, the gun was too heavy for an individual weapon, and its efficiency was too poor for a light machine gun. Moreover, there was no program for this type of small arm or doctrine for its tactical use. Although the gun was not approved, it exerted some influence which was later picked up by arms designers such as the STA 1924 submachine gun. The STA 1924 includes the same design, including the bipod. Later, its design was copied by the M2 Cristobal carbine developed in the Dominican Republic.
The ammunition was to be very similar to the future 7.92mm Kurz and 7.62mm Kalashnikov, or the .300 Whisper and .300 AAA Blackout.
Ribeyrolles was probably ahead of his time—yet way too early!
The 8mm Ribeyrolles Cartridge
The 8mm Ribeyrolles cartridge is made from a necked down .351 Winchester S.L. case, fitted with an 8mm armor-piercing bullet with a steel core and a blackened gilding metal jacket. Weight was 9.56g (150 grains). The load was 0.9g (14 grains) of ballistite, an old smokeless powder.
The first cartridges were made at the Gladiator factory, but later for the July 6, 1918 trials, 3,000 cartridges were loaded by the Vincennes ammunition plant. For the Camp de Chalons test, more than 3,000 cartridges were loaded by Vincennes in 1921.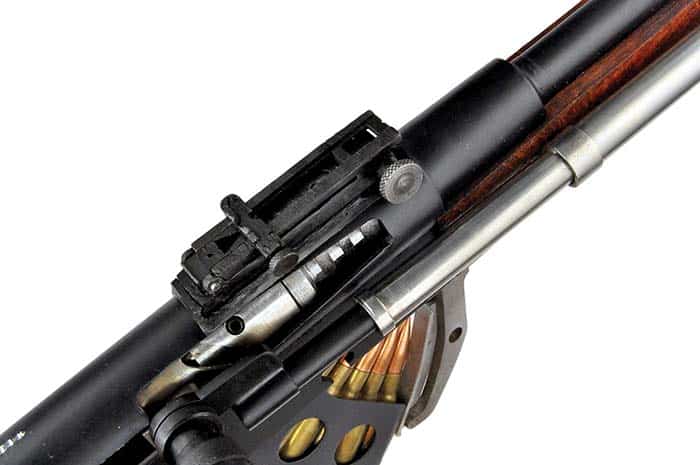 The development of the cartridge was completed, and the gun was built with an old 8mm Lebel or Berthier barrel with a twist for 8mm Lebel cartridge. The lighter bullet available in this caliber was the armor-piercing bullet, but a particular lighter and shorter bullet was made.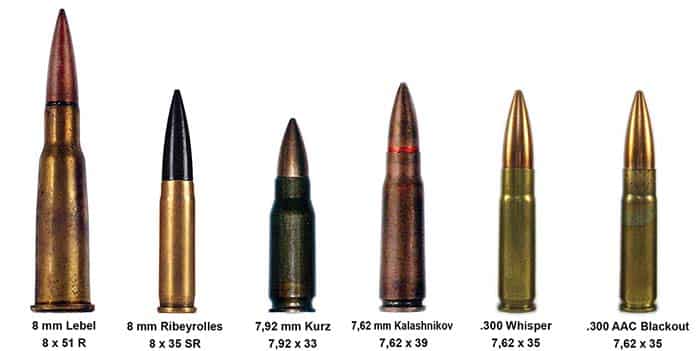 The choice of powder was not the best, ballistite could be favorably replaced by a more speedy powder. Neither the bullet velocity nor the trajectory was known, but we can compare with other similar loads.
Paul Ribeyrolles
Paul Ribeyrolles was born in Paris on December 12, 1874. He entered the Arts et Métiers high engineer school in Chalons-sur-Marne in 1891. He was technical manager for the Gladiator factory located at 76 Grande Rue at Le-Pré-Saint-Gervais, near Paris.
The Gladiator company manufactured bicycles and cars for the French market. In 1896, the company was bought by British investors, and the automobile division manufactured cars sold in Great Britain.
During WWI, the French War Ministry ordered the production of the Chauchat LMG, through a contract signed on October 20, 1915. Gladiator made 227,190 M1915s for the French Army (8mm Lebel) and later, 20,754 others for the U.S. Army (.30-06). Ribeyrolles died in Paris on July 11, 1947.
This article first appeared in Small Arms Review V23N3 (March 2019)