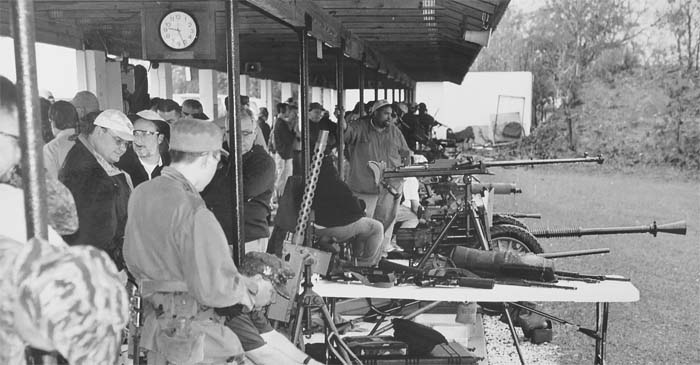 Off a lonely stretch of Highway 19 near Florida's west coast, between Weeki Wachee and Homosassa Springs, lies the Chassahowitzka Wildlife Management area, a pristine 33,919 acre parcel of mixed swamp, pine scrub and palmetto in Hernando County where deer, alligators and black bears roam much as they have since the end of the last ice age.
It is within this fitting "old Florida" setting that the Hernando Sportsman's Club is situated. Encompassing some 80 acres in all, the club includes several ranges including a 200 meter range, a 100 meter range, skeet and trap ranges, and a pistol range, all of which are spread out along the property's winding, dusty roads. A new visitor to the Hernando Sportsman's Club would quickly find that it is a different kind of range, run by a different kind of people than what one might expect to encounter in modern day Florida. Upon entering the property it's almost as if one has stepped back in time, before the developers and anti-gun urban immigrants seemingly took over everything in Florida. There is a decidedly old-school flavor to the place, harkening back to a time when people trusted each other and guns were a normal part of everyday life, being no more inherently dangerous than cars or chainsaws and considered just as much sporting equipment as a baseball or fishing rod was.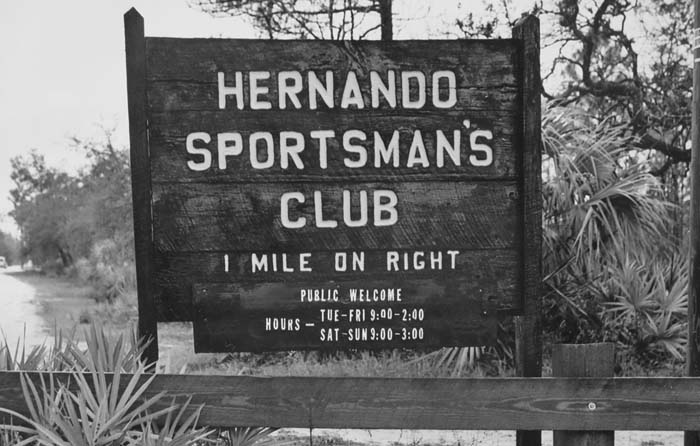 The Hernando Sportsman's Club hosts a wide variety of regularly scheduled events and matches; including machine gun shoots. Held three times a year (every July 4th, the end of February, and the end of September), the machine gun shoots are great fun and an extremely enjoyable experience.
Held on the club's 200 meter range, the machine gun shoots always include multiple, active and fun targets that incorporate at least several cars or trucks set out for the shooters, as well as scores of bowling pins, empty freon and propane tanks, expired fire extinguishers, exploding targets, and the odd TV, refrigerator, or johnboat set out at various distances. And the cars and trucks aren't totally stripped junkers either. They have engines, oil, glass, tires, and apparently always at least some gas in the tanks. So early on, shooters can enjoy picking off things like side view mirrors, headlights and door handles, or work at dropping windshields in by strategic and continuous pecking. After a while the vehicles inevitably catch fire and brew up in a glorious blazing spectacle of destruction. Shooters are encouraged to bring their own targets as well, and a sizable number of old electronic appliances also meet their fates there.
Even more important than the excellent physical facilities is the club's staff. From the man at the front gate to the range safety officers to the people serving hamburgers and soft drinks in the clubhouse, they are all courteous and helpful and sincerely enjoy what they are doing. Special mention is due to the range officers, headed by the shoot's "master of ceremonies" Randie Rickert. Without exception, they are all extremely professional as well as reasonable with regard to safety issues. Unlike some machine gun shoots where downright dangerous practices are ignored by staff, or where safety procedures are taken to such ridiculous and unnecessary extremes making the shoot entirely unpleasant, the staff at Hernando take a common sense and reasonable approach that results in safe, yet fun shoots.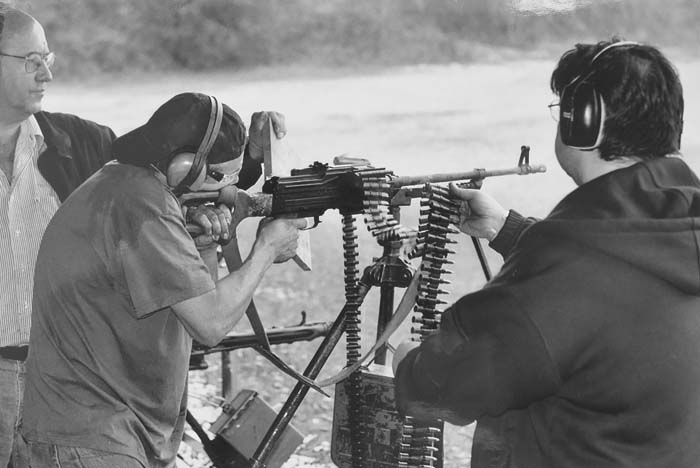 After the shooters' weapons are set up and ATF registration paperwork is verified, the line goes hot at approximately 9:30 a.m. For a good hour and a half, it's rock and roll, explosions, smiles, smoke and fire. By around 11 a.m. after all the targets have been shot up and the cars have mostly burnt out and cooled off a little, the line is called cold and shooters and spectators are allowed to go downrange and inspect the damage. New targets are set up, and the club's front-end-loader comes rumbling out and drags away the smoking, riddled hulls and replaces them with fresh vehicles.
Many shooters take advantage of the mid-afternoon break to get a bite or a drink at the clubhouse, which is conveniently located across the dirt road right behind the firing line. Others reload mags and link up belts, jawing with each other, or buying some Hernando MG Shoot T-shirts from the ever-smiling Diane Rickert, Randie's wife, who staffs the admission and T-shirt booth at every shoot. After the new targets have been set up, the line goes hot and it starts all over again.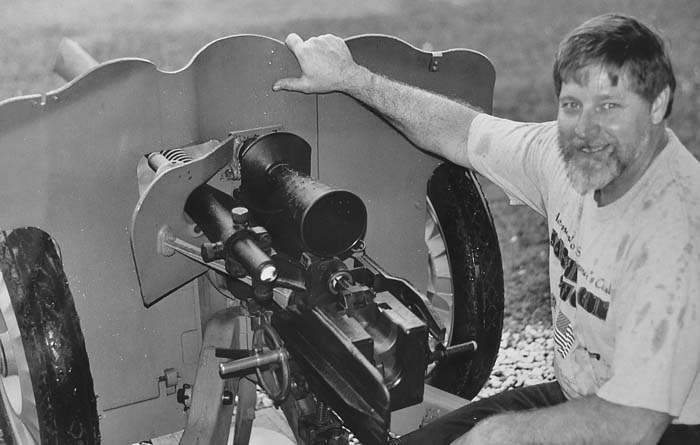 The club has been hosting machine gun shoots since the mid-1990s. When asked how and why the club first decided to host the machine gun shoots, Randie explained, "Well, there was an NRA rep who told us, 'don't restrict yourselves in what you do here, the government puts on enough restrictions,' and so we decided whatever kinds of guns or shooting was not prohibited by the government, we would welcome here." This enlightened and refreshing way of thinking pervades every aspect of the Hernando Sportsman's Club that makes it, and especially the machine gun shoots, so enjoyable: a truly patriotic, freedom-loving way to run a recreational shooting range. All lawful shooters and their guns are welcomed – trap shooters, machine gun shooters, .50 BMG shooters, benchrest, silhouette, High-Power, Action Rifle, bowling pin, SASS Cowboy, muzzleloader, and youth shoots are all held there. The club also hosts Hunter Education classes, and every year hundreds of youths from the Boy Scouts, Junior ROTC and other groups come to the club's ranges to learn firearms safety and marksmanship at no cost.
Once one attends one of the club's machine gun shoots you can be put on its mailing list, and from then on a few weeks before the next scheduled shoot a flyer arrives in the mail advertising it. The range fee is still only $20 for shooters with their own machine guns, and spectator admission is $2 and kids under 15 with adult supervision are free. At every shoot there also seems to be a respectable number of non-firing-line spectators who are able to observe the shooters and the targets downrange from behind the firing line, apparently drawn to the spectacle of watching people shoot machine guns.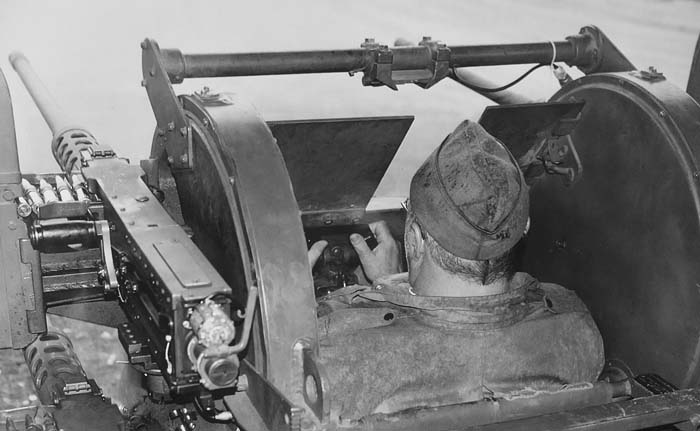 Each of the club's Fall machine gun shoots coincides with the weekend that a group of World War II re-enactors also come to the club's property. This certainly makes an interesting spectacle for attendees of the Fall shoots, given the large number of "soldiers" walking around and the period vehicles rumbling around (including Willys jeeps, half-tracks, and German Type 82 "kubelwagens"), and many of these individuals own vintage machine guns and participate in the shoot as well.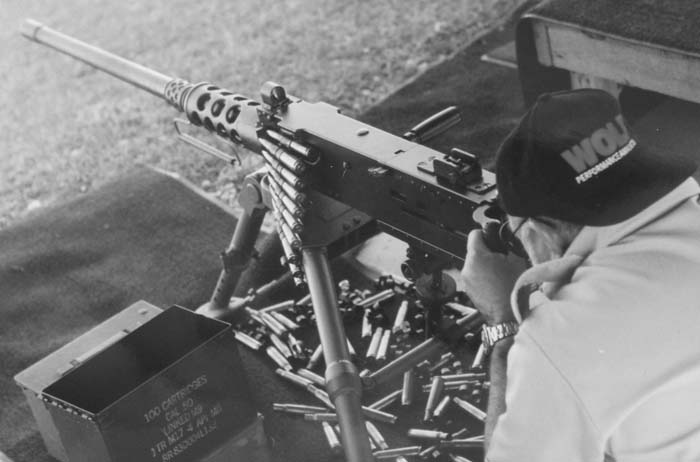 There is usually a very diverse variety of machine guns that can be seen on the line. In addition to the usual array of specimens such as Brownings, Thompsons, HKs, Uzis, MP40s, M60s, M2HBs, MG34/42s, Vickers, Shpagins, Sudarevs, M16 and AK variants, one may see the more unusual FN Minimi, PKM, Lewis gun, GE Minigun, Ameli, MG42/59, Shrike belt-fed upper, powered quad-M2HB mount, and a smattering of Destructive Devices such as mortars and a French Puteaux 25mm cannon.
Attending the Hernando Sportsman's Club machine gun shoots is a satisfying, if not therapeutic, experience. Making the road trip, seeing familiar faces, examining and shooting rare and interesting machine guns, shooting interesting and reactive targets, introducing a new people to the hobby, and having a relaxing post-shoot meal with friends is something that is hard to put a price on. And the good people at the Hernando Sportsman's Club and its machine gun shoots make it all happen.
This article first appeared in Small Arms Review V12N10 (July 2009)