By Todd Burgreen
One of the signs of getting older is being more susceptible to sentimentality. Many years ago, I traded away an Interarms Whitworth Yugoslavian Mauser bolt action chambered in .375 Holland & Holland Magnum. Recently, this transgression began to surface in my conscience more and more. Indulge me in my explanation for wanting to acquire another bolt action .375 H&H—not the easiest thing to do, currently. Not many manufacturers are currently offering models chambered in .375 H&H.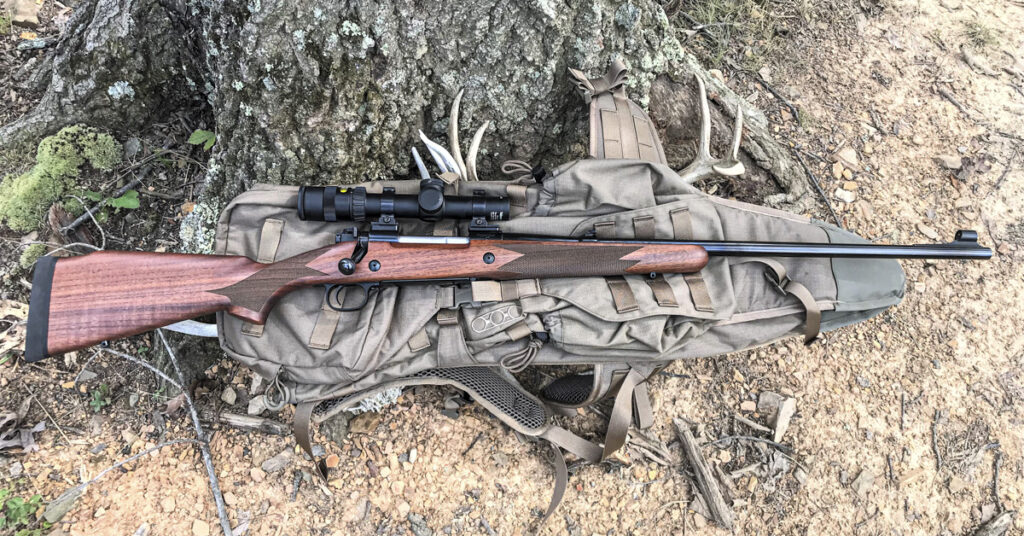 Feed Preferences
Some of my fondest memories growing up involve discussions about hunting and firearms with my grandfather. Pap Minico was a fount of knowledge. I always looked forward to visiting. Multiple volumes of Gun Digest and Shooter's Bible yearly annuals were on hand for reference. Without fail, we would disappear into his gunroom or basement where the reloading equipment was located. One of his favorite topics involved bolt action rifles and the difference between controlled round feeding (CRF) versus push feed (PF). For Pap, Mauser had shown the way with its large claw extractor which grabbed onto the round from the magazine and held onto to it until the empty brass was flicked away so another round could be ushered into the chamber. He repeated many times over, for him, there was no option other than CRF, especially if a rifle was destined for use with any sort of dangerous game.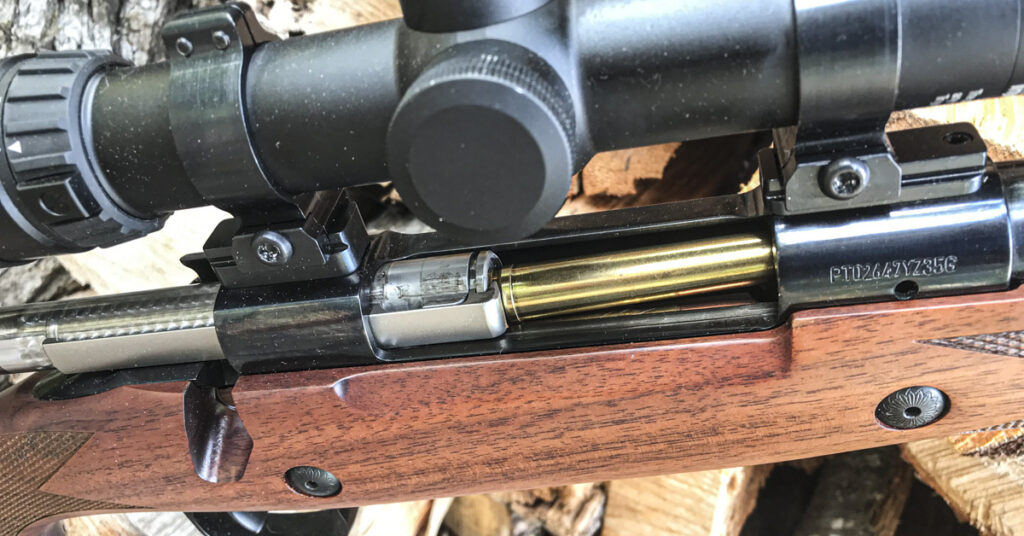 Pap Minico practiced what he preached. He was fond of sporterized Mausers. His favorite U.S. bolt action rifle was the pre-64 Winchester Model 70 – more on this shortly. I did not have to merely take his word for his bolt action beliefs either. He created demonstrations with controlled round feed versus push feed bolt designs using dummy rounds. The proper way of vigorously working a bolt action was also instilled upon me here. "Don't baby it!" he would exhort. He wanted the Model 70's blade ejector to send the brass across the room. He advised the large claw extractor found on the CRF bolt action also a real plus for getting a sticky case out of a chamber albeit caused by fouling, dirt, or high pressure. The small extractors found on push feed bolt actions would either slip off or rip through a stuck case.

Push feed bolt actions are more susceptible to the dreaded short- or double-stroke causing multiple rounds being released from the magazine well jamming up the action. Imagine this happening during a grizzly or Cape Buffalo charge. A push feed bolt's extractor slips over the case rim only when nearly totally closed into the breach with the extractor snapping over the rim. With CRF, the extractor controls the cartridge before it leaves the magazine's rails. Thus, if even if a bolt is worked improperly the cartridge will still be sent free of the action.
.375 Holland & Holland Magnum
Discussions with Pap were not confined to rifles. Cartridges were also debated. One of Pap's favorite rounds was the .375H&H. Pap had several .375H&H rifles over the years and would show up to deer camp with one every so often. His ability to handload proved beneficial here. 300-grain solid bullets meant for African dangerous game would be replaced by custom loads featuring Nosler 260-grain Partition projectiles being shoved at a velocity offering flatter than expected ballistic path from a big bore dangerous game cartridge.
Pap would preach how the Brits got the .375 H&H right using their hunting experience in Africa and India during the heyday of the British Empire. The .375 H&H, introduced in 1912, served as base cartridge for belted magnum cartridges that followed for the next hundred years. Here was a cartridge with a gentle sloping shoulder design tailor-made for bolt action rifle that were increasing in popularity as sporting arms. The .375 H&H geometry is ideal for such a lengthy cartridge being hustled into a chamber via a bolt action shove. This same design dealt well with transition to smokeless powder, not to mention pressure spikes of any rounds left out in the scorching tropical sun. The belt located near the base was used to headspace in a rifle chamber since the shoulder was at so shallow of an angle. Even though most of the subsequent cartridges spawned from the .375 H&H had suitable shoulders for headspacing (making the distinct .375 H&H belt superfluous), no self-respecting cartridge could be without a magnum belt for marketing reasons. Such was the .375 H&H mystique.
As stated earlier, Pap was fond of the Winchester Model 70. My father was unabashedly a Model 70 man, as well. Based on this, a Model 70 .375 H&H was the easy choice. Finding one became another matter. Winchester Repeating Arms does list .375 H&H as a chamber offering for the Model 70 Alaskan and Safari Express variants; however, production was several months away if at all. I resorted to one of the online website brokers and was thrilled when I found a new-in-box Winchester Model 70 Alaskan.
The Rifleman's Rifle
Winchester Repeating Firearms Company went through multiple trying periods in its history. The closing of the New Haven, CT plant in 2006 was the latest. Thankfully, FN Herstal (owner of Winchester Repeating Arms and Browning Arms) decided to continue Model 70 production in its FNH USA Columbia, SC plant in 2008. Winchester Repeating Firearms has produced four different rifles under the Model 70 designation with all four still in circulation. In a nutshell, the first Model 70 is the legendary pre-64 Model 70 – the "rifleman's rifle" that cemented Winchester's reputation with hunters with controlled round feeding upon its introduction in 1936. The post-64 Model 70 version nearly destroyed Winchester's credibility due to the abandonment of controlled round feeding and other modifications to lower manufacturing costs beginning in 1964.
Bringing Back A Classic
Fortunately, other limbs on the Model 70 family tree arrived in the early 1990's with control round feeding reinstituted. The "Classic" label chosen to designate the return to controlled round feed version of the Model 70. Only the Model 70 Classic variant is currently in production. A hybrid control round push feed variant incorporating a large, yet short, extractor on a push feed style bolt face was also toyed with by Winchester for a limited time in the early 1990s.
The .375 H&H Model 70 Alaskan featured in this article falls under the Classic-era model designation. The Classic returned pre-'64 features with minor differences in stock and action design. The commentaries I have read seem to agree that the Classic Model 70 encompasses features that make it superior to the original pre-'64 Model 70 – except for nostalgic reasons, that is. The Classic Model 70 is more scope friendly, coming already drilled and tapped. Along this line of thought, the Model 70 Alaskan features a subdued a Monte Carlo style stock. I say subdued as not as prominent as some other Monte Carlo profiles on the market. The Alaskan is one of the few Model 70's that uses a Monte Carlo style stock. The Monte Carlo raises the stock comb, thus catering more towards using a mounted optic. Monte Carlo advocates point out the design also aids in handling recoil by preventing a slap of the face that's more typical of the jaw welds found on a lot of rifles when scopes are used with stocks not properly set up to do so.
Another Model 70 Classic improvement is found with the M.O.A. Trigger System. Winchester literature points out the trigger mechanism was completely redesigned to exhibit zero take up, zero creep, and zero overtravel. The trigger's pull weight ranges from 3 to 5 pounds and is factory-set at 3 3/4 pounds. Because of the enhanced ergonomics, wide trigger shoe and 2:1 mechanical advantage created, it feels like half that weight. With all this said, the return of controlled round feeding is what brought the Model 70 Classic back into the fold for hunters, especially hunters who pursue game that can do damage to its pursuer.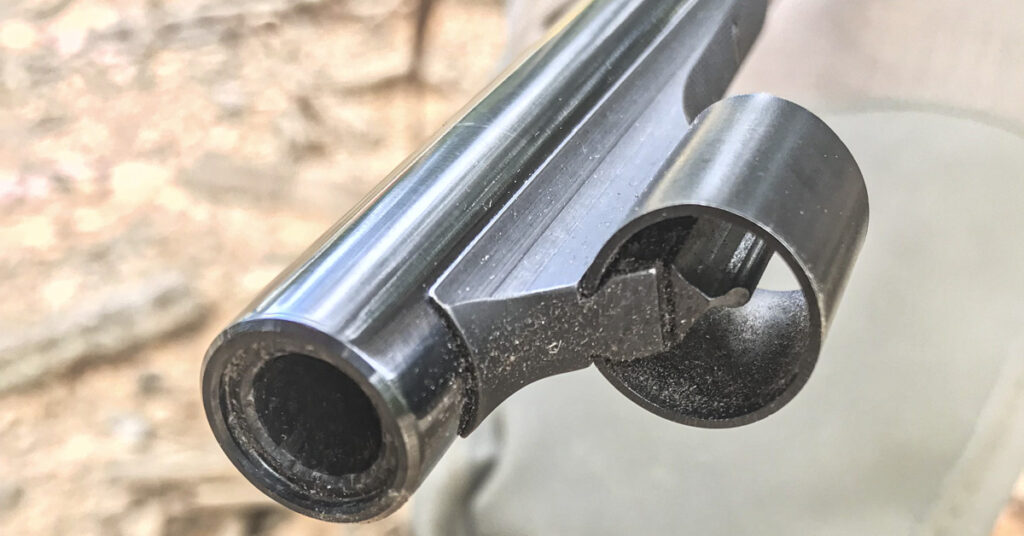 The Model 70 Alaskan harkens back to another age with satin finished black walnut Monte Carlo stock with cut checking combined with polished blue metal. Do not confuse refined aesthetics with lack of purpose. The forged steel receiver with jeweled bolt features dual recoil lugs and two steel reinforcing crossbolts harnessing the .375 H&H thump. Winchester's time-tested three-position safety gives tactile and visual representation of rifle's status. The 25-inch sporter profile barrel is free floated. The 25-inch length came as a surprise. However, once the 8.5-pound Alaskan was shouldered, any concern dissipated. It is so balanced.
Optics
Talley Manufacturing optic rings and bases secures a Trijicon AccuPoint 1-4x optic to the Model 70 Alaskan. Trijicon's combination of tritium and fiber optic lit reticle is hard to beat for a big bore rifle that does most of its work up close and personal. With the .375 H&H, which can stretch its legs for some distance work, the ability to access 4x magnification is handy. The Winchester Model 70 Alaskan .375 H&H can be a bear rifle one hunt and then an elk rifle the next. In Africa safari terms, Cape Buffalo in the morning with plains game in the afternoon. The .375 H&H is a true all-around game getting cartridge.
Ammunition Considerations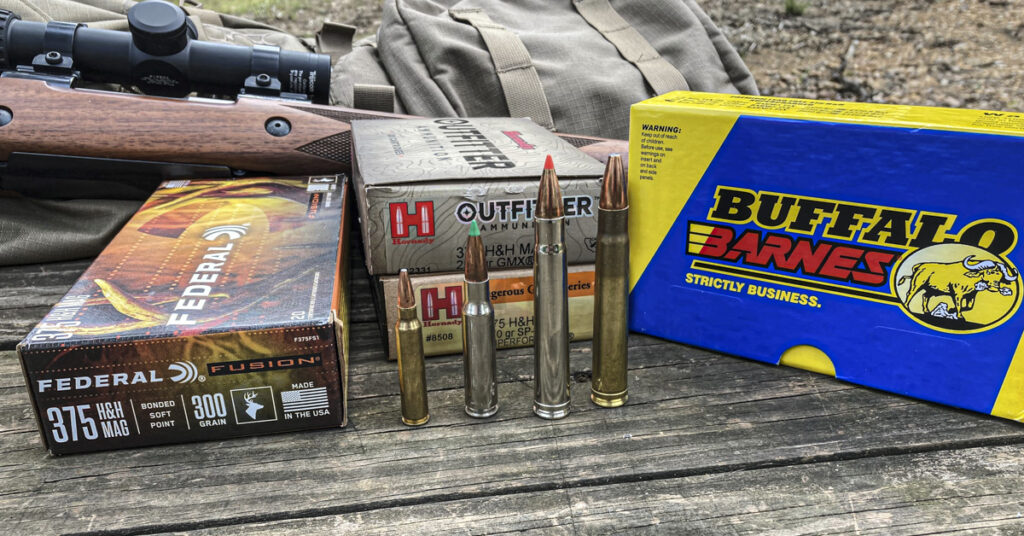 From its inception, Holland & Holland recognized .375 H&H versatility and supported it by offering three different bullet weights for various animal sizes/types – 235-grain at 2800 fps, 270-grain at 2650 fps, 300-grain at 2500 fps. Modern manufactures such as Federal, Hornady, as well as specialty ammunition producers like Buffalo Bore offer a dizzying array of bullet weights and types. Anecdotally, the 270-grain .375 H&H load shoots as flat as a 180-grain 30-06 arriving with nearly twice the muzzle energy. Sight in .375 H&H a few inches high at a hundred yards and you will be good to go out to 250-plus yards with round dipping only 2-3 inches low. That is mighty impressive for a medium bore dangerous game rifle. The .375 H&H reputation as a do it all cartridge stems from this.
Accessories
I have chased deer, elk, black bear, and hogs with the Model 70 Alaskan .375 H&H rifle using both handloads as well as factory ammunition. Two ancillary support items were used in the form of Eberlestock H2 Gunrunner with a BOG Great Divide tripod lashed to it. It's impressive how stable you could make a sitting or standing position using a BOG tripod. Hunting styles varied between still hunt, spot & stalk, tree stand, ground blind, and safari style. The Model 70 Alaskan's free floated barrel with recessed target crown generates 1-inch to 1.25-inch accuracy. This is not a misprint.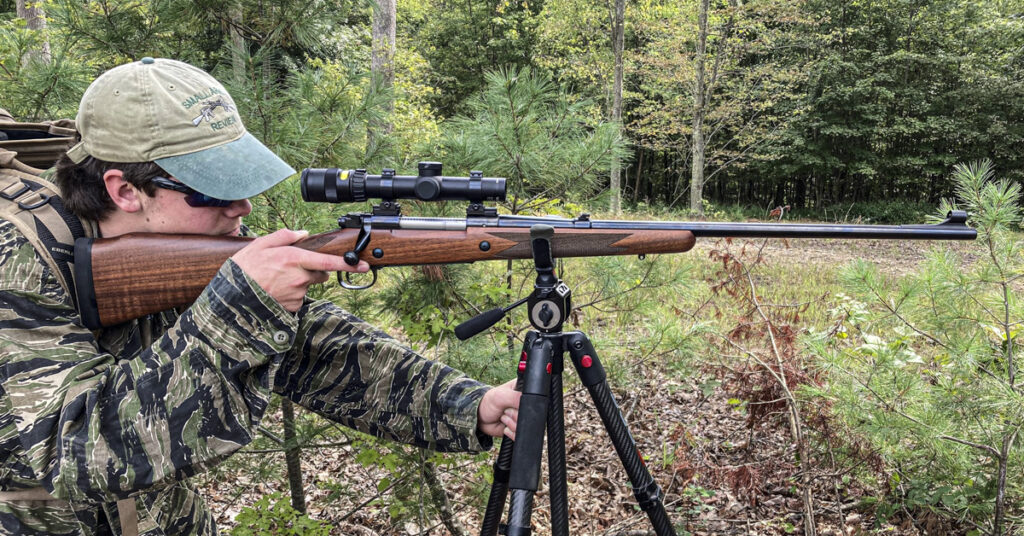 The Eberlestock Gunrunner is a minimalist pack meant to support day outings. It retains Eberlestock's patented scabbard design to hold your rifle while keeping it handy for quick access. The H2's top compartment segregates binoculars, range finder, spare ammunition and/or knife from 1000 cubic inch main compartment where food, clothes, and other goods are stored. Weight of the H2 is 3.5 pounds. Vertical and horizontal compression straps serve to tighten up your load and act as lashing points for extra clothes, tripod, tarp, and/or folding chair. The H2 Gunrunner's rifle scabbard measures 34in x 7in x 3in (LxWxD), with a 20-inch circumference opening allowing for scoped rifles to fit without issue.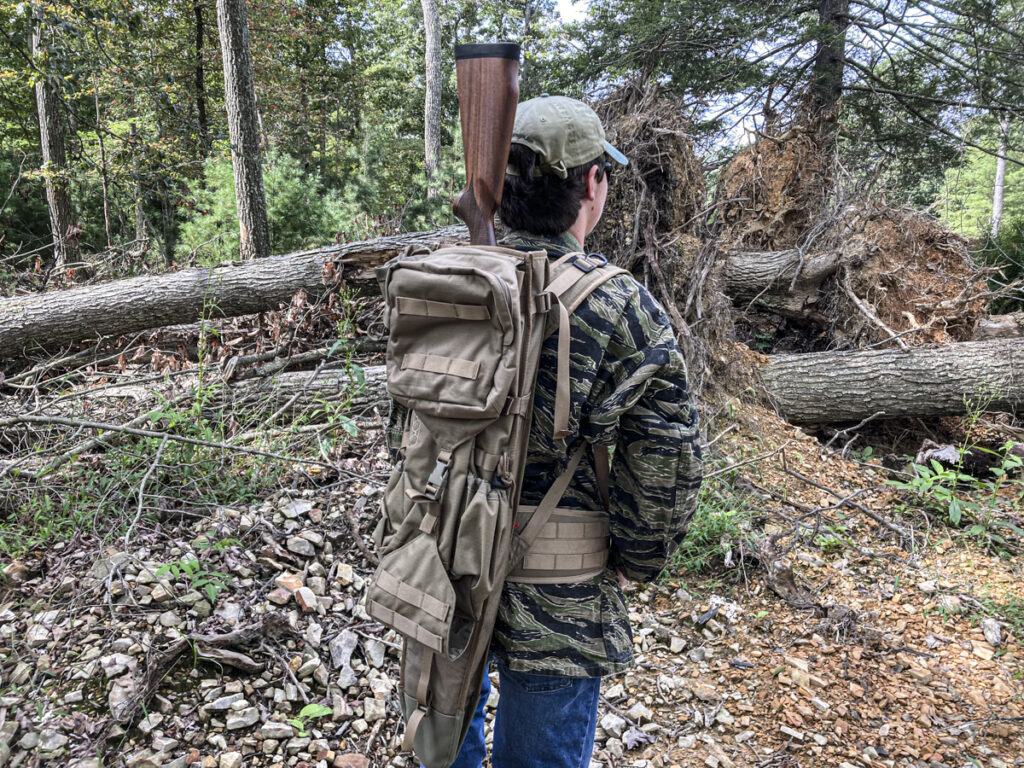 Evaluation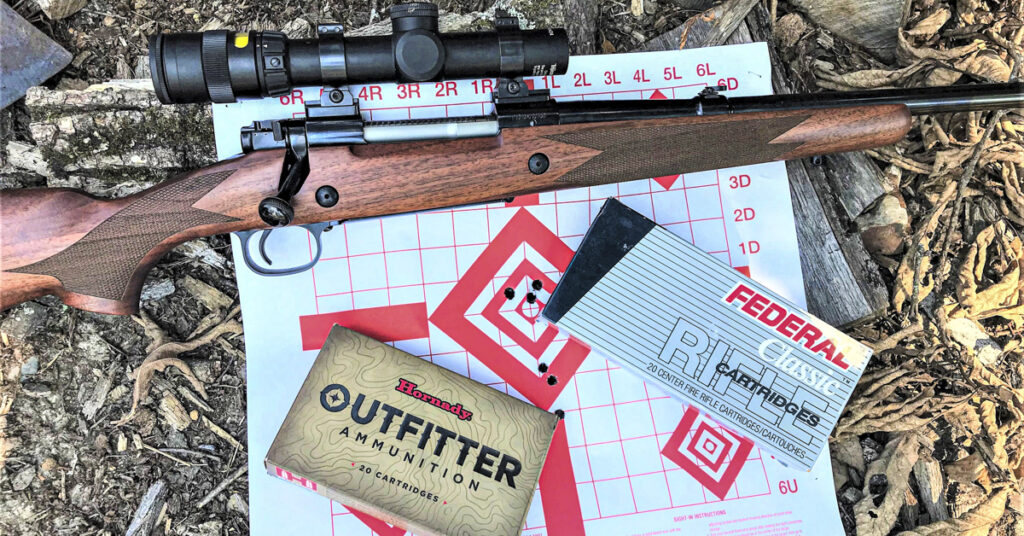 After establishing a baseline for accuracy, the Model 70 was fired from field position as intended by the shooting gods for the rest of the evaluation. Echo Valley Training Center's Jungle Walk range was used for testing. The ability to move through its varied terrain and engage randomly placed targets hidden within cover suited the Model 70 Alaskan's evaluation perfectly. Humble deer targets were used as Cape Buffalo and elephant targets were in short supply at my local gun store. Ranges involved were 25-240 yards with multiple shots fired at most of the targets. The emphasis was on accurate shot placement and working the Winchester bolt without removing the rifle from the shoulder. The three-round magazine was topped off during movement down the range. Remember, with controlled round feed bolts, just dropping in another round into the raceway will not work. The cartridge must be seated into the magazine with the extractor capturing the round from there. The 1x magnification setting on the Trijicon AccuPoint allowed for a wide field of view and illuminated center dot quick target assessment/engagement. 4x magnification was suitable for longer range shots. The BOG tripod used for the 150-yard-plus shots. The Alaskan's stock combined with Pachmayer recoil pad tamed recoil to manageable levels even with the .375 H&H loads.
Conclusion
Some would argue that the .375H&H Model 70 Alaskan is excessive for anything in North America. All I offer in rebuttal is that you are never over-gunned if you can place the bullet where it belongs. Plus, you need to study deeper into what the .375 H&H offers. Years after my childhood tutoring session with Pap, extensive reading and personal experiences have only confirmed what he was telling me.
Specifications
Make: Winchester
Model: Model 70 Alaskan
Caliber: 375 H&H Magnum
Weight: 8.5 pounds
Magazine Capacity: 3
Overall Length: 45.75 inches
Barrel: 25 inches, 1:12 twist
MSRP: $1549
URL: winchesterguns.com