Varmint .224 on a Lyman field stand for accuracy testing.
The .224 Valkyrie Varmint Rifle
The Windham Weaponry Varmint rifle in .224 was designed to bring long-range accuracy without the usual concomitants of excessive weight, obnoxious blast, heavy recoil or drastically expensive ammunition. The recently developed Federal Ammunition cartridge, .224 Valkyrie, is based on 6.8SPC case necked down to .224", the same caliber as .223 Remington. This approach allows fractionally greater powder capacity than .223 while lengthening the neck for secure seating of long, low-drag bullets. Whereas .223 Remington cannot accept bullets heavier than 77 grains without running out of internal volume for powder or increasing overall length past the magazine dimensions, .224 may be loaded with aerodynamic 90 grainers for better downrange energy retention. With the heavy 90gr, .224 Valkyrie reaches the same velocity as .223 does with lighter 75gr bullet typical of .223 match rounds. If pushing the same 75 grains out, .224 reaches 3000fps, about 200fps faster than the corresponding .223 load. The 60gr Varmint load meant for short and intermediate range use reaches impressive 3300fps, plenty to ensure a rather flat trajectory though at the cost of greater wind drift further downrange.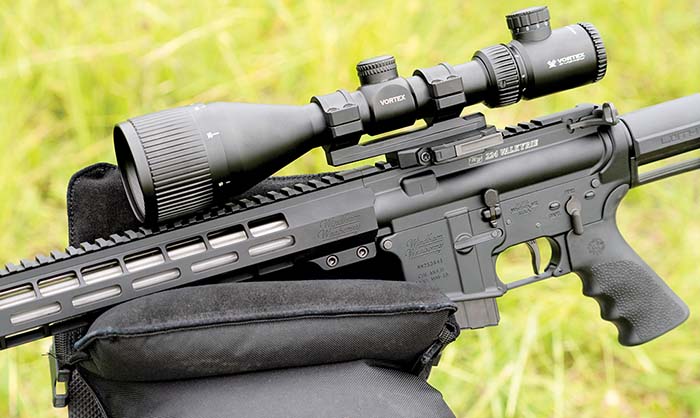 The potential for accuracy with this new cartridge calls for a good rifle to realize it, and Windham Weaponry .224 Varmint is just such a weapon. Having made AR-15 rifles for 45 years, Windham created a competent launch platform. Mounting a heavy fluted, threaded 22-inch stainless 1:7 twist barrel, it comes with Luth-AR adjustable stock to provide correct eye placement for large 1000-yard optics. Other than the magazine, the bolt and the barrel, .224 rifles share all other components with the regular .223 AR-15, making for excellent parts availability. Meant for supported precision shooting, this rifle ships with a 5-round magazine fitting almost flush with the bottom of the magazine well. 25-round 6.8SPC magazines also fit, giving this rifle a possible social use. The threaded barrel is thick enough to support sustained fire without overheating. Looking quite solid, at 8.7 pounds this rifle isn't as heavy as expected. Some of the weight savings come from the use of a slimline M-LOK forend.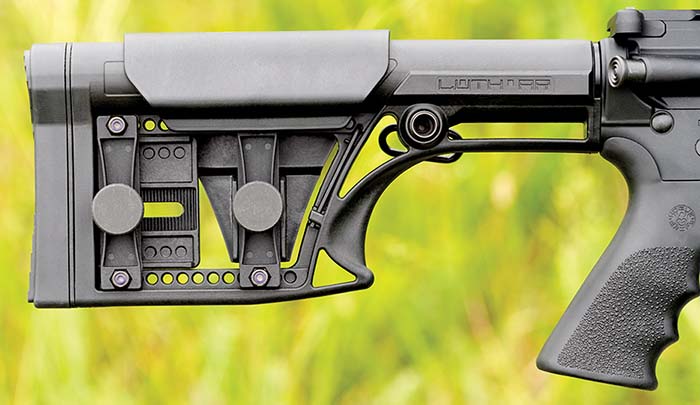 The vast difference in the bullets' ballistic coefficient—roughly 0.37 (75gr match) versus 0.56 (90gr)—has a considerable impact on the long-range results. At 1000 yards, .223 is subsonic and rather prone to wind drift, while .224 is supersonic and will remain so out to 1300 yards. It suffers about a third less wind deflection, making hits vastly more probable. Actual terminal ballistics are also improved, more than a modest increase in muzzle energy would suggest: at 1000 yards, the 90-grainer retains two and a half times as much kinetic energy, about even with 45ACP at the muzzle. This new cartridge achieves these feats without excessive muzzle flash or blast, and with the same 55,000psi maximum chamber pressure as .223 Remington. Compared to its direct competitor, .22 Nosler, .224 can use slightly heavier bullets but launches them a little slower: external ballistics end up very similar. Unlike .22 Nosler, .224 does not use a rebated rim to stay with the same bolt as .223 Remington, so it may have a slight edge in the reliability of extraction. .224 also wins in the cost of factory ammunition, with the very accurate American Eagle brand selling for less than $12 per box versus $22 for the least expensive Nosler load.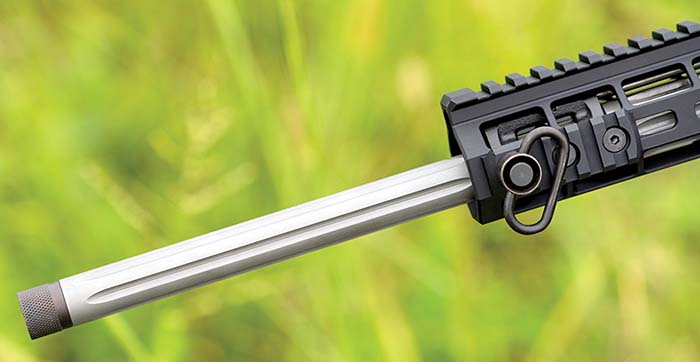 This rifle held a couple of surprises. The large diameter of the barrel behind the gas block left insufficient clearance for the Magpul M-LOK bipod rear tab. Windham's own M-LOK accessories use shorter screws and thinner tabs, so this went unnoticed at the design stage but frustrated my effort to install a bipod. This issue has since been addressed. That same small forend diameter made hand-holding this rifle in sitting or supported standing positions rather more practical. The single-stage trigger felt unexpectedly heavy for 5.5 pounds, most likely due to the entire effort coming due in a single motion. A lighter spring is available for a 4.5-pound pull, but a two-stage design would seem more appropriate for a precision rifle. Zeroing for 100 yards took only six rounds. For actual long-range use, I planned to re-zero for 200 yards, incidentally creating a 50-yard close zero. Firing the rifle was very comfortable thanks to minimal felt recoil and mild muzzle blast with no visible flash. At the range, friends who tried my .224 immediately wanted to shoot it more; it's a very pleasant and fun firearm to use. Despite intensive shooting with stops only to replenish the five-round magazine, at no time did I get a mirage over the barrel, so the pace of 10-15 rounds per minute may be sustained almost indefinitely—a good feature for a gun meant for reducing rodent colonies.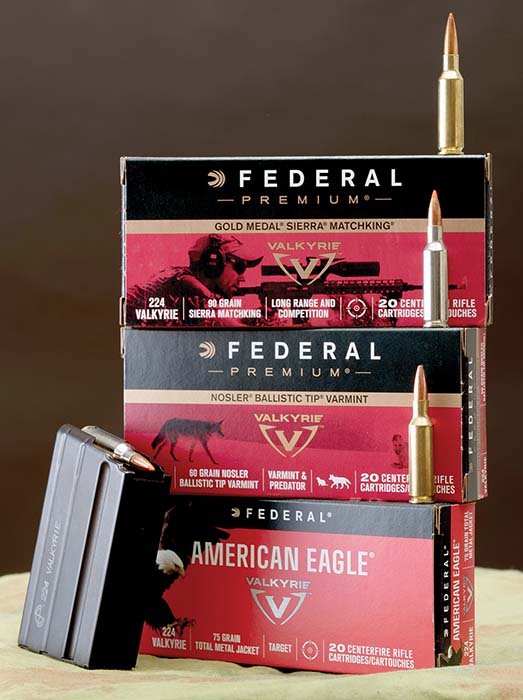 Accuracy was reasonable, though I would look to handloading and a trigger upgrade to really make this rifle shine. A sub-$100 LaRue trigger would make all the difference in bringing the bullet holes closer together. The least expensive 75gr American Eagle load grouped the best, averaging around 1.3MOA. 60gr Nosler ballistic tip Varmint, more of a medium-range choice, was next up at 1.4MOA. The high BC 90gr Sierra MatchKing had the greatest dispersion at 1.5MOA, though it remains the best choice for long-range shooting with the least wind drift of the group center. With the chambering as new as this, working up loads specific to the individual rifle would give a definite advantage. A tighter barrel twist would help the longer match bullet's stability, though likely at the cost of compatibility with the lighter Varmint projectiles.
This article first appeared in Small Arms Review V23N1 (January 2019)