WKW stands for Wielkokalibrowy Karabin Wyborowy. Let's just say that it loosely translates to "Large Caliber Rifle" in English. It first saw the light of day in 2005 in Poland when designer Zaklady Mechaniczne TARNOW S.A. factory introduced it to the Polish army. Alexander Lezucha was instrumental in engineering this rifle and the 7.62mm "Alex" sniper rifle. It is designated "Tor" by the military. This is Poland's first true anti-material sniper rifle. There were Polish sniper rifles in World war Two, but they were just accurate Soviet Mosin Nagant M91/30 refinished with a scope added.
Built on a bullpup design, the magazine and bolt are behind the trigger pack. Caliber is 12.7mm (.50 BMG), and the detachable magazine holds seven rounds. As in many other large caliber rifles, there's a monopod fitted to the buttstock and a bipod/carrying handle on a tube below the barrel. There is no forend. The barrel stands free-floated and is attached directly to the action in a fairly simplistic design similar to the German company DSR Precision's DSR-1 and the Barrett M95. A Barrett-type muzzle brake is fitted.
A Schmidt & Bender X3-12 P/MII scope is mounted on a raised rail situated above the action extending forward and over the barrel. Overall length of the rifle is 53.1 inches with a 34.6 inch fluted barrel. It's not a very heavy rifle at 35.5 lb and can easily be carried and operated by one soldier, providing that the ammunition load-out isn't too heavy. A fitted case that will take the scope is standard.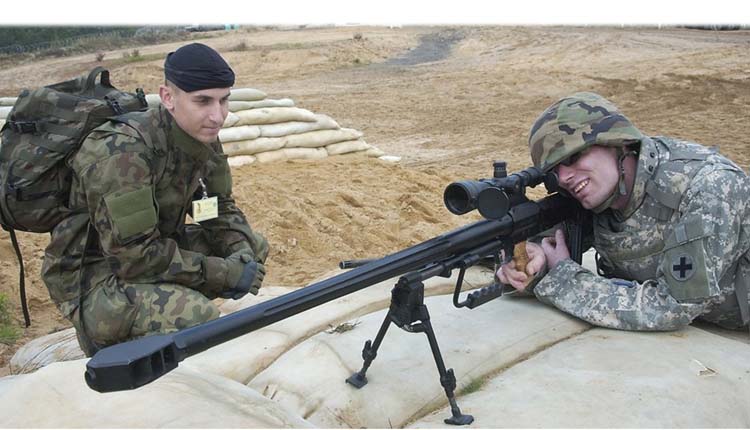 When firing the 12.7mm SLAP (Saboted Light Armor Penetrating round), the TOR can defeat up to .9 inches of armor at 1,200 meters. Present production is less than 50 units in service with selected units of the Polish army.
The 12.7mm round's specifications are standard .50 BMG; that is 2,850 feet per second and 13,350 ft-lb of energy (the 12.7mm SLAP is rated at 4,000+ feet per second.) Normally rounds are fed from the magazine; however single shots can be accomplished by feeding in one round at a time. Other than the muzzle brake, no anti-recoil devices are fitted. Subsequently, recoil is moderate to severe and time-on-target for repeated shots is slow.
Specifications
Caliber: 12.7 x 99mm (.50 BMG)
Length: 53.1 inches (1,350 mm)
Barrel length: 34.6 inches (880 mm)
Magazine: Seven round steel
Sight: Schmidt & Bender X3-12 P/MII (No iron sights fitted)
Range: 1,500 meters
Operation: Rotary bolt
Muzzle velocity: 2,800 feet per second
Muzzle energy: 13,350 foot-pounds
In service: 2005-current
Designer: Alexander Lezucha
This article first appeared in Small Arms Review V14N2 (November 2010)