By Robert Bruce

"The Garand Match is designed to make the enjoyment and historical purposes of competitive shooting available to many more shooters by limiting the rifles used in this competition to "as-issued" American military rifles that are readily available to almost all shooters at affordable prices." John C. Garand 2001 National Match Official Program
With increased availability of surplus military M1 rifles through the Civilian Marksmanship Program and other sources, numerous civilian shooting clubs all over America regularly conduct their own JOHN C. GARAND MATCHES as a preliminary to the annual National Matches at Camp Perry, Ohio. Fired with ordinary ball ammunition at 200 yards in a variety of positions using unmodified American service rifles like the M1 Garand, the '03 Springfield and even the M1 Carbine, this competition is fun and rewarding for novices and expert riflemen alike.
No formal marksmanship training is required of shooters, who are also not restricted by age, sex, or skill level. Most matches, while well supervised and controlled for safety and integrity of scoring, are rather relaxed affairs. Comfortable civilian attire and all sorts of amenities such as powerful spotting scopes, luxuriously thick ground pads, special shooting jackets, sun umbrellas, and coolers full of refreshing soft drinks are the order of the day.
While such niceties certainly make the usual Garand Match pleasurable, this just doesn't have the right flavor for certain types of shooters. These slightly curmudgeonly competitors – some perhaps harking back to their young adulthood in service of Uncle Sam – seek to re-create those days of yore when the science and art of riflery was taught and mastered for the most serious of reasons.

Old Hickory Association

One such group of borderline grouches can be found in the North Carolina based Old Hickory Association. These guys make preparation for both local and national level Garand Matches a particularly colorful and meaningful experience by conducting preliminary training and range firing just like American soldiers did in WWII.
"When you go out to the range in the uniform of a WWII GI, with the same kind of rifle and qualifying the way they did, it can't help but make you appreciate what all these guys went through to prepare for combat." Paul Gill, Old Hickory Association

The group's current president, Don Shupe, is quick to point out OHA's official purpose. "We are historians, collectors, military vehicle enthusiasts, and reenactors dedicated to keeping the memory of the soldiers of the 30th Infantry Division alive," he said. This is done, Shupe added, through activities like research, study, numerous public displays and occasional historical re-creation.

This last category is usually associated with groups of uniformed historical military enthusiasts who get together for mock combat using blank ammunition. Perhaps the best known manifestation of this phenomenon can be found all over America in various Civil War commemorative battles, as well as live fire competitive shooting called "skirmishes."
According to Shupe, the same sort of thing applies to activities of Old Hickory members except that their chosen time period is 1940 to 1945 when America mobilized for WWII. Not coincidentally, given the focus of this feature article, this is also the heyday of the incomparable M1 Garand Rifle, rightly called by famous General George Patton, "The greatest battle implement ever devised."

The Army Way…

Recently, members and invited guests gathered at historic Camp Butner, located off Interstate 85 about twenty miles north of Durham, for a weekend of basic training in rifle marksmanship and other military subjects. Built in 1943, the camp is still an active training base under command of the North Carolina National Guard and its facilities are regularly utilized by various military, law enforcement and other organizations.

Of particular interest to the OHA membership is Butner's classic 1000 yard Known Distance Range, essentially unchanged since when it was first constructed about 57 years ago! Several civilian high power matches are held there each year as regularly noted in various NRA bulletins.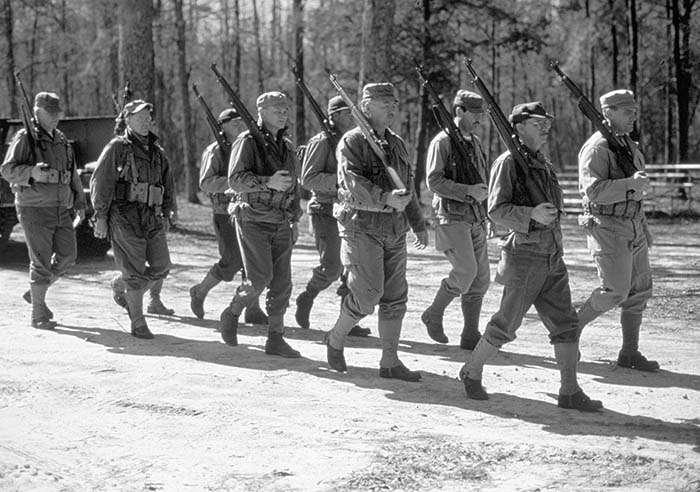 The association, currently around fifty members strong, enjoys a close relationship with the North Carolina National Guard, many of whom still wear the 30th's distinctive red and blue oval patch. As such, Shupe says, "We support the Guard with historical displays of artifacts, vehicles and authentically uniformed personnel, and they return the favor by allowing us to use their facilities for reenactments and range firing."

Small Arms Review was invited to the club's spring rifle weekend to both participate in and do a feature article on this unique event. The author, who learned to shoot the M1 as a seventeen year old recruit in the Virginia Army National Guard way back in 1964, brought along his recently acquired CMP Garand for its first firing since coming out of cosmoline (the rifle, not the author) late last year.
We caught up with Shupe and about fifteen other uniformed WWII reenactors on Friday evening as they were moving gear and rifles into a no-frills bivouac area not far from Camp Butner's headquarters. Olive drab canvas cots covered with brown GI wool blankets soon sprang up in orderly rows inside the small cinderblock buildings. As darkness fell gasoline lanterns provided light, their persistent hiss serving as background noise to lively conversation mixed with 1940's swing music from a tape recorder hidden inside a vintage radio. You didn't even need to close your eyes to imagine that this could actually be a typical evening during WWII.

Rise and Shine

First formation on Saturday morning was at a leisurely 0900 (that's 9am for you civilians), allowing plenty of time for shaving and chow. This was an opportunity for a number of traditional military activities including inspection of uniforms and weapons, an orientation on the day's planned activities, and some much-needed practice in close order drill. Interestingly, although nearly half of the participants had never served in the military, it takes much coaching by unit top sergeant Mark "Sparky" Burfete before the squad could do a passable job.

Next on the agenda was an hour-long class in fundamentals of rifle marksmanship conducted by Jim Higgins, in real life a pension plan administrator. Higgins is an accomplished competitive high power rifle shooter and, along with demonstrations by his friend Mike Owens, he led the group through such basics as sling adjustment as well as standard Army positions for prone, sitting, kneeling and standing. This was followed by a considerable amount of time for individuals to practice their shooting positions, with the benefit of corrections and suggestions from the instructor team and other old hands.

The final phase of the morning's refresher course was a classic military style chalkboard lecture (though a modern dry erase board was standing in for the traditional blackboard) on sight alignment and steady hold factors of breathing, aiming and squeezing off each shot. The windage and elevation rule as it applies to multiples of 100 yards and "click" adjustment of the M1's excellent rear sight was also explained in depth.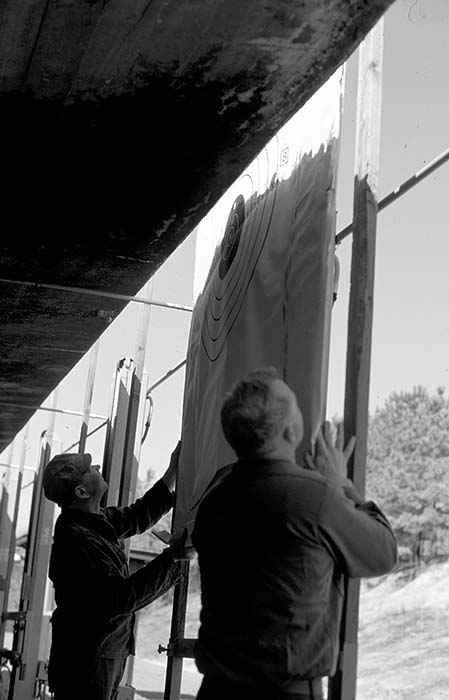 Forward March!

Although the range was located more than a mile away, these guys didn't climb into their family cars for a comfortable ride over. Instead, the command was given for "Right Shoulder Arms" and the column of reenactors moved out at a brisk pace accompanied by vintage GI cadence calls. Meanwhile, Shupe and others had loaded some necessary gear into his WWII US Army weapons carrier truck (sort of like a 1940's version of the HUMM-VEE) and gone ahead to begin setting up for the day's shooting. The author bummed a ride on a jeep, professing he had too much heavy camera equipment to lug it over on foot. Yeah, right….

First stop for all was the target pits, a long wide ditch holding a reinforced concrete bunker and a wall safely fronted with a thick mound of earth to stop incoming bullets. There, a long column of large rectangular frames awaited installation of the large paper bullseye targets. About the only change to have been applied to this classic target pit area since WWII is a modification to the old manually lifted frames. Now, these are motorized and can be controlled either by individual scorers or in unison from a central panel.

The course of fire used by the group is a slightly modified version of the John C. Garand Match, Course B (Table 7 of 2001 CMP Competition Rules), so the troops busied themselves with staple guns to attach the first set of regulation "Target, Rifle Competition SR, 200 Yards" to thick cardboard backings on sturdy wooden frames. This is the military equivalent of the NRA 200 yard SR target as specified under CMP rules.
Even old timers may agree that the staple gun is a welcome change from buckets of sloppy and stinking wheat paste originally used. These frames, in turn, were raised into position on the metal holders and lift motors were checked for proper function. Five firing points were set up and the group split into shooters and scorers for the first round of qualification.

Steel ammo boxes containing a supply of pasters and spotters were handed out at each target position. Pasters are rolls of rectangular white or black stickers used to cover previous bullet holes after recording the hit. Another modern innovation is the "peel and stick" paster – no need to swipe your tongue over a nasty tasting glue backing made from dead mules. Spotters are various sizes of thick cardboard discs that are black on one side and white on the other, with a pointed spindle in the middle. These are used to mark the location of each hit during zeroing so as to make this impact point clearly visible to shooters way back on the firing line.

When everything was in order, Jim Higgins gathered the whole group around a target to explain how spotting and scoring is done. Immediate feedback to shooters is given after each zeroing or practice shot by dropping the target frame and marking the location and value of each hit. Depending on whether the hit is in the white or black on the target, the appropriate side of the spotter is stuck into place so as to contrast with the background.
Also, a bright orange spotter disc is stuck into a standard place on the perimeter of the target indicating the value of the hit. When the target is raised again, the location and value of the hit can be easily seen from the firing line without the need for binoculars or spotting scopes. Sight adjustments are made by the shooter when the target is dropped for pasting, then the frames are raised again for the next shot. At the end of a multi-shot rapid fire stage, all hits are indicated at one time by placing smaller spotters in each hole. Scoring is done in the pits by each target puller and recorded on the scorecard seen in the accompanying illustration.

This procedure is simpler than the old way that is spelled out in the 1943 version of Army Field Manual 23-5, the "bible" of M1 shooting. Gone is the need for a confusing set of different paddles to indicate hits and their values and the embarrassing waving of the red "Maggie's drawers" flag when missing entirely.

A nice touch of authenticity was also provided in the pits by installing a functioning WWII model EE-8 field telephone. This battery-operated phone was connected to another on the 200 yard firing line by genuine two strand GI "commo wire, rolled out from a big reel mounted in the back of Shupe's weapons carrier. A hand-cranked ringer on the side of the phone signals the other end to pick up the handset for necessary consultation.

"Ready On The Firing Line"

The first five shooters gathered up their gear and marched uprange to the 200 yard line, taking note of the furiously snapping red flags at the left and right range limits. Wind velocity was fierce at this time of the morning and alternated from coming directly cross range at the 9 o'clock direction to a slightly less objectionable 7 o'clock. This would definitely give them problems with bullet drift so some calculated sight adjustments would be in order.

Each individual supplied his own ammunition and these boxes, previously loaded onto the weapons carrier, were retrieved and taken to numbered firing points on the line. Following last minute function checks and spot lubrication, a cleaning rod was run through every rifle barrel as a final safety check to ensure no obstructions were present.

After another brief review of rules and procedures by Higgins, individual shooters went about the process of preparing for zeroing. Rifles, ammo and miscellaneous gear were laid out on tent shelter half sections or ponchos. Initial sight adjustments were made and recorded and loop slings were snugged up per Army regulations. It was time to start shooting.

As previously mentioned, the OHA has slightly modified the Course B Match for this instructional firing. First, keeping in mind that this is a training exercise and not a sanctioned match, each shooter can fire up to ten rounds to obtain or confirm a proper zero – five more rounds than Course B rules. This very important preliminary is usually limited to ten minutes, but more time can be taken if individual shooters are having problems. Then, the first record stage, Slow Prone, is fired with twenty rounds in twenty minutes. This is five minutes less than standard because zeroing/practices shots have already been taken care of.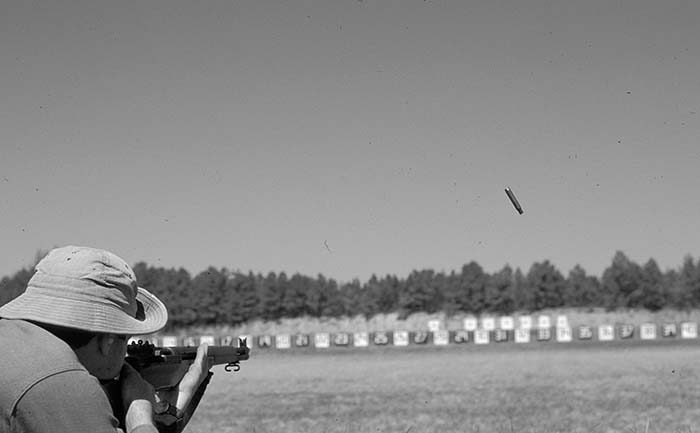 Seventy seconds for ten rounds of rapid fire from standing to prone is the second stage, starting with two rounds locked and loaded then requiring a quick reload with a fresh eight round clip. Third stage is also ten shots rapid fire in sixty seconds. CMP rules have this done from standing to sitting, but OHA training weekend shooters can substitute the kneeling position if desired. Finally, standing position slow fire gives ten minutes to get off ten shots; the same under both sets of rules.

Higgins points out that these small departures are considered by OHA to be a good balance between preparation for sanctioned matches under strict Course A or B rules, and the group's desire to conduct effective marksmanship training. "The basic structure of the Garand Match is maintained," he says," but the way it's done at this event gives us flexibility along with some real WWII flavor."

This observation is echoed by member Francis "FJ" Hale, both a High Power competition and Three Gun Tactical Match shooter. "Those old Army positions and techniques from WWII adapt very well to modern competitive shooting," Hale says, "you don't need to change them to be good."

After completion of the course of fire, the shooters policed up brass, secured all their gear, and marched off to swap positions with target pullers in the pits, giving their buddies a turn topside. This was also a time for some good-natured ribbing as shooters compared their scores and contemplated the settlement of friendly wagers.

First My Rifle, Then Me…

The Old Hickory shooters marched back to camp where they found that the day's measure of authentic military activities was not over yet. Cleaning gear was broken out and rifles stripped, scrubbed and oiled on handy concrete benches. Then, as they awaited arrival of their "hobo pack" suppers (burgers, taters and carrots baked in foil) a series of short lectures were given on the history of the 30th Division in WWII. Are we having fun yet?

Oh, by the way, the author's M1 rifle marksmanship skills have decidedly deteriorated after decades of neglect. While not revealing the full extent of this ruination, suffice to say much practice will be needed before he enters a sanctioned Garand Match. On a more positive note, his beautiful old Springfield-made M1, born in March of 1944 and still sporting the WWII style locking bar rear sight, performed flawlessly "right out of the box" as received from the CMP.

Find Out More

* Although the WWII M1 Rifle Marksmanship training weekend is a recent development, the OHA has conducted an official CMP-sanctioned John C. Garand Match each October since 1995. Interested shooters or potential recruits should contact the Old Hickory Association c/o Don Shupe, 414 Cary Pines Dr., Cary, NC 27513

* Camp Butner Training Site, North Carolina National Guard at www.ncguard.com/butner/butner/oldhickoryassociation.html

* For information on M1 rifle sales and high power competition shooting contact the Civilian Marksmanship Program, PO Box 576, Port Clinton, OH 43452 or www.odcmp.com

About the Author

Robert Bruce, An SAR "Usual Suspect," is an internationally published writer and photographer who specializes in modern military small arms subjects for magazines and books. He is perhaps best known as compiler and publisher of The M1 does MY talking!, a pictorial history of the incomparable Garand rifle.
This article first appeared in Small Arms Review V5N9 (June 2002)