By The Small Arms Review Editorial Staff
What is a "Frankengun"?
A "Frankengun" is just what it sounds like—a cross between Frankenstein's Monster and a gun, in this case a machine gun. The phrase goes back to the early Internet days when legal machine gun owners would cross-pollinate weapon designs using parts, and sometimes movie voodoo type add-ons, to create something that fit their idea of a fun gun. Frankengun contests are held occasionally, and we at Small Arms Review like to encourage our readers to participate, making sure it's legal as they do so. Much like our fabled "MacWaffle" contest (Small Arms Review Vol. 2, No. 4), where readers had to make a working waffle iron out of MAC flats, this is about having some fun.
We received several entries but chose the top 2 presented here. The winner of the Frankengun Challenge will be judged by the readers and receive a 3-year subscription to both Small Arms Review and Small Arms Defense Journal. An RKI Certificate will be provided for those who put in an entry, which will be suitable for framing.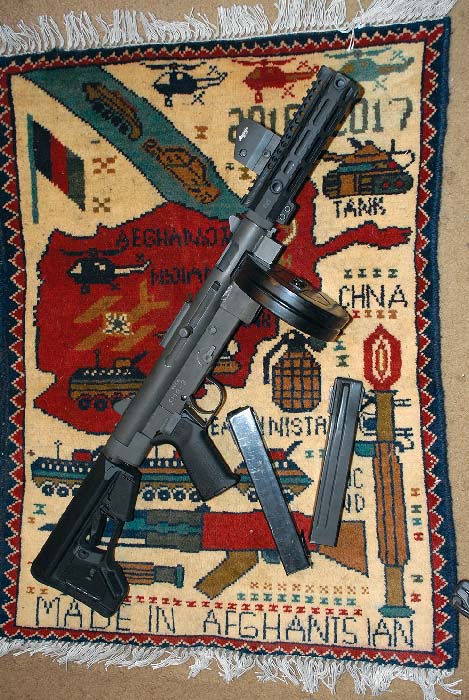 The S&W76/MK760
Magazine Problems Forced Owner to do Some Surgery
Richard Hoffman
This project started when one of my friends purchased an MK760 that was jamming. The gun would run just fine if you held the magazine forward and did not let it move when you shot it. The magazine well on his MK760 was too large and would let the magazine flop all over the place. The rounds would never be presented the same way consistently, causing feed jams. Looking at it and the history of the Smith & Wesson 76 / MK760, it should have always been designed like the Swedish "K" and been able to accept Suomi sticks, drums and coffin magazines. So I went to work.
Not knowing beyond a shadow of a doubt that I could get the drum magazines to work without having to cut too much out of the receiver and weakening it, I decided the best course of action would be to make a post sample 760 receiver to convert and work out all the bugs. I started by first carefully cutting off the magazine well so I could use it later. I then milled enough of the receiver away from the magazine cutout to allow the Suomi drum magazine to sit high enough to feed. The front magazine block was the next part to design, machine and weld into place. The next parts needed were a rear filler block to hold the rear rib of the magazine and a new magazine catch. At this point it was running perfectly with the double-feed magazines, but the bolt was too wide at the bottom and would hit the back of the single-feed magazines. The next job was to machine a new bolt that was narrower on the bottom so it would feed from the single-feed magazines and the double-feed stick magazines like the Swedish "K." After all this, it worked and worked really well. I hope by the time this article is published I will have everything designed, machined and ready to start accepting guns in for the magazine conversion.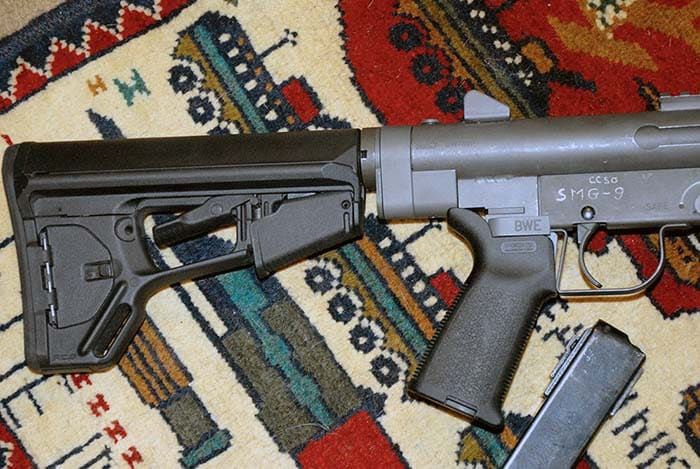 Last fall I had the opportunity to pick up an S&W76 for a good price and jumped on it since I have started to make replacement parts for the S&W76 /MK760 SMGs and wanted good parts to copy. I was excited and decided to shoot it in one of our monthly Florida subgun matches. The whole time I shot the match I was fighting to keep the stock from folding up on me. I tried using one of the existing AR-15 stock adapters on it and had problems with not being able to get everything to stay tight so the stock would twist in the adapter. I was not happy with that at all, so I designed a solid AR-15 stock adapter that I was happy with.
Now that I wasn't using the factory stock, why not make a grip adapter to use on one of the many AR-15 grips that are available on the market? The grip adapter was fairly easy to design, but with all the angled sides that had to be machined, this proved to be more of a challenge than I was anticipating. After updating my version of BobCad, my cadcam program, and figuring out a fixture for my fourth axis on my CNC machining center, I was able to turn them out in a reasonable amount of time. The hardest part of the grip adapter was figuring the best way to make the captive mounting screw.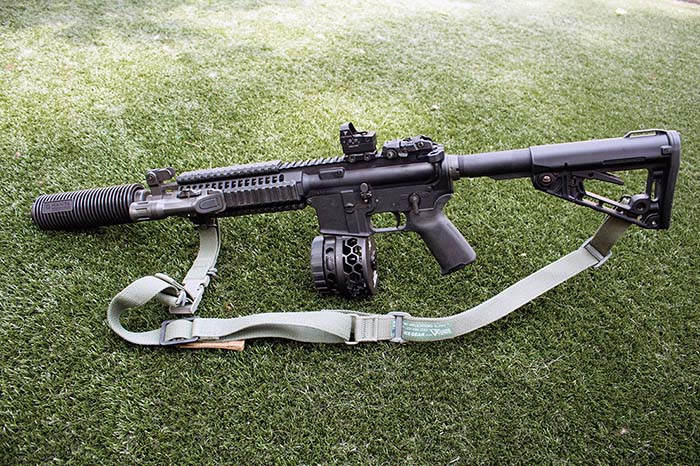 With the stock and grip taken care of I now had the problem of sights/optics. The AR-15 stock makes you look over the top of the factory sights, and I wanted to use a red dot sight on it anyway. I tried a clamp-on optic rail my friend had, but it would twist side to side and slide forward and back. At this point I decided to weld a short section of rail to the receiver which worked really well, but I figured a lot of people would not want to weld a rail to the top of their transferable. I decided since I had so much AR-15 furniture on it already, I might as well go all the way and make a barrel nut that would let me mount an AR-15 forend on it. I installed a Midwest Industries 8-inch Slim M-Lok forend. I then mounted a FastFire 2 red dot sight with the FastFire AR mount on the forend.
I usually don't like bolting on all the AR-15 furniture on a non-AR-15, but it has made this 760 shoot really well. It has now become my favorite competition subgun. There is very little rise while shooting long bursts while neutralizing a plate rack or a Polish plate rack. It is extremely easy to keep on target and is extremely accurate. More than that, it makes the 76/760 a very enjoyable subgun to shoot.
Along the way I made machined and heat-treated A2 tool steel extractors, solid stainless steel recoil spring guides and a 3/32-thick heavy duty neoprene buffer to ease any hammering of the takedown pin from the bolt. In the near future I will be adding a little bit of weight to the bolt to slow it down—about 100 RPM. I am also planning on designing a good folding stock as well as a fixed stock that will allow you to use the factory sights. I think a 22LR kit for the 76/760 would be a whole lot of fun. This is an ongoing project until I get the S&W76/MK760 to be the best subgun match gun out there. I also want to get all the S&W76/MK760s out of the back of people's safes and to the range doing what they should be doing.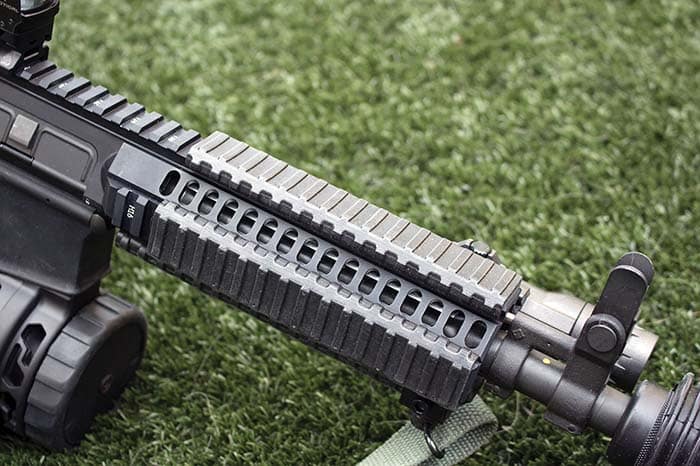 The Monolith: Living the Dream with my Favorite Thing
Walt Kuleck
Waiting a year (less a day) for the tax stamp on my Colt M4 (LE6520) to come back from the ATF gave me a lot of time to consider what to do with the lower when it became a legal SBR. When I submitted the Form 1 I had planned to create a true M4 with a 14.5-inch Colt upper; however, that seemed to be a bit mundane. So, I began to cast about for alternatives, with the desire to remain in the Colt universe.
I had done some familiarization training with our city's SWAT team, introducing them to their 11.5-inch Colt Commandos. Thus, the thought of creating a Commando with a Colt law enforcement upper came to mind. While searching various suppliers to nail down one of those 11.5-inch uppers, I came across a 10.5-inch Colt Monolithic upper, LE6945CK. That struck me as the perfect complement to the now-SBR M4 lower.
In the process of writing a number of books on the AR platform, I had formed some ideas as to the appropriate configuration for my 6945 SBR. I chose a Geissele trigger and a flat-wire buffer spring and heavy buffer for the lower's internals. Externally, I installed a Nikon reflex sight and INFORCE weapon light. I particularly like the INFORCE light because it can be operated conveniently without the trouble of wires and remote switches.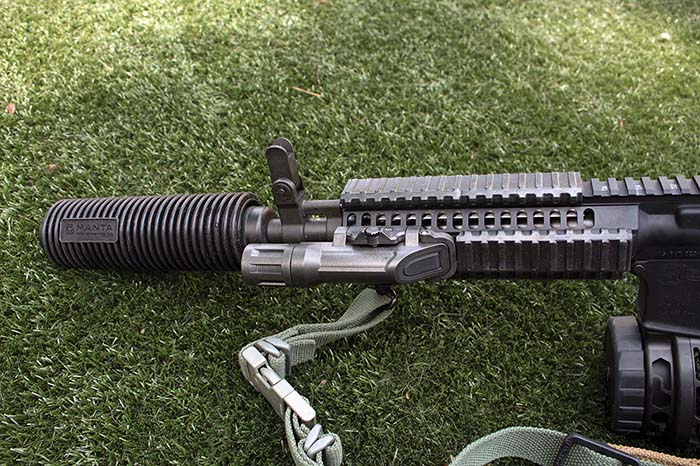 Up front I screwed on an Elite Iron can. To protect tender flesh, clothing and equipment from a hot suppressor, I covered the can with a Manta suppressor sleeve. Manta's polymer allows safely grasping the suppressor even after multiple mag dumps. Manta supplies rail covers to the USMC for their M27 automatic rifle; I have come to appreciate the Manta rail covers, so they were a natural choice for the project. A Vickers sling from Blue Force Gear shoulders the load.
Finally, I have become quite fond of X Products' drum mags, so an X-15 was the natural choice for a high-capacity feeding device. The skeletonized version may not be the most practical in a dusty or muddy environment; it saves a little weight and, well, looks cool.
So, there you have it; a year-long dream, culminating in the opportunity to bring together some of my favorite things from Geissele, INFORCE, Manta, X Products and others. "The Monolith," as I call it, is a fun piece and one of my all-time favorites.
Frankengun Captions
BWE-76-1: Pictured is an MK760 with a BWE Swedish "K" magazine conversion that allows you to use unmodified Suomi stick, drum and coffin magazines. It is also outfitted with BWE's AR-15 stock, grip and forend adapters and a red dot sight.
BWE-76-3: BWE's AR-15 stock and grip adapters allow you to use your favorite AR-15 stock and grip on your Smith & Wesson 76 or MK760.
WJKuleck SBR Left Side 2
Monolith from the left side. From front to rear, Elite Iron 7.62 suppressor with Manta suppressor cover, INFORCE weapon light. X Products skeletonized X-15 drum mag, Nikon P-Tactical reflex sight, Magpul MOE pistol grip, Radian Raptor charging handle and Rogers Superstock butt stock. The M4 6520 lower receiver came from Colt with the MOE grip and Rogers stock. The upper is Colt's 10.5in-barreled 6945 Monolith, with Colt-supplied Magpul MBUS rear sight. The Sling is a Vickers Tactical from Blue Force Gear.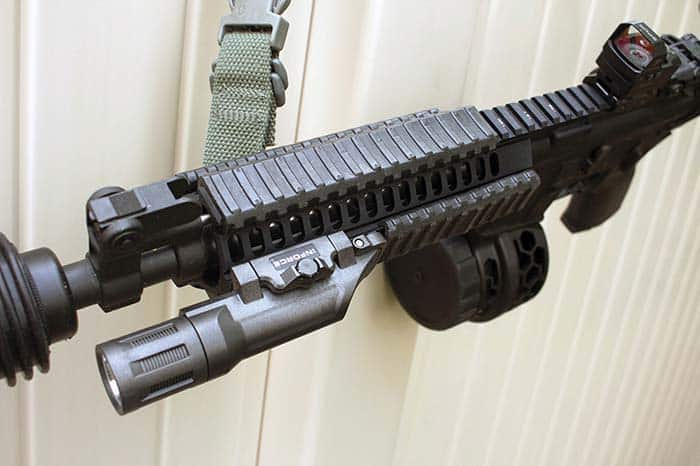 WJKuleck SBR Right Side Monolith
This right front ¾ view highlights the Manta very comfortable rail covers, as adopted by the USMC for the M27 IAR. The front sight is integral to the Monolith upper receiver.
WJKuleck Left Side Manta
This left-side close-up highlights the Manta suppressor cover on the Elite Iron suppressor and the INFORCE weapon light. The Manta cover remains cool enough to handle even after three 30-round mag dumps on full-auto, to which I can attest from personal experience. The integral switch of the INFORCE light makes it easy to activate without the trouble of external wires and switch pads.
WJKuleck SBR Left Side INFORCE
This upper front left ¾ view highlights the folded integral front sight and the Manta rail covers. At the rear the Nikon P-Tactical reflex sight is on a UTG riser for center co-witness. The knob on the top of the INFORCE weapon sight is the tensioning screw for the sight's integral rail mount.
This article first appeared in Small Arms Review V22N9 (November 2018)