Story & Photography by Todd Burgreen 
With "black rifles" dominating the gun media of late it is easy to forget that other firearm types exist. My initial interest in firearms was hunting rifles typified by bolt-action rifles. Let's continue to pull on this idea thread. What comes to mind if "bolt-action rifle" is mentioned? I would venture to say an image of a 26-inch heavy profile barrel in a stout stock appears in readers' thoughts. .308Win/7.62 NATO is the standard chambering with the caveat that cartridges are only getting larger to provide extended range and punch. Where are we going with this? Other bolt-action rifle types exist. Sometimes exploring something different broadens your horizons. Our analysis will not be based on the military or law enforcement logistical chain; rather think more along the lines of a company satisfying a changing sporting market due to a hunting regulation change. 
Ruger as a company has proven to be versatile and adaptable. A diverse product catalogue supports this. When Michigan and other Midwestern states began amending hunting regulations to allow for straight-walled rifle cartridges with overall lengths of 1.16 inches to 1.80 inches in lieu of shotgun or muzzle loading only, manufacturers quickly answered consumer calls. The original intent was for big bore revolver cartridges such as .44Mag, .454 Casull and .500 S&W to be taken afield in rifle packages. Ruger decided that a cartridge designed to increase AR-15 potency would make a good candidate for this new role. Enter the .450 Bushmaster chambered in the bolt-action Ruger American® Rifle Ranch.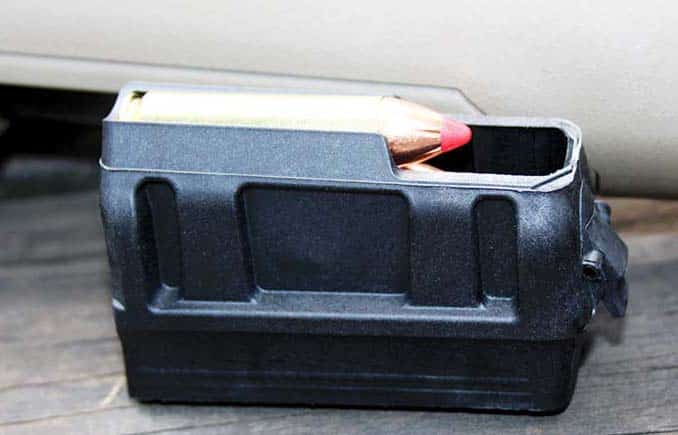 The .450 Bushmaster 
The urge to expand AR-15-type rifles beyond .22-caliber "poodle shooters," while maintaining ergonomics, has led to interesting cartridge creations. The .450 Bushmaster is an excellent example of this. The .450 Bushmaster was designed by the Hornady Manufacturing Company for Bushmaster Firearms when the latter wanted a .45 caliber cartridge that would work through the AR-15 action. The Bushmaster is based on a shortened .284 Winchester case. It is a rimless, straight-wall case with a rebated .473-inch diameter rim and a .500-inch-diameter head. The case is 1.70 inches long. It uses .452-inch-diameter bullets, as used in .45-caliber handguns, NOT .458-inch-diameter rifle bullets. The loaded overall cartridge length is 2.250 inches, and the case takes small rifle primers. 
Typical bullet weights range from 250 grain up to 300 grain. Hornady and Remington make several loads available for users. Buffalo Bore does offer a potent 360-grain hardcast .450 Bushmaster option along with multiple other bullet weights/types. Not a surprise to anyone familiar with Buffalo Bore's innovative ammunition offerings.
The .450 Bushmaster was specifically designed to generate stopping power at short to moderate ranges out of the AR. Two-hundred fifty- to 300-grain .450 Bushmaster loads pushing 2,200 feet per second with a 175-yard zero will give a relatively flat trajectory out to 200 yards; the 175-yard zero will have the bullet offset about 2 inches high at 50 yards, +3 inches at 100 yards and dropping -3 inches at 200 yards. The .450 Bushmaster's heavy, large-diameter bullets and moderate velocities make it well-suited for use in multiple arenas not just urban/CQB environments as initially designed. .450 Bushmaster chamberings are expanding into sporting roles with bolt-action rifles coming on board to supplement AR types. The .450 Bushmaster's terminal ballistics and large projectile have equal effect on engine block or large hog, assailants with body armor or penetrating the front chest of a bear. Automotive body panels are passed through as easy as a deer cavity.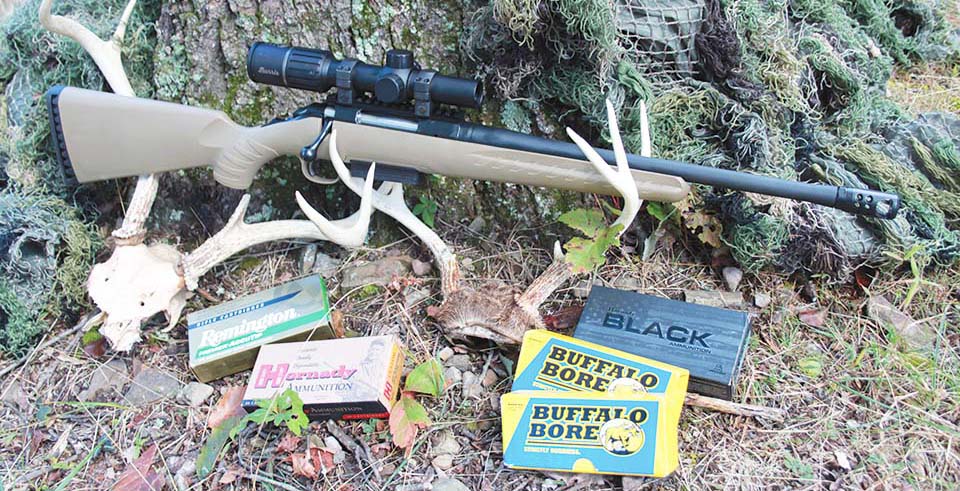 The .450 Bushmaster in the bolt-action Ruger American Rifle Ranch gives hunters .45-70 Government performance in a compact 36-inch, sub-6-pound rifle. The 16.12-inch cold hammer forged barrel is free-floated with muzzle brake affixed via 11/16-24 thread pattern. The muzzle brake is secured by an adjustable barrel nut in place of a crush washer. The steel receiver is topped with a factory-installed, 5-inch aluminum optics rail compatible with Picatinny-type scope mounting systems. This simplifies optic mounting and even allows for red dot use if the user desires. The single-piece, three-lug bolt cycles smoothly and features a full diameter bolt body, dual cocking cams and a round knob bolt handle. The bolt handle's 70-degree throw keeps it clear of the optic. A three-round detachable box magazine feeds the stubby .450 Bushmaster into the chamber. A tang-mounted safety completes the action.
Ruger uses a lightweight Flat Dark Earth synthetic stock featuring its patent-pending Power Bedding integral bedding block system, which gets the most of accuracy potential. A Ruger Marksman adjustable single-stage trigger set at 4 pounds further assists in the accuracy equation. The trigger is the interface between shooter and rifle in terms of producing accurate shot placement. Yes, the shooting position and way the rifle is mounted is important; however, the trigger press has the last word in terms of sending a round down range. The goal is to minimize shooter input/energy at the time the shot is taken.
Good marksmanship in the field starts with confidence. Confidence is built through firing a rifle that is not overly punishing and is inherently accurate as demonstrated from the bench. Each of us has different standards and tolerances with this. A rifle that shoots well off the bench offers the shooter no excuses or alibis when serious practice includes field shooting positions or shooting in the woods. The Ruger American Rifle Ranch .450 Bushmaster with a Burris RT-6 1-6x24mm optic produced consistent 1.50-inch or better groups at 100 yards. Hard to ask for more than this from a compact economical bolt-action with a 1-6x power scope on board.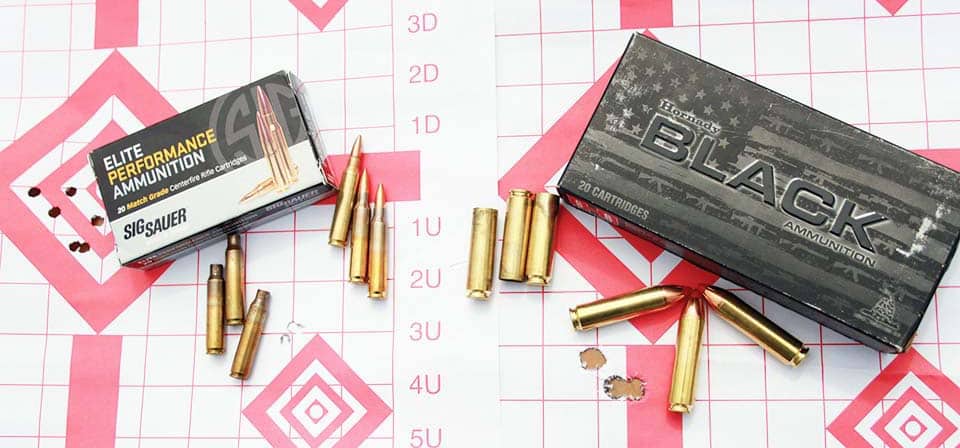 Testing
The Ruger American Rifle Ranch with its portability is intended for stalk or still hunting forays. This translates into fluid off-hand shots at game and not off rests or bipods—if lucky, the hunter will be able to adopt a kneeling or sitting position in lieu of off-hand shooting This was simulated during a T&E at Echo Valley Training Center (EVTC) by setting up clay pi-geons at various ranges and then assuming sit-ting, kneeling or standing shooting positions. Another twist is to have a companion pick the target and shooting position and the shooter to engage as designated as quickly as possible. Further field testing consisted of EVTC's Jungle Walk Range. The ability to move through its varied terrain and engage randomly placed deer targets hidden within cover suited the Ruger American Rifle Ranch .450 Bushmaster evaluation perfectly. Ranges involved were 35 to 150 yards with multiple shots fired at most of the targets. The emphasis was on accurate shot placement and working the Ruger American's bolt without removing the rifle from the shoulder. The low 1x setting on the Burris RT-6 allowed for a wide field of view and quick target assessment/engagement. A quick crank of the magnification knob allowed for easy targeting of longer range targets. The Ruger stock and recoil pad combined with muzzle brake tamed recoil to manageable levels even with the stout Buffalo Bore rounds. The Ruger American Rifle Ranch proved to "hang" well and was very manageable in getting into and out of field shooting positions. While not empirical data, the muzzle brake on the Ruger American tames felt recoil into about the 28/20-gauge shotgun realm for reference sake. This encourages more range time, equating to increased proficiency.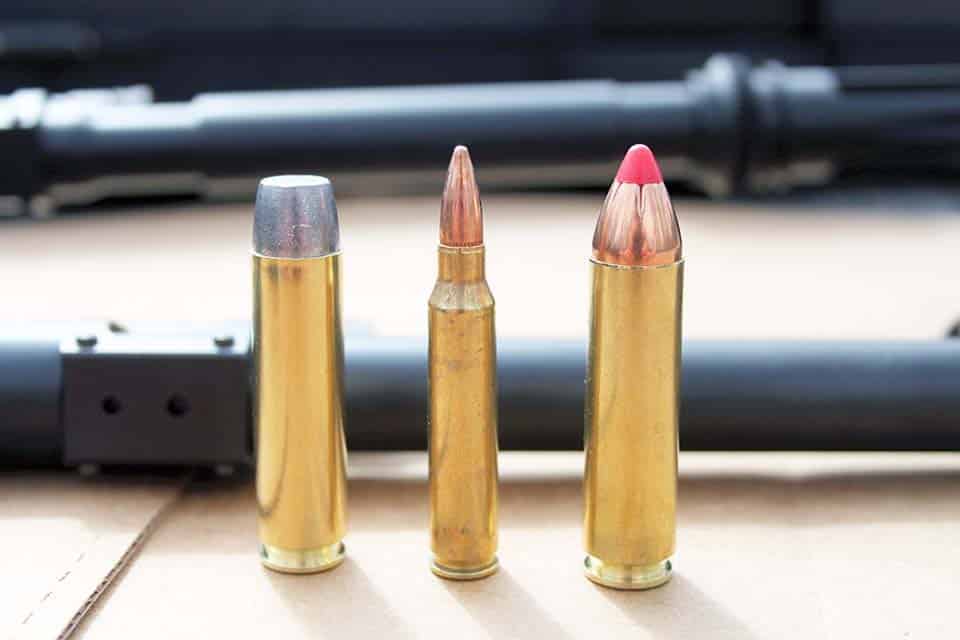 For Use Anywhere 
The Ruger American Rifle Ranch .450 Bushmaster's appeal is not confined to only the newly opened areas of Michigan and other Midwestern states. In steep, thick terrain, i.e., Appalachian Mountains or southern swamps, game needs to be anchored quickly. A wounded animal will inevitably head downhill or the toward the most inconvenient direction, often causing a lot of extra work to extract it once recovered. The quick-handling, heavy-hitting Ruger American Rifle Ranch chambered in .450 Bushmaster is ideal for this environment, too.
FOR MORE INFORMATION 
Ruger
Buffalo Bore Ammunition
Burris Optics
Hornady Manufacturing
Remington Ammunition
SIG SAUER
Echo Valley Training Center
This article first appeared in Small Arms Review V24N2 (Feb 2020)