By Paul Evancoe –
No, this is not about fighter jets, bombers or anything else that pilots fly. It's about air guns. Air guns exemplify the oldest pneumatic technology. The word "pneumatic" is a derivative of the Greek word pneuma meaning "wind, breath" and characterizes a class of firearms that employ pressurized air or gas (like CO2) as the propellant instead of gunpowder. Many believe air guns are little more than underpowered toys, like the Daisy Red Rider BB gun; the kind many enjoyed as kids. But that couldn't be further from fact. Air guns come in a variety of bore chamberings and are comparable to the accuracy and lethality of big bore cartridge-firing guns. Air rifles are very capable of killing most big game and have even been used as assault rifles in combat.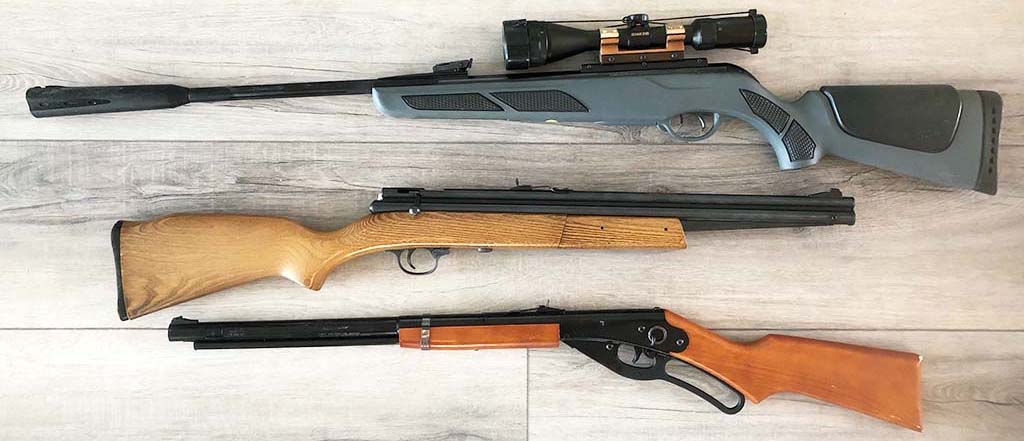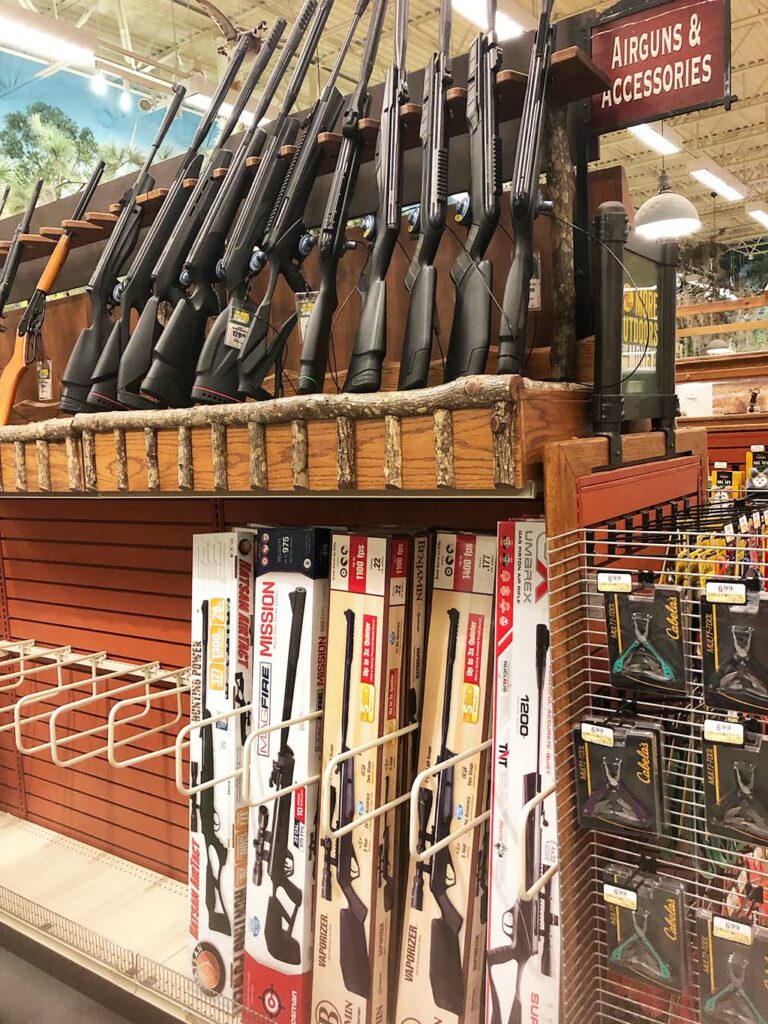 Girardoni Air Rifle
Historians generally recognize the 1580 timeframe as the time the modern air gun was introduced. These early, underpowered designs weren't bested until 1779 when Italian inventor Bartolomeo Girardoni designed a multiple shot, breech-loading, pre-charged pneumatic (PCP) air rifle with an effective range of 150 yards. The Girandoni air rifle was an immediate success. These air rifles were pre-charged using a stand pump to pressurize a club-shaped air reservoir that acted as the gun's buttstock.
In service for about a decade-and-a-half (circa 1780-1715), the Girandoni air rifle outrivaled the black powder muzzle loading firearms of the same period. Its reliability was one of the primary reasons. Unlike both matchlock and flintlock muskets, the Girandoni rifle could be reliably fired in rain and wet environments. Moreover, it could be reloaded and discharged ten, or more, times faster than muzzle-loading guns. When fired, its report was a much quieter, and it had no muzzle flash or smoke producing black powder propellent that compromised the shooter's location.
Approximating an infantry musket's size and weight of the same era, the Girardoni air rifle weighed nearly 10 pounds and was about 4 feet long. The rifle's design used a removable club-shaped air reservoir as its butt stock. Chambered to fire .51 caliber lead balls, its spring-fed, tubular magazine had a 22- round capacity which a skilled shooter could accurately fire off in about thirty seconds, according to historical accounts. Purportedly, a shot from this air gun could penetrate an inch of wood at a hundred paces, about 120 yards, which made it lethal against human flesh.
Because of its favorable attributes, the Austrian army issued the Girardoni M1780 repeating air rifle to its soldiers for use in the Napoleonic Wars, but the M1780 had a relatively short military lifespan because it had some material flaws. For example, the metallurgy of the period was barely compatible with the demands of the M1780 design – the gun was difficult, and therefore expensive, to manufacture. The gun's air reservoirs were made from hammered sheet iron, not steel, which was then formed into a club-shaped tank with riveted seams and sealed by brazing. Because of these antiquated construction methods and materials, the air reservoir tanks were somewhat brittle and prone to internal rust, fracturing and air leaks, which rendered the gun inoperable.
Even though the detachable air reservoir was capable of propelling approximately 30 shots, it took about 1,500 strokes using a stand pump to adequately pressurize it to its 800 PSI working pressure. A wagon-mounted pump was later used to make filling the reservoirs easier and faster, but that added to the guns logistic support requirements.
As gunpowder propellants evolved, along with metallic cased cartridge cases and the rifles that fired them, gunpowder utility ultimately proved superior, replacing the Girardoni M1780 repeating air rifle for military use around the 1815 timeframe. Nevertheless, the Girardoni air rifle did enjoy one of its most famous historical associations in the early 1800s garnered through its successful use by the Lewis and Clark Expedition while exploring and mapping the western part of North America.
"Air rifles are very capable of killing most big game and have even been used as assault rifles in combat."
Lewis and Clark
The Lewis and Clark Expedition carried a variant of the Girardoni repeating air rifle that was chambered in .46 caliber and had a rifled bore diameter of .452. Mounted on the side of the barrel, its spring-fed tubular magazine had a capacity of 22 lead balls. Like the M1780, the gun's butt stock served as the air reservoir which had a working pressure of 800 psi. The rifle had a firing rate of 22 aimed shots per minute, allowing it to outperform any muzzle loading rifle of the period.
As a means to achieve respect and awe from the Native American tribes they encountered, Lewis and Clark performed air rifle demonstrations that strutted the gun's accuracy and lethality. Since no Native American had ever seen a rifle that required no gunpowder and fired without flash or smoke, it was perceived as something mysterious with great spiritual power. This intimidating image served the expedition well. They were afforded safe passage throughout and never fired the gun in anger.
"The Lewis and Clark Expedition carried a variant of the Girardoni repeating air rifle that was chambered in .46 caliber…"
Japanese Air Rifles
In 1819, Japanese inventor Kunitomo Ikkansai, invented a powerful air rifle designed for military battle which he named Kiho. He based his design on "Fuho" (the study of Western technology), after studying a toy air gun's design introduced from Holland to Dejima, at the Dutch trading post in Nagasaki. Ikkansai went on to write "Kihoki," an instruction manual for the gun's use and maintenance, and later developed a 20-shot repeating version of Kiho. This opened the air rifle door to Asia and proliferated both its manufacturing and sporting applications beyond military use.
The Rise of Daisy
By the 1880s, air rifles had been around for years, but they were still not mass-produced and that's when American, William F. Markham, stepped up to the plate. In 1886, the Markham Air Rifle Company located in Plymouth, Michigan, marketed the first mass produced wooden air gun model called the Challenger. It was an instant success because it was affordable and available.
This got the attention of Clarence Hamilton, Markham's main competitor, and owner of the Plymouth Air Rifle Company, who in late 1887 offered a more expensive, but better quality, all-metal BB gun, which he named the Daisy BB Gun. In 1888, Markham responded with the Chicago model which he followed two years later with the King model. As a means to sell his air guns to an even wider market, Markham also made a deal with Sears to offer his Chicago model at a cost of 73 cents in the Sears & Roebuck catalog. And the BB gun marketing wars began.
In 1895 Hamilton changed the name of his Plymouth Air Rifle Company to the Daisy Manufacturing Company, indelibly branding the Daisy BB gun forevermore. After decades of passionate competition, Daisy purchased the Markham Air Rifle Company in 1916. In 1928 Daisy changed the name of the Markham company to the King Air Rifle Company and continued manufacturing the King air rifle until 1935. In the early 1940s, the King Air Rifle Company terminated operation completely, resulting from the manufacturing demands levied upon the company by World War II. By the 1950s other manufacturers joined the wildly expanding air gun market and the rest is history.
"…the detachable air reservoir's was capable of propelling approximately 30 shots, it took about 1,500 strokes using a stand pump to adequately pressurize it…"
Operation
Like cartridge-firing guns, air guns have common nomenclature. Most common to all air guns is their powerplant. The powerplant provides the gas pressure needed to propel the projectile. Air gun powerplants fall into three categories. The spring-piston is the most common and least sophisticated of the three. It utilizes the elastic energy (potential) stored in a spring to propel a piston encased in a cylinder that compresses the air in its path. Next is pneumatic, which is probably the most sophisticated (and powerful) powerplant of the three and uses rechargeable, internally stored, high-pressure air in a tubular flask mounted beneath the gun barrel, or a pressure vessel (bottle) that is designed to fit as a part of the gun's buttstock. Last is compressed gas. This powerplant uses an external source of pressurized gas, such as CO2 cylinders, that are inserted into the powerplant and discarded when empty.
Spring-Piston Powerplant
Air gun powerplants operate very differently from any cartridge-firing weapon. Let's begin with the simplest one. A spring-piston air gun (also referred to as a spring gun or "springer") operates by means of a spring-loaded piston pump assembly contained within a compression chamber (cylinder) that is not part of, but usually mounted beneath the gun barrel or the receiver. Most spring-piston guns are single-shot breechloaders. However, several manufacturers, such as Beeman, Umarex, Gamo, and Hatsan, offer multiple-shot repeaters with magazine feeders.
In order to fire a spring-piston gun, the shooter must manually cock the gun by actuating a lever connected to the pump assembly. This motion pulls the pump piston rearward against a spring until the rear of the piston engages the trigger sear. At the same time, it serves to compress the piston's mainspring storing the potential energy required for its forward compression stroke. These powerplants typically use a grease-lubricated (to reduce friction and dampen vibration) steel coil mainspring to power the piston forward.
The gun is fired by pulling the trigger like any other gun. The difference is the trigger sear releases the compressed mainspring instead of a hammer or a firing pin. This allows it to discharge its stored potential energy, which pushes the piston forward, compressing the air inside the pump's cylinder. The pump's air outlet is located at the pump's forward end directly behind the pellet, which is seated in the barrel chamber. As the piston snaps forward, compressing the air contained in its path, the air pressure quickly increases. Once air pressure achieves the pounds per square inch necessary to overcome the static friction created by the pellet held in the breech end of the gun barrel, the pellet is propelled forward by an expanding column of high-pressure air. This entire mechanical firing process takes place in a fraction of a second.
"…gas spring systems can remain cocked and ready for extended periods of time without spring fatigue or temperature concerns."
Dieseling
Air guns involve more fluid physics and aerodynamics than one might expect. The air, when rapidly compressed, undergoes a thermodynamic phenomenon known as adiabatic heating. During compression, the air inside the compression chamber precipitously climbs to several hundred degrees. This phenomenon can cause "dieseling" if flammable petroleum-based lubricants are used in the compression chamber.
Since the air gun's compression stroke works much like a piston stroke in a diesel engine, lubricants can be ignited by the compression heat and add an unpredictable energy thrust. This can result in something as little as a puff of combustion smoke from the muzzle to critical damage to the gun's internal rubber O-rings that seal the pressure chamber. Although not recommended by any air gun manufacturer, dieseling can intentionally be made to occur to increase power. Coating the pellet with a petroleum-based lubricant or petroleum jelly will take you down that road. Just beware of the consequences.
Pellet Velocity and Stability
Many spring-piston guns, especially the small bore "magnum" guns, can generate pellet muzzle velocities that exceed the speed of sound. Spring-piston guns have a practical upper velocity limit of 1125.33 fps. While this might sound appealing, and some air gun manufacturers brag about it as a marketing ploy (the Gamo Whisper model, for example), these higher velocities result in unstable pellet flight and loss of accuracy. Unstable pellet flight results from the extreme aerodynamic buffeting from the turbulence that occurs as the pellet approaches and surpasses transonic speed, which is 1125.33 fps. It happens a second time as the pellet encounters aerodynamic drag, decelerates and passes back through the sound barrier. This transonic sequence serves to destabilize the pellet's flight and accuracy suffers, especially at longer ranges.
As a rule of thumb, drag and pellet-wake turbulence rapidly increases as the pellet exceeds the speed of sound. In high-powered air guns, these phenomena can be effectively mitigated by using heavier grain pellets, which lowers velocities and keeps them subsonic. Using a heavier pellet will also reduce the gun's sonic report which can easily be mistaken for the report of a powder-actuated gun's discharge. Many shooters seek a balance in the 600–1,000 fps range, which balances power (velocity) and in-flight pellet stability (accuracy).
Spring-Piston Cocking Systems
Many spring-piston guns are hard to cock. The effort required for the manual cocking stroke is typically related to the designed power of the gun, e.g., higher muzzle velocities require a stiffer spring and thus, more cocking effort. Spring guns are typically cocked by one of the following mechanisms:
Break-barrel – This design works much like a break action firearm. The barrel is hinged at its junction with the receiver. The gun is cocked by pulling the barrel downward to a stop which exposes the barrel breech for loading. In this design, the barrel serves as the cocking lever.
Fixed-barrel – In this design the barrel is fixed to the receiver. The cocking is accomplished with a separate cocking lever that is commonly an under-barrel pump action or under-receiver lever action. There are also side-lever cocking designs with the cocking levers located to the side (usually the right side) of the receiver. There are over-lever cocking designs, too, that have the cocking levers located above the barrel. They are cocked by pulling the lever upwards and are mostly used in air pistols. Recently, some manufacturers have offered motorized cocking that's powered by an electric motor with a rechargeable battery. These are primarily offered on fully automatic BB-firing machineguns. Yes, they're great plinking fun, but otherwise useless.
Recoil in spring-piston guns, especially high-powered (magnum) models, is a physics issue that involves the inertia of propelling a mass forward and stopping its travel suddenly. Recoil results as the mainspring pushes the piston mass forward, creating an equal and opposite reaction – recoil. But it's a different kind of felt recoil than is experienced in cartridge firearms; and for most, it takes some abstract adjustment. The reason is that the spring recoil is felt before the pellet leaves the barrel. Spring gun recoil has a sharp forward component that drives the gun downward. This results from the piston mass hitting the front end of the pump chamber during the forward compression stroke, as the spring fully decompresses. This recoil might best be described as brisk double-jerking movements that can be severe enough to damage scopes that aren't rated for spring gun dynamics.
In addition, as the spring reaches its forward stop and the pellet discharges the gun, both torquing and unpredictable collateral transverse vibrations are felt in many designs. These two dynamics can cause a shooter's accuracy to suffer even when it's anticipated. Fortunately, there is a fix. Air gun shooters have found that these dynamics can be mitigated by adding features like close-fitting spring guides or by aftermarket tuning done by competent air gunsmiths who specialize in air gun modifications.
A common fix, for example, is coating the compression spring with a viscous silicone grease to dampen its vibration. Some shooters have also found that by loosening their grip on the gun, the gun will vibrate in a more consistent fashion. Additionally, to make the gun less grip-sensitive, some manufacturers offer a floating receiver design that allows the action and barrel to freely slide over the stock. This solution seems to work for some shooters but not for all. It's akin to handloading a variety of loads until you find the right load that works for your gun.
"…spring recoil is felt before the pellet leaves the barrel. Spring gun recoil has a sharp forward component that drives the gun downward."
Gas Spring Variant
Some newer generation air guns have replaced the mechanical coil spring with a gas spring (also referred to as a gas piston, gas strut, or nitro piston). For example, most all modern automobile strut-style suspensions use gas struts. A gas spring is basically a stand-alone tightly sealed piston pump with no gas outlets in its cylinder. Its factory-pressurized cylinder is filled with air or inert gas (nitrogen is a favorite to reduce compression heat) which effectively acts as a pneumatic accumulator. Cocking the gun's piston further compresses the gas already captured inside the cylinder, storing its potential energy for later release to power the pellet. Higher precision is necessary to manufacture gas spring operating systems because they necessitate a sliding, low friction gas seal capable of withstanding high internal pressures when the gun is cocked.
The gas spring possesses some clear advantages over the traditional coil spring version. In cold climates gas springs perform more reliably than coil springs. As previously mentioned, metallic coil springs must be coated with lubricating grease. Cold serves to make viscous lubricants even thicker which often results in cold climate shooting reliability issues for coil spring systems. Conversely, gas spring systems can remain cocked and ready for extended periods of time without spring fatigue or temperature concerns. Additionally, gas springs characteristically have less lateral and longitudinal vibrations than coil springs and don't experience twisting torque during their expansion stroke. This translates to smoother felt recoil, a faster lock time, the time between trigger pull and pellet discharge, and less grip-sensitivity issues for the shooter to contend with. The overall result is more consistent accuracy and all-climate reliability.
Pneumatic Pump Powerplant
Pneumatic pump air guns use an onboard, lever-operated air pump to pressurize an internal cylinder that acts as a reservoir. This reservoir provides the compressed air for each shot. Pump gun designs come in either single-stroke or multi-stroke versions. Single-stroke pneumatic air guns (also called "single-pump" air guns), employ a single cocking lever to mechanically compress the air. Traditionally, the single-pump system is mostly used in target rifles and pistols because the higher muzzle energy of a multi-stroke pumping system is unnecessary.
Multi-stroke pneumatic air guns, also called "multi-pump" air guns, attain their variable power levels using multiple pump strokes, usually five to eight pump strokes. Multi-stroke designs are mostly chambered for small bore pellets and are primarily used for intermediate- and long-range target shooting. While these air guns are commonly single shot, requiring approximately five to eight pump strokes per shot, there are some designs that store enough pressure for several consecutive shots. These designs usually require 10 to 20 pump strokes to accumulate a higher working pressure in their air reservoirs. Overcharging the reservoir's maximum pressure limit on multi-stroke guns is always a safety concern so most are designed so their pump lever stops when the reservoir reaches its maximum safe operating pressure. As a rule of thumb, that limit is reached with approximately 20 to 30 pump strokes, depending upon the design.
Pre-Charged Pneumatic (PCP) Variant
As previously discussed, single-stroke and multi-stroke pump guns utilize an on-board hand pump to pressurize air that's stored in an internal reservoir. Pre-charged pneumatic (PCP) air guns differ because they are filled from an external source using either a high-pressure air compressor, a manually operated high pressure stand pump, or by decanting air from a larger SCUBA-style, high pressure air cylinder. PCP air guns provide the most power and differ from all the other designs because they use pre-pressurized compressed air stored in an air cylinder to propel the projectile. A pressure regulator or orifice-style valve meters a measured volume for every shot.
Depending on the air release valve design, PCP air guns can be categorized into two types – unregulated and regulated. These designs employ either a mechanical or electronic regulator valve to meter air for each shot. In addition to compressed air, some of today's custom-built PCP models use compressed nitrogen, liquid nitrogen, or helium, that provide higher operating pressures and better thermal stability. More on this in a moment.
The discharge cycle of a typical PCP air gun is straight forward. When the trigger is pulled, the hammer is released by the trigger sear and the hammer strikes a bash valve. Bash valves are also used on some fire extinguishers. These valves are uniquely designed so that once lifted off their seat, the pressure underneath the valve holds the valve open until the pressure significantly decreases. The valve then closes under spring tension and is held closed by its spring until the firing sequence is repeated. Accordingly, when the reservoir pressure is high, as with a fully charged reservoir, the bash valve opens less and closes faster than when the reservoir pressure is lower. This provides a more consistent flow of air volume past the valve with each shot and thus, a limited degree of self-regulation that's necessary for consistent shot–to–shot pellet velocity. The design goal is to flatten the gun's power curve between multiple shots as the reservoir's air pressure diminishes.
Regulated PCP Designs
Regulated PCP rifle and pistol designs are the most efficient and incorporate a firing valve that is encased within a secondary (chamber) regulator body that is separate from the main air reservoir. The regulator maintains the pressure within this secondary chamber at a preset pressure until the main reservoir pressure drops below the preset pressure. This provides shot-to-shot air use efficiency and consistency for more shots per air fill than in an unregulated rifle design operating with the same air volume and pressure.
PCP guns initially cost more because of their level of sophistication and requirement for external high pressure charging methods. The remuneration, however, is superior performance over pump guns and significantly lower operating costs when compared to CO2 cartridge guns. Additionally, by design, PCP guns experience no significant movement of a heavy mechanical piston assembly during the discharge cycle and that directly translates to lower recoil. Furthermore, PCP guns can shoot as many as 100 shots per air charge depending on the reservoir tank capacity. This has allowed the development of semi- and fully-automatic PCP air guns. The popularity of PCP guns continues to build because of their accuracy and ease of use. Like their cartridge-firing kin, many are equipped with telescopic or reflex sights.
PCP Gun Charging Systems
Early PCP guns, like the kind Lewis and Clark carried on their mapping expedition in the early 1800s, used stand pumps for charging. This type of charging was fraught with problems that involved both human and mechanical fatigue, temperature warping, and internal air chamber condensation. Modern stand pumps have built-in air filtration systems and multi-stage compression chambers that have overcome these early problems. Using SCUBA-quality air decanted from a diving cylinder or a modern high pressure air compressor provides clean, dry, high-pressure air necessary for a long gun life and reliability comparable to cartridge guns. Some top brands on the PCP market are Airforceairguns.com, Gamousa.com, and Beeman.com. Most of the top brands can be sourced online at Airgundepot.com. There is also a number of quality custom manufacturers that can be found with a simple Google search. Here are some to get you started: Mountainaircustomairguns.com, Babarkerairguns.com, and Quackenbushairguns.com.
Brocock Cartridge
There is a variation of the PCP design that deserves mention. These PCP designs use a self-contained metallic gas cartridge, called a Brocock cartridge. Unlike a traditional CO2 cartridge, the Brocock cartridge is reusable/reloadable. Each cylindrical cartridge contains a pellet, a small, compressed air reservoir sufficient for one shot, and an axial bash valve designed to release the full contents of the reservoir once the base of the cartridge is struck by the gun's hammer. The Brocock cartridge is no less than a gas filled cartridge that functions like a centerfire cartridge. This provides two clear advantages. First, because each cartridge is filled with an identical air charge and pellet, the Brocock cartridge provides shot consistency without rival. Secondly, air guns that use a Brocock cartridge are constructed with modern repeating or automatic magazine feed actions similar to those used on gunpowder cartridge firearms without risk of deforming the soft lead pellet contained in the Brocock cartridge. You can find more information on Brocock cartridge guns at pyramydair.com.
Compressed Gas Powerplant
Most commonly known as CO2 guns, compressed gas guns are fundamentally pneumatic air guns, often having built-in pressure regulator valves, that utilize carbon dioxide prefilled, detachable cylinders as propellant. Some of the current, high-end models use larger cylinders of compressed nitrogen (N2), which permit higher operating pressures and improved thermal stability.
CO2 guns don't require complex cocking or filling mechanisms like other pneumatic guns. They are generally more compact and are easily designed for repeated shots. There are numerous CO2 replica revolvers and semi-automatic pistols on the market that use a disposable CO2 gas cartridge called a "Powerlet" cartridge. These guns most commonly use 12-gram (0.42-ounce) Powerlet cartridges which are readily available at most sporting goods stores. Most CO2 guns are relatively affordable to purchase and shoot. This makes them popular for training, target shooting and general plinking. They require little maintenance and enjoy a service life of decades.
Airbows
Within the last several years airbows have gained popularity. Airbows are nothing more than an air gun that's designed to shoot arrows instead of pellets. Airbow arrows closely resemble crossbow bolts. Airbow arrows uniquely have a hollow arrow shaft that is open in the rear where the nock on a conventional arrow would otherwise be located. A single arrow is loaded onto the gun by sliding the hollow arrow shaft rearwards over a small barrel whose outside diameter is slightly smaller than the arrow shaft's inside diameter. This enveloping fit provides a gas seal without creating too much drag friction on the arrow when fired.
Pulling the trigger releases a shot of high-pressure air into the barrel which subsequently fills the arrow's hollow shaft. This, in turn, propels the arrow forward at high velocity. The arrow follows the barrel on launch with the barrel acting as its guide. Typically, air bow arrows can reach velocities with precision accuracy that surpasses high-end crossbows. The airbow's downside is that they're expensive, their hollow shaft arrows are fragile and expensive to replace, and the system is maintenance intensive. A slightly misaligned or dented arrow shaft cannot be used again because of the tight tolerances necessary for it to slip over the barrel and create a gas seal. Airbows are fun if you have the money to burn, but think this one through before you make the purchase.
High-Pressure Air (HPA) System
The last pneumatic system to discuss is the High-Pressure Air (HPA) system. This system was originally designed to power paintball guns. Similar to PCP systems, it uses Powerlet interface-compatible diving cylinders filled with either liquid nitrogen or high pressure compressed air. As mentioned previously, liquid N2 experiences little change in thermostability when it changes from liquid to gas. In turn, this moderates the variation in output pressure experienced with rapid firing cycles (paintball guns). While liquid N2 operating physics may be better than compressed air, the Achilles heel of this system is its cost. HPA cylinders are expensive and filling them with liquid N2is even more expensive. Liquid N2 is stored at pressures usually in the 1,200 psi range. On the other hand, compressed air can be stored at pressures as high as 4,900 psi. Accordingly, while liquid N2 may give you more shots per fill with a more even projectile muzzle velocity, high pressure air is most cost effective because air is readily available, and you can easily accomplish the fill yourself by decanting from a SCUBA bottle or by using an affordable high-pressure compressor designed just for that purpose.
Air Gun Ammunition
Air gun ammunition is abundant and readily available in a variety of design shapes and weights. There is no shortage of this ammunition type. The key when selecting what to buy is understanding that some shapes and weights work better than others in a rifled barrel for each peculiar air gun's design and operating velocity. There are several factors that must be considered when making an ammunition selection.
Diabolo Pellet
The wasp-waisted diabolo pellet shape (bet you never heard that one before) is the most popular ammunition shape used in small bore rifled air guns, e.g., .177, .22 and .25 calibers. Its name describes its shape. It has two sections (like a wasp) consisting of a solid front portion called the head that serves to position the pellet's center of mass forward and a hollow conical thin-walled rear portion called the skirt giving it a yo-yo shape (diabolo). When fired, the soft lead skirt is designed to expand from the air pressure behind it. When fully expanded, the skirt completely engages the rifled bore, providing a dynamic gas seal that maximizes pellet travel efficiency as it spins down the bore.
Once the pellet leaves the gun and is in flight, the spinning pellet undergoes aerodynamic influences. The expanded skirt exerts a stabilizing rearward pull (aerodynamic drag) behind the spinning pellet's center of mass located at its wasp-like head. Think of it like a badminton shuttlecock. This drag-to-weight ratio produces a phenomenon known as drag stabilization, which also serves to reduce the yawing effect created by the pellet's spin; hence, better accuracy. The downside to the diabolo shape is that its ballistic coefficient (drag-to-weight ratio) suffers and, as a result, its energy dissipates quickly.
Diabolo pellets are usually made from lead, tin, and even steel for special application. They are manufactured in a wide range of weights and nose shapes that include polymer tips, wad cutter/flat tops, cupped/pitted tips, hollow points, pointed and round nose.
Slug Pellets
Big bore air guns, found on many PCP chamberings, mostly use a cylindro-conoidal shape lead bullet, also called a "slug pellet". Don't let the preternatural name throw you off. This shape is not new. It's fundamentally the same shape as the minie ball-shaped bullets used in Civil War rifles and is still used in modern muzzle loading rifles. These lead bullets have a convex cone-like nose end, somewhat resembling a rocket's nose cone, and a cylindrical rear body.
This particular bullet shape can be traced back to Captain John Norton of the British 34th Regiment, who invented it in 1832 as a more accurate replacement for the round ball used in muzzle loading rifles. Norton's soft lead round nose bullet had a hollow base, so when fired, the thin concavity wall (skirt) expanded outwards and sealed the bore diameter. Clearly, Norton didn't design this shape using a modern understanding of aerodynamics and drag coefficients. Rather, through trial and error, it worked the best.
Now fast-forward to today's cylindro-conoidal shape lead bullet and consider what we have learned about its aerodynamics. Its inflight nose pressure drag is essentially zero for all nose shapes as long as its velocity remains below the speed of sound. Remember, today's PCP gun's sweet spot velocity ranges between 800 to 1,000 fps – that's sub-sonic. The major bullet drag factor is friction drag, which is largely dependent upon the wetted area (which is the bullet's wall area), the surface smoothness of that area, and the presence of any discontinuities in the wall shape. Therefore, the factors influencing a projectiles flight performance from its pressure drag are the general shape of the bullets, its fineness ratio, and its bluffness ratio.
In subsonic bullet designs, a short, blunt, smooth elliptical shape works best. That's why modern handgun cartridge bullets are shaped this way. If the gun fires a bullet into the transonic region, the effect of nose shape on drag abruptly becomes highly significant as the pressure drag on its surface increases dramatically.
In bullet aerodynamics, the fineness ratio is the ratio of the bullet's body length to its maximum diameter. Bullet shapes that are short and wide have a low fineness ratio. Bullets that are long and narrow have a high fineness ratio. Hence, the long and narrow diameter bullet shapes designed for supersonic speeds, like those used in modern high power cartridge rifles, generally have high fineness ratios.
At critical Mach speeds close to the speed of sound (critical Mach is the speed at which sonic flow is first achieved somewhere on the bullet's surface), one of the primary forms of drag is skin friction. As the name implies, this type of drag is caused by the interaction of the airflow over the bullet's body. To minimize this drag, the bullet shape is designed to minimize the exposed skin area, or "wetted surface." This is usually achieved by using a slightly tapered body. That said, a fully rifled quality barrel for spin stabilization in flight is required. The teachable moment from all this is buy an air gun with a quality rifled barrel and only use quality pellets.
BB Shot
The BB gun was invented in 1886 and was designed to shoot lead BB diameter birdshot – the same used in shotgun shells because it was readily available and cheap to shoot. As a result of the popularity of Daisy's line of BB air guns, BB shot became the universal air gun ammunition. BBs are small steel, or lead balls, manufactured in .177-inch diameter (4.5 mm), with a copper or zinc coating to prevent rust or oxidation. BBs can be acceptably accurate at short distances when fired from smoothbore barrels used in modern BB gun designs. A little-known fact: Lead #3 buckshot can be used instead of pellets in .25 caliber air guns – save some money and try it. Using steel .177 diameter (4.5 mm) BBs in air rifles with .177 diameter rifled barrels should never be attempted because they will jam in the bore. Conversely, the softer lead BBs can be used in rifled barrels, so it's important to know the ammunition you're shooting.
Air Gun Darts
Shooting air gun darts became popular in the 18th and 19th centuries for indoor parlor shooting because they could be easily located after firing and reused. Still manufactured today, several different types of air gun darts are available. Just like steel BBs, and for the same reason, darts should not be used in air guns with rifled bores or in spring-powered air guns.
Popular Air Gun Calibers
Today's air guns are manufactured in a variety of calibers. Here are some examples of the more popular calibers:
.177 (4.5 mm/BB) is the most common air gun caliber. It's used in international 10-meter target shooting competition in both rifle and pistol events. It's great for plinking and can be used to hunt small varmints.
.22 (5.5 mm/5.6 mm) is effective when hunting small game and for general target and plinking use.
.25 (6.35 mm) was the largest commonly available air gun caliber for most of the last century. It carries slightly more energy than the .22 and is ideal for hunting small game.
.30 (7.62 mm) is currently the largest caliber available for non-PCP air rifles and is a favored PCP air rifle caliber. It's hard hitting and can be used to hunt most North American big game.
This is where PCP air rifles rule the market. The major PCP calibers are:
.357 (9mm) is a favored PCP air rifle chambering because it is lethal against nearly all big game and possesses excellent ballistic characteristics comparable to cartridge-firing rifles. Go ahead – make my day.
.45 (11.43 mm) caliber is another popular PCP air rifle chambering. This caliber bullet carries abundant down-range energy and can be counted on to put almost any large game animal down. A wide range of lead bullet weights and shapes are available.
.50 (12.7 mm) caliber air rifles are no less than awesome with abundant energy and pure knockdown power. The heavy lead bullet limits the accurate range to 150 yards or less and you'll get to shoot many fewer shots per reservoir fill, but many large-bore air rifle shooters relish this caliber and would never consider anything less.
.58 (14.5 mm) caliber is akin to its muzzle loading black powder cousin with similar ballistics, range, and accuracy. If you enjoy recoil, this is your caliber of choice.
If you believe bigger is better then perhaps a super large bore custom air rifle is for you. Custom air rifles have been built in 20 mm (0.79″) and even an obstreperous .87 (22.1 mm) caliber; proving imagination is the limit for manhood. There is little objective performance data available on these mammoths, other than the bragging rights the owners dearly pay to claim.
In summation, many of today's air guns are comparable to their cartridge-firing cousins. They are as accurate, as powerful and as capable. Plus, there are no ammunition shortages when it comes to air guns – air is plentiful and lead shot, tire weights or lead scrap can easily be melted and cast into bullets. Air power is a solid choice.
This article first appeared in Small Arms Review V26N1 (January 2022)