By Tom Murphy
Most gunpowder comes in three forms: black powder, cordite (now obsolete) or smokeless powder. The invention of gunpowder comes from a strange twist in the search for immortality. Back around A.D. 850, Chinese alchemists were mixing various chemicals, hoping to find something that would extend human life. What they got was gunpowder, definitely not a life-extending invention. The Chinese made the first reference to gunpowder in a Taoist text produced in 142 A.D. But it wasn't until the 9th century that the dangers of gunpowder were really understood. Another Taoist text in 858 A.D. says: "Some have heated together sulfur, realgar (arsenic disulphide) and saltpeter [potassium nitrate] with honey; smoke and flames result, so that their hands and faces have been burnt, and even the whole house … burned down."
By the year 904 A.D. the Chinese warlords had figured out how to burn other people's houses down. An assortment of weapons utilizing gunpowder as an incendiary appeared. Fire arrows, fire lances and rocket arrows were deployed when the Liao Dynasty attacked the Song Dynasty in 994.
In 1044, the first chemical formula for gunpowder appeared in the Chinese military manual Wujing Zongyao (Complete Essentials for the Military Classics). The same manual discussed "thunderclap bombs." Period depictions show them to be a stick with a vessel loaded with black powder attached to one end—similar to Nazi stick grenades used in World War II. The earliest depiction of a cannon appeared on some of the Dazu Rock Carvings in Chongqing, China done in the 12th century.

It's not until 1267 that gunpowder was mentioned in Europe. English Franciscan friar Roger Bacon covered it in his work titled, Opus Majus (Major Work) where he discussed its properties. The gunpowder formula began appearing in Europe in 1280. The word cannon from the Old Italian word cannone and the Latin canna, meaning tube, was used to describe the large black powder devices.
The oldest known hand cannon in the world is believed to be the Heilongjiang hand cannon found in 1970 in Banlachengzi, China. It's not so much as a gun, but it is one of the first firearms created. It was constructed out of bronze and was small and light enough to be carried on a soldier's back. It was used by Yuan Dynasty (1271–1368) soldiers in putting down a rebellion in 1287.
Black powder was in continual use from 904 A.D. until 1880 when smokeless powder was invented and began replacing black powder. The first smokeless powders weren't exactly too stable or safe, and it wasn't until 1886 that a much more refined powder was produced in France. By 1890, Europe had replaced black powder with smokeless powder which was then known as "gunpowder." By 1902, gunpowder replaced black powder worldwide. 
Making 'Powder 
Black powder 
Black powder is composed of three chemicals: potassium nitrate (saltpeter), charcoal and sulfur. Potassium nitrate is a chemical compound, containing potassium ions and nitrate ions. It occurs in nature as the mineral niter. It is the major ingredient in black powder, comprising 75% of the mixture. It decomposes rapidly at a high temperature which provides oxygen for the reaction. Because black powder provides its own oxygen, it doesn't need to be exposed to air to burn.
In the past, saltpeter was sourced from caves filled with bat droppings or islands where seabirds had been nesting for years. These droppings are known as guano and have a very high concentration of saltpeter. In the early part of the 19th century and throughout the Civil War, caves in many southern states were viable sources of the mineral. The Chincha Islands off the southwest coast of Peru were also a source of guano. The mining was grueling, and in earlier times, the workers could develop respiratory diseases from inhaling the guano dust that they created when they dug the guano by hand with picks and shovels.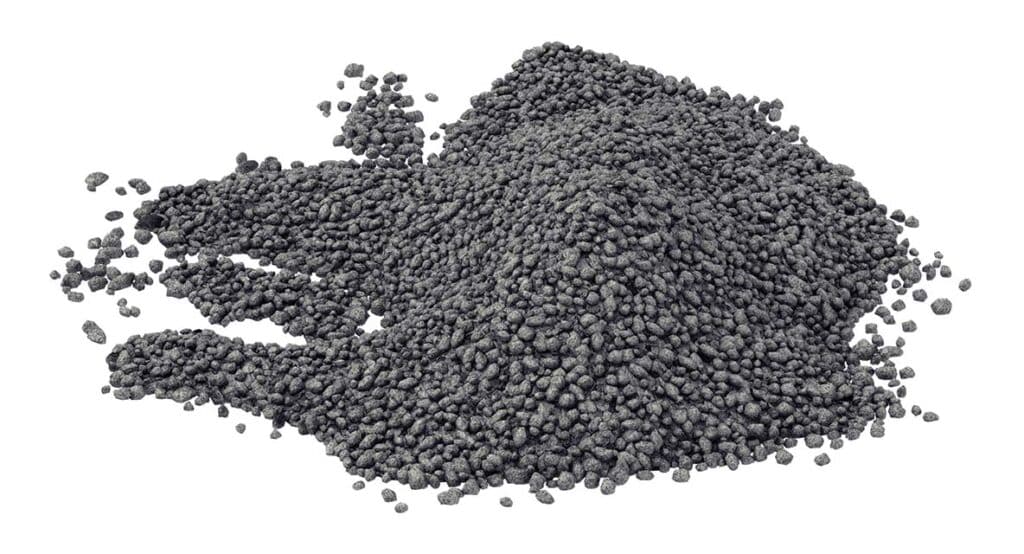 Charcoal makes up 15% by weight of black powder. Willow or grapevine is considered the best source of charcoal for black powder. It contains incompletely decomposed cellulose which provides the fuel. If pure carbon is used, the powder will ignite but won't explode.
Sulfur makes up the final 10% of black powder. It will burn, but it's used to provide more energy at lower temperatures and lowers the ignition temperature of the charcoal.
Cordite 
Cordite was in use from the late 1880s to the end of World War II in 1945. It usually consisted of long thin strands similar to pencil lead. It was developed in Britain to replace black powder as a military propellant. The components are nitroglycerine, nitrocellulose (gun cotton) and petroleum jelly. The original cordite as manufactured at the Royal gunpowder mills at Waltham Abbey (1787–1991) in England was composed of 37 parts of guncotton, 57.5 parts of nitroglycerin and five parts of petroleum jelly. The high amount of nitro in this cordite eroded gun barrels over a short period of use. Modified cordite, Cordite M.D., was introduced in 1901. It proved to be quite stable and had a long storage life.
During World War II, cordite was altered by replacing the nitroglycerin with other nitrates like dinitrotoluene. This lowered the combustion temperature which reduced barrel erosion by a significant amount. Cordite is now obsolete and is no longer manufactured. It has been replaced by newer propellants such as the Improved Military Rifle (IMR) extruded powder in use in modern weapons. Cordite is mostly seen today in older British cartridges manufactured before 1945.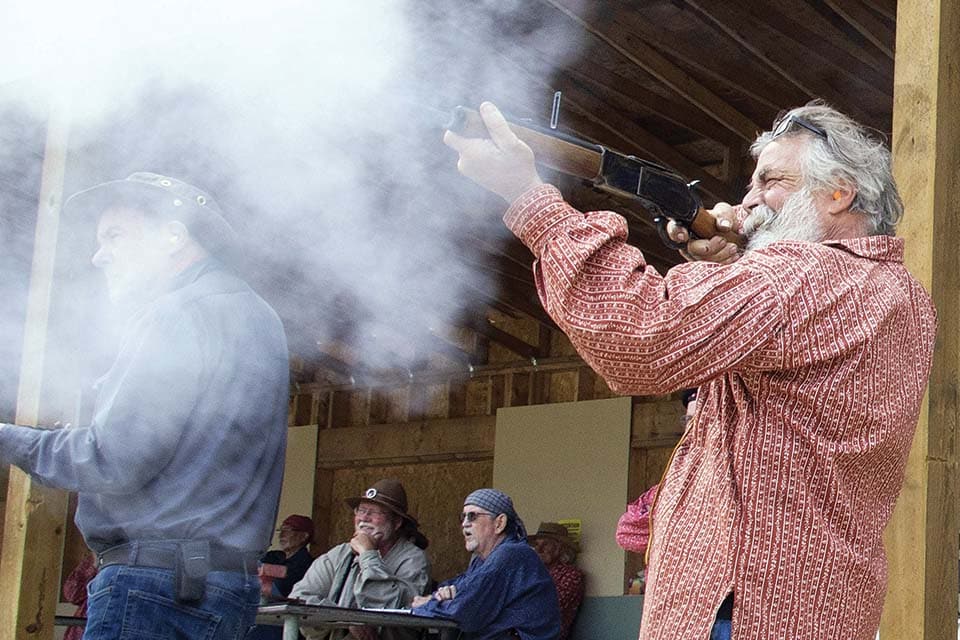 Gunpowder (Smokeless) 
The first practical smokeless powder was Poudre B. It was introduced in 1882 at Laboratoire Central des Poudres et Salpêtres in Paris, France. It was dark greenish grey in color and was first used to load the 8mm Lebel rifle cartridges issued for the Fusil Mle 1886 M93 rifle.
Gunpowder is a common term used to describe all types of powder. Actually, it pertains to smokeless powder in use today. It's not really smokeless, but produces much less smoke and residue than black powder. Modern powders are a derivative of cordite in that guncotton, which was an ingredient of the older propellant, is the base ingredient. There are two common smokeless powders: single base and double base. Single-base powders are based on nitrocellulose alone, while double-base powders use both nitrocellulose and nitroglycerine. To control burn rates, grains of powder are formed in different shapes or have different surface coatings. Some coatings can reduce the smoke produced by combustion to the point where it is nearly non-existent. 
Lately, some triple base powders are being produced by adding nitroguanidine to a double-base powder. This type of propellant is used in larger weapons like tank guns and artillery and is seldom seen in small arms use.
Smokeless powder is about three times more powerful than black powder and should never be used in a gun built specifically for black powder. There are certain smokeless-for-black equivalents, but in general, swapping powders can have disastrous consequences, with a destroyed gun the least of them.
Smokeless powder is available in a wide variety of types, each designed for specific requirements like smoke, burn rate, flash and reduced deposits. A good reloading manual will show which type of powder is suitable for any particular load.
Propellant 
Technically, propellant is any substance that makes a gun fire. However, many current powders aren't truly "powders" but cylinder-shaped grains. Today, the term propellant is used as a general term in the firearms industry to describe any flammable combination of chemicals suitable for propelling a bullet out of a gun. 
This article first appeared in Small Arms Review V24N7 (Aug/Sep 2020)