By Dean Roxby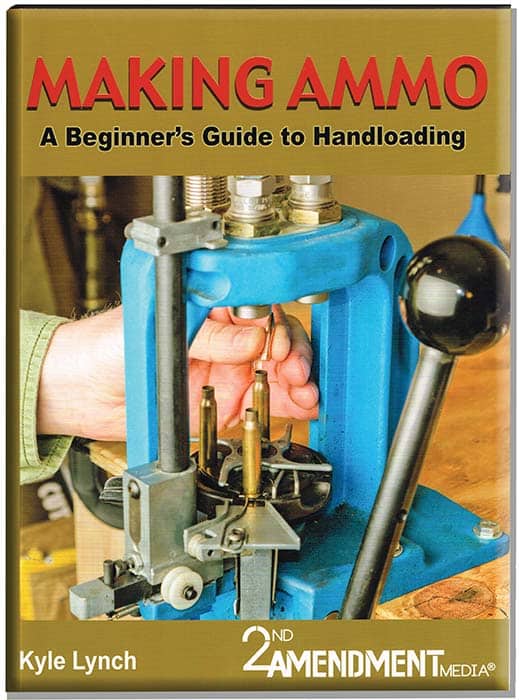 Title: Making Ammo; A Beginner's Guide to Handloading
Author: Kyle Lynch
Publisher: 2nd Amendment Media, Whitman Publishing LLC
Copyright:© 2015
Cover: Hardcover, 8.75" x 11.25", 416
Pages:218, Soft cover. full color, 8"x11"
USD: $23.95
I wish Making Ammo: A Beginner's Guide to Handloading existed 30 years ago, when I first started reloading. It would have shortened the learning curve by a huge margin. Clearly written, full of detailed explanations of equipment and techniques and illustrated with large full color photos, this book does a fine job of instructing beginners how to get into reloading metallic rifle and pistol cartridges. (It does not deal with shotgun shells at all.)
This book is not a recipe cookbook of loads. Instead, it is a great source of information for someone wanting to get started with reloading. Chapters include Safety, Components, Tools, Inspection, Data Management, Procedures and Range (during and afterwards). The section on Data Management seems overly complex, but the author stresses that very thorough records are the key to success in this game.
The opening chapter, Why Reload, touches on the subtle difference between "saving money" and "reducing costs." The author correctly notes that you will not spend less, but you will shoot more.
Chapter 4, Components and Nomenclature, gives a very good overview of the various powders available. The difference between single-base (Nitrocellulose) and double-base (Nitrocellulose plus Nitro-glycerine) is covered, along with the shapes of the grains (extruded, flake and spherical). Several pages are dedicated to brief descriptions of 146 of the most popular powders, arranged by burn rate. On the subject of burn rate, the M1 Garand service rifle needs a relatively fast burn rate to avoid damaging parts, and this is noted as well.
Even though this reviewer has been reloading for over 30 years, I still learned a few new tricks from this book. One hint in particular caught my attention. The dust that rises from the walnut tumbler media in vibratory cleaners likely contains minute lead particles (from the lead styphnate priming chemical) that get everywhere if you tumble indoors. Point taken!
The author has a relaxed, chatty way of writing that seems to suit. I did find the several references to Zombies, Loch Ness monsters and TEOTWAWKI scenarios a bit goofy, though. Aside from that, there are few very minor issues with the content. Several times, technical terms were mentioned but not properly explained. To be fair, these terms (comparator, headspace, run-out) were explained fully in later chapters, but the book does leave the reader hanging for a while. Keep in mind that this book is intended for beginners. As well, there were several photos with incorrect captions. Certainly not a dealbreaker, but noted.
I did appreciate that the author gives various techniques different levels of importance, depending on the reader's level of experience and expected use. While flash hole deburring and neck turning are established techniques for the advanced reloader and long-range competitive shooter, they may not be necessary for blasting tin cans for fun.
I found this title to be a very good introduction to reloading. Available from https://whitman.com/store/Inventory/Browse/2nd-Amendment-Media.
This article first appeared in Small Arms Review V21N4 (May 2017)