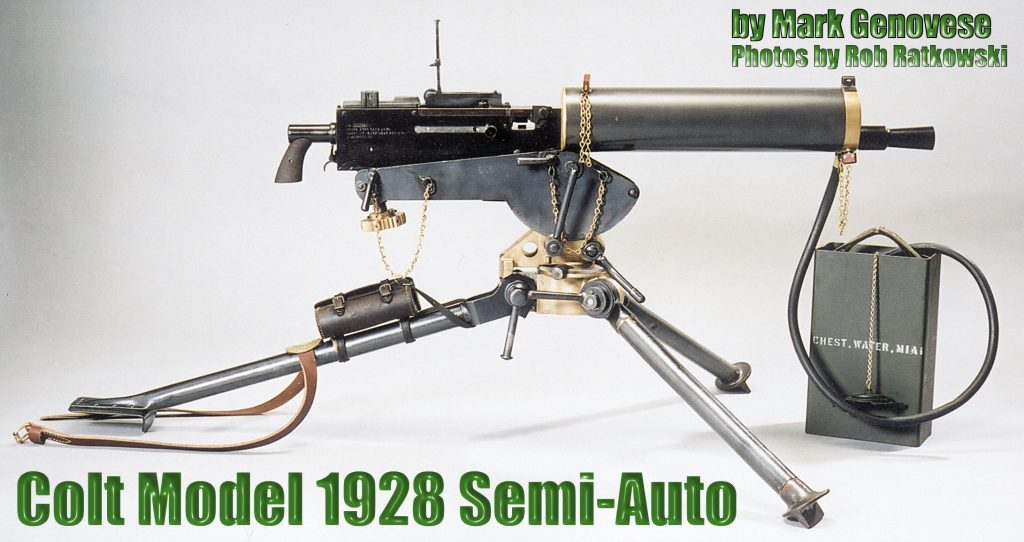 By Mark Genovese

I have been fortunate enough to be able to purchase two magnificent Colt Commercial Model 1928s on their original brass and steel tripods, and to my surprise they both had three-digit, all-matching serial numbers on even the smallest of parts. It appears that they were shipped from Colt Manufacturing in Hartford, Connecticut to the Argentinean military in the early 1930s. These are extremely rare Browning-type belt fed, water-cooled machine guns in 7.65x53mm Argentine. At first glance you would think these are your run-of-the-mill 1917 Brownings, but upon closer inspection significant differences are apparent.

It starts with the finish, which is deep rust blued and beautifully polished. Next, the ladder sight base is noticeably lower in height than that of the 1917 and the sight itself is much simpler as well, with just a V-notch. Also included is an anti-aircraft sight base that mounts to the water jacket. Instead of the spring-loaded hold-open top cover pivot assembly there is only a pushpin, and the backplate grip employs a simple yet ingenious manual block safety. Just thumb it in the up position to fire and down for safe. The top cover belt-feed lever is spring-loaded to the left as well, so it's always in the proper position to close. They were delivered with a 5-inch long flash hider of a design I have never seen. The cocking handle is deeply knurled and the left sideplate is engraved "COLT AUTOMATIC MACHINE GUN MODEL 1928-CAL 7.65MM BROWNING PAT. FEB. 4 1919." Just below that is an unusual telescopic sight mount held on by six machine screws and engraved "ejercito argentino infanteria y caballeria no 793" (the serial number of the gun itself.) Inside of a crest are the words "nedinsco systeem Carl Zeiss Jena 1740 M.G.A. 8A". The internal bolt, extractor assembly, barrel extension, cam lock breech, lock frame and its parts all appear to be nickel-plated or possibly solid nickel. The bolt return spring is not captive, like the 1917, but more like the Browning AN-M2 aircraft type, which exits the front of the bolt during recoil and is held in the right sideplate via a relief notch. An unusual hard steel plate is recessed flush on the brass trunnion feed way, apparently to accommodate steel links as well. The tripod cradle is made of steel and does not employ a pintle. The gun mounts directly with a cross-pin. There is a large antiquated brass knob to the rear for elevation only. The whole cradle moves side to side for traverse fire. The entire yoke assembly is of cast brass and the third leg of the tripod is 30 inches long, whereas the 1917 third leg is 26 inches.

This project first got on its feet during a phone conversation with Stan Andrewski of Webster, New Hampshire when he enthusiastically recalled a new semiautomatic-only Browning 1919 he'd seen at Knob Creek. He said, "This is as close as it gets to the real thing." I promptly made the call and was instantly impressed with the degree with which Mr. Tim Keller of Newton Falls; Ohio was willing to work with me on this project. There would be serious differences in the riveting of the original 1928 bottomplate. When confronted with this request (and many, many more) Tim replied "No problem, I'll turn new ones on the lathe." With that statement, Tim and his new company Black Bear Mfg. Ltd. had the go ahead and all my confidence to start the work. When I had questions about the semi-automatic conversion itself, Tim was kind enough to put me in direct contact with the inventor (and business partner) Mark Jacobs of North Jackson, Ohio. What really surprised me about Mark was he had never ever seen any other conversion of this particular model and was starting from scratch!

Sometime ago, Mark and his friends bought five Browning 1919 parts sets from Sarco of Stirling, New Jersey to build into semi-automatics. They soon discovered that there were no plans out there at the time. After many long, sleepless nights and several ideas later, Mark came up with an astonishing system, which was incredibly simple and robust. Twenty thousand rounds were run through his test gun and there were no broken parts of any kind. He designed a new bolt, sear, trigger and receiver right sideplate. Most other semi-automatic conversions employ a uniformly thicker right sideplate. This one is different. It has five 1/8"x 1"x 0.050" raised areas, with two in the front of the receiver and three toward the rear. They are barely even noticeable. The right side of the bolt, barrel extension and lock frame have the corresponding relief cuts. The bolt also has a 0.110" wider sear slide that will not accept anything but the new semiautomatic-only sear. This is also a new design, with a square trigger engagement notch different from the 1919 angled notch. They use the original lock frame and rear half of the trigger, and the way it disconnects is pure genius.

A complete set of plans with instructions is available from Black Bear Mfg. Ltd. at (330) 503-9863 for $150.00 and well worth it. If you're mechanically challenged you can order a live test-fired 1919A4 semiautomatic-only for $1,895.00. The shipping crate (available at an additional fee), was custom made out of clear pine, the cradle was felt lined and the false bottom contained barrels chambered in .308, 8mm and .30-06. New additional parts included an extra bolt, barrel extension, backplate, a 1917 style muzzle gland, fiber washers and cartridge adapters in .308 and 7.65x53mm. The whole crate is painted O.D. green and stenciled with my name, the gun's serial number and on each side "COLT BROWNING 1928." I requested some extras including a modified top cover, a trunnion for multi-caliber use, tightening of the front sight, some repair work on the backplate retainer studs and the top cover latch spring. Also a little work was done on the threads of the flash hider, a custom serial number and much more. You simply couldn't ask for a better semiautomatic-only conversion of this incredibly rare machine gun.
This article first appeared in Small Arms Review V6N6 (March 2003)