By Todd Burgreen

The proliferation of concealed carry has led to various new introductions involving compact handguns. Yes, many articles rightfully tout the abilities of full size handguns typified by Glocks, 1911s, and other types. Interestingly, the so called facts of life often intercede making carry of full size handguns impractical in certain settings either by clothing restrictions or mindset of practicing concealed carry. Do not think that your full size handgun of choice will always be convenient to discretely carry without some forethought or altering of basic habits. The number of .38 snub-nosed revolvers being sold along with compact semiautomatics is proof positive that convenience of carry sometimes outweighs convenience of carrying a service sized handgun. Another niche market for a compact, yet ultra reliable powerful handgun, is as a discrete back up weapon for last ditch CQB defense. Another role for such a configured handgun is as a weapon carried in a non-permissive environment where discovery carries legal or worse consequences.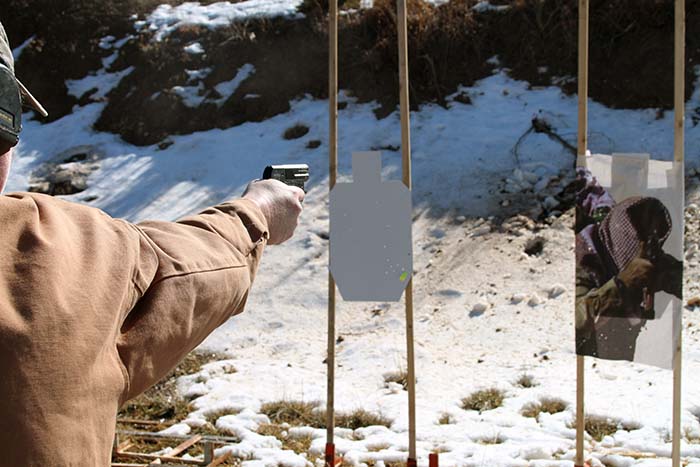 Handguns by nature are accepted as a compromise in terms of lethality traded for portability when compared to rifles or shotguns; there are even various handgun sub-categories where this compromise formula takes place. DoubleTap Defense has weighed in on this subject with the introduction of the Tactical Pocket Pistol (TPP). The TPP combines highly regarded handgun chamberings to a small, thin, light package. The TPP can be characterized as the modern rendition of the derringer. The DoubleTap TPP is a tilt open over/under barreled weapon chambered in .45 ACP or 9mm. The TPP weighs 13 ounces and measures .665 inches wide 5.5 inches long and 4 inches tall. The twin 3-inch barrels are its defining aesthetic. The fixed sights are purposely minimal to reduce snagging for a handgun destined mainly for pocket or other types of concealed carry.

DoubleTap's are manufactured 100% in the USA. As readers may be aware due to various industry headlines and news releases, DoubleTap recently changed manufacturers chosen to produce their TPP design with the result being Tactical Pocket Pistols finally starting to reach consumers. Each pistol is fully CNC machined with no stampings, no MIM parts, no plastic parts, no castings and feature a lifetime warranty. All internal parts as well as the barrels are machined from 17-4 PH stainless steel. Frames are machined from aircraft grade 7075 aluminum with titanium an option. The TPP contains multiple patented features. For example, interchangeable barrels offered in multiple calibers utilizing an M16 style push pin to switch out from the frame. The pistol grip has an aggressive pattern for better grip purchase. A thoughtful feature is ability to store two spare rounds on a speed strip in the butt of the gun for handy reloads. A lanyard loop on the rear grip is also available to the user. The DoubleTap TPP's hammerless design and low snag ergonomics makes for efficient reliable deep cover weapon. The trigger system has only four major components and features dual hammers for extra safety and reliability. The double action sequentially fired mechanical trigger system has double-strike capability with a 12-14 pound trigger pull. The trigger guard is slightly oversized for easy access to the trigger when hurried.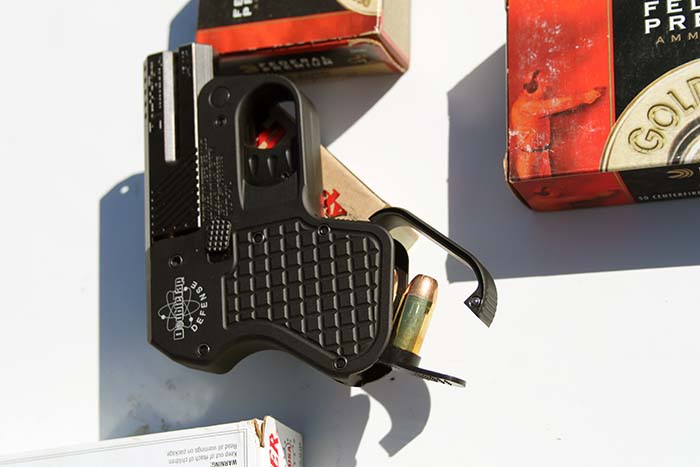 The DoubleTap Tactical Pocket Pistol is lighter than most weapons on the market, especially considering it is chambered in .45 ACP or 9mm. Lightweight is a feature much appreciated in any weapon destined for concealed carry whether in a pocket, belt, or other methods. Lightweight often translates into not being left behind. Primary method of carry for the TPP was in a DeSantis pocket holster or DeSantis "Insider" IWB holsters. The DoubleTap TPP benefits from getting the "melt" treatment rounding the barrel edges and other points on the pistol to minimize any chance of it snagging on clothing when deployed. This shows design following intent as a concealed carry weapon.

Ed Lovette's classic The Snubby Revolver is recommended reading for anyone contemplating civilian concealed carry. Obviously the title indicates its focus on the snub nosed revolver; however lessons can be applied to other sub-compact/pocket handguns. Ed's background as a Special Forces officer, CIA para-military officer, and law enforcement trainer makes him eminently qualified to discuss what is needed in a weapon for self-defense. The first key requirement listed by Ed for concealed carry is that a weapon be present. This sounds simple enough, but how many times has that custom 1911 that shoots 1 inch at 25 yards been left behind due to size constraints faced in certain concealed carry scenarios? An individual will be required to react to an attack under the most unfavorable conditions. It is unlikely you will be attacked when already fitted out with a chest rig full of magazines, AR across your shoulder, and Glock 34 holstered in a tactical thigh rig. Interestingly, The Snubby Revolver puts to rest the notion that capacity is a major drawback in terms of weapon carried by a civilian. Ed Lovette's research minimizes the reload's importance during personal defense incidents. A reload was needed less than 10% of the time in the engagements he has studied over the years. More than likely, a concealed weapon will have to be produced after the aggressor has launched an attack. That weapon needs to be ultra reliable no matter if fired upside down, pressed against someone, or used with the weak-hand, and chambered in a round that will have an effect sooner rather than later. No one is advocating turning in your Glocks or 1911s. It is just that the DoubleTap Tactical Pocket Pistol demands a closer look of what works for personal defense.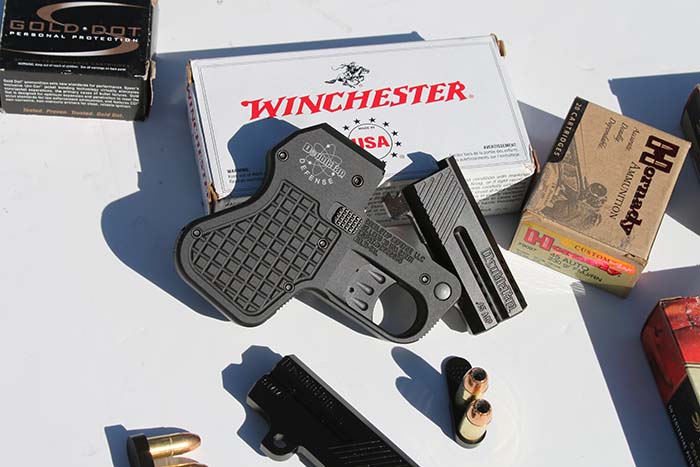 T&E for this article focused on the .45 ACP chambering; though many will be drawn toward the 9mm option. .45 ACP and 9mm ammunition has benefitted greatly from recent advantages in bullet and propellant advances. The Winchester PDX 1 product line is a great example of this. Winchester utilizes propellants that minimize muzzle flash while maximizing velocity. The 230 grain .45 ACP bonded PDX 1 bullet is the result of much research into what features a bullet designed for personal defense should consist of. Everything from the bullet profile to ensure reliable feeding, not an issue with the DoubleTap TPP, to the design that guarantees proper expansion no matter the medium the PDX 1 bullet passes thru when striking its intended target. The same things can be said for Federal 230 grain Hydra Shok and Speer 185 grain Gold Dot also used with the Tactical Pocket Pistol. Black Hills Ammunition and Hornady FMJ .45 ACP was also utilized. Research indicated that using U.S. factory ammunition was important to ensure reliable opening and extracting of spent brass with the DoubleTap TPP.

Range evaluation consisted of establishing reliability first, then getting into relative accuracy and handling. Several double barrels' worth of ammunition was spent engaging paper silhouettes, plate racks and man-sized steel targets. No malfunctions were encountered. While the DoubleTap TPP fits the hand better than most other sub-compact framed weapons, recoil was stout and unpleasant; there is no other way to say it. Fortunately, multiple volunteers were present for initial testing. DoubleTap does offer a slip on rubber grip that will assist in mitigating recoil somewhat during range visits and training.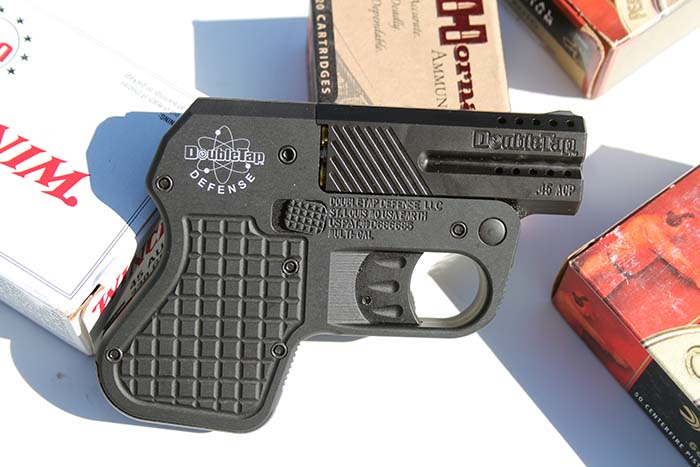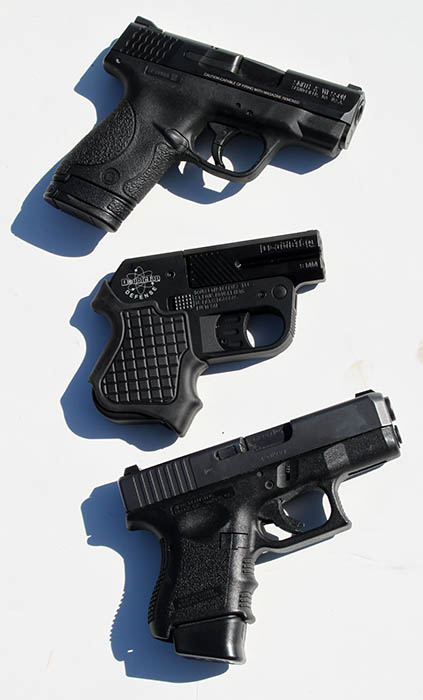 After reliability was verified, the TPP was manipulated from a pocket holster during visits to the range. Also, more of a point shooting method was utilized along with one handed firing grip. This was found to be a more realistic way of analyzing what the DoubleTap TPP brings to the table for user's considering using it in the role it was designed for – concealed carry or deep cover back up weapon. To clarify, point shooting is not random, mindless firing from the hip substituting mass of fire for accuracy. Point shooting is "aimed" by means other than your sights. Other indexes are used such as the slide orientation below your line of sight, shoulder alignment, wrist cant, and forearm positions are all used as aiming references. Hand-eye coordination is a premium when using point shooting techniques. Point shooting gives someone a fighting chance to succeed if forced to react to an attack within close distances versus having a skill set confined to "stand and deliver" methodology. Proficiency at point shooting can produce rounds on target from concealed carry in times usually reserved for professional shooters during competitions. Point shooting is a skill that should be explored and learned by any practitioner of concealed carry. It can truly increase your odds of surviving a gunfight. An actual fight on the street will be a close range affair with little time to react.

The DoubleTap was carried to the range even when working on other weapon articles in an effort to ensure its reliability while riding in a pocket and frankly only wanting to fire a handful of rounds at a time. The DoubleTap's trigger produced acceptable accuracy in terms of personal defense. The non-regulated over/under barrels produced approximately 4 inch two round groups at 5 yards when using same point of aim on target. The TPP's trigger is certainly not a match trigger, but serviceable for a weapon meant to be carried in a pocket with no external safeties. The minimal sights found on the TPP are adequate for engagements that dominate the personal defense arena and were not a hindrance in engaging targets up to 5 yards away. Lastly, hand placement, especially for those with large paws, must be minded considering the ported nature of the .45 ACP barrels. One evaluator had a thumb scorched. The DoubleTap's strong suits are its lightweight and small dimensions ensuring it is always present versus pure ergonomics when fired.

The DoubleTap Tactical Pocket Pistol will find its ways into several roles as a personal defense handgun. Many will find the handy nature of the TPP combined with serious caliber chambering makes it indispensable and not being able to leave the house without it even when a larger weapon is jointly carried. Others will find it distasteful due to limited capacity and recoil that makes lengthy training/orientation sessions unlikely. Reviews discovered while completing this article span the gamut of opinion both for and against. The DoubleTap Tactical Pocket Pistol may well represent the final refinement of the classic derringer. This is achieved by combining CNC manufacturing with a stout chambering caliber. The DoubleTap TPP's weight, or lack thereof, simplicity and reliable potent firepower will attract those who have need of such a weapon. Ultimately, always having a weapon with you is more important than the full-sized duty weapon you leave at home because you did not feel like dressing around your handgun on any given day. The DoubleTap TPP will definitely find a niche for itself as a back-up or deep cover handgun.
Sites of interest
DoubleTap Defense
(855) 243-4937
www.doubletapdefense.com

DeSantis Holster and LeatherGoods
(800) 424-1236
www.desantisholster.com
This article first appeared in Small Arms Review V18N5 (October 2014)