By Robert Bruce

"The most significant advance in weapons operating systems in more than 120 years." Charles J. Kushell IV, CEO and Director, Transformational Defense Industries, Inc.
A rather ambitious statement, naturally leading to the question: How does one significantly advance beyond the work of John Browning, Hiram Maxim, John Garand, Eugene Stoner, and many others over the last twelve decades? Does the name Renaud Kerbrat deserve to be listed along with the uncontested geniuses of small arms innovation? Kerbrat, a Frenchman by birth who now lives in Switzerland, is the engineer whose breakthrough design for locking systems has led to patenting and development of a family of small arms based on "Super V" technology.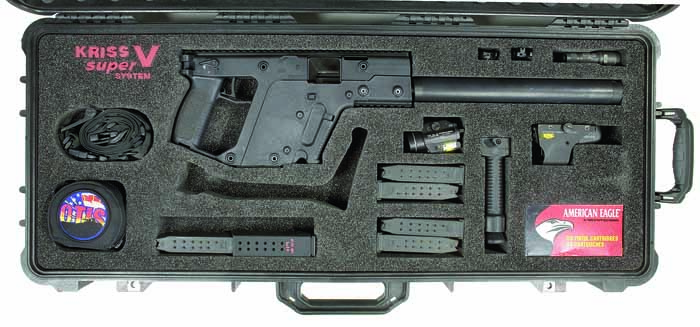 SAR's readers know they'll get hard facts and straight reporting on developments in weaponry – unlike many gun magazines where expensive advertising space regularly buys absurdly fawning portrayals of any new product to hit the market. We don't need to get the story first, but we damn sure need to get it right. So our skepticism shields were fully powered up back in 2004 when we first heard about experimental development of a super fast-firing machine pistol.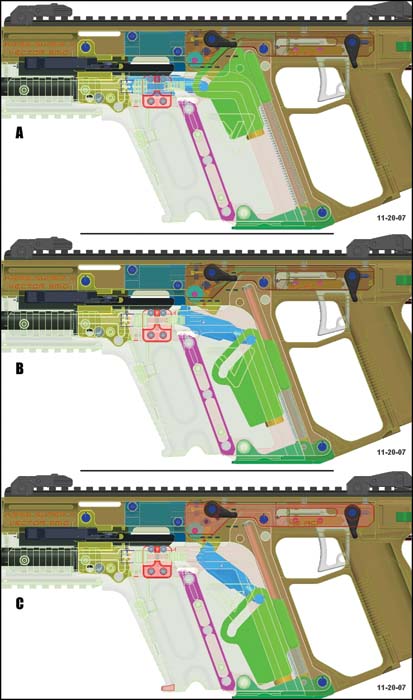 Always curious about what's in the works, and determined to help get the word out about worthy innovations, we made it a point to contact a year-old startup enterprise known as Transformational Defense Industries, Inc., (TDI) an American company created by Jebsen's Gamma Recherches et Technologies Holding SA of Nyon, Switzerland.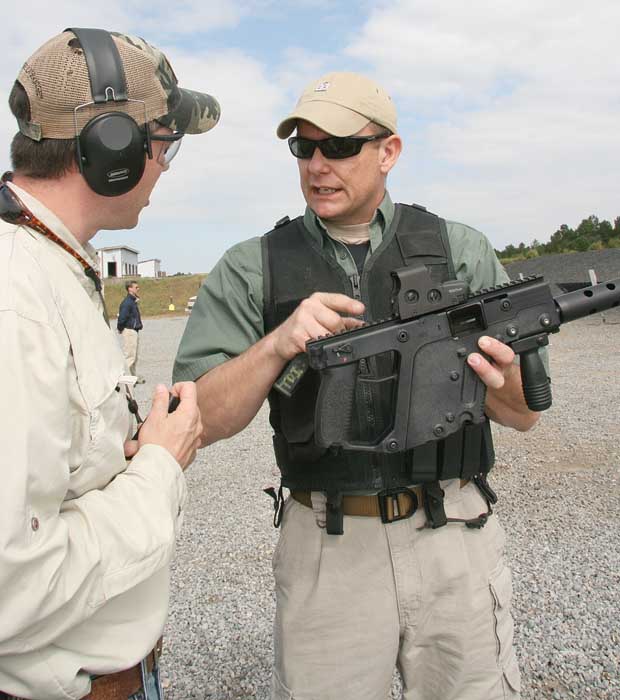 Back then, TDI did not appear to be much more than a couple of guys with a rented office inside the Washington beltway and a bunch of technical drawings relating to something that might be yet another super machine pistol. Yes, TDI VP Andrew Finn told us, there is a test fixture that is actually firing pistol caliber cartridges at amazing rates, but "we're not ready to show it yet."
OK, we said, just let us know when there's a gun we can look at.
Sneak Peek
Several months later we saw that Armed Forces Journal (AFJ) had scooped us in the December 2004 issue. Darn good feature too, complete with dramatic live fire photos of TDI's "proof of concept" prototype that looked like a 1950's Hollywood ray gun spitting flame from a cartoonishly large and multi-finned muzzle device.
But any inclination to laugh at this awkward contrivance was slapped aside by the tightly bunched flight of plump brass casings seen in the same photo. Unlike some, AFJ doesn't fake it with handfuls of thrown brass or digitally altered images. Four tumbling empties within inches of the ejection port provided indisputable evidence of powerful and energetic .45 ACP rounds cycling at an extremely high rate of fire, reportedly 1,500 rpm. And the shooter – a petite young woman – didn't seem to be having any trouble controlling the ripping ray gun in full roar.
The accompanying report in AFJ revealed that the prototype machine pistol in the pictures was being shipped off to the US Army's Armaments Research, Development and Engineering Center (ARDEC) for comprehensive technical evaluation at famed Picatinny Arsenal. Identified as the MK5, it also carried the distinctive name KRISS – reminiscent of the fearsomely wavy-bladed Kris daggers and swords that originated in 13th Century Indonesia. We made a mental note to follow up later and moved on to other projects of more immediate importance.
Our next encounter with the KRISS came a few months later at NDIA's Small Arms Conference in May 2005, where Finn and fellow TDI VP Tim Lindsay presented a technical briefing to a large room full of curious but cautious engineers and other professionals in the military firearms development community. The weapon's mechanical secret, now secured by US and international patents jointly filed by international entrepreneur-financier Jan Henrik Jebsen and inventor Renaud Kerbrat, was introduced with the trademarked name "KRISS Super-V System."
Numerous PowerPoint slides with charts and tables – mostly based on the heavily instrumented testing done at Picatinny – substantiated claims of the prototype's seemingly physics-defying ability to efficiently fire powerful .45 ACP cartridges with minimal recoil and muzzle rise. Most compelling to us was the bar graph comparing puny 9mm (.38 caliber) rounds from an MP5 to man-stopping .45 caliber (11mm) from the KRISS. According to ARDEC's engineering tests, the KRISS gun's muzzle rise was a mere 1.8 degrees from horizontal, while that of the MP5 was four times greater.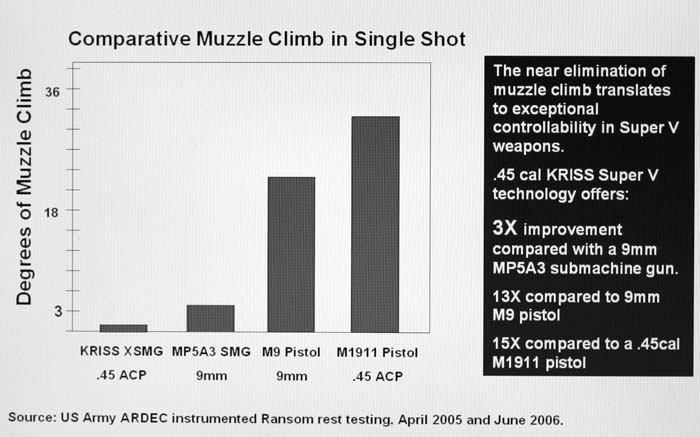 But there was no prototype to heft and handle and hard copies of that technical documentation were kept on close hold. These precautions, it was explained, were necessary at this sensitive stage of weapon development.
Disappointing but understandable as long as nothing was amiss. "Trust but verify," President Ronald Reagan was fond of saying.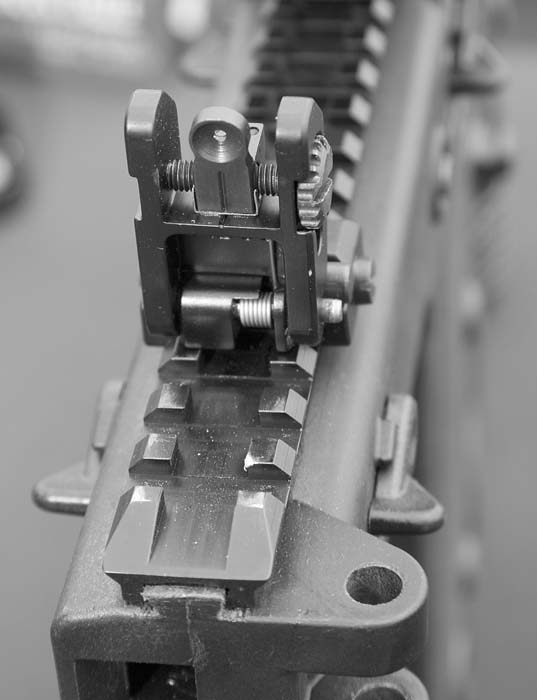 SAR's report on the NDIA conference (Jan '06 issue) included the notation, "Mysteriously absent from the posted proceedings is a presentation by TDI… on an exciting new recoil-mitigating technology demonstrated in the prototype KRISS submachine gun firing full power .45 ACP ball at 1,300 rpm. TDI expects to apply 'Super V' to long arms as well and has promised SAR a live fire evaluation as this program matures."
The program did a lot of maturing over the following two years, fueled in large part by the government's ongoing search for innovative technologies for new generation small arms. A lot of credibility accrues to the projects and products that get their approval and funding from US Army Armaments Research and Development Command (ARDEC).
Building on cooperative engineering studies with ARDEC, consultations with Magpul Industries and plenty of input from various experts in tactical shooting including former and current special operations types, TDI fabricated its first true submachine gun early in 2006. The KRISS Super V TRL6 (Technology Readiness Level 6) XSMG, while distinctively configured, is recognizable as a subgun with folding stock and foregrip. By slightly varying the angle of the Super V slider's camming channel, the XSMG's rate of fire has been slowed to a slightly more sedate 1,100 rpm and another as low as 800 rpm with optional Enidine buffer assembly.
More refinements and improvements followed, culminating in an improved XSMG. Nine of these were sent to the Army's Aberdeen Test Center for the usual range of torture and performance testing. The guns did well and emerged with documentation indicating development had reached Technology Readiness Level 7.
A couple of these hard-used veterans of ATC abuse were up on the firing line for TDI's October 2007 media day at Blackwater. Interestingly, they were joined by a semiautomatic version resulting from parallel development; a BATFE-approved 16 inch barrel carbine having 95% parts commonality with the latest subguns.
11 October 2007, Moyoc, North Carolina
At Blackwater USA's impressive headquarters and sprawling range complex, a couple dozen members of the news media and gun press have gathered in response to an invitation from Transformational Defense Industries, Inc. We're eager for trigger time with an exciting new submachine gun and semiautomatic carbine, both built around "Super V," a radically different operating mechanism.
TDI arranged a well-rounded program, conceived and executed in close association with Brotman, Winter, Fried Communications (BWFC). It began with the obligatory classroom session to introduce key personnel. Standing in front of a trade show display featuring a dramatically enlarged graphic depicting the inner workings of "Super V" in the KRISS Vector Submachine Gun, TDI's CEO Chuck Kushell, along with VPs Tim Lindsay and Andrew Finn, set the stage, providing an overview of the development of these unusual weapons.
"Super V is a quantum leap forward in weapons technologies," Kushell declared. After pausing a moment to let the statement hang in the air, he added the familiar headline from TDI's promotional materials, "It's the most significant advance in small arms operating system design in more than 120 years."
Those who had done their homework in preparation for the event understood that Kushell's sweeping assertions were backed by recently granted US and international patents, as well as hard facts arising from US military testing. An informative presentation followed, highlighting developmental history, mechanical function, test results, and recent developments.
Meet the Family
At appropriate points in their briefings, Kushell and his colleagues indicated specifics as embodied in an array of weapons lined up on a black draped table. On the left were a couple of relatively crude prototype machine pistols, built in Switzerland by Kerbrat himself in advance of engineering studies at ARDEC's famed Picatinny Arsenal.
Both had the decidedly alien appearance of the 1,500 rpm slug ripper seen in Armed Forces Journal that got speculation flying in the earliest stages, providing compelling evidence of a start point in how far the system had evolved. Lindsay explained that the principle differences between the two were internal. Pointing an index finger to the camming track of the "Super V" slider, he explained that Kerbrat used subtle variations in the two distinct angles of the track to regulate dwell time and rate of fire.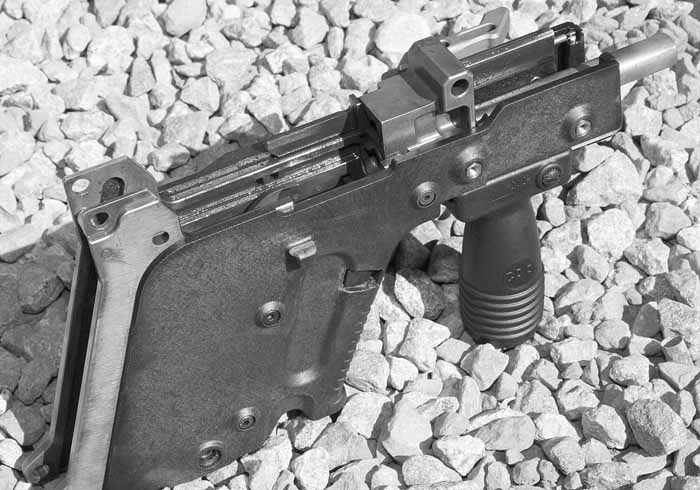 Lessons learned in ARDEC's testing, computer analysis and input from a variety of sources resulted, Lindsay explained, in development of a somewhat more conventionally configured submachine gun – but still decidedly novel in profile. This one, holding a place of honor front and center on the exhibit table, was finished overall in desert tan with a stubby, stainless steel barrel tipped by a quick-release suppressor coupler. Quite different from any other subgun of our acquaintance, its distinctive parallelogram midsection was obviously dictated by the geometry of the unique bolt and siding mass arrangement of the Super V system.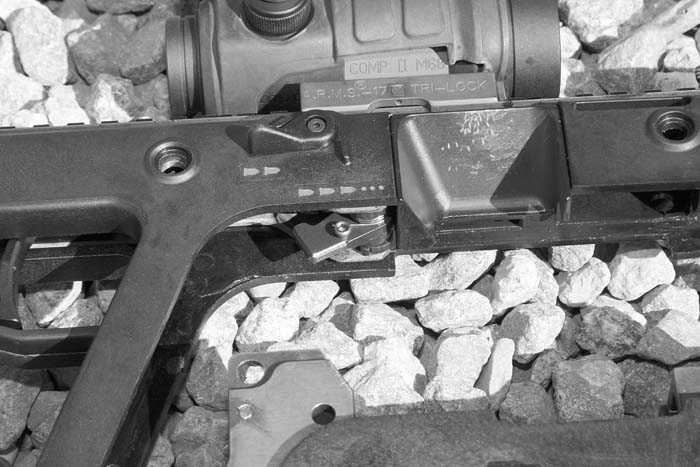 It was fitted with a skeletonized folding stock and topped with a full run of Mil-Std 1913 "Picatinny Rail" on the upper receiver and a shorter one under the barrel. Noting the selector movement in a semicircular arc with markings 1, 2 and 25 to indicate semiautomatic, two round burst and full auto, Lindsay identified this as one of the first two TRL6 (Technology Readiness Level 6) XSMGs and the gun that debuted with a lot of buzz at the 2007 SHOT Show.
Next came a similar subgun with matte black upper receiver and desert tan lower showing obvious evidence of hard use and abuse. This, we learned, was SN 3 or 4 from that same first series of four TRL6 XSMGs, emerging battered but unbowed following plenty of "tough love" at the hands of the developmental team at TDI's Viking Works. Its deeply worn, scratched and dinged upper receiver featured a selector lever modified to move in a quarter circle arc for faster and easier operator interface.
Then, retrieved with a flourish from their custom-fitted hardside cases, we met the event's stars; two new weapons clearly showing direct lineage to the XSMG but carrying notable improvements. The stubby barreled one was the brand new SUPER V VECTOR SMG .45 ACP selective-fire submachine gun, alongside its fraternal twin, the 16-inch barreled SUPER V VECTOR CRB/SO .45 ACP semiautomatic carbine.
Both were derived from a batch of TRL7 guns then undergoing hard knocks at the Army's Aberdeen Test Center. These were being unveiled for the first time in the form that would begin quantity production, rolling off the assembly line at Viking Works in the months to come. They'll fill a growing backlog of orders, Finn explained, that is expected to sharply increase following their planned public introduction in February at the 2008 SHOT Show.
Partially hidden in the background until its turn in capping the presentation, was a full scale mockup of a wicked-looking assault carbine. The same SUPER V mechanism used in the semiauto CRB/SO, we learned, was to be housed in an angular polymer receiver, stylishly vented and finished in matte black.
Tentatively designated Model A2-b, the modular design may be customized to owner preference with Picatinny Rails, folding or fixed stock, flash suppressor, etc. This also allows it to be configured to comply with local restrictions, making it "50 state legal." TDI is planning to introduce the A2-b toward the end of 2008 as a logical follow-on to the CRB/SO.
Full Auto Anti-Ambush
The program moved out to the range for a fast moving tactical scenario intended to show the KRISS subgun's combat utility. Promotional materials stress the Super V System's minimal recoil and negligible muzzle rise, aiding the shooter in precisely delivering tightly grouped shots. It was time to see how this advantage could mean the difference between life or death.
The action began with two men in an automobile that had been "disabled by gunfire from ambushers," simulated by four irregularly positioned reactive steel silhouette targets at the vehicle's right front.
The driver and passenger wasted no time in returning fire with their compact VECTOR SMGs, handily carried and employed from the confines of a car. Demonstrator Chris Costa, shooting through the window on the passenger side, suppressed the attackers with a torrent of .45 ACP, rapidly ringing the steel target plates one after another.
Tom Maffin, TDI's Manager of Training and Demonstrations, jumped from behind the steering wheel and took cover beside the engine compartment. Firing his VECTOR sub over the hood, he added another 18 rounds per second to Costa's 230 grain full metal jacket firestorm.
Each man in turn fired from a crouch as the other reloaded on the move, methodically pulling away from the ambush kill zone. It was all over in less than a minute, with the quartet of heavy steel targets not only hit repeatedly, but with one dramatically slammed to the ground under the relentless assault of burst after burst of powerful slugs.
Skeptics tempted to decry the stationary targets and lack of incoming fire miss the point. The object of the demonstration was to show the real world payoff of the KRISS system's unique controllability and recoil reduction in an efficiently compact and undeniably deadly new weapon.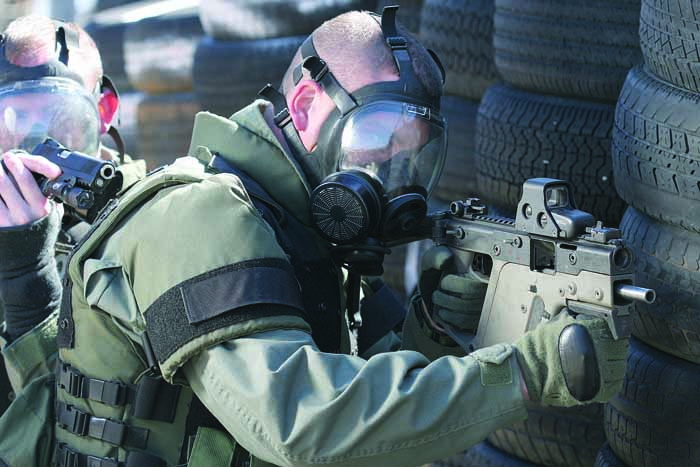 As we just observed – and most in attendance would soon experience for ourselves – the VECTOR SMG tames the energetic recoil of powerful and demonstrably lethal .45 ACP cartridges. Simply stated in TDI's promotional materials, Kerbrat's Super V system aids the gunner in putting "More rounds on target, more of the time."
Trigger Time
Clearing their subguns, Maffin and Costa smoothly transitioned to their familiar role as weapons instructors, stepping up to a long table laden with weapons, magazines and plenty of American Eagle .45 ACP ball ammunition. With practiced ease, Maffin quickly separated the receiver halves and withdrew the Super V operating assembly, showing how easy it is for an operator to clean and lubricate this simple and rugged weapon.
Reassembling the weapon in short order, Maffin carefully explained and showed the approved sequence and movements necessary for safe loading and operation. Those who were paying attention would be well prepared for their turn on the trigger.
The hands-on live fire to follow, Maffin urged, would be most productive if it began with a "baseline" experience with a conventional carbine. That way, he said, the recoil and muzzle rise generated by standard 230 grain .45 ACP ball ammunition in traditional weapons would be fresh in our minds.
In this case the "conventional" weapon was HK's well-respected USC .45 carbine in semiautomatic configuration, notable for purposes of the day to exemplify the old ways of having recoiling parts that travel in a straight line. With most of the recoil energy reaching the butt plate as a pivot point on the shoulder, each shot kicks the muzzle upward, a problem substantially magnified in the full auto UMP version.
TDI's new VECTOR CRB/SO should come next, Maffin continued, semiautomatic as well and similar to the USC in overall length (34.8 in.) and weight (5.5 lbs.) but having the advantage of Kerbrat's operating system, which redirects recoil energy at a downward angle. Firing the HK then the KRISS carbine would, he assured, provide convincing evidence of Super V's effect in minimizing muzzle rise and recoil.
Those attendees successfully completing the semiauto sensory calibration class should then transition to the VECTOR SMG, touching off a couple mags in burst and full auto. While anticipating that the advertised light recoil and controllability of Super V would be readily apparent even to novice shooters, it wasn't a sure deal.
Patiently awaiting our turn gave plenty of time to closely observe and occasionally photograph most of the attendees as they sent their first bursts downrange. Nine out of ten did quite well, showing good form by leaning forward in a slight "subgun crouch" as seen in the tactical demonstration. This, of course, adds good body geometry to the Super V equation.
Plenty of these, Maffin told us later, were likely to have joined an ever growing list of KRISS converts, almost always notable for a grin and an affirming nod of the head after emptying a standard 13 round Glock 21 magazine in seven tenths of a second. By the way, that same box, fitted with Magpul's clever KRISS G30 MAGEX 17-round extender, takes a hair over one second more.
As for the other two or three guests who apparently expected a full repeal of the laws of physics, we strongly suggest it would not be fair to fault the design. While the VECTOR guns dramatically reduce recoil and climb as advertised, there is still plenty of energy in play. Also, if you're going to participate in and report on shooting events, it is prudent to invest a bit of time in learning to shoot.
And our live fire evaluation? The 1,100 rpm .45 ACP KRISS SUPER V VECTOR SMG performs as advertised. Light weight, well balanced, superior holding characteristics, logical and easily manipulated ambidextrous safety and selector, rapid load and mag release, fast and smooth bursts, very mild recoil with minimal muzzle rise, hits where its pointed.
The CRB/SO is also a great little weapon for fun shooting, CQB competition and home defense. Same comments as with the subgun. While we didn't get to shoot paper, serious evaluators report tight groups of multiple shots with no time lost in keeping the sights on target. Got $1,695 (MSRP) to spare? Get one.
Latest Developments
Additional mechanical and operational refinements have been carried out at Viking Works following the demonstration at Blackwater, incorporating more than 50 design changes that enhance firing performance and manufacturing efficiency. Continuing its collaboration with Magpul Industries on customized flip-up sights, there is now a sturdy and reliable magazine extension that boosts capacity to 30 rounds.
TDI has received BATFE approval for the KRISS SUPER-V VECTOR CRB/SO .45 ACP semiautomatic carbine. Closely resembling the subgun except for a 16 inch barrel and modified fire control system that precludes full auto conversion, the distinctive "Carbine/Special Ops" has particular appeal to tactical weapons enthusiasts for combat shooting competition and home defense. A short barrel rifle (SBR) with or without threaded 5.5" barrel to accommodate a suppressor, is also being offered for sale where legal.
The newly-standardized production model submachine gun and carbine received their public debut at the 2008 SHOT show in Las Vegas, fueling interest that soon generated a million dollars in advance orders of weapons and accessories. TDI has an exclusive agreement with industry giant AcuSport as sole distributor for the KRISS Super-V family of semiautomatic firearms and accessories to the US civilian market. Marketing and sales of the submachine gun version and SBR, heavily regulated by federal, state and local laws, remain under direct control of TDI.
After exploring various alternatives for production of the new subguns and carbines, TDI has taken the very practical route of contracting out parts production, followed by assembly, inspection, and testing at Viking Works, which shipped the first batch of KRISS Super V Vector CRB/SO carbines in April. The initial production rate of 200 guns per month is expected to triple well before the end of the year.
Find Out More
Transformational Defense Industries, Inc. has a particularly information-rich website with hot links to technical information, press coverage, test videos, and more at www.kriss-tdi.com.
AcuSport Corp.: www.acusport.com
YouTube videos of KRISS XSMG (the Discovery Channel's "Future Weapons" segment is also linked on TDI website) at www.youtube.com search "KRISS"

The KRISS Super V Advantage (Courtesy of TDI)
* Higher operator efficiency: "More rounds on-target more of the time." Greater lethal speed and less burst dispersion mean a more effective operator. Unprecedented controllability is achieved through a combination of significant reductions in felt-recoil and muzzle climb, reduced weight, compactness of frame and reduction in the number of moving parts.
* Not only is the operator able to gain greater effect from his shooting, but his ability to keep the weapon in-service has been addressed by a simple mechanism that is not only easy to learn, but markedly easier to field strip and clean than any other mechanism. This also means shorter training cycles, longer retention of the operator's efficiency along with higher operational availability of weapon and operator and lower operating costs.
* Portability of design: The KRISS technology can be easily adapted to any size caliber and any type of platform. Thus, KRISS becomes a highly efficient system that provides significant operating benefits in a multitude of applications. This will significantly reduce training and maintenance cycles.
* Cost-effectiveness: With extensive production analysis work done and with simplicity a design requirement, TDI believes that weapons using the KRISS technology will be highly cost efficient in production quantities due to the elegant simplicity of the mechanism and its fewer moving parts.
The Secret of Super V
"The invention comprises an improved recoil control device… the bolt head and inertia lock block are articulated so that the displacement of the bolt head results in a force component outside the firing axis of the barrel of the firearm. The device can be incorporated into firearms of a variety of sizes and configurations to produce recoil reduction and/or weight reduction advantages." Abstract, US Patent 7,201,094, Inventors: Renaud Kerbrat and Jan Jebsen
Understanding and appreciation for Renaud Kerbrat's breakthrough KRISS Super V System necessarily begins with Sir Issac Newton's fundamentals of physics, popularly known as Newton's Three Laws of Motion, first detailed in 1687 in his book Philosophiae Naturalis Principia Mathematica:
1. A physical body will remain at rest, or continue to move at a constant velocity, unless an outside net force acts upon it.
2. Rate of change of momentum is proportional to the resultant force producing it and takes place in the direction of that force.
3. To every action there is an equal and opposite reaction.
In the case of traditional designs for manportable firearms, Rule 1's "outside net force" is actually inside the weapon – energy resulting from explosion of propellant that sends a projectile down the barrel. Rule 2's "direction of that force" is straight back at the shooter, and Rule 3's "equal and opposite reaction" is recoil – what we shooters tend to call "kick."
Over centuries of firearm development from primitive hand cannon to sophisticated assault weapons, Newton's unbreakable laws have been validated in readily observable effects of recoil and attendant muzzle rise. While designers have used any number of tricks to minimize these problems – muzzle brakes, buffers, lightweight finned needle projectiles, and more – the fundamental problem has been straight line recoil.
Kerbrat's ingenious KRISS Super V System overcomes the shock-creating effects of recoil by re-directing the energy down and away from the traditional straight line path.
Super V (vector) is described in patent documentation as "re-vectoring" (changing the path of movement) of the recoil forces, with the additional advantage of reducing muzzle climb by activating a counter-balancing mass. This further absorbs shock and re-directs forces that would otherwise create muzzle climb.
The result of this combination greatly enhances the operator's ability to accurately and consistently put more rounds on-target; whether through single-fire, multi-round burst or full automatic firing.
Because of its unique design, the KRISS technology significantly reduces both the number and weight of the moving parts of the mechanism. By reducing the mass of the slider and bolt and re-directing their movement, KRISS weapons offer significant advantages in reduction of overall weight.
The Super V mechanism is readily adjustable for a wide range of firing rates and popular cartridges by simply varying the angle of the slider's channel.
Lethality in the uncannily controllable KRISS Vector SMG is maximized by launching heavy, powerful and hard-hitting .45 ACP cartridges at more than 18 rounds per second (1,100 rpm). Even the shortest bursts can put multiple hits in a tight group for positive knockdown and drag out. Conventional subguns are pushing the envelope at half this rate.
KRISS SUPER V VECTOR SMG .45 ACP
(Final Production Version)

Manufacturer:
Caliber:
Operational weight:
Length:
Barrel:
Action:
Firing modes:
Feed:
Sights:
Availability:
MSRP:

Transformational Defense Industries, Inc.
.45 ACP
~ 7 lbs. with 30 rounds of 230gr FMJ and flip-up iron sights
16 in. stock folded, 24.3 in. stock extended
5.5 in. long, hexagonal groove rifling, 1:16 twist, threaded barrel with M16x1 LH threads and thread cap protector (available)
Blowback, patented Super V tilting bolt and slider
Semiauto, 2 round burst, full auto at 1,100 rpm
13 round Glock 21 magazines. Optional Magpul +17 round MagExG30 extender
Full length Mil-Std 1913 along top and bottom of receiver for preferred sights and accessories. Magpul flip-up front and rear sights standard.
Immediately available – only to military and qualified law enforcement through TDI
$1,895 with two Glock 21 mags, KRISS Super V Cleaning Kit by OTIS, CAA foregrip, sling mount, Magpul Gripcore storage module, Masterlock cable lock, and Operator's Manual.
KRISS SUPER V VECTOR CRB/SO .45 ACP

Manufacturer:
Caliber:
Operational weight:
Length:
Barrel:
Action:
Firing modes:
Feed:
Sights:
Availability:
MSRP:

Transformational Defense Industries, Inc.
.45 ACP
6.8 lbs. with 13 rounds and flip-up iron sights
34.8 in. with fixed stock (folding stock available where permitted)
16 in. long, hexagonal groove rifling, 1:16 twist
Blowback, patented Super V tilting bolt and slider
Semiautomatic only
13 round Glock 21 magazines. Optional Magpul +17 round MagExG30 extender kit for a total of 30 rounds where permitted
Full length Mil-Std 1913 along top and bottom of receiver for preferred sights and accessories. Magpul flip-up front and rear sights standard
. Immediately available for civilian ownership in most states/localities. Sold exclusively through AcuSport Corp. nationwide dealer network.
$1,695 with two Glock 21 mags, KRISS SuperV Cleaning Kit by OTIS, CAA foregrip, sling mount, Magpul Gripcore storage module, Masterlock cable lock, and Operator's Manual.
This article first appeared in Small Arms Review V12N5 (February 2009)