By Robert G. Segel
British George V sterling silver interwar Lewis Gun shooting trophy in the form of a goblet. The front of the goblet is engraved, "44th (H.C.) Divnl. R.A.S.C. (T.A.) Rifle Meeting 1936 Winners Inter-Unit Lewis Gun Competition." (44th (Home Counties) Divisional Royal Army Service Corps (Territorial Army)). The obverse is engraved with the names of the winning team: Sgt. M.J.A. Campbell, L/Cpl S.E.J. Needham, OR (Other Ranks): W.A.K. Sinden and OR: A.G. Downs. Goblet made by Phillips of Aldershot and is sterling silver hallmarked London 1936 by H. Phillips. Goblet stands 4½ inches high with a cup diameter of 2¼ inches.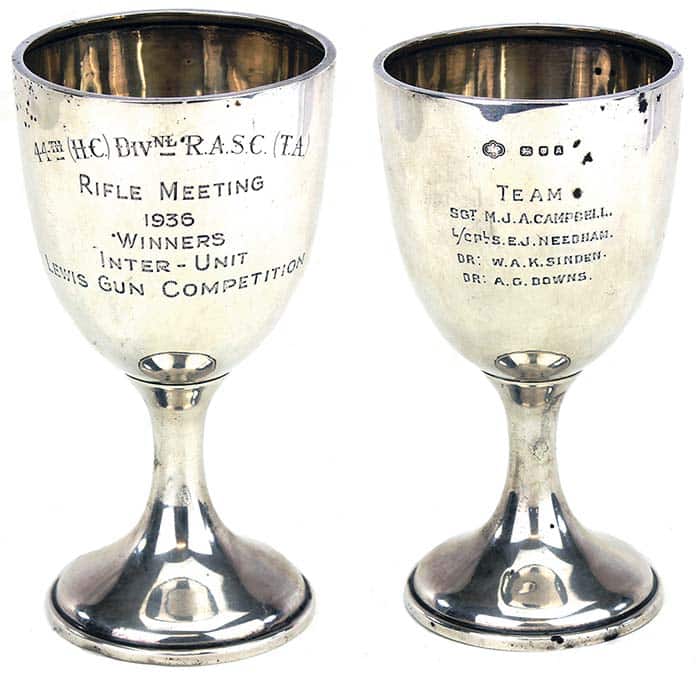 World War I era Japanese woodblock print fan. Image is hand colored in vibrant colors of a machine gun unit circa 1915. Measuring approximately 13 inches when opened, it features a Hotchkiss machine gun team firing their weapon. Included in the imagery is a biplane, armored car, national flag and horse-mounted officer. Kanji (Japanese lettering) on the right says, "Kore wa rikugun kikanju tai desu. Isamashiki kikanju." Approximate translation is: This is our wonderful machine gun unit.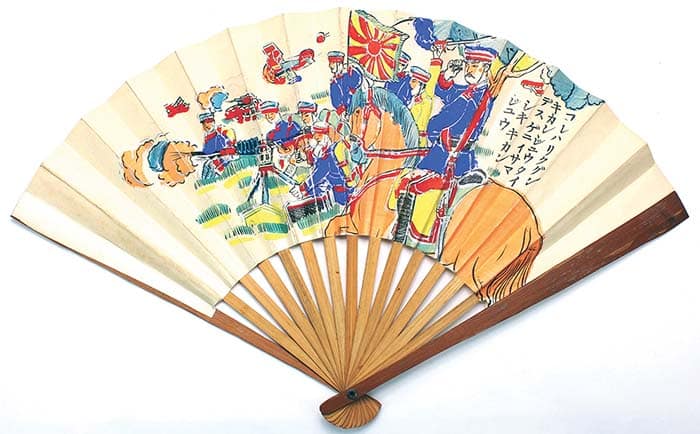 Australian World War I veteran's pin-back lapel badge of the 4th Machine Gun Battalion. Crossed Vickers machine guns to the top with central image of the formation patch of the 4th Machine Gun Battalion of a yellow circle within a black circle with "4.M.G.B." below. Maker marked on back, "A W Patrick Rae St Nth Fitzroy V." 31mm diameter.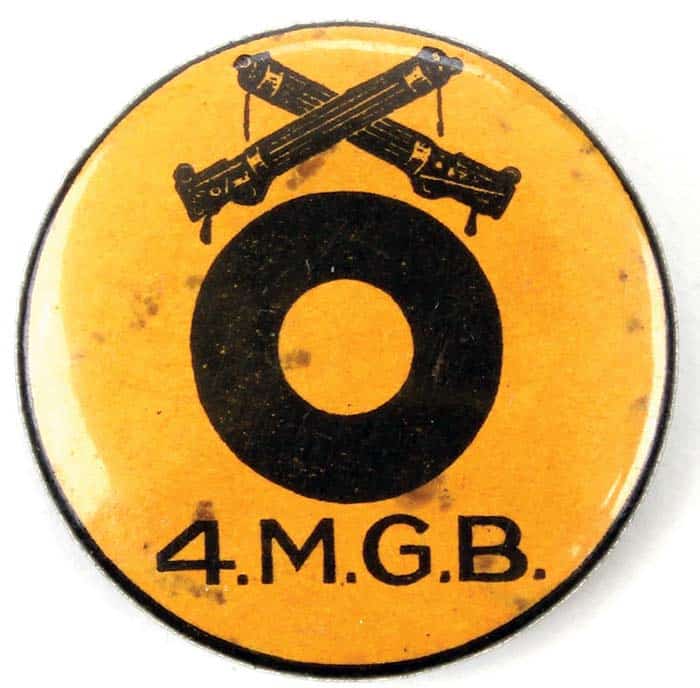 Brass shoulder title for a machine gun company of the Hong Kong Volunteer Defense Corps. ("MG" over "HKVDC"). The HKVDC fought courageously against the Japanese in the weeks prior to the fall of Hong Kong on Christmas Day 1941. They had a total fighting strength of 2,200. All ranks in 7 infantry companies, 5 artillery batteries, 5 machine gun companies equipped with Vickers machine guns and an armored car platoon. Two mounting lugs to the rear.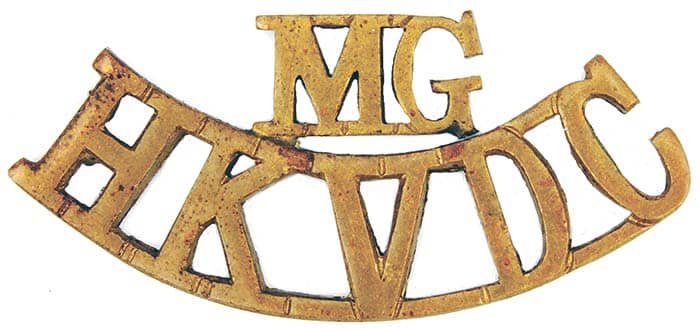 Interwar German veteran's commemorative 10 /20 liter glass stein. Center image of a machine gunner with Maxim MG 08 on sled mount. On the left side in raised lettering is "4. (M.G.) Komp." over "19. (Bayr) Inf. Rgt." (4th Machine Gun Company, 19th Bavarian Infantry Regiment.) To the right in raised lettering is "Weihnachten" over "1933" (Christmas 1933). Pewter lid.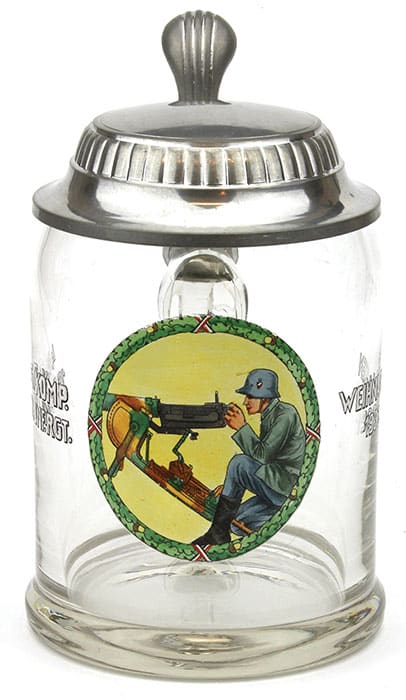 Canadian homefront World War II souvenir silk pillow cover. Image of brown lion holding maple leaf standing atop a Vickers machine gun over "1940" against an all-white satin background. The circle around the lion reads "Machine Gun Training Centre M.D. 4" (Militia District 4–Montreal). Edges in gold and purple thread fringe.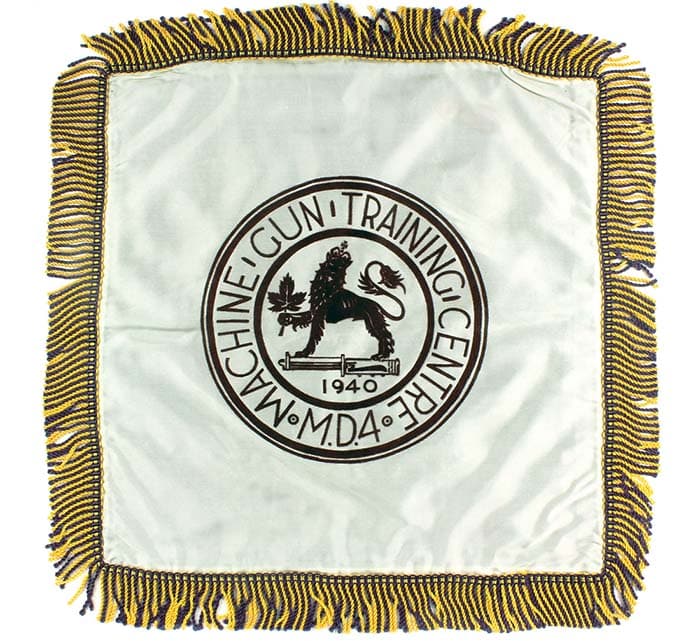 Italian high relief bronze medal of a machine gunner shooting a St. Etienne M1907 machine gun commemorating "Tregnago 1.2.18 1.2.19" (Tregnago is a municipality in the Province of Verona in the Italian region Veneto where this unit originated from). The reverse shows a flying eagle and is marked "Battaglione 907 F. Del 1° Reparto Mitraglieri" (1st Company of the 907th Machine Gun Battalion).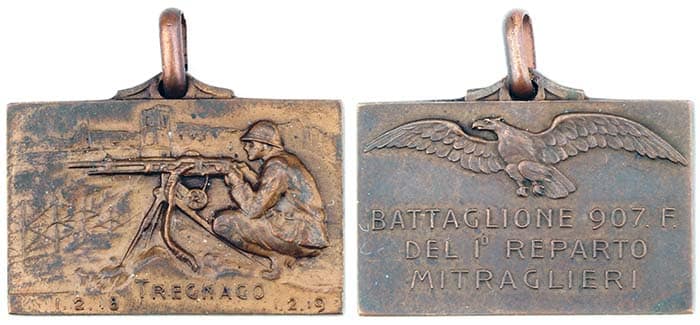 This article first appeared in Small Arms Review V22N4 (April 2018)