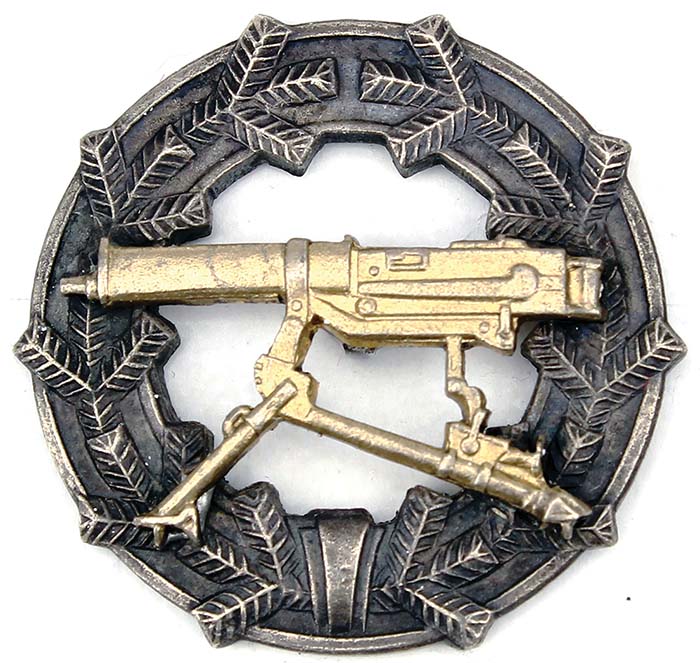 Finnish elite shooter badge for machine gun. This Finnish badge was issued to "Vailo-Ampuja" or "Elite Shooter" machine gunners. The first of these badges was issued in 1933 (March 6) and continued being issued until the end of World War II. A very scarce two-piece badge because it has a gilt Maxim machine gun inside a white metal wreath meaning it was issued to someone on the permanent staff. Outside edges have civil guards influence with branches of the evergreen tree. Screw-post back.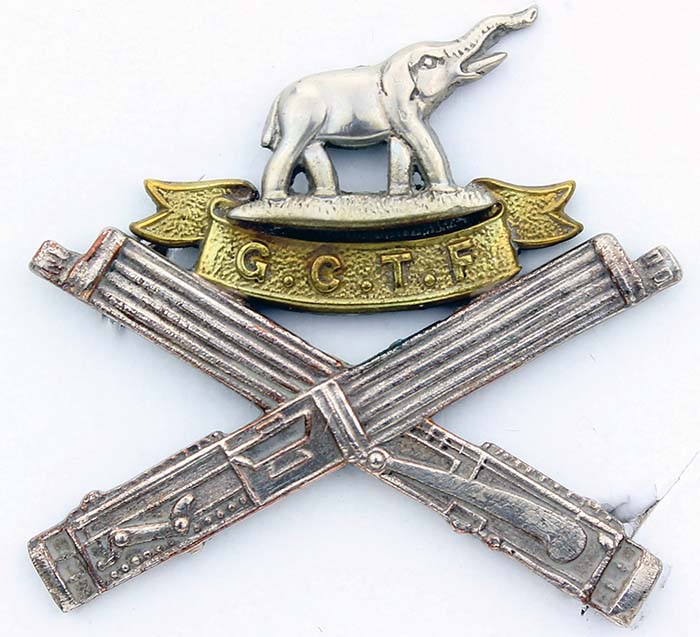 African Gold Coast Territorial Force machine gun officer's silver plate collar badge (circa 1920s-1930s). White metal trumpeting elephant atop gold colored banner with "G.C.T.F" to center atop silver-plated crossed Vickers machine guns. Rear maker marked "Firmin London" with two lugs to the rear. The Gold Coast was a British colony in the Gulf of Guinea in West Africa.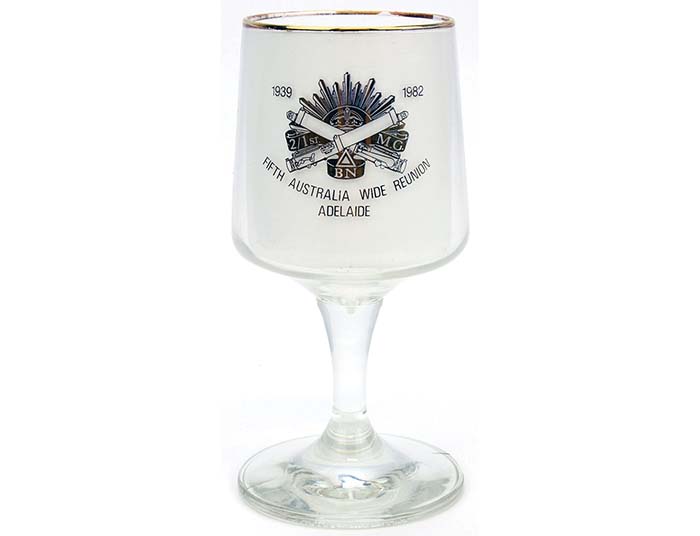 Glass souvenir of the 2/ 1st Australian Machine Gun Battalion on the occasion of the Fifth Australia Wide Reunion in Adelaide in 1982. Clear glass with gold rim. Approximately 5 inches high. Rear of glass has famous poem In Memory of Fallen Comrades: "They shall grow not old as we that are left grow old, age shall not weary them nor the years condemn, at the going down of the sun and in the morning, we will remember them." "LEST WE FORGET." The 1st Machine Gun Battalion was a World War I raised unit in 1918 and part of the Australian Imperial Force consisting of four machine gun companies fighting in the final days of the war. The unit was disbanded in mid-1919 during the demobilization of the AIF after the war. The second 1st Machine Gun Battalion was raised for service during World War II as part of the 6th Division seeing service in the Middle East, Egypt, Greece, Crete, Syria and Palestine. It later fought a defensive role in the New Guinea campaign and the Borneo campaign. The battalion was disbanded in early 1946.
Indian Army Sikhs Machine Gun Corps other ranks brass cap badge. The five-pointed star affixed to the top denotes instructor. Two lugs to the rear.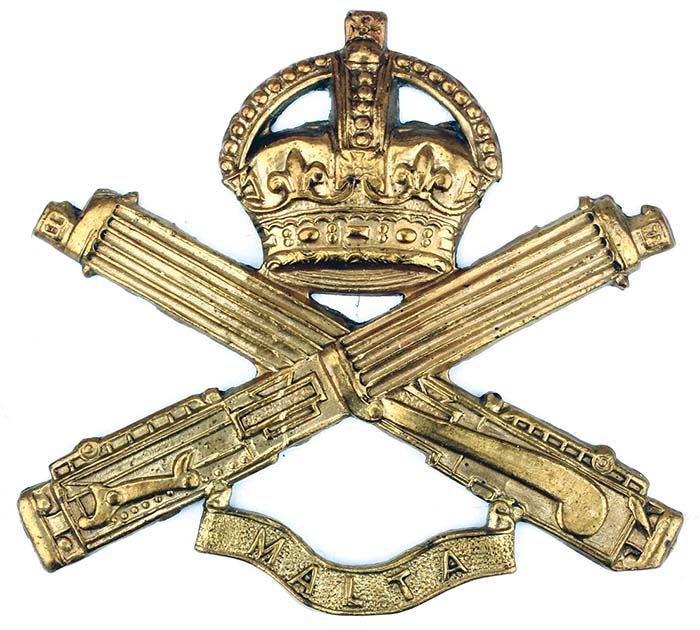 Malta-assigned other ranks machine gun section brass cap badge. Machine Gun Corps insignia with Malta banner below. Slider to rear.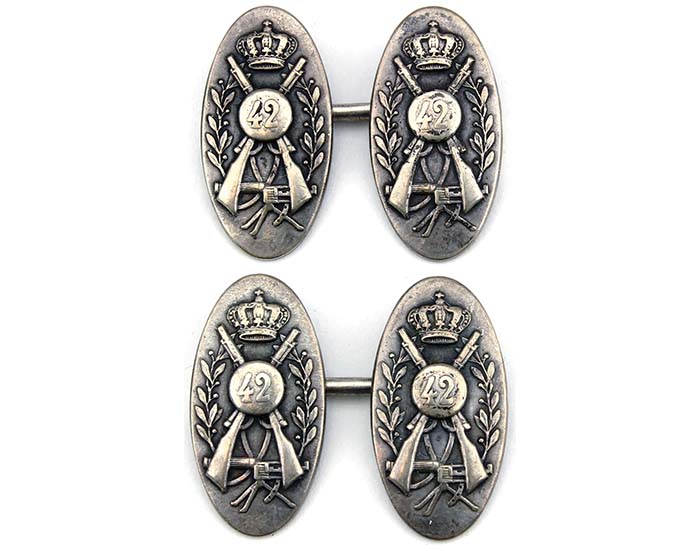 Pair of Italian officer's silver cufflinks for the 42nd Infantry Regiment. Crown to top with "42" in center with crossed rifles and water-cooled FIAT Revelli M1914 machine gun below. Each cufflink and connecting bar marked "800" indicating silver content of 80%.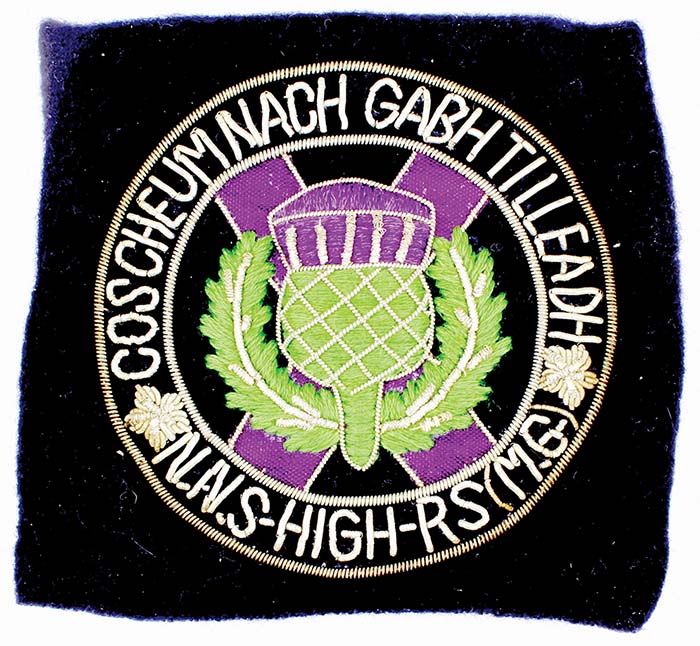 Canadian veteran's blazer patch for the North Nova Scotia Highlanders Machine Gun Regiment. Green thistle and wreath with purple embroidery and bullion-stitched lettering on black felt. Though this unit existed in Canada for a long time, it was under this "M.G." designation for only a little less than 10 months in World War II. This unit was placed on active service on Sept. 1, 1939, as the North Nova Scotia Highlanders (M.G.). It then mobilized on May 24, 1940, as the North Nova Scotia Highlanders (having been switched from machine gun to regular infantry, the M.G. designation was dropped from its insignia). Battle record included the Normandy Landing, Authie, Chambois, Boulogne, Breskens Pocket, the Rhine and Northwest Europe.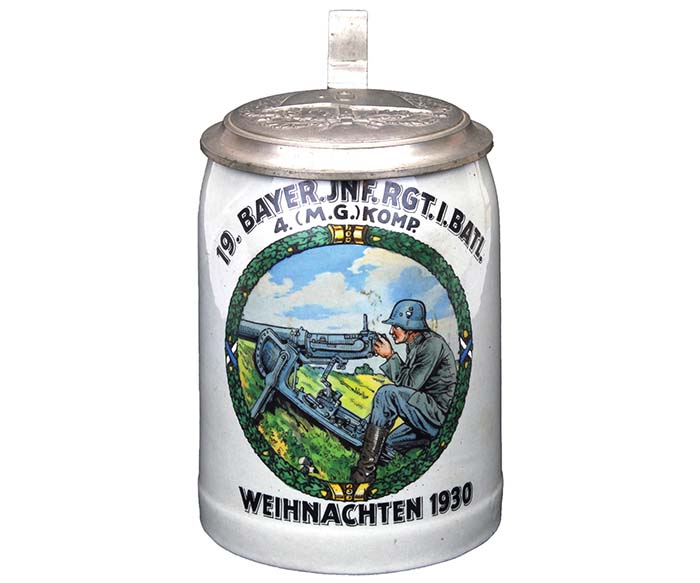 German Reichswehr period (end of World War I in 1918 and the rise of the Third Reich in 1933) 0/5 liter pottery beer stein marked, "19. Bayer. Inf. Rgt. 1. Batl. 4. (M.G.) Komp" and "Weihnachten 1930" (19th Bavarian Infantry Regiment, 1st Battalion, 4th Machine Gun Company and Christmas 1930). The central image is of a German soldier training with the MG08 (Maschinengewehr 08) mounted on the sled mount. Pewter hinged lid with relief helmet and acorn leaves. Maker marked on bottom Villeroy & Boch, Mettlach.
This article first appeared in Small Arms Review V23N1 (January 2019)