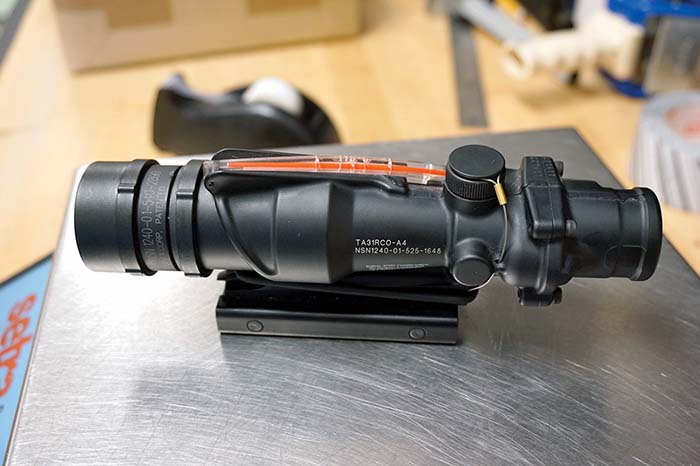 By Dickson Ly
When one purchases a new rifle scope, most of the time it comes packaged with a set of loose, cheap bikini-type covers that most owners would simply leave in the box. When one acquires a high-end rifle scope from reputable brands such as Schmidt & Bender and Nightforce, they include a set of quality flip covers that are made in Canada by a company called Tenebraex. I had the opportunity to visit Tenebraex during my time in Halifax, Nova Scotia, Canada, thinking it would be a brief factory tour, but I was mistaken.
The Tenebraex building simply has the company signage above its entrance. From the outside one would not guess they produce the majority of scope flip covers for both OEM and aftermarket. Paul Boese who is the General Manager greeted me and walked me through the factory tour.
Tenebraex Corporation was founded in 1992 in Boston, Massachusetts, but its assets were purchased by entrepreneur Andrew Webber on August 9, 2013, and operation was moved to his home town of Halifax. Tenebraex became a division of Armament Technology which is also their exclusive distributor worldwide. Their product portfolio includes KillFLASH® Anti-Reflection Devices, Tactical Tough® Scope Covers, Weapon Sight Polarizers and Laser Filter products. They supply KillFLASH® to various U.S. and NATO military forces by the millions.
Tactical Tough Flip Covers
One may not realize, but producing a set of properly fitting flip-up scope covers is not easy. One might be familiar with cheap flip covers that are made in generic sizes, down to the millimeter. However, the dimension can be half a millimeter or quarter of a millimeter off resulting in the flip covers being too tight or too lose. Years ago I purchased a set for my Leupold IER scope according to the fitment guide on the manufacturer's website; the covers ended up just slightly loose, and they came off after firing a few rounds from my .308 bolt gun. I removed them, and swore I'd never buy another set again regardless of price.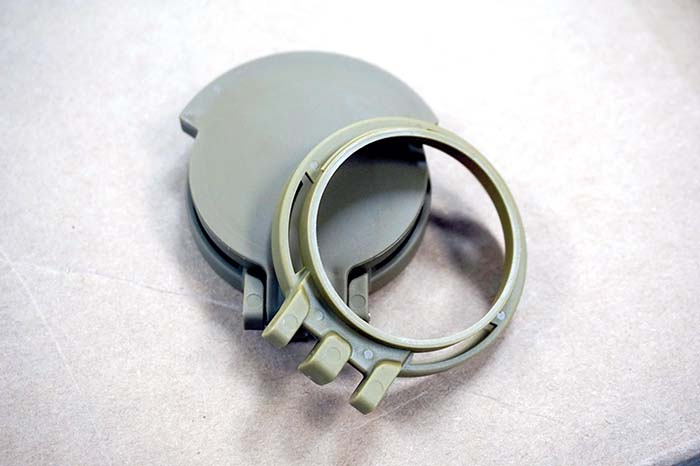 Paul Boese says often times scope manufacturers provide scope dimensions that are rounded off and are not exact. It creates quite a problem when the dimensions are off even by half a millimeter as that can cause the covers to either come loose during use or not fit at all.
Moreover, the scope specifications can change from production batch to production batch, and manufacturers do not inform Tenebraex so often times they find out the hard way—after customers purchased the covers, and they ended up not fitting their scope.
They have over 200 unique item numbers or SKUs in their system, but it boils down to seven different sizes of flip covers. For the objective cover, they would design an adapter of the right diameter and thread pitch that will fit the specific scope.
Currently only Tangent Theta, Schmidt & Bender and Nightforce produce their rifle scopes with the Tenebraex profile that is multiple, machined, flat surfaces surrounding the edge of the scope housing that allow the flip cover to rotate and lock in almost an infinite amount of positions, which their flip covers will fit without the use of an adapter ring. One would think there needs to be a universal standard for flip covers; however, a lot of optic manufacturers simply believe their proprietary design is better or they manufacture their own flip covers for their own rifle scopes.
In an attempt to reduce production cost and offer customers more competitive price, they have introduced Multi-Dimensional Tactical (MDT) flip covers which instead of using a machined aluminum adapter, it uses flexible rubber that can be stretched and fit over a wide range of dimension instead of an exact fit.
The polymer components are made by suppliers in Ottawa, Canada, as well as Boston, Massachusetts. Each component is serialized by batch and properly tracked just in case an issue arises they can locate the problematic batch which indicates when they were produced and where they were delivered to.
The Final Assembly
Each flip cover is offered in color black, RAL8000, coyote brown and desert sage colors. The three latter colors are all considered different shades of tan; however, when it comes to supplying to government contracts, the color specification is rather specific, and they cater to this type of request from their clientele.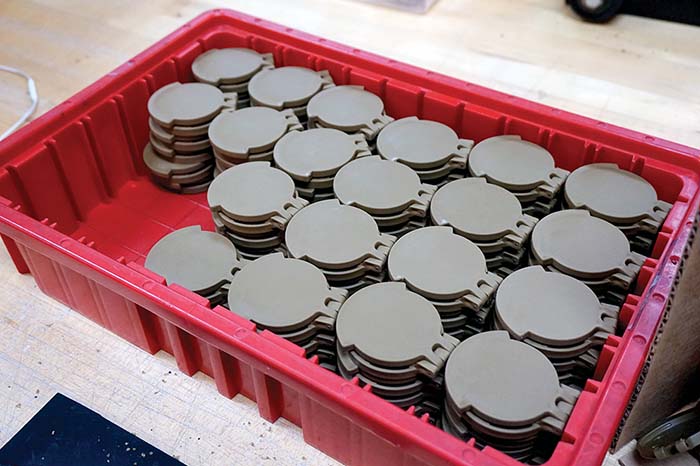 In addition, many models are offered in a see-through option, either in clear or amber lens, which allows the operator to aim and fire shots without flipping up the covers. Ironically, this creates more reflection due to the use of transparent polycarbonate, even with anti-reflective coating applied. The lens can also get scratched, in which case you're better off flipping them up. Tenebraex produces them due to contract requirements.
Anti-Reflective Device (ARD)
The anti-reflective device is often marketed under the registered trademark of KillFLASH® and is an absolute necessity in the modern battlefield. The modern soldiers are equipped with rifles that have an optic mounted, and the light reflection from the optic's objective lens can give away their position possibly from miles away. The ARD mounts in front of the objective are made up of a short tube with a honeycomb-like grid.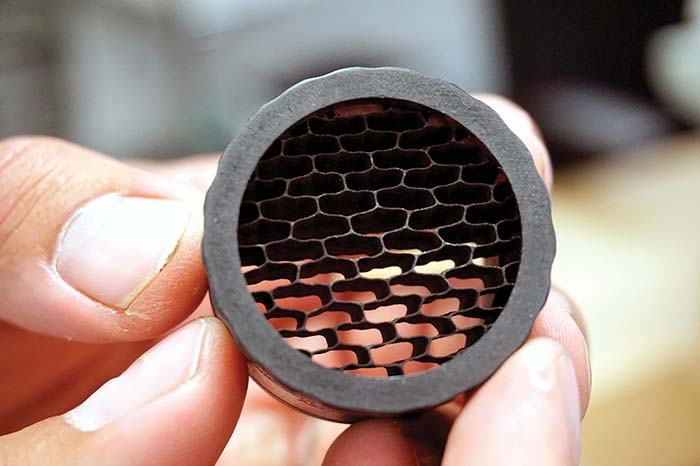 The ARDs are made in-house in Tenebraex's Halifax facility. The honeycomb grid is made of a large sheet of aluminum or fiber. It then gets sprayed with the proprietary XLUME® coating which absorbs light and reduces reflection and then it is cut to shape. The tooling that is used to cue the sheet looks like a cookie press except it's made of steel. The shape, thickness and density of the honeycomb sheet vary and are dictated by variables such as the objective size and magnification range to name a few.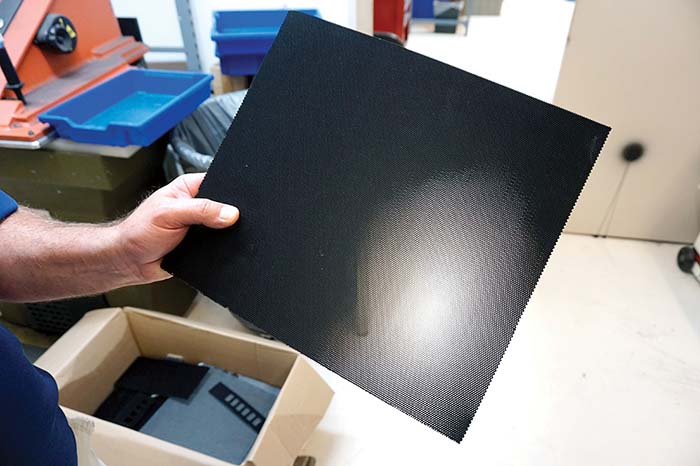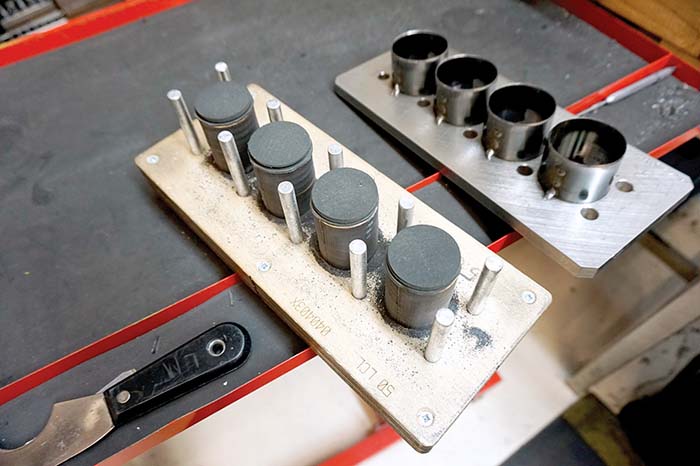 Tenebraex also produces ARD for binoculars, laser rangefinders and other vehicles—basically anything that uses a lens in the battlefield that can reveal your position to the opponent.
Interestingly, ARD is only visible to the user in a non-magnified 1x optic. For scopes like the Trijicon ACOG or other long-range rifle scopes, ARD is not visible as the user's eye sees right through it. There's a very slight reduction of brightness when the ARD is mounted, but the tradeoff is well worth it in a tactical situation.
Tenebraex engineers work closely with optics manufacturers, and they are trying to streamline the design of optics with integrated ARD and flip covers as part of the original design, instead of an afterthought with the use of adapters which result in increased cost and a more bulky, less elegant design.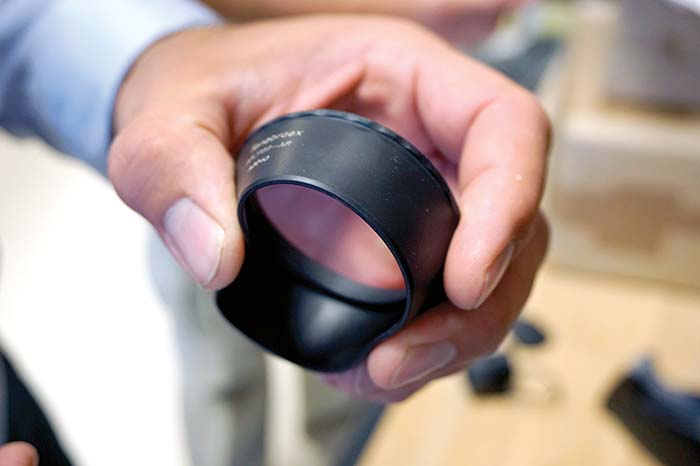 Weapon Sight Polarizers
Polarizers are an accessory that's often overlooked by many law enforcement procurements. Polarizers are designed to allow the shooter to look through glass as they cut the glass reflection of a car's windshields. Law enforcements purchase specialized ammunition such as ones with bonded bullets that are designed to retain their shape and maintain trajectory after going through glass. If one cannot clearly see his/her target behind glass due to reflection, the type of ammunition used is rather a secondary problem since he/she won't be able to take a clean shot.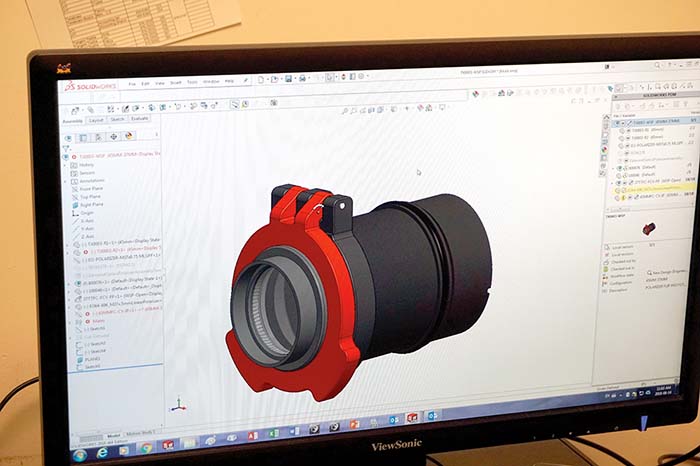 The Weapon Sight Polarizer mounts onto the eyepiece and is designed to be rotated for adjustment. When not in use, it can be removed by lifting it up and leaving it above the eyepiece; it will be retained by the lanyards.
Currently this product is restricted to military and law enforcement; however, one can easily make his own using polarizer filters made for camera lenses.
Weapon Laser Filters
In the modern battlefield, lasers are heavily used by infantry, land and air vehicles by NATO for ranging and labeling targets. It's not unreasonable to assume there's an increased risk of eye damage by friendly fire.
Tenebraex currently produces a laser filter designed for the Trijicon ACOG made under contract for the U.S. government. The idea is to protect the troop's vision from both friendly and foe lasers but more so from sophisticated opponents in potential future conflicts.
There were published reports of Latvian troops getting eye damage, some even getting blinded, during a recent training exercise close to the Latvian-Russian border.
This is troubling as IR lasers are not visible to the naked eye during daytime. Potential laser weapons do not make any noise and can be fired discriminately from long distances without being spotted.
There are also reports of European troops getting eye damage by friendly fire from the laser rangefinders on tanks. Incidents like these are purely due to negligence, but they do occur.
Paul tells me that they are working on laser filters that will not fall under ITAR and will be made outside of the United States. Whether there will be any interest in the commercial market for this product is yet to be seen.
Part of a Family
How does Tenebraex maintain an inventory that can meet the demands of government contracts, OEM and the aftermarket? Andrew Webber tells me that he pays his employees well, over what the actual position entails. Moreover, he values each one of his employees and treats them equally regardless of their position in the company. This way when a worker foresees a potential issue, he or she can speak up, and the issue can be avoided altogether. When the company shows a profit by the end of the fiscal year, each employee is eligible for a healthy bonus. Due to these factors, turnovers are extremely low, and I can tell that the employees are happy to be working there instead of simply going through the motions of "doing the job" and getting a paycheck.
They're also not driven by demands of double-digit growth year by year over the span of decades like many large corporations dictated by shareholders and accountants. Instead, they strive for slow, steady growth that is more realistic in todays' globalized economy.
This article first appeared in Small Arms Review V23N1 (January 2019)