By Julio A. Montes –
Until recently, the main armored transport for El Salvador's Armed Forces (ESAF) was the UR-416 — basically a German-designed guntruck mounted on a Mercedes Unimog U-416 2-ton truck chassis. In 1974, Colonel Arturo Molina's government purchased 10 vehicles that operated alongside locally built M35 gun trucks (called "Rayos", or lighting). In 1977, the Armed Forces Workshop (Maestranza) started building additional gun trucks on Jupiter 7-ton truck chassis and other commercial trucks. Although Maestranza drew plans to make exact copies of the UR-416 on existing U-416 chassis during the civil-war, the plans were later modified to use Ford F-250 chassis instead, and 20 were produced—nicknamed Astroboy; these were complemented with 66 locally assembled Dodge M37B1 gun pick-up trucks (Cashuat LAV) in 1984.
In January 1977, Colonel Molina negotiated the acquisition of 12 Saladin and 8 Ferrets in the United Kingdom and eventually settled for 12 Saladin and 3 Ferret vehicles, excess of the British Army in Northern Ireland, for £850,000 according to author Mark Phythian in his book, "The Politics of British Arms Sales Since 1964: To Secure Our Rightful Share." In July 1977, Colonel Molina is replaced by General Carlos Humberto Romero Mena as president, and, in early 1978, the British government impounded the already-bought equipment and, according to Salvadoran sources, refused to refund the money. General Romero Mena then turned to France, paying $4.8 million for 12 AML-H90 vehicles (with 90mm gun turret), around 12 AML-60 vehicles (with 60mm mortar and MG turret), and a similar number of Panhard M3 APCs (with TL.2.1.80 turret mounting twin 7.62mm machine guns). However, Romero was deposed on October 15 1979, and consequently only 10 H90-variants reached El Salvador by mid-1980. By this time, the French government had become sympathetic to the FMLN guerrilla front and stopped the delivery of equipment and additional ammunition to El Salvador. Apparently, only $800,000 would be returned, so each Salvadoran AML would cost $400,000… without spare parts.
The Salvadoran Cavalry would have only 10 AML-H90 for fire support, while riding its UR-416 and Cashuat APC into battle against the then FMLN's guerrillas.
Combat losses
On July 30, 1975, the El Salvadorian security forces used the UR-416 for the first time in public to crush a student march in the vicinity of the Salvadoran Institute of Social Security (ISSS). On August 12, 1982, Police Sub-Sergeant Jacinto Mendoza slipped a package under one of the police UR-416s, and shortly after there were two explosions that overturned the vehicle and caused considerable damage to other police vehicles in the parking lot and set fire to a gasoline pump. Mendoza had been a guerrilla infiltrator since 1975 when his brother was reportedly killed during the demonstration.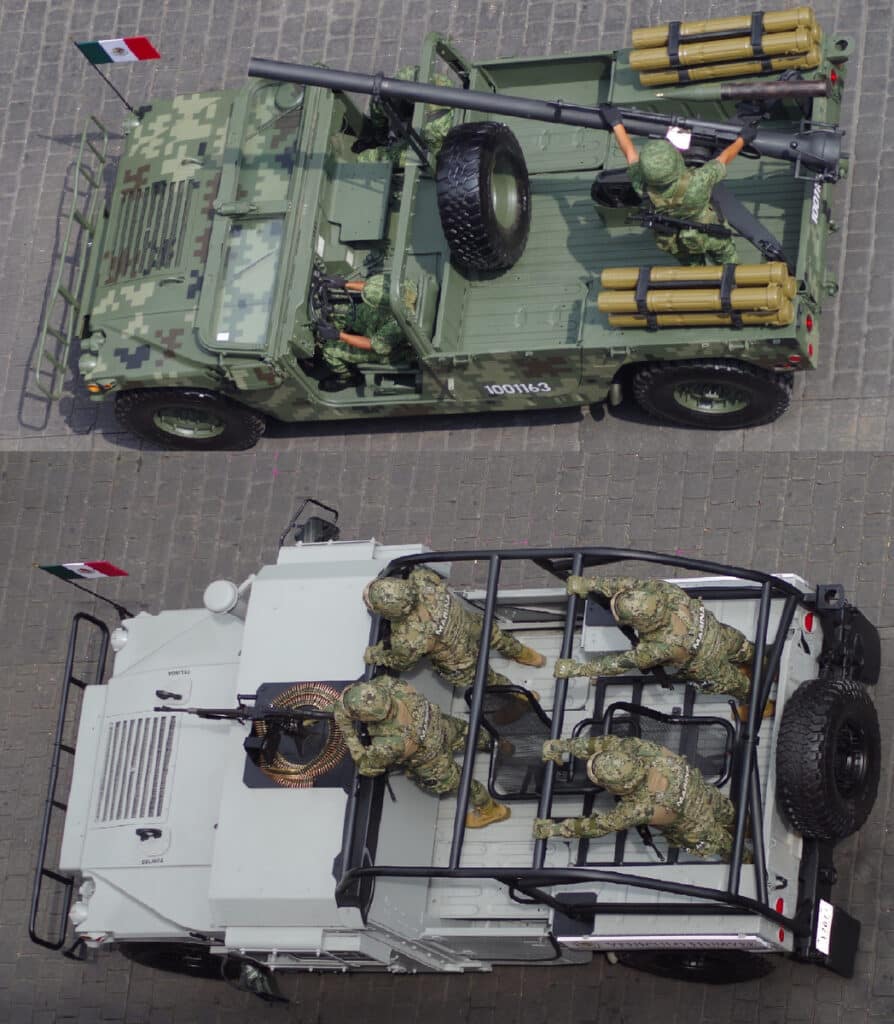 On February 28, 1983, the cavalry regiment lost another UR-416 during intense combat near the town of Suchitoto. During an ambush, the leading AML was hit by an M72 LAWW rocket and taken out of commission while the rear of the column UR-416 rolled down an embankment and flipped over. Shortly after, in April 1983, an armored section carried out patrols along the Littoral Highway in the contested Usulután department when a foot patrol was ambushed around La Normandia Ranch. As the armored section responded, the guerrillas remotely activated an improvised explosive device (IED) that pulverized one of the AMLs.
On November 12, 1989, two UR-416s, numbers 308 and 310, were disabled when they were hit by RPG rounds and caught fire while advancing towards La Zacamil neighborhood during an FMLN's assault on San Salvador. On November 17, as fighting spread, an armored section was cut-off and overwhelmed in the vicinity of San Sebastián neighborhood, east of San Salvador. During the fight, the leading UR-416 (no. 310) ended up in the middle of the killing zone, and was taken out of action. Twelve days later, UR no. 302 was hit by an RPG-7 in the vicinity of Las Palmas while defending the general headquarters of the joint chiefs of staff of the armed forces (EMCFA) security perimeter.
Postwar
The UR Ford-250s (and most gun trucks and tractors) would disappear after the 1992 peace agreement, but the Cashuats were retained, and efforts were made to upgrade them; four were modified with rear axles from the M35 truck. Surprisingly, all 10 UR-416s were restored to service, and in 1998, two Argentina-made Mercedes U-426 chassis were acquired to upgrade two URs. However, the armored bodies did not fit the chassis. That same year, the cavalry regiment received 38 AIL M240 Jeeps. The M240 uses a number of components available commercially in Israel, but not in El Salvador… so they proved extremely expensive, if not impossible, to operate. An honest evaluation report from the regiment on the condition of the fleet forced a cancellation of a follow up order, shutting down the "arrangement" from higher command, and costing the position of the regiment's commander.
In 2006 the U.S. offered 18 armored HMMWV ("Humvees") and ended up delivering 21 M1151s and four M1165s in 2009. By then, the FMLN had gained power as a political force, freezing the delivery of another 25 M1152s. In addition to protected troop transports, the M1152s could had been used as weapons platforms, replacing the existing 18 M240 AT variants with the M40A1 RCL and as TCM-20 carriers for basic ADA roles. U.S. military assistance restarted in 2012, but instead of transferring excess M1097s and M1152s to complement the M1151s, the U.S. supplied a handful of J8 Jeep Armored Patrol Vehicles (APV), which were diverted to the Salvadoran Army HQ Security Battalion. By 2018, the U.S. had offered 15 ATVs, without specifying the type, but these had failed to materialize in 2022.
The need for modern reconnaissance, transportation and internal security armor led the ESAF to sign an agreement on October 11, 2021, with the Mexican company IBN Military Industries for the supply of ten Yagu armored military vehicles. The Yagu is a small ultralight armored tactical vehicle based on the Arctic Cat Wildcat recreational off-road vehicle. Its armored hull was created by Israel's Plasan, while the Arctic Cat is produced by a subsidiary of Textron, Inc., so its parts are commercially affordable.
The contract was worth $2,591,349s and covered two vehicles modified as drone launchers and equipped with a camera masts at $311,474 each; another five Yagus equipped only with camera masts, each at $251,600; and the remaining three purchased at $236,800 each, and lacking the two specified accessories.
The ESAF also ordered its first five SandCat armored tactical vehicles for $2,420,000, apparently from the same IBN Military Industries. The Mexican Army acquired 249 second-generation Tactical Protector Vehicle variants between 2011 and 2012 manufactured locally by Blindajes Epel, a former local partner of Oshkosh/Plasan. Epel developed the SandCat MX and the Mexican Army Military Industries developed the DN-XI based on a Ford F550 chassis. Therefore, it was initially believed that those ordered by the ESAF were SandCat Mex from Blindajes Epel. However, IBN Military Industries offered a fourth-generation model, thanks to a 2016 agreement between Plasan and that Mexican company that allowed manufacturing of a SandCat Stormer variant. Therefore, the Salvadoran SandCat are of a more flexible and modular design, mounting a kitted monocoque hull with overlapping bolted and bonded (not welded) armor, made of steel base layer with a mix of internal/external aluminum, composite/ceramic and Kevlar components. Its chassis is based on the Ford F550 truck, with a 6.7L V8 turbo diesel engine, which, together with the gearbox, are placed on a sub-frame assembly that bolts to the monocoque. The vehicle has greater level of underbody blast protection without increasing the height, center of gravity, or weight of comparably configured base vehicles. Additional protection is provided to the radiator, front wings, and critical engine components. The interior has air-conditioning as standard, and it has seats for up to ten passengers.
In addition, the ESAF invested $3,600,000 in eight Hurricane-type armored tactical vehicles. This is a vehicle built by the Mexican firm WBA Blindajes Alemanes. This model was developed using an International 3300 truck chassis, derived from the International DuraStar since 2004, and commonly used for the construction of buses with conventional bodies. It is widely used commercially, making its maintenance and logistics cost-efficient and readily accessible in the civilian-market. Mexican sources indicate that the Hurricane is equipped with the Navistar MaxxForce DT I6 7.6 L (466 cu in) 24V twin-turbo inline six, but this powerpack was offered until 2014. Those built for El Salvador are 2021 models, so they are likely equipped with the now-standard Cummins ISB 6.7L I6 (409 cu. in.) 24V turbocharged engine. The chassis has been modified with an armored hull that provides ballistic protection against 12.7mm rounds. It has ballistic glass (said to be 90mm thick). It has four side doors with anti-explosive overlaps, and a rear door for access, all of them with combat locks. The hull provides level B6 protection in the engine compartment up front and shielding to the fuel tank, break air tanks, and battery systems. The floor provides protection against two-DM51 grenades per square meter. It is provided with a 10-ton capacity winch, and it has a load capacity of 3 tons. Its interior provides ergonomic seating for up to 10 passengers, each equipped with four-point seat belts and seven firing ports. It is provided with a top hatch, and the ring can accommodate either a M60D or a M2HB machine gun. There are two other side hatches at the rear.
Upgrading
By 2009, all 10 UR-416s had been mothballed. However, as the need for an armored transport persisted, the Army's Logistical Command (CALFA) undertook a recovery project that achieved the reconstruction of the original engines and transmissions, managing to restore six copies by 2018, and the armored hulls were eventually accommodated on the U-426. By 2022 there were eight UR-416, and one UR-416 serves as Static Guardian within the cavalry regiment. However, the UR-416s' interior needs a complete overhaul; new wall liners, impact seats, seat belts, infrared cameras, navigation and communication equipment, and other devices. The accommodation of a modern diesel engine and automatic transmission is also desired. If only the current eight to 10 UR-416s are retained, the numbers are insufficient for the current task, so these could be transferred, along with all the M240, to the military police, allowing for replacements for the regiment. Another alternative is to acquire sufficient second-hand UR-416s to complete a squadron of 20 to 30 units, and all be subjected to modernization and standardization.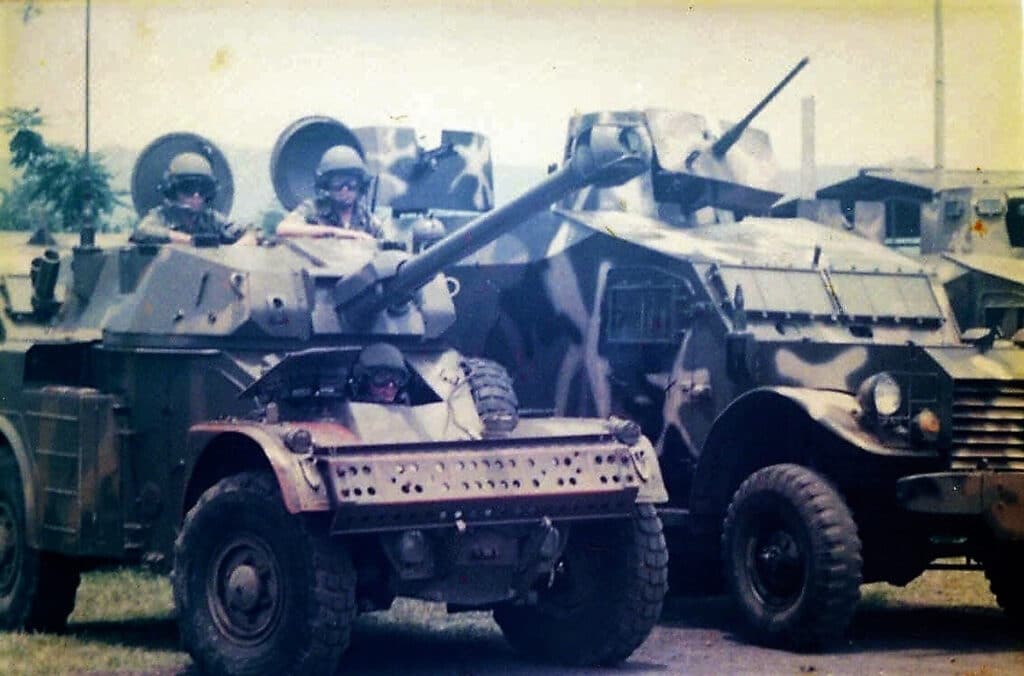 The Mexican military industry could make the upgrade of the UR-416 a reality. The Mexican military industry built several models that share DNA with the UR-416, such as the DN-VI Ocelote. Two prototypes were developed in 1987 by the then Mexican Defense Secretariat's Department of Military Industry (DIM) now General Directorate of Military Industry (DGIM), on the chassis of a Mercedes Benz UNIMOG U1700L truck. It was basically a Mexican copy of the German TM-170 model. It's worth noting that South Korea's Hanwha-Defense produces the modern Barracuda based on this design. The Mexican DN-VIII was another armored vehicle built on the U1700L chassis and inspired on the German UR-425 Condor design developed in 1987. The UR-425 Condor is used today by Uruguay and Malaysia, where modernization packages have been developed to keep them running for many more years. The Cimarrón, on the other hand, is a modern Mexican solution developed from 2015, mounting an armored troop transport box on the chassis of a UNIMOG U5000. It is equipped with cameras on all four sides for night vision, and it mounts a 218-horsepower four-cylinder diesel engine. The updated model was presented to the public on September 16, 2021.
Regarding the AML, the CALFA upgraded six vehicles, exchanging their original gasoline engines with Nissan diesels, but the vehicles are still overloaded with the 1700kg H-90 turret. Furthermore, the Salvadoran H90 is manually operated and obsolete by today's standards. Therefore, it's probably not a bad idea to replace the H-90 turret with something lighter such as excess Cadillac Gage 50/40 one-man turrets that use a 1-meter ring, which would require some work to reduce the AML's ring diameter.
The H-90 turret, on the other hand, could be recycled to a more stable and capable platform sharing mechanical train with the accompanying APC. It is notable that Mexican Panhards are equipped with the Lynx turret, a more advanced H-90 turret that allows a higher arc of elevation, IR sights, laser-rangefinders and stabilizer. The Lynx model could serve as an inspiration to update the Salvadoran models, as long as a new platform is found to recycle them. Otherwise, the H90 are likely to be discarded very soon.