By Aaron Brudenell –
If imitation is the sincerest form of flattery, optimization must be a close second. Ironically, a great way to measure the success of any gun design is to gaze upon the vast array of aftermarket parts and accessories available to modify the original. A robust secondary market can only occur when the primary market is healthy enough to support subsequent adaptations.
Enter the Ruger model 22/45 Mark 3 pistol. The design is evolutionary if not revolutionary in that it combines the rugged reliability of Ruger's first handgun made over 65 years ago with a modern polymer grip frame that reduces weight (and cost) while emulating the even more venerable 1911. Prior versions of the 22/45 lacked the elegance of the current model with limited grip texture, adaptability, and let's face it, early 90's cosmetics that were not the strongest for this gun maker. Additional safety features were added to the Mark 3 permitting sales in all domestic markets and were otherwise a benefit (or minor nuisance) to their owners. Among the array of features available to remake the 22/45 in one's own image, this author chose a number of small ones available from TandemKross (TK) and one big one from Tactical Solutions.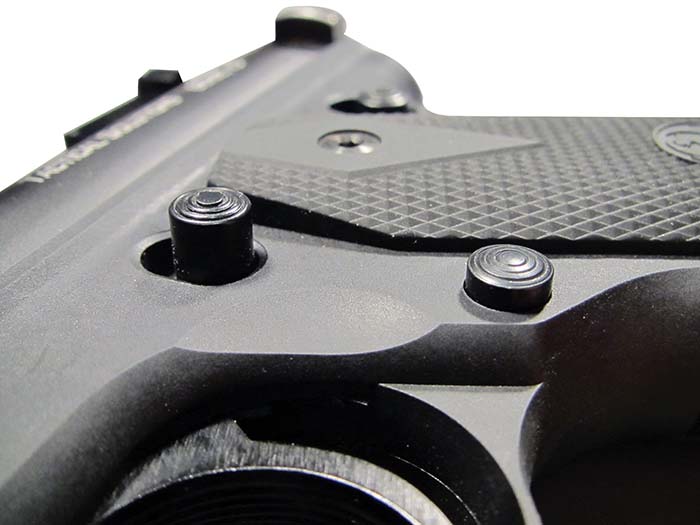 Tactical Solutions of Boise, ID, has been in business since 2002, making barrels, receivers, conversion kits and even sound suppressors. Replacing the all-steel Ruger-barreled upper receiver with one from Tactical Solutions (mostly aluminum) remakes the pistol in a much lighter package with excellent adjustable sights, an optional threaded muzzle and a subdued finish that is a better match to the polymer frame than the original. The only feature loss at this point is the deletion of the chamber loaded indicator, a feature that never enjoyed significant consumer driven demand. Due to the nature of the host Ruger pistol design, the Tactical Solutions upper receiver bears a serial number, related manufacturer markings and must be treated legally like any other complete firearm or serialized firearm receiver.
Threaded Tactical Solutions 22/45 hybrids have become a staple for those who wanted a .22 pistol that was light weight, rugged and suppressor ready from a manufacturer reliable enough to ensure correct alignment of the threads and engagement shoulder. Mark 3's front and back strap checkering along with Ruger's rubber 1911 diamond grips make for excellent ergonomics in the shooter's hand. The cosmetic details of this union include a matte anodized finish that offers a seamless mate to most light weight 1" sound suppressors or the flush fitting thread protector included with each threaded receiver.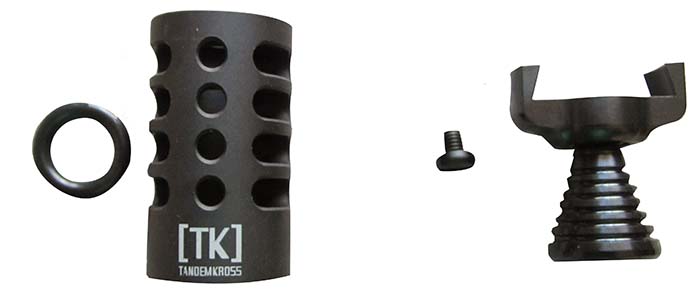 Where this combination ends, the Tandem Kross options continue to enhance with a variety of substitute parts and accessories. Perhaps most valuable is the "Kanewolf" slingshot kit that replaces the locking ball and detent bolt stop/release with a shorter spring-loaded bolt stop that will automatically disengage when the bolt is retracted in the absence of an empty magazine. This corrects the most glaring departure of the Ruger 22/45 series manual of arms from those of traditional semi-automatic pistols. Once installed, the pistol no longer requires a downward motion of the thumb to release the bolt.

A close second in enhancements would be the hammer bushing that replaces three internal parts responsible for the Mark 3 magazine disconnect safety. On combat handguns, the presence of a magazine safety is a topic of much debate but for Ruger Mark 3 pistols that require multiple manipulations of the trigger and sear for assembly and disassembly, such a feature adds undesired complexity to an otherwise tricky process.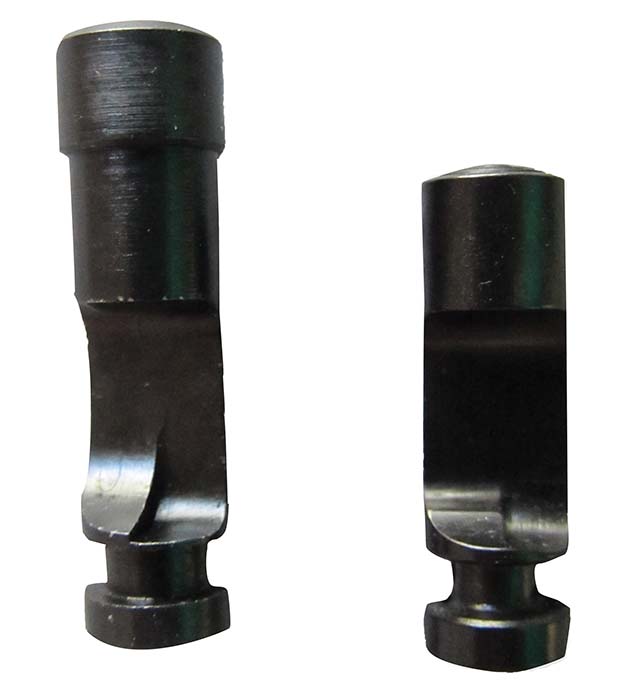 Two more obvious traditional enhancements include an extended magazine release and "Plus 1 Pro" bumper magazine extension that adds one round to the original 10-round 22/45 magazine capacity. This floor plate also incorporates an optional spring-loaded feature that will more positively eject the magazine from the grip. Most recreation and sport shooters have no need to perform a lightning fast reload with a .22 pistol, but for those wishing to model the performance of a combat centerfire pistol, the combination of all the features listed above makes for a better rim-fire substitute over the original.
Additional enhancements are also available and include the "Fire Starter" titanium firing pin, "Game Changer" compensator, the "Victory" Trigger and "Challenger" Charging Handle. While the benefits of a lighter titanium firing pin are subtle, the "Victory" trigger has a flat geometry and two set screw adjustments to limit both rearward and forward travel. Serious target shooters with the sensitivity to benefit from these will be the ultimate judge, but even this author's more rugged tastes were forced to admit a noticeable reduction in perceived recoil and muzzle flip when the "Game Changer" compensator was added to the muzzle threads. If you have the need to tame the recoil of such a light weight .22 LR this accessory definitely does its part.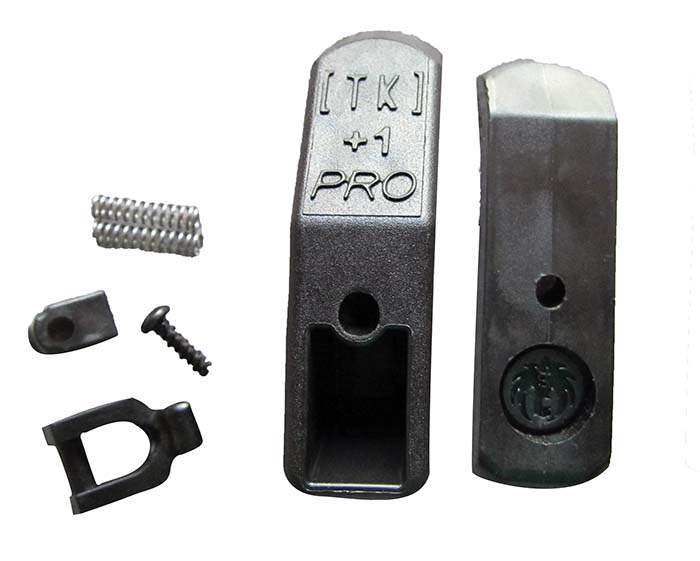 The "Challenger" Charging Handle was ultimately not used because the female mounting surfaces were intended for the tapered bolt serrations of the newer Ruger models, and this particular gun was assembled using an earlier squared-off bolt. The benefits of such an addition may only be necessary on a pistol assembled with an oversized optical sight limiting manual access to the rear of the gun. In any case, it's better to have more options than too few.
The finishing touch to this project was done with a set of aluminum "Super Grips" offered for sale by Tandem Kross. These items are not TK originals but helpfully marketed through them and well worth the expense to enhance the already elegant grip ergonomics. The professionals at Tandem Kross clearly recognize quality when they see it and can be relied upon to continue to innovate and market new ways to optimize, adapt or modify classic designs to make them better. In each step of assembly they also support their products with well-produced and easy-to-understand online video demonstrations of correct installation and use. Even the least mechanically inclined user can see for himself what is required to install and use every product offered by Tandem Kross even before he makes the decision to buy.
This article first appeared in Small Arms Review V21N2 (March 2017)