By Robert Bruce
"With the high percentage of Marines, both Regular and Reserve, male and female, deployed in harm's way, it is a great credit to the Marine Corps League that much of the new equipment and technologies used by our Marines on today's battlefield had their genesis through the Modern Day Marine Military Exposition." General M. W. Hagee, Commandant of the Marine Corps
As GWOT – the Global War on Terror – continues, the US Marine Corps remains on the cutting edge of operations around the world, playing a key role in combat against terrorists and those who support and harbor them.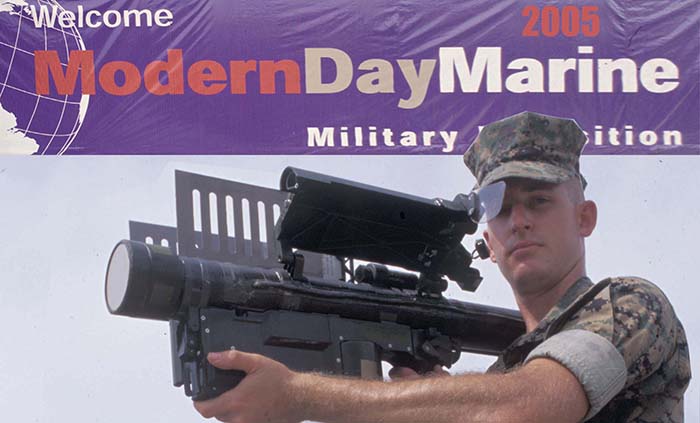 While much of the work they do is the same sort of grinding and gritty infantry combat that has characterized warfare for the last century, the Corps takes extraordinary measures to equip its fighters with the best available weapons and equipment. From sturdy desert boots to precise global positioning systems, US Marines shouldn't have to settle for second best.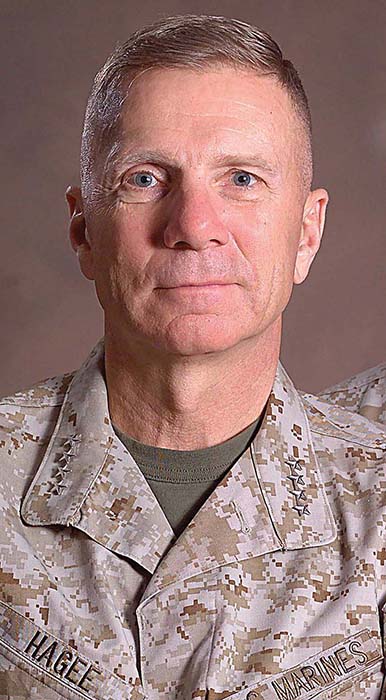 And it isn't just the grunts on the ground who deserves to get the finest that money and technology can provide. Marine aviators, artillerymen, tankers, combat engineers, amphibious forces, and support elements need to keep up with the newest developments.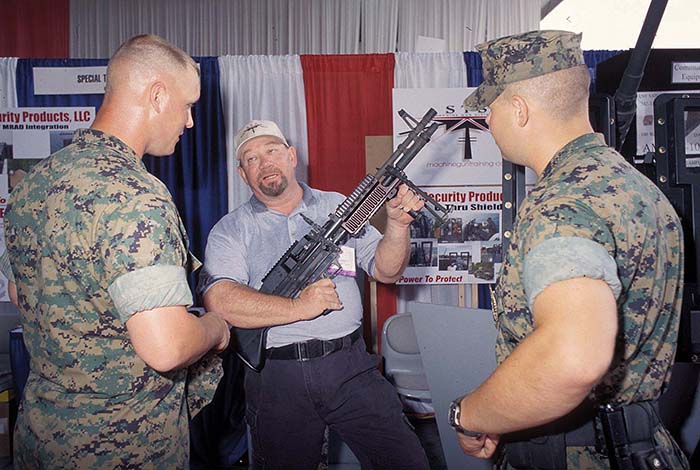 The never-ending search for the latest and most effective means of moving, shooting, communicating, and surviving on current and future battlefields is conducted in a variety of ways by USMC Headquarters at Quantico, Virginia. The roster of major activities at the "Crossroads of the Corps" includes such no-nonsense outfits as the Warfighting Lab, Systems Command and Combat Development Command.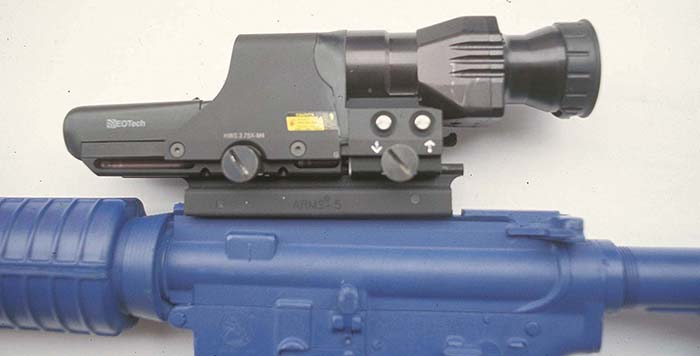 At these and many others, new tactics, tools and techniques are closely examined by Marines with long and hard experience in real world operations. When appropriate, those that pass initial evaluation will then be subjected to the most demanding tests at locations around the world from arctic to desert and jungle. Only the strongest survive and make it "into the system" for issue to those doing the real fighting.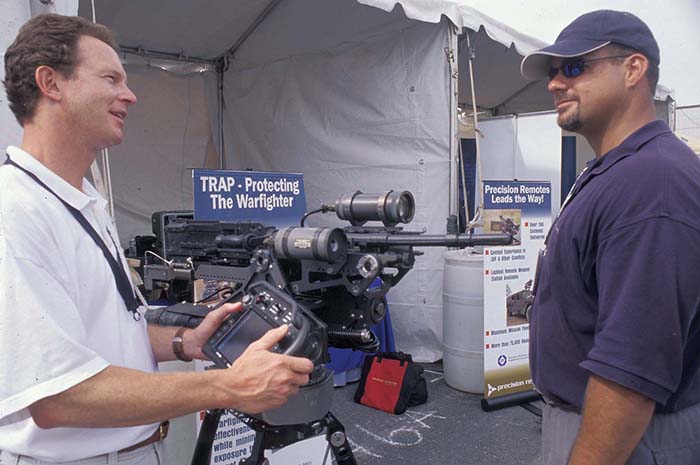 But how does the Corps efficiently find the most promising things among thousands of gimmicks, gadgets and guns that the defense industry so eagerly promotes each year? Indeed, how can inventors and manufacturers big and small catch the attention of those who make critical decisions on what will be chosen for a closer look?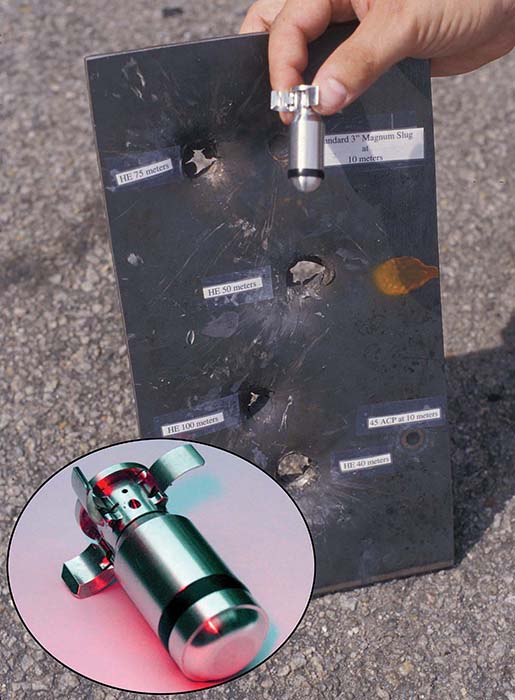 The Commandant himself suggests that one excellent answer to these questions comes in the form of the annual Modern Day Marine Military Exposition, a unique trade show for some of the most demanding customers in the world. The 25th annual Expo was held over three days in September at Quantico's historic Air Facility, home of the President's Marine One helicopter.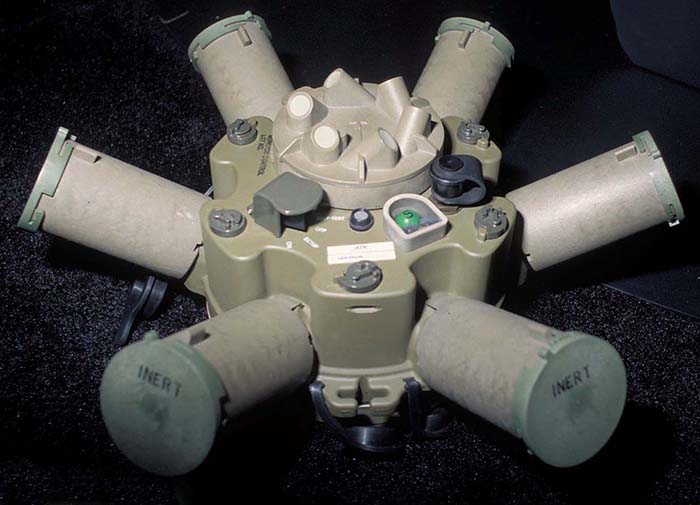 Featuring nearly 300 industry and military exhibitors from AAI to Xenonics, the event showcased literally thousands of items needed for all aspects of modern war. Packed inside cavernous Hanger 3, along with two enormous tents and a wide expanse of outdoor space, were giant armored trucks, surveillance drones, artillery pieces, radars, computer-linked command centers, pistols, backpacks, night sights, and plenty of robots.
Co-sponsored by the Marine Corps League and MCB Quantico, it enjoys official support from the Commandant of the Corps on down the chain of command. It is a "must attend" for officers and enlisted at Quantico determined to find better tools and better ways to fight GWOT.
Located less than an hour's drive from the Pentagon, the Expo always gets crowds of high level civilian and military visitors from all the US Armed Forces. Foreign defense personnel from Washington's many embassies are also in attendance; some to buy and some to spy.
Machine Marines
While all the traditional categories were represented with small arms and ammo, body armor, trucks and helos, this year's Expo was distinguished by an increasing number of robotic platforms. Defense industry giant General Dynamics in particular was enthusiastically presenting its vision of robots as co-combatants now and in the near future. The latest player from General Dynamics in this exciting drama is the "Tactical Autonomous Combat-Chassis," or TAC-C, that will allow engineers to try out many different concepts for manned and unmanned operations. This fast and powerful new off-road platform is readily adaptable to a variety of configurations from cargo carrier to weaponized assault vehicle and, unlike previous robot rovers, has seating for human operators to take over at appropriate points in the mission.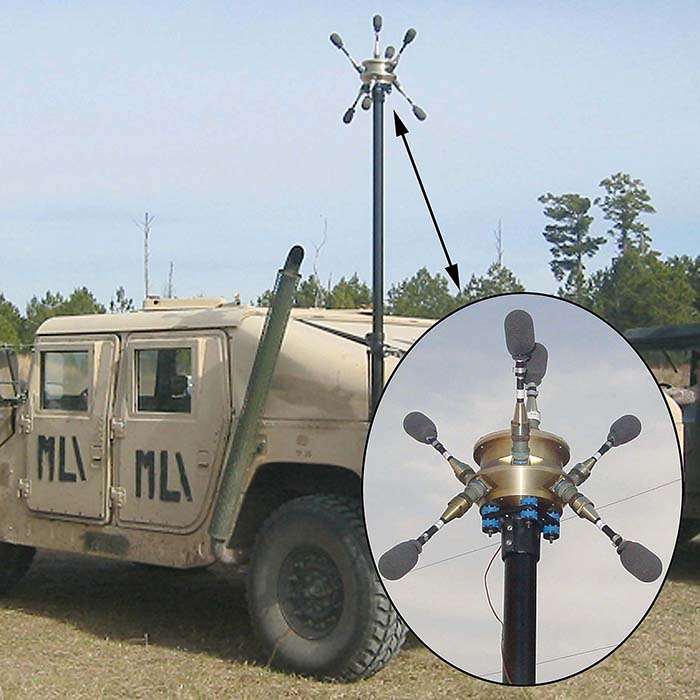 Another robot on display should be familiar to our readers from recent features. The "Gladiator TUGV" (Tactical Unmanned Ground Vehicle) continues to develop in a partnership between military, industry and academia. Gladiator is on track for fielding as early as 2007 to provide dismounted Marine units with robotic recon, surveillance and target acquisition. Also, depending on what on-board weapons systems are mounted, to allow human operators to fire on the enemy from relative safety in rear areas.
Threat identification and neutralization using remotely operated small arms on vehicle mounts like Gladiator and ordinary tripod ground mounts is another battlefield capability that we have been closely following. The Marine Corps has been out front in experimentation and real-world operational evaluation of Precision Remotes' TRAP system, mounting various weapons including M240 machine guns and Barrett .50 caliber sniper rifles. We were pleased to see that the system capabilities have been expanded with introduction of the Quad-X Controller, enabling remote operation of up to four surveillance and gun platforms.
The rapid development of Northrop Grumman's "Fire Scout UAV" (Unmanned Air Vehicle) is also encouraging. This pilotless recon helo-from-hell has demonstrated increasing sophistication in its ability to carry out the full spectrum of airborne missions without direct human intervention. In addition to all-weather surveillance and target acquisition, on-board gun and missile systems make it a lethal threat for enemy forces.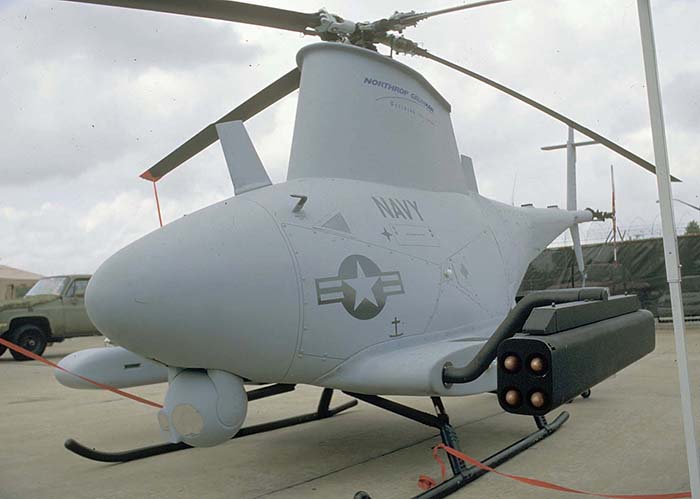 The astonishing array of electronic contrivances for the "digital battlefield" continues to grow. This is as it must be, with America's great technological edge aiding both the soldier on the ground and his command structure with real-time input on the whole spectrum of battle.
Office of Naval Research
We found an excellent example of the integration of highly mobile heavy weaponry and digital command links in the "Dragon II Automated Mortar," a self-loading 120mm tube system that can detect incoming rounds in flight, instantly compute their point of origin and begin raining counterbattery fire and steel on the launch site in less than a half minute. This robo-mortar is a joint development of an interesting team including Marine Corps Warfighting Lab, Army ARDEC, General Dynamics, and the Office of Naval Research (ONR).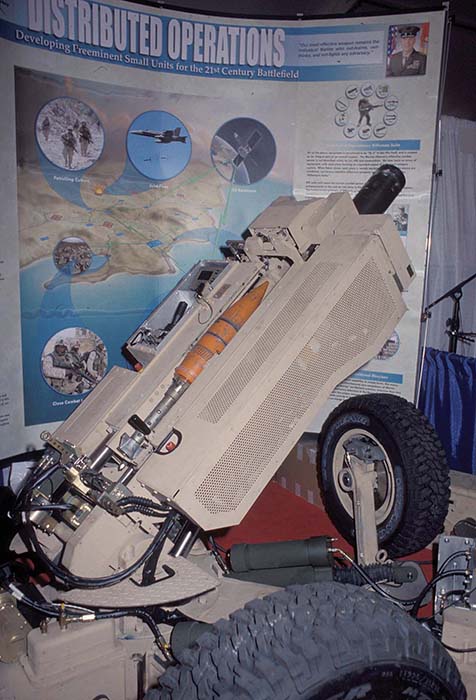 While on the subject of mortars it bears mentioning that ONR is also working with Warfighting Lab on a project to significantly lighten the Corps' standard 81mm M252 pipe at no penalty in range and rate of fire. Edgy experimentation carried out by ONR is invaluable to the Navy and Marine Corps team as evidenced by displays with military and industry partners in several areas of the expo. Some items of particular interest to this correspondent include the afore-mentioned Gladiator as well as its little brother Dragon Runner, the Boomerang countershooter detection and location system, and the mother of all shotgun rounds. More on that in a moment….
Super Small Arms
One might think that most everything possible in the world of rifles, pistols and such had been thought of by now and in many cases this is true. Some of today's hot new gadgets are easily tracked back to olden days in one form or another. We're not making fun of anybody here – just pointing out that good ideas of the past have a way of resurfacing when needed. An example is ONR's "Frag-12" shotgun shell, a high explosive projectile intended for standoff door breaching with standard GI shotguns. When buckshot, slugs or frangible loads won't do the job, apply some super energetic persuasion and marvel at the results. This good new idea is actually more than 30 years old, dating back to the end of the Vietnam War when Carroll Childers worked with SEALs and Force Recon as a Naval Science Officer at Dahlgren. Been there, done that, anybody save some money by checking the engineering papers he left on file?
Another clever gizmo that caught our eye is the "Parascope Urban Combat Sight" from MTC Technologies. A side viewing port allows the weapon to be aimed and fired from around corners or over protective barriers while exposing only the hands and arms. No batteries needed and no distortion of the regular sight picture using holographic or iron sights. History buffs know that periscopic aiming devices have their origins in the trenches of WWI.
Other notable improvements and updates to more recently fielded firearms were to be found at the Expo. Among the big boys, FN continues work on its exciting SCAR system for Special Operations Command and HK has prudently formed an alliance with General Dynamics for military sales of its 416 line as well as the Modular Weapon System Family, the latest XM8 incarnation.
EO Tech has a new clamp-on 4x magnifier to increase versatility of close-quarters combat rigs. Insight Tech showed a hush-hush new integrated night sight that we got to photograph only after promising not to write anything about it.
Crimson Trace has a new saddle type laser grip module that can be easily installed by Glock enthusiasts and Britain's UTM is pushing into the SIMUNITION-dominated training field. LaRue has a sturdy new scope base for Special Operations Command's high-speed Mark 14 upgrades of Uncle Sam's pre-Vietnam M14 rifles. C-MAG is nearing fielding of a new double drum in 7.62 NATO, probably available in stylish desert tan color.
An old Special Warrior is back in the fight thanks to Nevada based US Ordnance, licensed by Saco Defense as the exclusive manufacturer/distributor for the snake-mean M60E4. Well known by Navy SEALs as the MK 43 Commando, this chopped "pig" boasts significant internal improvements along with a new machined aluminum feed cover and integrated length of Picatinny rail, plus handguard area with quad rail interface.
Awards Parade
History and traditions are particularly important to the Marine Corps and a highly impressive Enlisted Awards Parade is always part of the Expo program at Quantico. Led by the incomparable USMC Drum and Bugle Corps, it also featured precision drill from the famous Marine Corps Silent Drill Platoon. For those who understand and appreciate how much discipline, training and pride are required, the show these men put on is truly awe inspiring.
This set the parade deck stage for General M. W. Hagee, Commandant of the Marine Corps, to personally recognize ten outstanding Marine enlisted personnel for exemplary performance. Particularly noteworthy to our readers should be the prestigious Gunnery Sergeant Carlos Hathcock Award, named for the famous Vietnam War sniper. This went to Gunnery Sergeant Lester L. Stone of Quantico's Weapons Training Battalion.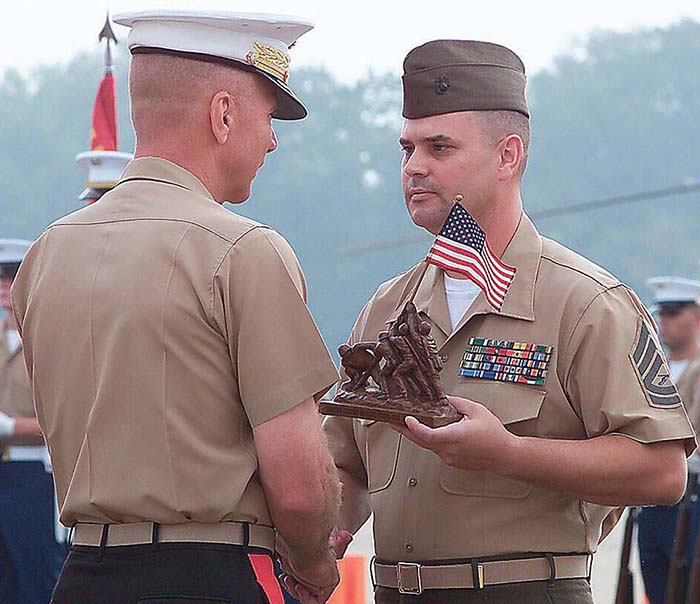 2006
The 2006 Modern Day Marine Military Expo is scheduled for 12-14 September. Those who can't make it to Quantico are encouraged to visit similar Expos at Camp Lejune, North Carolina or the West Coast version at Camp Pendleton, California. More information for attendees and exhibitors is available on their website at www.marinecorpsexpos.com.
Warfighting on the Web
The accompanying photos show only a few of the interesting products on display but much more can be found by visiting websites of exhibitors listed on the Expo program on the internet at www.marinecorpsexpos.com. Also see the USMC's official website at www.usmc.mil, and the Marine Corps League at www.mcleague.org.
This article first appeared in Small Arms Review V9N9 (June 2006)