By Chris Choat
SIGARMS Introduces Their New SIG 556 Rifle
No other semi-automatic rifle has captured the imagination of the shooting public like the SIG 550 series rifle. For years this legendary Swiss made rifle has been restricted to law enforcement and military sales where it has continuously built on its reputation for outstanding performance, accuracy and durability. Now, SIGARMS has announced that the time has come for a U.S. made version and introduces the new SIG 556. The SIG 556 features the same high-performance two position adjustable gas piston operating rod system engineered by SIG's sister company Swiss Arms and marries it to a trigger housing that not only cuts the rifle's weight by a pound but is designed to accept standard AR magazines. Originally developed to work under the extreme situational pressures and environmental conditions of the Swiss Army on Alpine duty, the new SIG 556 delivers when it counts regardless of ammunition type and variances in gas pressure or case material. The SIG 556 features a 16-inch military grade cold hammer forged barrel with a twist rate of 1 in 9 inches. The barrel is locked to the steel receiver through a unique system that allows the user to easily change out the barrel. The forearm housing the gas operating system is a vented non-slip polymer featuring the SIG TriRail design with three integrated Picatinny rails for mounting accessories. There is a forward mount for right or left side sling attachment. The flip up front combat sight is adjustable for windage and elevation. The Picatinny rail equipped receiver is made of high strength carbon steel with a durable wear-resistant Nitron X rifle finish. The trigger housing is made from a heat treated aircraft grade aluminum alloy with a hard-coat anodized finish designed to survive extreme conditions. The rifle comes equipped with a smooth two-stage trigger. The SIG 556 also features an ambidextrous safety and is designed to accept standard AR magazines. A rugged 30-round polymer magazine is supplied with each rifle. Spare battery compartments are provided in the ergonomically designed pistol grip as well as the rubber padded watertight adjustable butt stock. The buttstock also offers sling attachment points. In addition to the standard model SIG 556, SIGARMS will also offer a SIG 556 L featuring a longer forearm but also equipped with the 16-inch barrel. The 556 L will be ideal for upgrading to the 20-inch barrel for more precision oriented shooting. The third model planned for 2006 is the SIG 556 SWAT. The SWAT model will feature the same compact design of the standard SIG 556 with 16-inch barrel but will feature a flat top Picatinny railed receiver and a tactical quad rail. These three rifles are the first of several new SIG 556 models that are currently in development at SIGARMS. The new U.S. made SIG 556 will begin to ship in late summer of 2006. For more information please contact SIGARMS, Inc., Dept. SAR, 18 Industrial Drive, Exeter, NH 03833. Phone: (603) 772-2302. Fax: (603) 772-9082.
New M16 A2 Stock from Keng's Firearms Specialty
A new stock for the M16 A2 is now available from Keng's Firearms Specialty, Inc. The stock has a sealed compartment for storing a loaded back-up 20-round magazine for use in emergency situations. The 20-round magazine is accessed by pulling down a lever on the buttplate and then rotating the buttplate counter-clockwise. The magazine is then released by pushing a standard M16 magazine release bottom located in the left side of the stock itself. There is a hidden spring in the compartment that helps "push" the magazine out of the recess. The stock's length-of-pull is the same as that of a standard A2 buttstock and the new stock also has an opaque window through which the magazine can be seen. The inside of the compartment is bright yellow and, if there is no magazine inside the compartment, will serve to remind the shooter to put a loaded 20-round magazine back in place. The new stock is made from 30% glass-fiber reinforced material for added strength and durability. Availability will be late summer. For more information please contact Keng's Firearms Specialty, Inc., Dept. SAR, 875 Wharton Drive, S.W., Atlanta, GA 30336. Phone: (404) 691-7611. Fax: (404) 505-8445. They can be found on the web at www.versapod.com.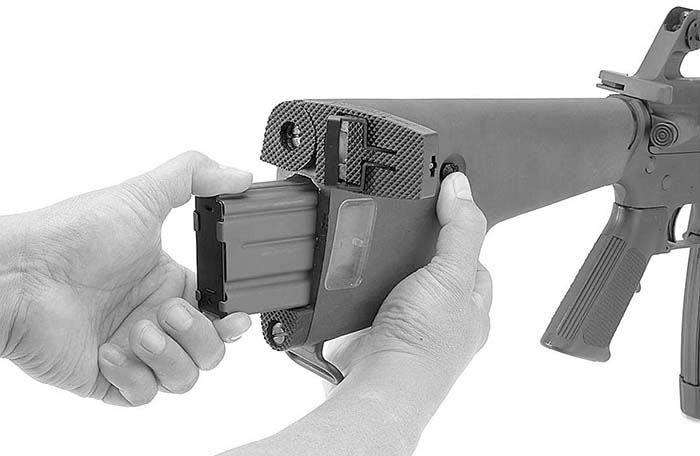 New Colors and Templates from Lauer Custom Weaponry
Lauer Custom Weaponry, long known for their excellent DuraCoat products, have now introduced several new colors as well as new peel & stick templates to help refinish weapons of all types. One of the striking new colors and templates is called the Diamond Plate. The finished product makes the weapon look as if it is made of aluminum tread brite; the same color as a tool box that you would see in the back of a truck. The new "color" gives the host weapon a true 3-D look, as if the Diamond Plate material was actually formed in a weapon. The new Diamond Plate design is actually three different designs that are put on in layers with the help of Lauer's Peel & Spray templates. Lauer now also has colors and templates available for the new Army Digital Camo as well as Black Oxide, Titanium and even colors that makes your weapon look as though is it the offspring of a Bengal Tiger. Their DuraCoat coatings can be applied with an airbrush, can be baked or not, and give outstanding results with minimal expense and expertise. Lauer even has complete kits which include paint colors, templates, airbrush and an instructional DVD. For more information please contact them at Lauer Custom Weaponry, 3601 129th Street, Chippewa Falls, WI 54729. Phone: (715) 723-6861. Fax: (715) 723-2950. You can also view the colors on actual weapons at www.lauerweaponry.com.

New Spec-Ops Sniper Rifle Stock from Knoxx Industries
Knoxx Industries, LLC have just released their new Spec-Ops Sniper Rifle Stock. This stock adds to a list of other remarkable recoil-reducing stocks from this California company. This new stock is based on their tried and true Spec-Ops recoil reducing mechanism that tames recoil dramatically. The design and development of their Spec-Ops shotgun stocks have led the way for this new line of rifle stocks. The new stocks have a dramatic look and feature a new billet aluminum CNC-milled forearm. With a fully floated barrel and high tolerance machining, accuracy with these new stocks is said to be nothing short of fabulous. The first stocks will be available for the Remington 700 short and long actions and they will be adding Winchester, Weatherby/Howa 1500, Savage and Mauser stocks as quickly as they can be digitized and programmed into their milling machines. The new Spec-Ops Sniper stock makes a .308 feel like you're shooing a .22 long rifle and a .375 H&H Magnum feels like a .22-250. An added feature of the new stocks is that the length of pull can be adjusted to fit anyone. For more information on these innovative new stocks, please contact Knoxx Industries, LLC, Dept. SAR, P.O. Box 2848, Paso Robles, CA 93447. Phone: (805) 227-4099. Fax: (805) 238-2069. Their website is www.knoxx.com.

ArmaLite AR-18/180 Extended Scope Mount from StormWerkz
StormWerkz has now added an extended version of its popular AR-18/180 scope mount to their line of firearm upgrades. The StormWerkz brand scope mount for ArmaLite AR-18 and AR-180 rifles utilize the military standard M1913 Picatinny rail. Both Weaver and Picatinny rings and adapters will fit this mount. The mount fits all AR-18 and AR-180 rifles, carbines and machine guns regardless of date of manufacture. The mount body is completely CNC machined from 6061 T6511 aluminum bar-stock and then anodized matte black. All of the sub-components are stainless steel for maximum corrosion resistance. For more on this new scope mount as well as other accessories for the AR-18/180 and Daewoo line of rifles, please contact StormWerkz, Dept. SAR, 408 15th Ave. East, Superior, WI 54880. Phone: (218) 349-6175. They can be found on the web at www.stormwerkz.com.
This article first appeared in Small Arms Review V9N9 (June 2006)