By Kyle Shea
There are many great comic book superheroes, including Superman, Wonder Woman, Spiderman, Captain America, Iron Man, the Flash and many, many others. But one of the absolutely best and most beloved is the Caped Crusader, Batman. Whether it is the large rogues' gallery he is constantly fighting or the many neat gadgets in his arsenal, Batman is an icon loved by millions, if not billons. There are a large number of movies and shows featuring the Caped Crusader, including the comedic Batman TV series (1966-1968), "The Dark Knight" trilogy (2005-2012) and "Batman v Superman: Dawn of Justice" from 2016. But one of the best movies is Tim Burton's "Batman" from 1989.
"Batman" from 1989 was a dark movie starring Michael Keaton as Batman/Bruce Wayne and Jack Nicholson as the Joker. It was well-received by both critics and audiences and was followed by "Batman Returns." Michael Keaton returned as Batman, with Danny DeVito playing the Penguin and Michelle Pfeiffer as Catwoman. While it did well at the box office, the film felt too dark, especially when it came to the villains. In response, the next movie, "Batman Forever," was made more kid-friendly. This time, Val Kilmer took the role of the Caped Crusader. Tommy Lee Jones played the character of Two-Face, Jim Carrey played the Riddler, and Chris O'Donnell got the role of Robin. It was not well-received by critics, but it did make more money than "Batman Returns."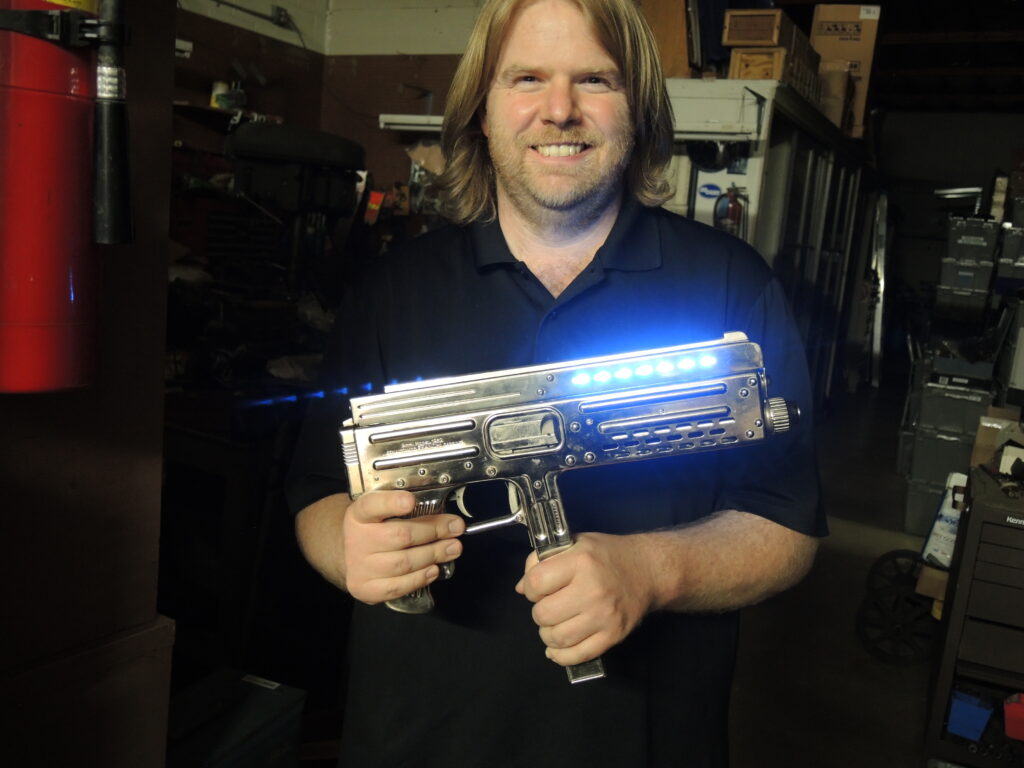 What followed was one of the greatest unintentional comedies of all time. "Batman & Robin" from 1997 is a movie so bad it's funny. Chris O'Donnell returned to his role as Robin, but the role of Batman was given to George Clooney, one of the many bad casting choices involved with this film. Another bad choice was Arnold Schwarzenegger as Mr. Freeze. In the comics and the animated show which help make the character, Mr. Freeze is a man who is trying to cure his terminally ill wife, but a horrible lab accident made it impossible to live without a special suit to keep his body temperature down. He is a tragic character who needed to be played by someone more serious and dramatic. In my opinion, this was not the role for a major action star like Arnold Schwarzenegger.
The casting choices are just one of the many problems with this movie. Mr. Freeze says so many ice puns it drives viewers crazy. Uma Thurman plays Poison Ivy and has some of the most inappropriate lines ever said. Robin is a whine factory whose lines could be replaced by a crying baby. The character of Batgirl, played by Alicia Silverstone, is a pointless addition to the film. Characters constantly flip around on invisible wires, and the physics in the film make no sense at all. And the hero suits actually have nipples on the chests. The most bizarre moment of the film is when Batman and Robin are bidding on Poison Ivy, Batman actually pulls out a Bat Credit Card. (The author wishes he was making this up.)
Throughout the film, Mr. Freeze carries a giant freeze gun that covers people with ice. Originally, he was going to carry a Franchi Model 1962 (LF-57), with a bright nickel finish and a special blue light bar on top of the gun. The light bar was supposed to make it look more like a freeze gun. It was attached to the top with the sight of the gun and a couple of screws. The light has a battery in the bar that can only be charged by a special charger. There were eight of them made for the film and were supposed to be used by his henchmen. However, I did not see any of them in the film; from memory, when we appraised and sold the Stembridge Gun Rental inventory in 1998, we were told the Franchi scenes were left on the cutting room floor.
The Franchi LF-57 was created by Luigi Franchi S.p.A. in 1956. It was not a big seller, and only a few, like the Italian Navy, bought it for military use. It shoots 9mm Parabellum from ether 20-, 30- or 40-round magazines, which in following with Italian SMG tradition, are Beretta 38 series magazines. There is no manual safety; instead it has a grip safety, where you hold the large button below the trigger guard in while you fire. The gun weighs about 7 pounds, is about 27 inches long and has a large removable stock that can easily fold. The nickel-plated guns were also used in "Predator 2," "Soldier," and "Ghosts of Mars."
In any case, to me, "Batman and Robin" is an awful movie. The effects are terrible, the props are clearly fake, and it was clear that all the vehicles were made to sell toys, which would have been fine if they looked good, but they don't. The only part of the movie that is good is a subplot in which the butler, Alfred Pennyworth, is dying, and we see flashbacks of him watching over Bruce when he was younger. It was no surprise that this movie was a failure. Both the critics and audiences hated the movie, and it bombed in theaters. If you like this movie, you will not be judged harshly. But if you want a movie to make fun of and laugh at, this is the best film for that.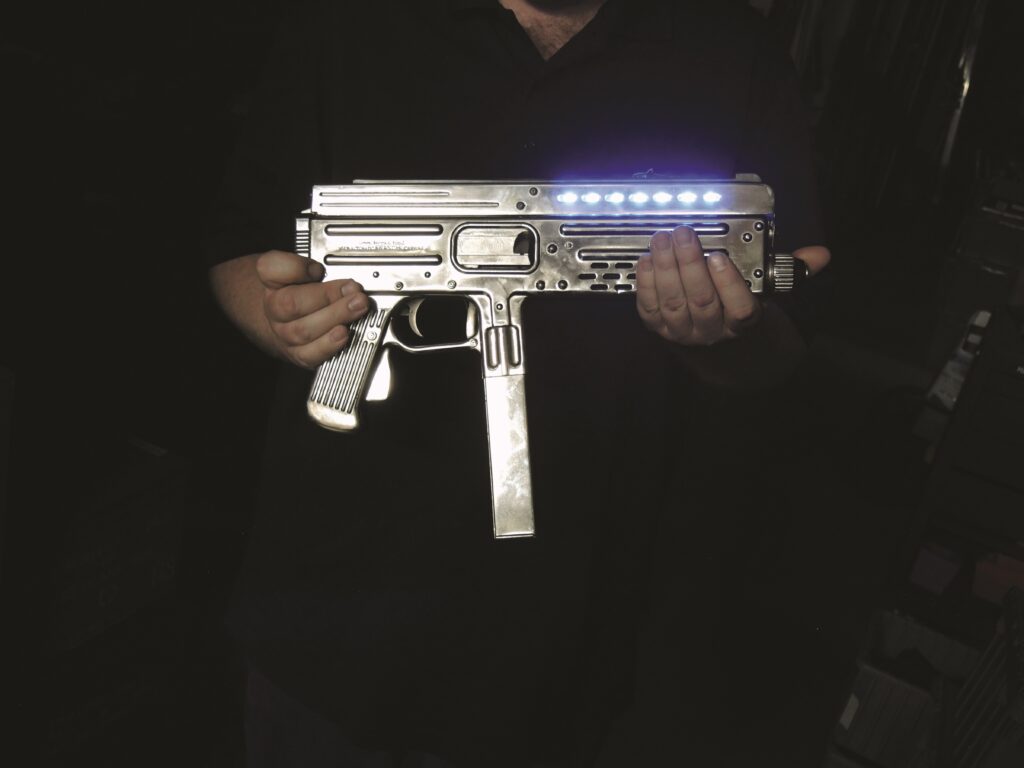 Serial numbers of the nickel-plated guns: 10, 23, 24, 25, 26, 27, 28 and 51.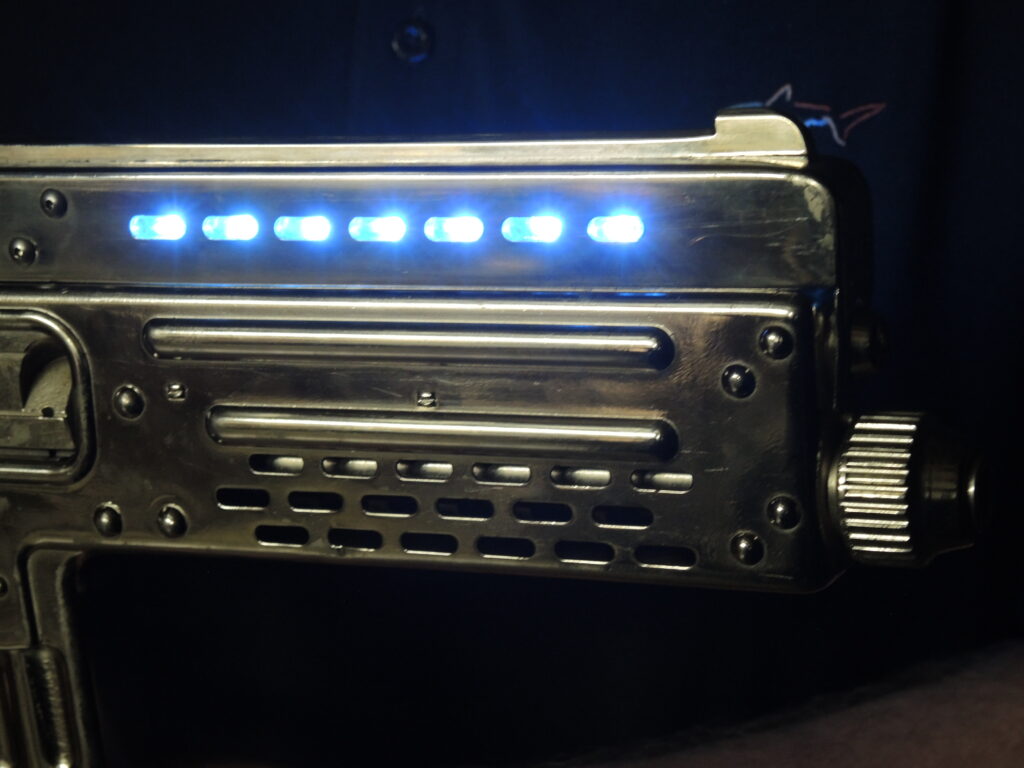 I'd like to thank Mike Papac of Cinema Weaponry for all his help in the history in this article. The rampant hatred of this movie is all my own.
This article first appeared in Small Arms Review V24N9 (November 2020)