By Chris Choat

AR-15/M16 Spade Grips

KNS Precision, Inc. introduces a spade grip attachment for the AR-15/M16 series of rifles. This grip is not molded plastic, but is fully CNC machined from a solid Delrin block. All steel parts on the new spade grip are parkerized. It comes with a complete CAR 6-position stock, buffer, buffer tube, recoil spring and plate. The grip is designed to be installed or removed in minutes and does not require any modifications to the host rifle. It will work on semi-auto or full auto rifles, drop-in auto sear or lightning link equipped AR-15s and, of course, M-16s. All parts are fully guaranteed. For more information or to place an order please contact KNS Precision, Inc., Dept. SAR, 112 Marschall Creek Road, Fredericksburg, TX 78624. Phone: (830) 997-0000. Fax: (830) 997-1443. They can be found on the web at www.knsprecisioninc.com.
DoubleStar Introduces AR-15 Patrol Rifle

The AR-15 has taken on a new identity in the form of a brand new Patrol Rifle introduced by DoubleStar Corp., a Kentucky-based manufacturer of AR-15 rifles and component parts. To meet the rugged requirements of the beat officer, this rifle is centered around a lightweight A-1 configuration 1 in 9 twist barrel, mounted on a forged flat top upper receiver. Although lightweight, this rifle is capable of MOA accuracy. A phantom flash hider, a useful tool for personnel control, is attached to the barrel. The Yankee Hill Machine four-rail hand guards allow unlimited versatility for attaching flashlights, vertical grips and other tactical components. Three low profile rail covers are standard. A GG&G flip up MAD rear sight, Hogue rubber pistol grip, and DSC six-position M-4 buttstock are also standard. Various upgrades are available, such as a chrome lined barrel, two-stage trigger, H buffer and bipod to name a few. DoubleStar Inc. is an 8-year-old firearms manufacturer specializing in tactical weapons for the law enforcement, military and shooting sports markets. For more information please contact them at DoubleStar, Dept. SAR, P.O. Box 430, Winchester, KY 40391. Phone: (859) 745-1757. Fax: (859) 745-4638. Their website is www.star15.com.
Knoxx Industries Introduces Axiom Stock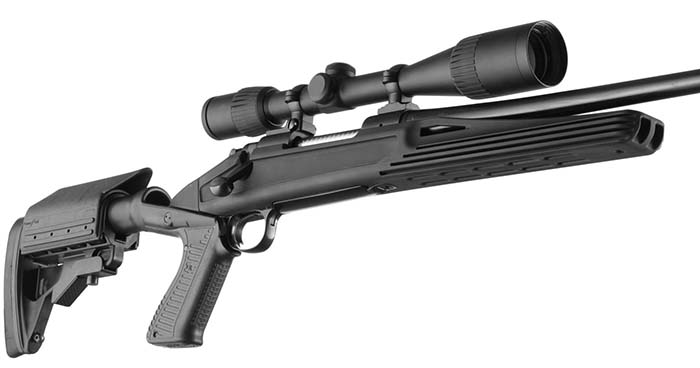 Knoxx Industries presents the Axiom V/S Stock for bolt-action rifles. This stock utilizes the acclaimed SpecOps recoil-reducing stock along with a CNC-machined billet all aluminum fore-stock for the absolute maximum in accuracy and stability. The Axiom V/S Stock is at home in the forest, on the competition bench or on the battlefield. Set the adjustable length-of-pull to the ideal setting in seconds and adjust as conditions change. Adding or removing a heavy coat will not be problem with the Axiom V/S nor will the addition of a tactical vest or body armor. The lightweight aluminum fore-stock is powder coated for all-weather use and features a highly tactile and aesthetic shape that is pleasing to the hand and the eye. Since each stock is machined to fit a specific action, additional bedding is not required. The Axiom V/S stock will draw out the full accuracy potential of your rifle without the punishing recoil found with most rifles. The Axiom V/S Stock will be available for most Remington, Winchester, Mauser, Ruger, Savage, Howa 1500 and Weatherby Vanguard rifles. The stock has a suggested retail price of $489.95. For more information contact them at Knoxx Industries LLC, Dept. SAR, 500 Linne Rd. Suite A, Paso Robles, CA 93446. Phone: (805) 227-4099. Fax: (805) 238-2069. Visit them on-line at www.knoxx.com.
New M2 Tripods and Kits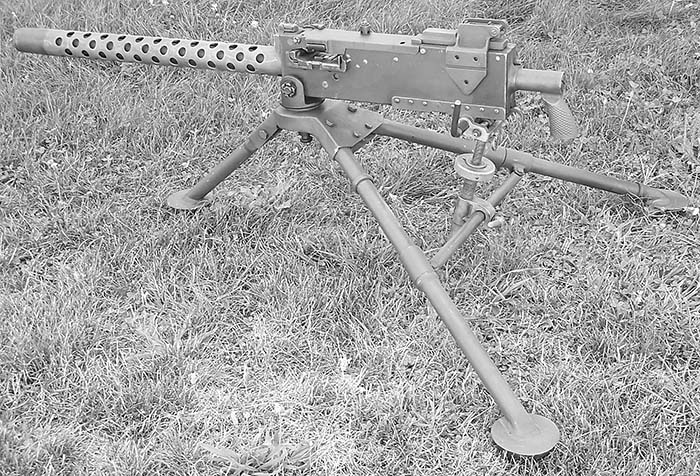 Now you can have that M2 tripod that you always wanted but didn't what to have to shell out the big bucks for. A copy of the M2 tripod is now being built by a very talented individual by the name of Jeff Prater. These are not exact copies but they are very close and cost about 1/3 as much as original M2s are currently bringing. The tripods feature a head made of 12 gauge steel and legs that are made from 1 inch OD 120 wall steel pipe and square tubing. The legs are welded with 3/4 inch solid bar stock inside them for added strength. The pintle latch is made from 1/4 inch flat cold roll material and is spring loaded to hold the pintle in place. Each tripod has a steel pintle bushing welding inside. The feet of the tripod are formed from 12 gauge steel and the traversing rod is made from 3/4 inch round bar stock. The tripods can be ordered with or without a pintle and they can also be had complete ready to use or in kit form for the do-it-your-selfers. The tripods are sent out painted with a very heavy duty flat black industrial paint but can also be parkerized on special order. Retail price for the complete painted tripod is $250 without a pintle and $350 with a matching pintle. Call for kit prices. For more information please contact Iron Creations LLC, Jeff Prater, Dept. SAR, 1352 Shawhan Road, Morrow, OH 45152. Phone: (513) 535-4621. His website is www.ironcreationsllc.com.
B-Square Tactical Introduces Picatinny Rail Forearm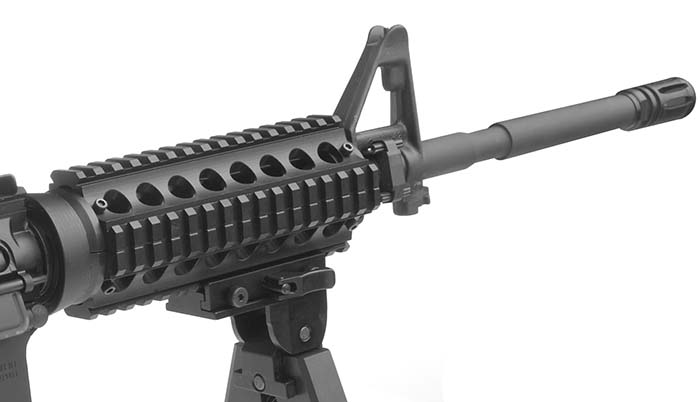 B-Square, the leader in a diverse offering of scope mounts, rings, and accessories is taking its new Tactical line designs to new latitudes with a carefully designed, easy to install, Picatinny Replacement Forearm for flat-top carbine AR-15 firearms. The most diverse addition to the all new B-Square Tactical products line, this Picatinny Replacement Forearm is not only the most secure, but also the easiest and quickest to install forearm on the market. Requiring no tools or gunsmithing, the unique design of this forearm allows the shooter to install it personally and provides a snug, careful fit providing the ultimate in accuracy for any attached accessory. Made from premium grade aircraft aluminum, this precisely-cut Picatinny slot design allows any accessories fitting a Weaver(r)-style or Picatinny rail a strong fit while still providing lightweight carry, even heat-dispersion and long life. Built tough for law enforcement and the military, the new Picatinny replacement forearm from B-Square Tactical and other B-Square Tactical products can be found anywhere law enforcement and military products are sold, or contact them at B-Square, Dept. SAR, 8909 Forum Way, Fort Worth, TX 76140. Phone: (817) 923-0964. Fax: (817) 926-7012. Their website is www.b-square.com.
This article first appeared in Small Arms Review V10N3 (December 2006)