By Robert Bruce
"The one down there with the pistol grip, that was the one I carried in Vietnam; the early version. Andy Grandy of Frankford Arsenal designed that. He called me and I went up there and shot it. He put the loader extension on it so it held eight rounds. With that duckbill at roughly thirty meters you hadda two foot high, twelve foot wide pattern using Number Four buckshot." Retired US Navy Chief Petty Officer James "Patches" Watson, Curator Emeritus, UDT-SEAL Museum

(Editor's note: It's one thing to visit a military museum, but another thing entirely to get one-on-one guided tours by the museum's Curator Emeritus, as well as its Executive Director. In this report by Military Affairs Editor Robert Bruce, SAR is pleased to provide our readers with what might be considered the next best thing. Small Arms Review is known and apparently respected by influential members of the UDT-SEAL Museum's board and staff. As a result, our customary request for special access – including a close look at important artifacts currently on display and others in the holding safes – was enthusiastically supported. Special thanks to Association President Willard Snyder, Executive Director Mike Howard, Curator Emeritus James Watson, and Curator Ruth McSween, for taking the extra time and trouble. – Robert G. Segel)
The Chief was standing in front of the museum's Vietnam War diorama, reminiscing in his distinctively husky and New Jersey-accented voice about three combat tours there, pointing out and describing to this correspondent a particularly important one of the many interesting weapons on display.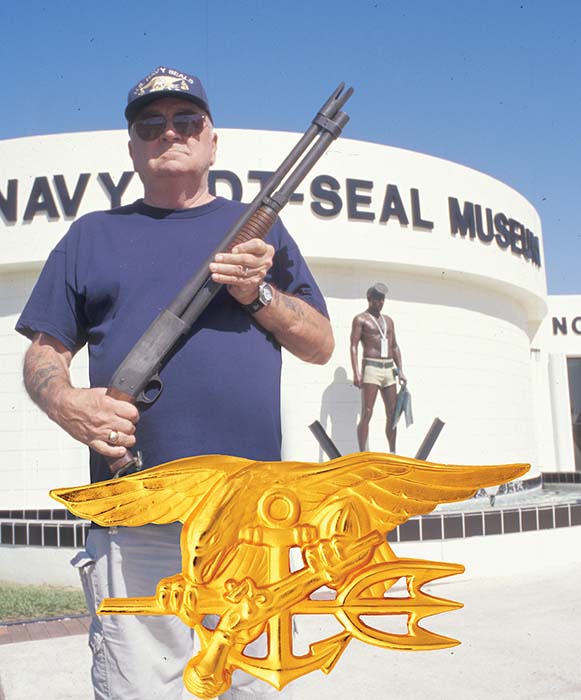 While a casual observer might consider the crudely chopped scattergun with only passing curiosity, the bearlike, 69 year old retired SEAL calls it his "Sweetheart." Watson spoke with great affection about how this beautiful example of deceptively simple form and decidedly lethal function came to be and how it performed in the ultimate arena of combat.
Such a moment is of inestimable value to those who appreciate the presentation of military history through actual artifacts with a direct link to men who carried them in war. This is "provenance" at its finest, a ten dollar word in the museum culture that simply translates to "origin."

The story of this stubby shotgun first caught our imagination in reading the books Point Man and Walking Point, Watson's gripping narratives recounting his experiences as a "plank owner" (original member) and combat veteran of SEAL Team Two, written in collaboration with frequent SAR contributor Kevin Dockery.
My duckbill-modified, pistol-grip Ithaca became my "Sweetheart" during my second and third tours in Vietnam. The lack of a stock never bothered me because I would normally carry a shotgun only when I expected to be in close quarters. Close up, I could point my shotgun from the waist and blow away any target I had in front of me out to twenty or thirty yards without any trouble. (Excerpted from the book Walking Point, Copyright 1997, Bill Fawcett & Assoc. Used by permission.)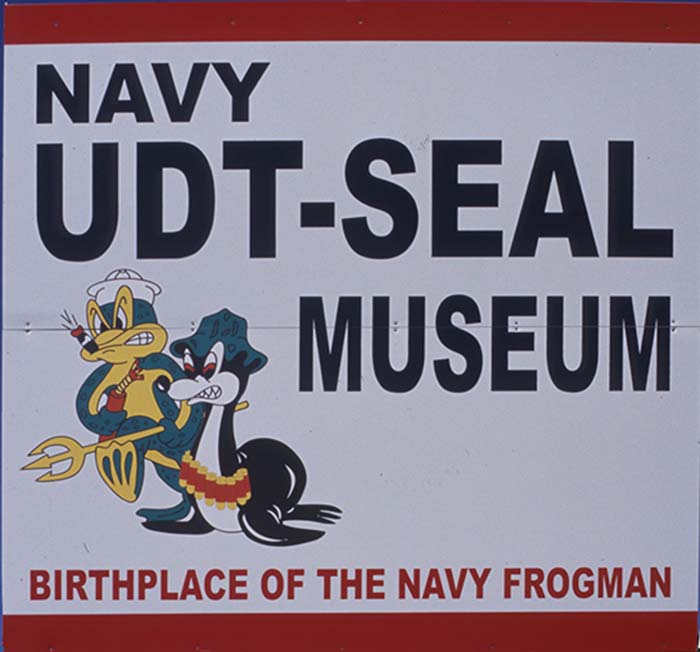 Now, SAR was privileged to see, and later to handle and photograph, this very weapon in the presence of its near-legendary SEAL owner. Also, to make an audio tape recording that captured for future generations "Sweetheart's" story and much more in Watson's own words. This interview, we're told, will join many other recordings in the museum's archives, preserving oral history of US Navy special warriors from WWII to the present.
But that's getting ahead of the main story, a tour of a uniquely fascinating modern military museum.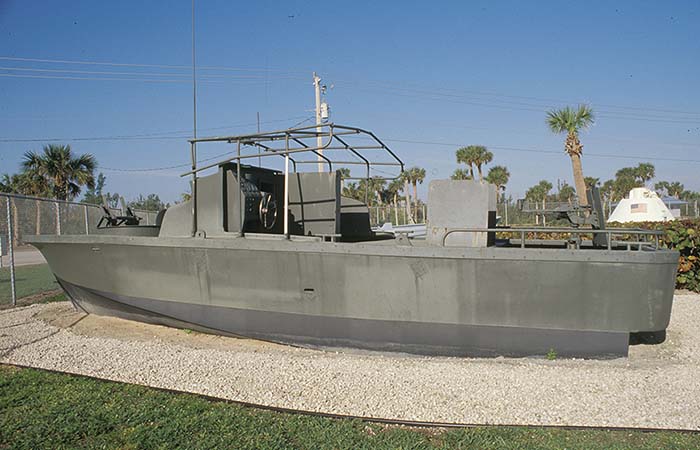 Birthplace of the Navy Frogmen
Anchored on the very beach where the largely unknown NCDUs – Naval Combat Demolition Units – of WWII began a heroic saga that continues even today, the small but superb UDT-SEAL Museum in Fort Pierce, Florida, opened in November 1985 with Watson at the helm. Now, after twenty plus years of improvements and additions – as well as repairs and restorations following numerous savage storms – visitors enjoy an extraordinary feast of hardware and history.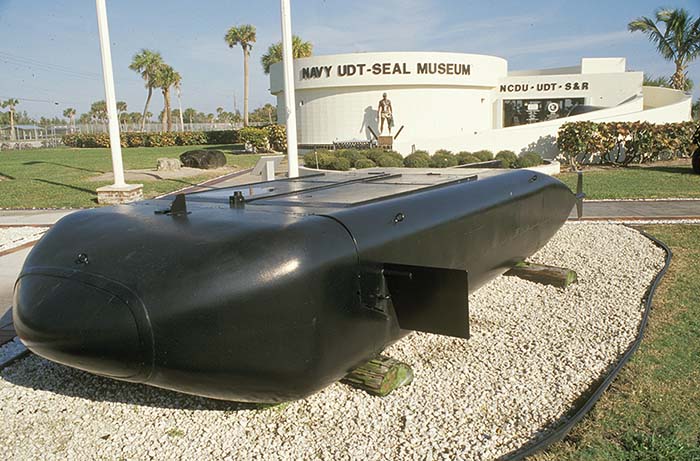 The museum itself, its original structure a visually striking, brilliant white cylinder with a spiral ramp to a rooftop observation deck, is surrounded by a large fenced compound protecting an exciting assortment of historic vehicles used in naval operations on land, sea, air, and beyond. A pedestal mounted Huey helicopter, icon of the Vietnam War, seems to have just taken off, straining for altitude above mini subs, riverine and oceangoing craft, dune buggies, and – seemingly out of place to those who don't know why – a pair of space capsules.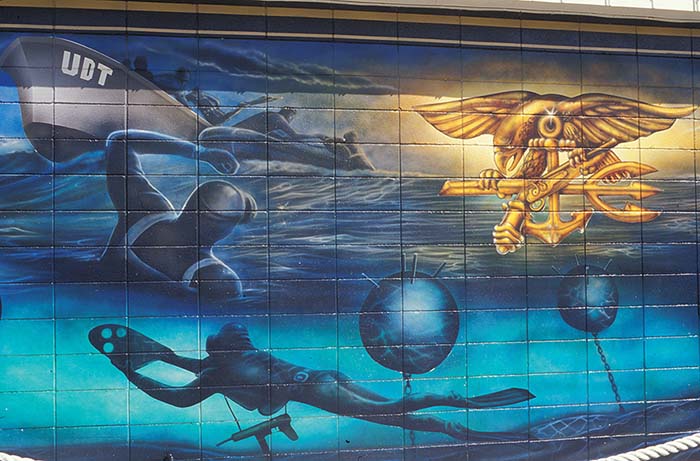 The eye sweeps along its virtual flight path toward the nearby Atlantic Ocean, close enough to hear waves breaking and to catch the strong and evocative scent of seawater, carried inland on the steady Tradewinds.
It is from this dazzling white sand beach and clear blue waters that silent sentinels in concrete and rusting steel were recovered from the surf zone. More than a dozen original beach obstacles from WWII, used in demolition training to prepare for the epic invasion of France known as D-Day, now line up alongside the museum.
Wide pathways lead the visitor from one display to another, bordered with hundreds of emotionally powerful memorial bricks. Look closely and find the names of heroes of Naval Special Warfare like Roy Boehm, "The First SEAL." Additional bricks display other names, and are available to all who support the museum's mission.
We walked the verdant and well-kept grounds with current Executive Director Michael Howard, a friendly, energetic and wiry 50 year old retired Navy Captain with over 26 years of service including SEAL Team One and command of several Naval Special Warfare units. Howard appreciates this historic location but also notes the daunting environmental challenges that come with it including high temperatures, salt air with humidity, extreme winds, and frequent torrential rains.
Most recently, he said, "Hurricanes Frances and Jeanne hammered us and the whole place was almost destroyed. Boats actually got up and floated. All these are in different positions now than before the hurricanes."
The Huey was particularly hard hit, he said, with the tail boom breaking off and other extensive structural damage. "New Piper Aircraft, up in Vero Beach, took on the repair project at no cost. They restored it and, with the help of Kauff's Transportation and Recovery, we got it remounted on the pedestal."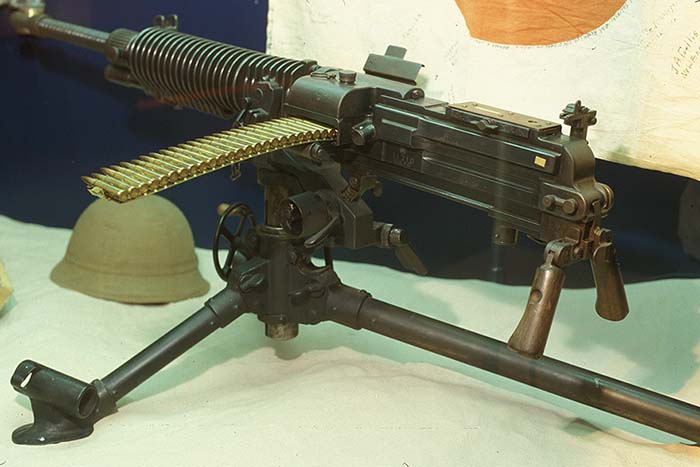 Pointing to the museum's two Vietnam War era PBRs (Patrol Boat, Riverine) and a pair of current issue DPVs (Desert Patrol Vehicles), the Captain spoke of plans to improve on these already impressive displays. "One of the projects we're working on is getting weapons on these boats and vehicles," he said, hastily adding, "fake weapons."
"We think that's important to make the displays a little more dynamic, realistic looking, with more punch," he said. "That's what SEALs and boat guys and helicopters supporting them are all about – firepower."
Since then, we're told that highly realistic replica .50 caliber M2s have been bought and installed. Wisely, these are made with durable polymer resin that won't corrode in the harsh salt air and, in this day and times, have the essential advantage of being completely inert.
A Proud Beginning
The Executive Director's tour moved inside where walls of the main hallway are covered with impressive plaques listing units and personnel from the first NCDU in 1943 to the Plank Owners of SEAL Teams One and Two. These frame the entranceway to the World War Two gallery, heralded by an imposing wall-sized photo enlargement showing men of NCDU 200 during training at Fort Pierce in 1944.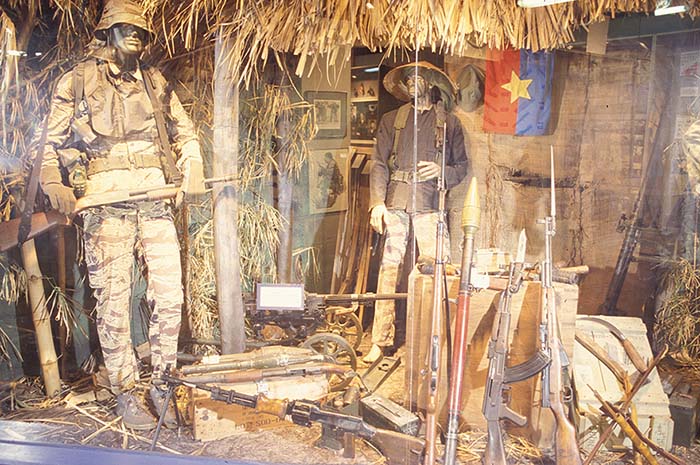 Stepping a few feet inside, Howard paused in an area flanked by illuminated display cases containing individual mannequins representing the rapid evolution in WWII from NCDUs and Scouts and Raiders to UDTs (Underwater Demolition Teams). Each is authentically uniformed, equipped and armed, he said, often with items donated to the museum by actual veterans of the period or their families.
The Hagensen (sic) Demolition Pack is common to all, a generic name given to variations based on a clever field expedient explosive charge with two pounds of pre-rigged C2 packed in a canvas haversack for land or underwater use. The original is credited in official Navy D-Day documentation to Lieutenant (j.g.) C. P. Hagenson (note "son" with an "o").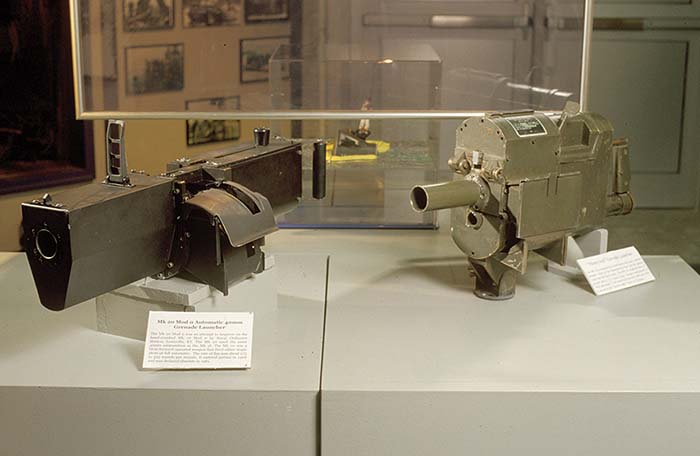 Also notable in this section is a tribute to Lieutenant Commander Draper Kauffman, "The Father of Naval Combat Demolition," who set up NCDU training at Fort Pierce in June of 1943.
Moving around the gallery, Howard acknowledged SAR's obvious bias by pointing out numerous examples of American and enemy weaponry. All of the standard Navy and Marine Corps small arms have honored places, from the M1911 .45 auto pistol through '03 and M1 rifles, the M1 carbine, Thompson submachine gun, as well as John Browning's famous BAR and his unstoppable M1917A1 machine gun.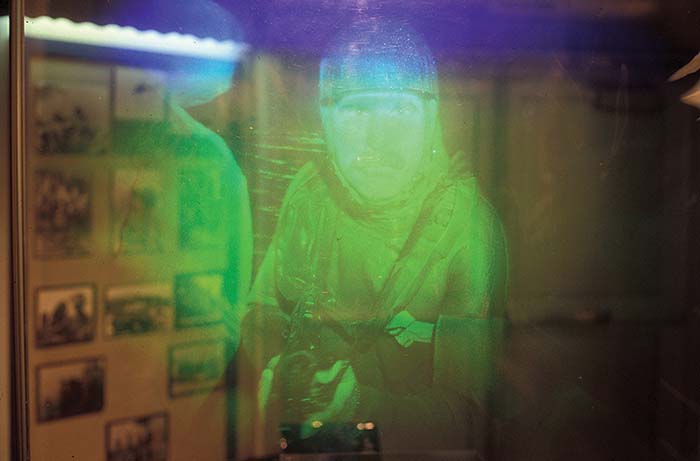 As counterpoint to standard US firearms, we were pleased to find nice examples of German P38 and Luger pistols, as well as an MG34 machine gun, prominent in the D-Day case.

Japanese weaponry is similarly in evidence, including a representative Nambu pistol and Arisaka rifle. Most impressive to many visitors is the large, radiator-finned Type 92 heavy machine gun, dramatically posed beneath a Japanese battle flag. UDT 24 autographed this flag while occupying Japan, post surrender.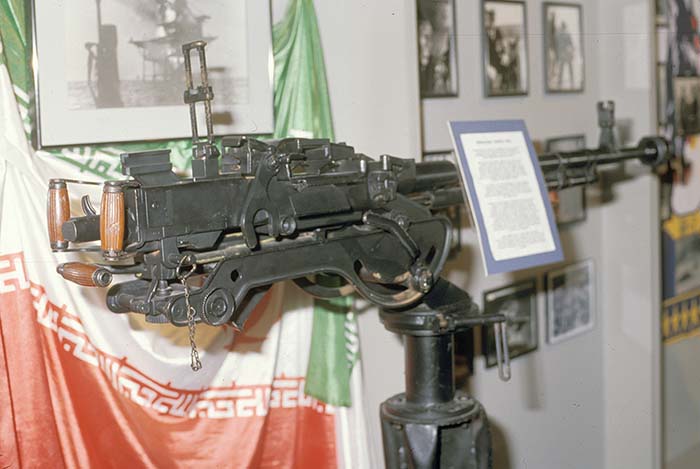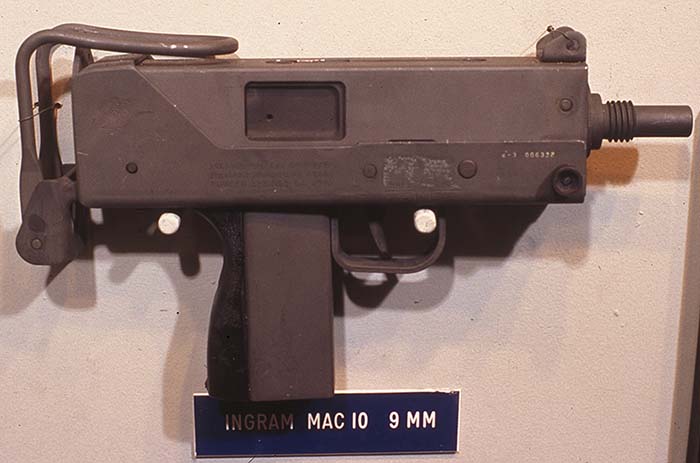 Also prominently displayed is a Samurai sword, formally surrendered by General Tomoyuki Yamashita after losing the battle for the Philippine Islands in 1945. While it was believed for many years that this was the general's own priceless family heirloom sword, recent expert examination showed otherwise. Howard speculates that, anticipating the inevitable, the canny general sent his home, appropriating one from a junior officer to hand over to the Americans. Both the original surrender document and Samurai sword were presented to the Museum by Draper Kauffman's family.
North Gallery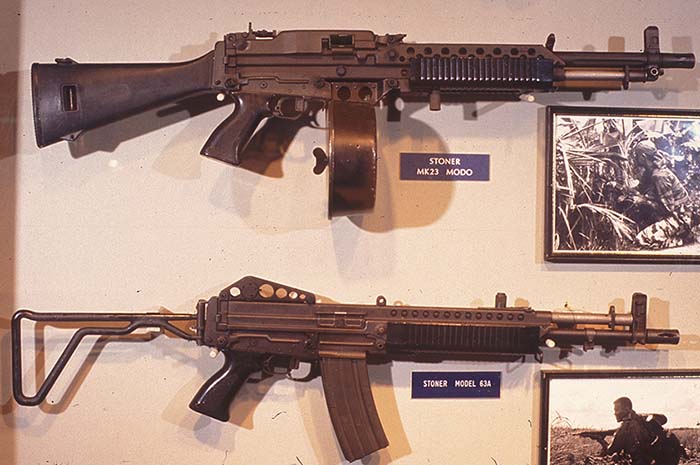 Moving ahead in time from victory in WWII and the Occupation of Japan, SAR's VIP tour continued in the North Gallery with Chief Watson taking over duties at the Korean Conflict wall, fronted by a tripod-mounted .50 caliber Browning M2HB machine gun. This awesome example of John M. Browning's genius was fielded in the 1930's, then served with distinction in WWII, Korea and Vietnam. Remarkably, it is still going strong today on Naval Special Warfare Combatant Craft.
The large and menacing machine gun is intentionally set on a boxlike riser at knee height. This, the Chief says, encourages visitors to reach out and touch the gun, a significant departure from the rules at most museums and a particularly memorable experience for many in the school groups and others that regularly visit.
Watson told us that Korea was where UDTs started doing many of the things that would later become SEAL missions, "Going behind enemy lines and attacking fuel depots, bridges and railroad yards."
The North Gallery's tightly packed displays of photos, equipment and weapons from Korea to the present Global War on Terror are strongly enhanced by a video presentation on Basic Underwater Demolition School. BUDS is the hellish entry ordeal that all aspiring SEALs must successfully complete. Repeating automatically at regular intervals on a wall-mounted monitor, its sounds of pounding surf, straining men, screaming instructors, throaty cadence chants, gunfire, and explosions fill the gallery, bringing to life the harsh world in which these silent artifacts have served.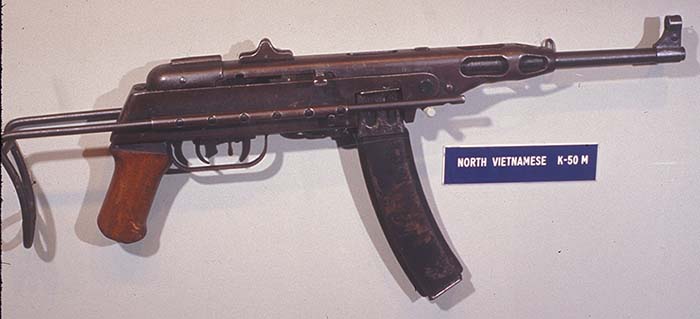 The evolution of diving gear for waterborne combat operations is well represented and the museum is particularly proud to have a fine example of the Lambertson Amphibious Rebreather. A "closed-circuit rig" that doesn't release telltale bubbles, it was introduced in the latter part of WWII for OSS Maritime Units and UDTs.
Walls of Weapons
Noting our quick glances over his shoulder during the introduction to Aqua Lungs and such, the Chief – who definitely shares SAR's intense appreciation for weapons of all kinds – quickly moved on to the primary focus of our visit. Guns are what we want, and the museum has got plenty of 'em.
Several large Plexiglas-faced displays are filled with 20th Century military firearms, enticing the visitor to move up close for an intimate encounter. The tall, shallow cases allow examination literally inches from exotic and unusual pistols, submachine guns, rifles, grenade launchers, and more. Read serial numbers, see selector markings, note mechanical details, almost smell the gun oil….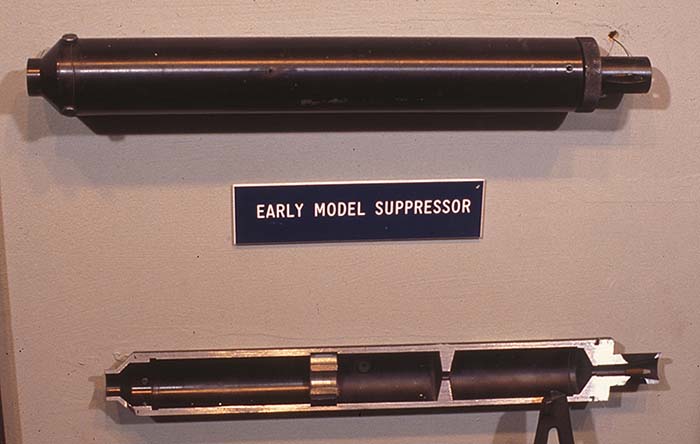 Standing in front of the first case, containing a variety of allied and enemy weapons from the Vietnam War era, Watson recalled his time in preparation for SEAL Team Two's deployments when, at the prophetic insistence of Team Chief Bob "The Eagle" Gallagher, "We trained with these because you never know if you're gonna hafta pick one up and use it because you ran outta ammo or something happened to yours."
The two weapons at the top were ChiCom copies of the RPG-2 (NVA B-40) launcher and generic AK-47 with underfolding spike bayonet. Four submachine guns lined up underneath; an M45b "Swedish K", French MAT-49, and a Russian PPSh-41, nicely paired with the North Vietnamese K-50M that's made from it by chopping the barrel and cooling shroud then replacing the fixed wooden stock with a telescoping wire version.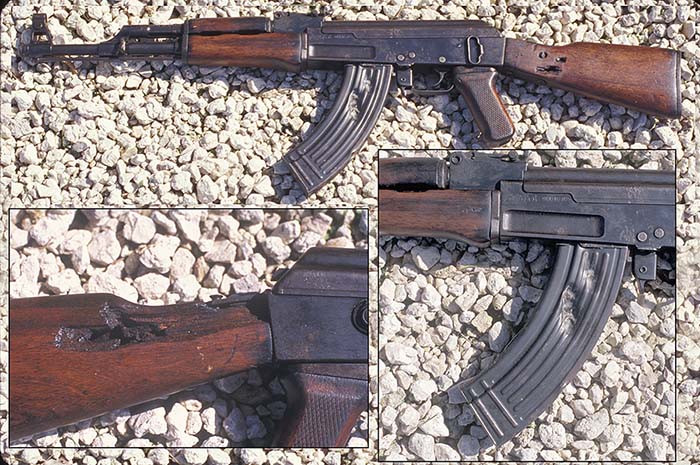 The Chief doesn't hold the K-50 in high regard, citing at least one he fired with an apparent sear problem. "Hang on 'cause it wasn't gonna stop 'till it was empty," he said. "Definitely a piece of junk."
But a big smile appeared when we stepped in front of the next case and he pointed out several of the US weapons his team and others used in 'Nam. In addition to an early version M72 LAW (Light Antitank Weapon), there were three grenade launchers on display that he heartily approved of. A 40mm M79 "Thumper" often accompanied the Chief as a STAB (SEAL Team Assault Boat) coxswain on riverine missions, and his team got some of the first underbarrel-mounted CGL-4/XM148 launchers off Colt's assembly lines.
The last of the trio is the exceedingly rare "China Lake Pump," serial number 4 of a total run said to be only sixteen guns. This is an imposing cross between an M79 and a pump shotgun that allowed the grenadier four quick rounds when things got really hairy.
Of course the Chief has a story to go with the weapon. "When I went back to Vietnam in 1996, serial number 13 was hangin' on the wall in their war museum," then added with a knowing look, "I tried to find out who lost that but was unsuccessful."
The enthusiasm level kept rising as we moved to behold yet another weapons case, this one filled with belt-fed machine guns. The topmost weapon is an HK 23, a sturdy but heavy West German-made 5.56mm that the Chief notes was combat tested by a Team Two buddy, the late John "Fly" Fallon.
But, he says, it didn't stack up to Gene Stoner's lighter, compact and modular guns. "Stoner designed a system – a rifle and machine gun combination," he said, putting emphasis on the word system.
"When I went into Cambodia … I'd take the stock off it and use the short barrel. You wanted to make everything as light and small as you could." The system aspect of Stoner's guns is well presented in the three variants on display, showing how a basic receiver group can be reconfigured with various barrels and feed mechanisms. A 63A assault carbine version with folding wire stock and 30-round magazine is sandwiched between two belt-feds. Above is a Mark 23 Mod 0 with a generous 150-round drum and below is a 63A1 with a 100-round box.
(SAR notes that at least one of the Stoners and a good number of the other weapons on display are on long-term loan from the Naval Historical Society's fabulous holdings. See Robert Bruce's NHS feature in Volume 7 Number 1.)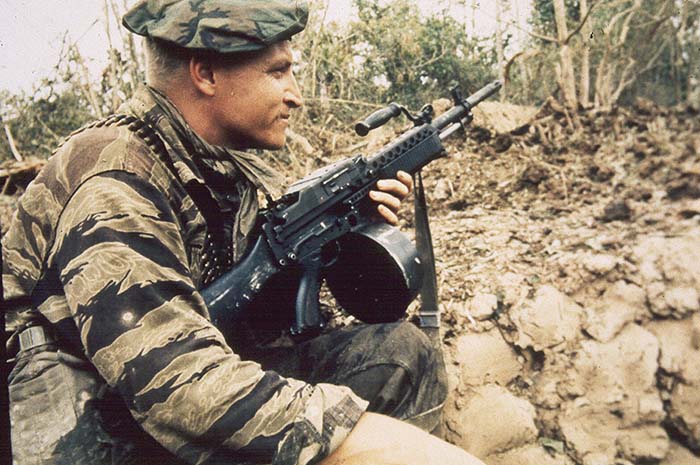 Silencers vs. Suppressors
A bit incongruously sharing this machine gun case is an M16A1 with one mounted suppressor and another below, teamed with its cutaway version to reveal the engineering secrets inside. These prompted a quick lesson from the Chief, enlightening those handicapped by Hollywood-generated ignorance. "There's no such thing as a silencer," he declared, "every weapon makes some noise in functioning – even a bow and arrow."
Pointing to the Mark II suppressor and its cutaway on display, he added, "When you use this one without subsonic ammo you'd hear the crack of the bullet when it broke the sound barrier. But it creates deception in locating the direction somebody's shooting from. If we're standing here and (points left) a guy's out there shooting with a suppressed M16, you'd think he was over there (points right) 'cause what you'd mostly hear is the bullet breaking the sound barrier."
Shotguns, Shorties and Starlight
Then, turning to his left, Watson paused in front of the Vietnam diorama, figuratively traveling back in time nearly forty years to a nighttime raid on a bamboo hut on the other side of the world. Dramatic life sized figures of three men with green camo face paint and exotic armament are checking out a Viet Cong guerrilla weapons cache, a variety of weapons of communist bloc and other origin.
"The SEALs here just discovered it," the Chief says, "the guy on the left is carrying a standard Model 37 (Ithaca shotgun) with a 'duckbill' – the later version with the ring around it."
And there, sitting on a wooden ammo crate in front of the SEAL, was Watson's own "Sweetheart," described at the beginning of this feature. But he isn't pleased that this makes it look like his gun had been captured. "That didn't happen," he declared, "we're gonna get some stuff moved around."
The SEAL on the right carries another interesting combo, a chopped M16 dwarfed by a big, strange apparatus attached to its topside carrying handle. The Chief shakes his head as he recalls his own brief experience with this ungainly rig.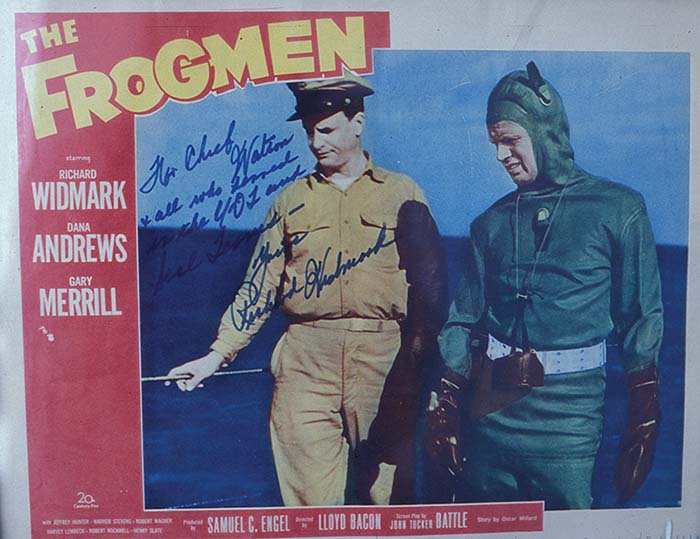 "Here's one of the first 'Starlight Scopes,' but it was too heavy and cumbersome," he said. "I used it once mounted on a CAR Fifteen (submachine gun version of the Colt AR-15 rifle)…. Too heavy and when you put it up to your eye to use it there's a green glow. Take it away and you're blind; night vision's gone in that eye for thirty minutes."
Post-Vietnam to GWOT
The North Gallery continues with exhibits showing activities and operations since Vietnam, overseen by an eerie life-sized hologram with the spectral three dimensional presence of a SEAL armed with an MP5 submachine gun. He tirelessly guards displays showing Naval Special Warfare units in action in Grenada, Panama, Persian Gulf, Iraq and Afghanistan.
Noteworthy among the photos and artifacts is another tall case packed with examples of Navy edged weapons from the Mark I KA-Bar of WWII thru the new Gerber Silver Trident, the Chief's own design in collaboration with Bill Harsey, Jr.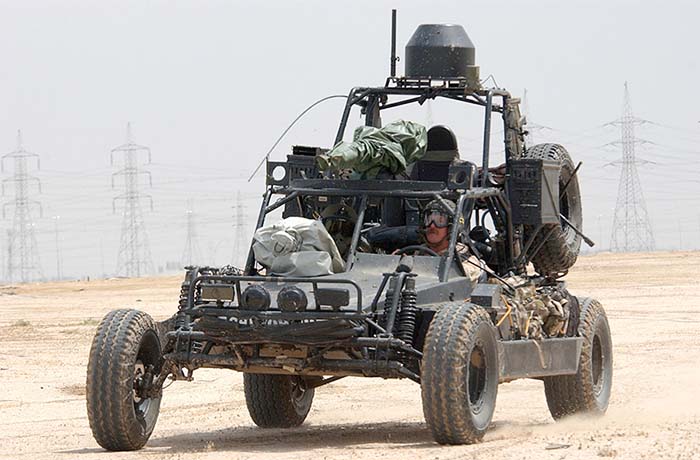 Across the way, visitors can walk right up and touch a battle-damaged 12.7mm ChiCom Type 54 heavy machine gun, a clone of the Soviet DShKM, captured by SEAL Team Two's Fourth Platoon during a still-politically sensitive operation in the Persian Gulf in the late 1980s. Roughly equivalent to Browning's M2HB, the exotically configured and impressively large weapon should spark recognition of how lethal is the arsenal of our current enemies.
Operation Desert Storm, the 1st Gulf War, is the final major exhibit, shown in display cases full of captured Iraqi gear dominated by a mannequin in "chocolate chip camo" uniform, representing a SEAL operating far behind enemy lines. Then, the last bit of wall space available in the museum holds a meaningful tribute to the eleven SEALs killed on a combat rescue mission in Afghanistan on 28 June 2005.
Safekeeping
Few museums have everything in the collection on display and this one has packed a small storage room literally from floor to ceiling with rare, unusual and truly exotic artifacts. Stepping up close we encountered vintage tactical radios, diving gear, uniforms, and other interesting items from decades of NSW operations. How about an example of the distinctive XM257 shotgun ammo that goes with the "Duckbills" on display? Got it. "Bazooka" rockets used against beach bunkers? Yep.
Also, three large safes line one wall of the room, jammed with weapons and other high-value artifacts. Their massive doors swing open to reveal an eclectic mix ranging from Great War vintage machine guns to GWOT RPGs. Chief Watson pulled a few out for us to handle (wearing the necessary white cotton gloves, of course) and graciously gave us the opportunity to shoot detailed photos. In addition to a 1917-made Lewis Gun that served in WWII protecting UDT craft, there's Robert Marshall's M1 Carbine (UDT 3 and 5) and a 'Nam era S&W Model 39 auto pistol with suppressor.
But our props really started turning when the Chief set a trio of crude handguns down on the white background paper of our makeshift studio. "These are homemade VC pistols," he said, "captured by Team Two's 'Fly' Fallon and his PRU (Provisional Reconnaissance Unit) on a Phoenix operation."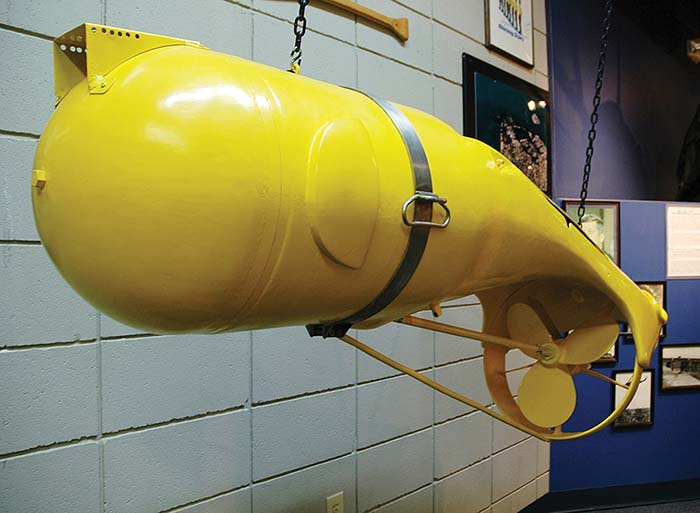 There, right in front of us, were jungle workshop weapons; surprisingly well made by resourceful guerrillas, captured by a real SEAL on a CIA-directed mission, brought back home by him, then personally donated to the museum. This is powerful provenance and future visitors can look forward to the time when space is available to put them and their story on display.
Artifacts Sought
Curator Ruth McSween has recently come on board. With a Masters Degree in Museum Studies, she brings a high degree of professionalism to the demanding tasks of cataloging, preservation, presentation, and much more.
McSween encourages the continued contribution of letters, photographs, uniforms, oral and written histories, weapons, and other memorabilia, relating to the history of Naval Special Warfare of all eras. Like most museums, they have a need for certain historical items to fill important gaps in the collection: OSS Maritime Units, the history and evolution of Special Warfare Combatant Craft, and photographs of UDT platoons executing hydrographic reconnaissance survey work.
Additionally, she says, "We would like to increase the number of artifacts that date to more recent operations including both wars in Iraq as well as the war in Afghanistan."
Bigger and Better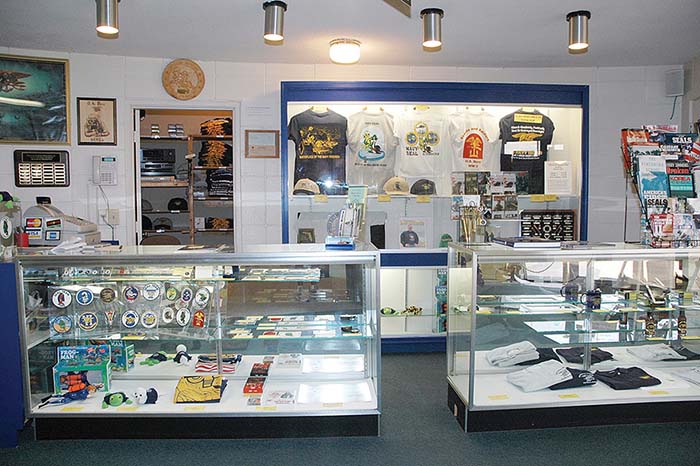 Available space for major exhibits ends after the first Gulf War. So museum leaders are aggressively pursuing funding for expansion to showcase recent and ongoing NSW operations in Afghanistan, Iraq, and other battlegrounds of the Global War on Terror.
Howard explained that there are existing architectural plans for a dramatic new addition but day to day operational costs have to take priority. "Right now we're only making ends meet," he said.
Association President Willard Snyder, interestingly a retired Army Colonel (Infantry) with service in 12th Special Forces Group (USAR), told us the Board of Directors is working to "get one focus and move ahead financially." Both Snyder and Howard see corporate donors – such as major defense contractors – as natural sources of funding and other support.
Howard, Snyder and the Chief all emphasize the essential contributions of rank and file members whose dues, volunteer work, donations of artifacts, personal and professional networking connections, are the museum's firmest foundation. Increasing membership – open to all who wish to support preservation and presentation of the history of Naval Special Warfare – is a top priority.
Find Out More
Membership details and a printable application form may be found on the Museum's excellent website at www.navysealmuseum.com. Additionally, the site offers a stunning "virtual museum" tour as well as a wealth of information on history, heritage, and links for those interested in SEALs and other current Naval Special Warfare units. Go on-line shopping at The Ship's Store for an interesting assortment of UDT and SEAL memorabilia including shirts, caps, pens, mugs, patches, stickers, videos, and plenty of books such as Chief Watson's Point Man.
See For Yourself
No trip to Florida by a modern military history buff or small arms enthusiast would be complete without a side visit to tropical Fort Pierce and its UDT-SEAL Museum on beautiful North Hutchinson Island. Most anytime is fine, but particularly during Muster, the yearly gathering of past and present SEALs and other NSW members. The 21st Annual Muster, featuring spectacular combat demonstrations and other exciting activities, is scheduled for November 10 through 12, 2006. There's detailed info on the museum website.
UDT-SEAL Museum
3300 North Highway A1A
Fort Pierce, FL 34949-8520
Telephone (772) 595-5845
www.navysealmuseum.com
Other Useful Websites
www.nswfoundation.org
www.navysealteams.com
www.navyseals.com
www.seal.navy.mil
www.realseal.org
This article first appeared in Small Arms Review V10N3 (December 2006)