By Chris Choat
MG INDUSTRIES NOW SHIPPING MARCK 15 IN 9MM SMG CONFIGURATION
MG Industries, manufacturers of the Marck 15 AR "Hydra" platform, a base system that the user can configure to any mission-specific rifle, announces that the complete weapon system configuration in 9mm SMG Hydra is now shipping. This rifle features the complete modularity and interchangeability of the Hydra Modular Rifle System. The 9mm Hydra weapon system is ready to fire right out of the box and comes standard with a 16-inch blow back barrel and blow back bolt. This configuration is set up for 9mm that utilize 9mm Colt-style SMG magazines. The suggested retail for the MGI 9mm SMG Hydra Modular Rifle is $1,299. For more information, visit www.mgi-military.com.
MISSION FIRST TACTICAL ANNOUNCES NEW ILLUMINATOR / IR TOOLS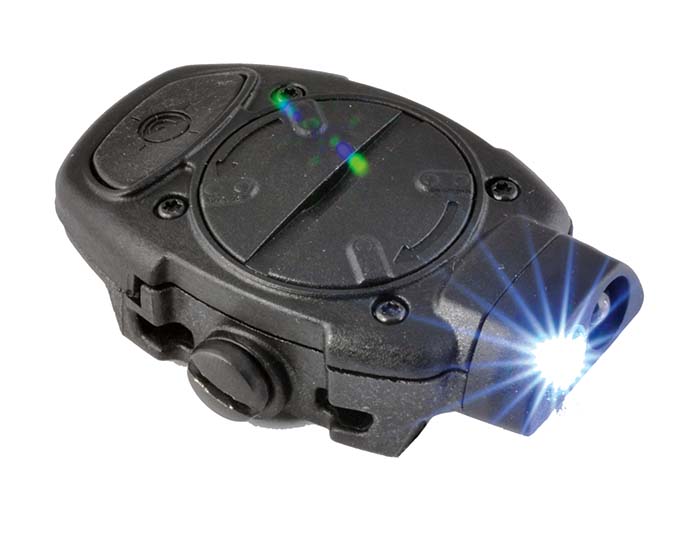 Mission First Tactical, LLC (MFT) is proud to introduce Torch; the new MFT series of lights and IR for home defense, law enforcement, security and as a primary light source backup. The Torch line includes three models and all are USA made by Princeton Tec. The Torch Backup Light White (TBLW) is a low profile, Picatinny mounted light with dual white LEDs. It has a recessed pressure pad for easy activation and a power button for simple ON/OFF functions. The illumination is low output for signature reduction during patrol, stealth structure search and approach to the target and breaching operations. The Torch Backup Light White has a 10-year storage lifespan, a 12-hour burn time with a 20-lumen bright white output. It weighs just 22 grams and has an IPX7 water resistant rating. MSRP is $59.99. The Torch Backup Light White/Red (TBLWR) illumination tool has many of the same features of the TBLW, except the dual LEDs are white and red; it has a 24-hour burn time and a 10-lumen output. Also, the power button features a one-click for low, a second click for high and a hold for 2-seconds brings on the primary light functionality. MSRP is $59.99. The third light in the Torch series is the Backup Light with Red/IR LEDs (TBLIR). It features all the same specifications of the TBLWR and includes the IR LED. MSRP is $59.99. For more information on the new Mission First Tactical Torch series of illumination tools, visit Mission First Tactical online at www.missionfirsttactical.com.
TRIJICON INTRODUCES NEW VCOG 1-6 X 24 RIFLESCOPE

Trijicon has combined the legendary toughness and function of its combat-proven ACOG and associated ballistic reticles with a new variable optic. The new Trijicon VCOG (Variable Combat Optical Gunsight) 1-6×24 mm meets the rigorous demands of duty or competition while giving shooters the flexibility to engage CQB targets and out to the maximum effective range of most service rifles. Designed and built in the USA, the Trijicon VCOG is machined from a 7075-T6 aluminum forging and given a Mil Spec, hard-coat anodized finish. There is a full 90 MOA of windage and elevation adjustment available in 1/2 in. / click increments at 100m to get almost any weapon system on target. Lenses are all fully multicoated with a broadband anti-reflective coating that maximizes light transmission while meeting and beating the military's requirements for abrasion resistance. The scope maintains a constant four inches of eye relief throughout its magnification range and an oversized and knurled adjustment knob makes finding the perfect power setting easy and fast, even with gloved hands. The VCOG is waterproof to 66 feet and its illumination electronics are Mil Spec tough. Initially, the VCOG will be offered with seven different reticle choices, all of which are located in the first focal plane allowing the ballistic reticle to be used at any magnification. The segmented circle reticle with a centered crosshair can be matched with 175-grain 7.62, 55- and 77-grain 5.56, or 115-grain supersonic 300 BLK loads. The popular horseshoe/dot reticle is available in each of the 5.56 and 7.62 offerings. The red illuminated reticle is powered by a common AA battery, accessible underneath the objective, delivering 700 continuous hours of runtime at setting 4 of 6 with a lithium battery. A rheostat is located on the main tube, opposite the windage turret, and has an off position between each of its six brightness settings. An integral mount securely pairs the optic with any M1913 Picatinny rail and its height is perfect for flattop M16, M4, AR-15 and SR-25/AR-10-style rifles. At just 10 inches, the VCOG leaves plenty of rail space ahead of the objective for night vision or thermal intensifiers. Also new for 2014, Trijicon has introduced a selection of ACOG, Reflex and RMR models featuring Cerakote finishes. Cerakote is a ceramic based finish that can be applied to metals, plastics, polymers and wood surfaces. This versatile finish is becoming a popular option for high-quality firearms and accessories. Trijicon now offers color options in Sniper Gray, OD Green and Flat Dark Earth (FDE) on select ACOG, Reflex and RMR models. More information can be found at www.trijicon.com.
OHIO ORDNANCE WORKS ANNOUNCES NEW HCAR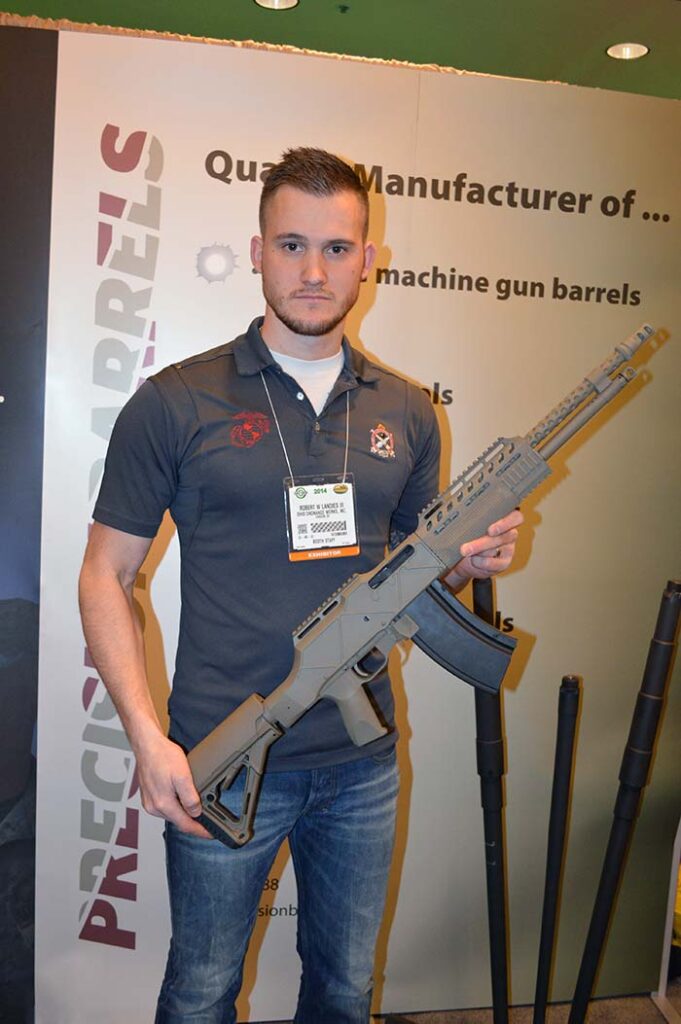 Ohio Ordnance Works, Inc. has now introduced a new rifle that they have dubbed the HCAR, which is an acronym for Heavy Counter Assault Rifle. The rifle's origins began decades ago as John Browning's famous BAR chambered for .30-06. The new HCAR brings the BAR into the 21st century with an extreme makeover. The gun has a lightened receiver and a new trigger pack that has a trigger that can be adjusted down to 3.5 pounds as well as a pistol grip. Other features of the new rifle include a lightened, fluted barrel that is threaded to accept flash hiders as well as suppressors. The rifle is semiautomatic and fires from a closed bolt. It accepts any magazine made for the original BAR as well as the new 30-round magazines that Ohio Ordnance Works themselves make. The gun's receiver has an M16 buffer tube so it can use any collapsible or fixed stock made for the M16 rifle. The HCAR includes a railed forearm as well as a Picatinny rail along the top of its receiver for optic and accessory mounting. The total weight of the rifle has been dropped to just 12 pounds, which is about 7 pounds less than the original BAR. The HCAR will be available in most Cerakote color finishes. Watch future issues of Small Arms Review and Small Arms Defense Journal for a full test article on this new gun. You can find out more at www.ohioordnanceworks.com.
LASERLYTE INTRODUCES NEW DUAL LENS CENTER MASS LASER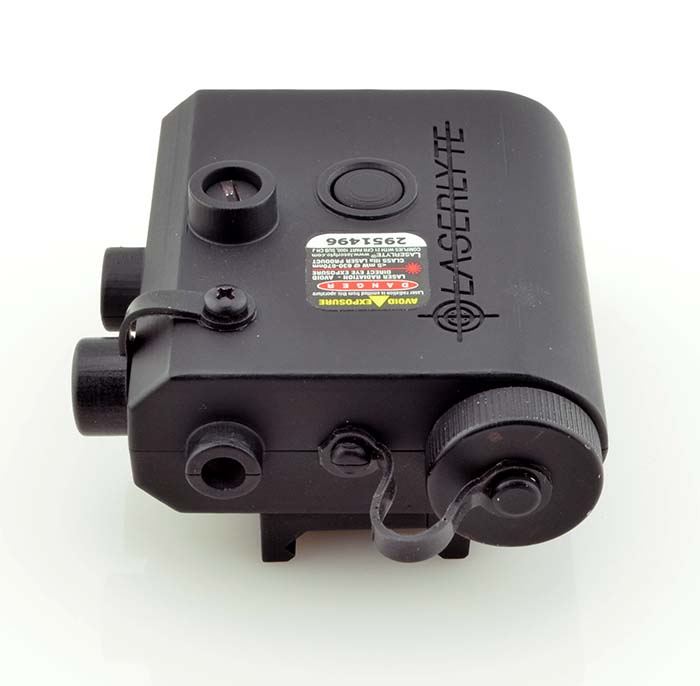 LaserLyte, innovators in firearms laser technologies, re-engineers the best-selling Kryptonyte Center Mass laser system to give users a choice between two laser patterns; single dot or the popular Center Mass pattern. The Center Mass laser feature projects a ring of eight green laser dots with one green laser dot in the center as the aiming laser. The circle grows at one-inch per yard, approximately the same configuration as a shotgun aimed at a moving target. The green laser, both single and Center Mass pattern, aid the user in daylight visibility, giving the user the advantage of a wide field-of-view while using both eyes for aiming. The CM-K15B, built in rugged military style housing, sports a tethered battery cap to prevent loss during in-the-field battery changes. The hybrid aluminum and nylon design of the unit gives it the durability to withstand active scenarios. The aluminum core keeps the laser accurate and reliable. The activation button located on top of the laser can be utilized as a momentary switch or with a quick double tap, will turn the laser to a constant ON mode. A remote pressure switch with a ten-inch length, two-inch tape switch area with copper braided cord is also included. The offset design of the CM-K15B allows the user a variety of mounting options. The LaserLyte CM-K15B Dual Lens Center Mass laser gets sport shooters and professionals on the target faster, increasing accuracy and overall hits. For more information, visit www.laserlyte.com.
GEMTECH HAS NEW INTEGRAL RUGER 10/22 BARREL

Gemtech is now making an integrally suppressed barrel for the Ruger 10/22 series of rifles and clones. This new barrel features a monocore suppressor with a removable tube to allow for easy cleaning. Used in combination with Gemtech's subsonic .22 LR ammunition, this rifle is said to be the ultimate in quite. Gemtech is now also producing a new suppressor for the 300 Blackout round. Coupled with that, they are offering their own 300 Blackout subsonic ammunition that is loaded with a 187 grain polymer tipped bullet that has a velocity of 1,010 feet per second. For more information on these items as well as Gemtech's full line of suppressors you can go to www.gem-tech.com.
This article first appeared in Small Arms Review V18N5 (October 2014)