By Chris A. Choat
FEDERAL AMERICAN EAGLE ANNOUNCES REVOLUTIONARY SYNTECH AMMO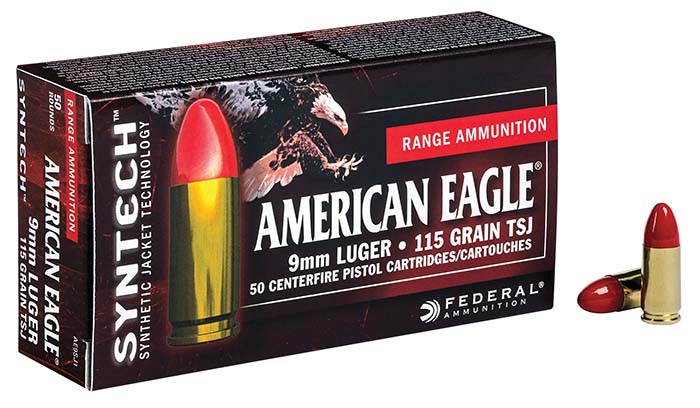 Federal Ammunition is pleased to announce a whole new concept for range ammunition with introduction of American Eagle Syntech: A smoother way to shoot. Shipments of this new product are now being delivered to dealers. American Eagle Syntech is the first range-specific ammunition designed to reduce fouling and extend barrel life with a high-tech polymer bullet coating. Combined with specialized clean-burning powders, your gun will stay cleaner, longer, so you can shoot more—and shoot better. The exclusive Catalyst primer provides the most reliable, consistent ignition possible. The Syntech system offers target shooters the most advanced range ammunition available and the perfect way for handgun owners to protect their investment from the inside out. The features and benefits include the polymer-encapsulated Syntech bullet that prevents metal-on-metal contact in the bore, eliminating copper and lead fouling, while extending barrel life as well as an exclusive primer formulation that provides reliable, consistent ignition. Clean-burning propellants also minimize residue and fouling which significantly reduces the required frequency of firearm cleaning. The absence of a copper jacket minimizes splash-back on steel targets, making it perfect for target practice or competition. The new rounds also have less perceived recoil. The American Eagle ammunition is available in 9mm Luger 115 grain, 40 S&W 165 grain and .45 Auto 230 grain. Contact them at www.federalpremium.com.
IWI US LAUNCHES HIGHLY ANTICIPATED TAVOR X95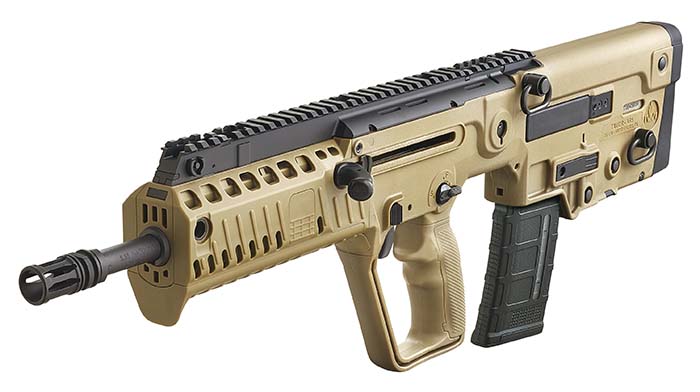 IWI US, Inc., a subsidiary of Israel Weapon Industries (IWI) Ltd., proudly debuts the compact, modern designed TAVOR X95 bullpup. IWI US introduced the X95 select-fire bullpup to law enforcement customers last year and now our civilian customers can buy a commercial version. The X95 is a modern, modular bullpup design emulating all the familiar features of the TAVOR but on steroids. The TAVOR X95 platform incorporates a tri-rail forearm covered by three removable vented rail covers. The TAVOR style trigger guard is modular and can easily be converted to a more traditional trigger guard with pistol grip. The charging handle has also been relocated closer to the shooter's center mass, and perhaps the most significant departure from the TAVOR is the ambidextrous magazine release, located to a more traditional AR-15/M16 location on the X95. Like the TAVOR SAR, the X95 will be available in a 16.5" 5.56 NATO and .300 Blackout and 17" 9mm Luger Parabellum. All models feature interchangeable cold hammer forged (CHF) barrels manufactured and engineered to IWI's demanding specifications. Conversion kits in .300 Blackout, 5.56 NATO and 9mm will also be available. The TAVOR X95 in 5.56 NATO and .300 Blackout uses standard AR-15/M16/STANAG magazines and is supplied with one black Magpul Gen III PMAG. It will be available in Black, Flat Dark Earth and OD Green. Watch future issues of SAR for a full test and evaluation of this new rifle. The price for the TAVOR X95 is $1,999.00 and the Conversion Kits are $899.00 in 5.56 NATO and 9mm and $499.00 in .300 Blackout. For more information, please visit www.iwi.us.
DANIEL DEFENSE RELEASES FIRST CHOICE 300 AAC BLACKOUT AMMUNITION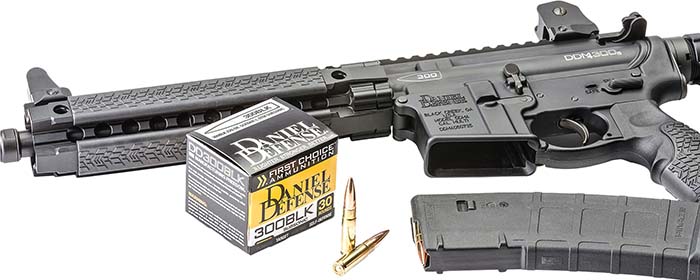 Daniel Defense, engineer and manufacturer of some of the world's finest firearms and accessories, has released the first caliber of high-quality ammunition it will offer under its First Choice brand: 300 AAC Blackout. The company also has plans to expand its offerings to include the popular 5.56mm and 7.62mm calibers in the future. The new Daniel Defense 300BLK (7.62x35mm) Subsonic Ammunition is designed for target shooting and/or home defense. It is manufactured using the highest-quality components available, including durable brass cases and precision 220-grain Lapua Scenar-L OTM bullets, the first choice for serious target-shooting competition.
They're passionate about the launch of their new 300BLK ammo, as it represents a whole new era for their brand—one where they can now ensure that the ammo that goes into their firearms is as high quality as the firearms themselves. To ensure the highest levels of quality, each and every First Choice round stamped with a "DD" must undergo and pass a thorough inspection to ensure critical dimensions that affect accuracy are met before it leaves the Daniel Defense factory. The Daniels have a long-standing philosophy on seconds and blemished product, "If it's not perfect, it doesn't go to market." Daniel Defense 300BLK Subsonic Ammunition retails for $50.00 for a box of 30 rounds. It is currently for sale only directly from Daniel Defense online at www.danieldefense.com.
LIBERTY SUPPRESSORS INTRODUCES THE NEW CENTURION SUPPRESSOR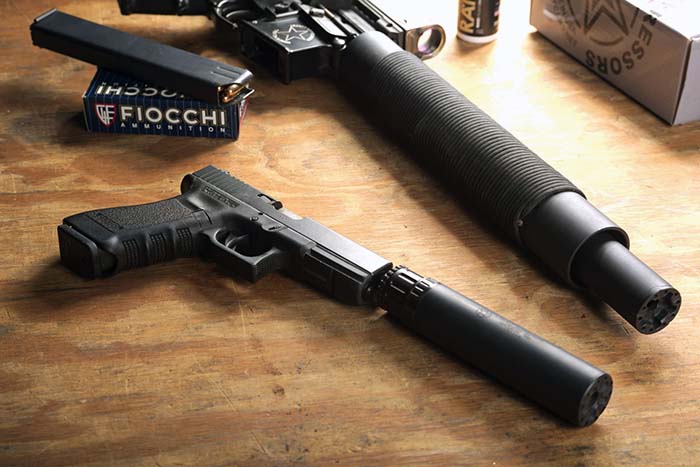 The Centurion is everything you want in a compact 9×19 pistol suppressor. It is designed to provide excellent suppression on 9mm handguns, dry or wet. They designed it to be taken apart since 9mm tends to run a little dirty, this by default makes it suitable for 22LR as well. If there was ever a suppressor that is perfect for the nightstand, the Centurion would be it. The length added to the host firearm is only about 6 inches so it fits really well with virtually every 9X19 handgun that has ever had a threaded barrel put in it. They made this suppressor 34% shorter than their outstanding Mystic X suppressor by reducing the footprint a full 3 inches from the silencer module. This makes for a very compact platform that handles very well. This suppressor also performs very well in rimfire calibers as well as the 300 Blackout carbines. Short, light and handy, this suppressor works well in many different roles. The Centurion breaks down into 3 basic parts (not including the mount) and due to the wavelok cut tube, can only be assembled one way. This makes reassembly a snap and virtually foolproof. The core is stainless steel, which makes it acceptable to being cleaned with harsh chemical solvents, stainless steel pins and ultrasonic applications (electrical tape on the Cerakoted end will protect it from the vibratory cleaning action). The outer tube is made from titanium so the entire suppressor weighs just 7.9 ounces. This unit comes standard with a 1/2-28 booster assembly installed and all of the Mystic X mounting solutions are compatible as well. This suppressor is sure to be a range favorite as well as being right at home on the nightstand at the end of the day. You can find out more at www.libertycans.net.
NEW AR9 9MM PISTOL CALIBER FROM WILSON COMBAT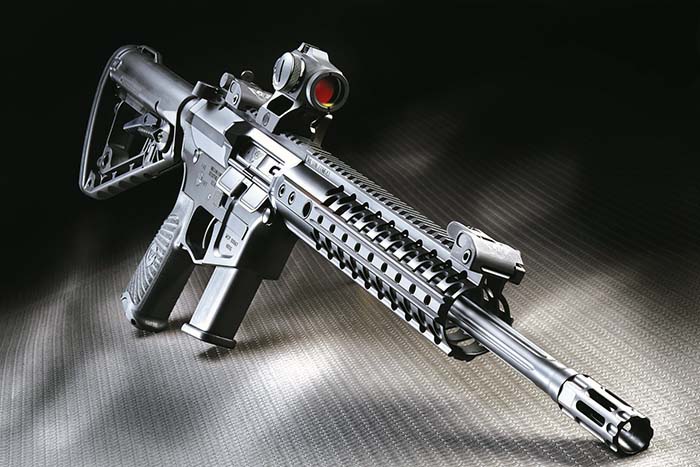 The Wilson Combat AR9 9mm pistol caliber carbine was designed from the ground up as the new standard in pistol caliber carbine reliability. The use of common 9mm service pistol magazines makes it an ideal choice for patrol, home defense and cost-effective
tactical training.
Wilson Combat engineers have designed three unique AR9 lower receivers with last round bolt hold open that are compatible with the most popular 9mm service pistol magazines from Glock, Beretta and S&W. The Wilson Combat AR9 closed-bolt blowback operating system is soft shooting and reliable with a wide variety of 9mm loads and exhibits flawless feeding with all common pistol bullet shapes, including hollowpoint and +P tactical ammunition. The AR9 bolt hold open ensures reliable lockback on empty with your pistol's factory magazines. The AR9 proprietary bolt carrier group with heavy duty claw extractor and plunger ejector is tuned for exceptional reliability. These new billet machined aluminum receiver models also accept standard AR accessories like furniture, triggers, charging handles, buttstocks and optics, and incorporate an integral trigger guard and flared magwell for fast reloading. The AR9 series of carbines has multiple unique patent-pending features that make it unique to the 9mm carbine market. The AR9 is also an optimized suppressor host with minimal gas blowback and enhanced accuracy over other designs. Wilson Combat carbon steel match-grade button-rifled 1-10" twist 9mm barrels ensure that the AR9 meets our stringent quality and accuracy requirements. The Wilson Combat AR9 can be ordered with your choice of Glock 17, S&W M&P or Beretta 92 magazine compatibility and configured as a pistol, carbine or short barreled rifle (all NFA rules apply). The AR9 is offered with your choice of fluted or non-fluted barrels in multiple lengths and various Wilson Combat designed muzzle devices. Not simply a converted AR-15, the Wilson Combat AR9 has been specifically designed for superior reliability and maximum accuracy, while retaining the familiar handling and controls of the AR platform. The AR9 is available with your choice of pistol magazine compatibility, barrel length, custom Armor Tuff colors and other accessory options to suit your specific needs. Find out more at www.wilsoncombat.com.
TACTICAL WALLS ADDS NEW RFID LOCKING MODELS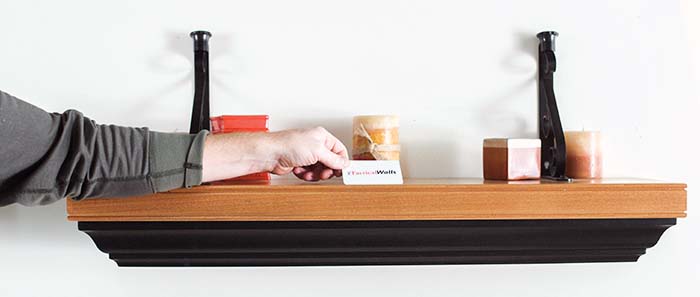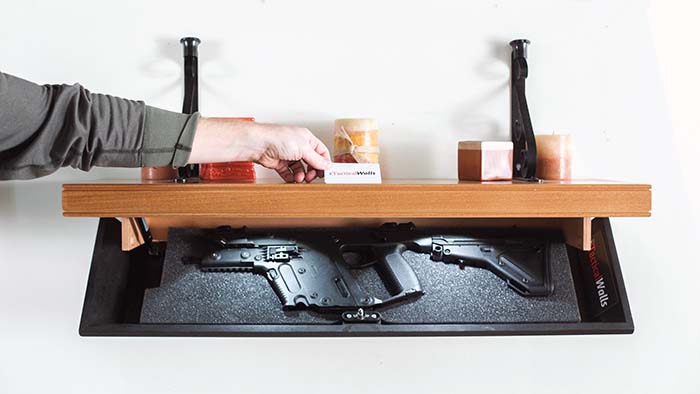 TacticalWalls continues to change the way people think about home firearms storage. Known for its Hidden in Plain Sight philosophy, each product in the TacticalWalls line is disguised as a fully functional piece of home décor – such as shelves, mirrors, marker-boards and much more. Now, users will have even greater security and easier accessibility thanks to TacticalWalls new Radio Frequency Identification (RFID) locking models. The RFID locking mechanism will be offered as an optional alternative to the existing magnetic lock on select TacticalWalls models. With the release of the new RFID models, firearms owners can access their guns even faster in an emergency. Opening up the hidden compartment is as easy as swiping the preset RFID card in front of the locking mechanism. Each unit will come standard with two key cards and one programming card used to match the key to the proper unit(s). Firearms owners can also order additional RFID cards if needed. One card can also be set to open multiple units, granting access to each firearm staged throughout the home. Another unique feature of the new RFID-locking models is a programmable Tattle Tale function. When turned on, the Tattle Tale function will start beeping after the unit has been left open for a period of time. This important safety enhancement helps firearms owners keep guns from unwanted users by reminding them when the compartment is left open. This feature can also be disabled if preferred. If the battery on the RFID locking mechanism runs out of power, the unit automatically defaults to an unlocked-but-still-closed position. Find out more at www.tacticalwalls.com.
This article first appeared in Small Arms Review V20N6 (July 2016)