By Chris A. Choat
HOGUE ANNOUNCES G10 RAIL COVERS FOR KEYMOD HANDGUARDS

Hogue, Inc., is proud to announce the addition of G10 KeyMod Rail Covers to their line of AR platform tactical rifle accessories. They've offered their own line of OverMolded rubber AR forends for years, but there is a segment of the population that utilize KeyMod handguards that has been asking for a Hogue product to complement their build. The Hogue KeyMod Rail Covers are a perfect solution to their need. Hogue's KeyMod Rail Covers have been designed to directly mount on AR handguards using the universal KeyMod system. KeyMod was developed in an effort to standardize universal attachment systems in the firearms market. Hogue's rail covers easily mount via 2-part hex screws into the handguard's KeyMod slits. Hogue's rail covers are precision machined from the highest quality G10 laminate material available, including their own patented G-Mascus design. All covers are finished with a mini-piranha texture for an aggressive non-slip grip. Each cover has rounded edges to eliminate snags and pinch points. The rails also serve as an insulator from the heat generated from AR rapid fire providing a longer shooting experience. The rail covers are available in Hogue's G-Mascus black/grey, green, pink lava, blue lava, red lava and Dark Earth or their solid black G10. The large variety of choices makes it simple to match rifles already built with Hogue grips, collapsible buttstocks and trigger guards. The rails measure 4.3" x .625" and weigh .8 oz. Each rail is sold individually allowing for a custom build of only buying what is desired: single-sided, double-sided, two on each side, or bottom configurations. The rail covers have a retail price $24.95. For more information please call Hogue directly at 1-800-438-4747 or visit www.hogueinc.com to find a Hogue dealer near you.
MEOPTA INTRODUCES THE NEW MeoRed REFLEX SIGHT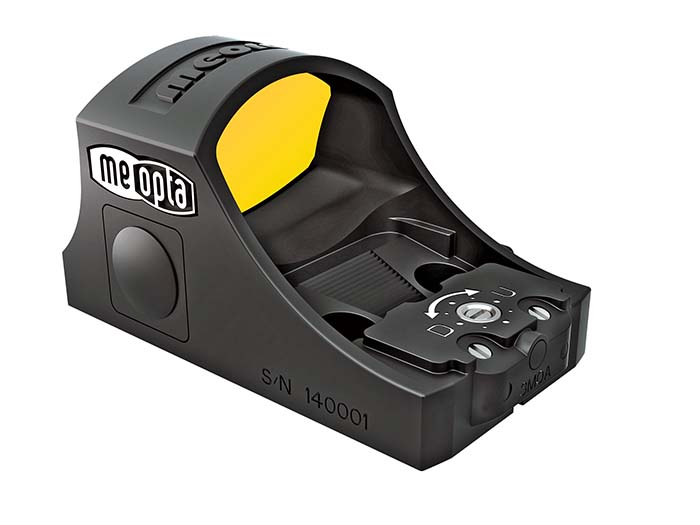 Meopta is pleased to introduce the MeoRed, its newest and most compact reflex sight. The MeoRed features high-quality optics and a lower profile than its predecessor, the MeoSight III, allowing users to co-witness with most iron sights. Parallax free and weighing just over an ounce, this sight is ideal for fast, close-quarter target acquisition with both eyes open and accurate shooting on the move. Designed for use on handguns with cutout slides, AR platforms or shotguns, the MeoRed is well suited for tactical use as well as three-gun competitions, target shooting and hunting close-range moving game such as hogs. It's made from aircraft-grade aluminum alloy and is fully waterproof and shockproof. The MeoRed comes with an integrated MIL-STD 1913 mount in addition to an interface plate for a Docter mount and features easy to use windage (180 MOA) and elevation (120 MOA) adjustments. Illumination of the 3 MOA red dot is activated by pushing the control button located on the left side of the sight and the brightness level of the red dot is continuous and easily adjustable. To turn the unit off, press the button and hold. The MeoRed is powered by one CR 2032 battery for up to 300 hours of run time and features a low battery indicator dot that signals when the battery is running low. There is also an auto-off function that turns the unit off after three hours of continuous operation if the function button has not been touched. The battery compartment is on the right side of the sight and can be accessed without taking the sight off the gun. It is secured with two screws ensuring constant battery contact during extreme recoil. Suggested retail of the new sight will be $517.49. Check out all their products at www.meoptausa.com.
WINCHESTER AMMUNITION ANNOUNCES USA FORGED STEELCASE AMMUNITION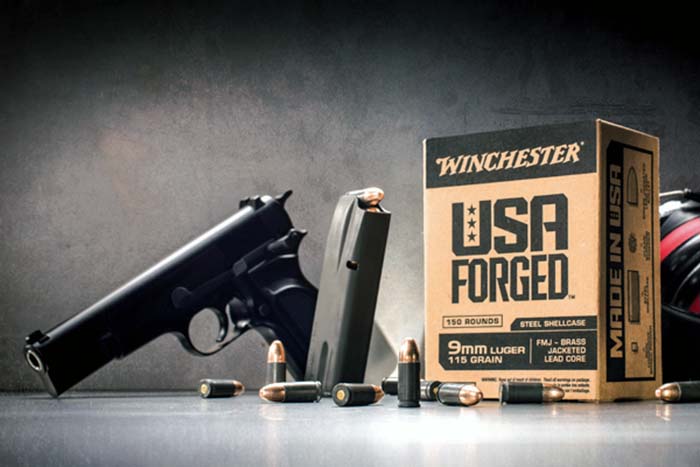 Steel shellcase ammunition has been a favorite among value-minded shooters looking to reduce the expense of shooting, while at the same time increasing their opportunities to shoot. In the new USA Forged™, Winchester introduces a steel shellcase product that is made in the USA. USA Forged represents the culmination of an extensive development project that resulted in new manufacturing methods. This new line is proudly manufactured in Winchester's Oxford, Miss., manufacturing facility and utilizes precision-made steel shellcases with a proprietary coating for improved reliability and corrosion resistance. The non-corrosive boxer primers and clean-burning powder are ideal for high-volume range sessions, while the brass jacketed (non-plated) lead-core bullets can be used on any range and can also be used in any pistol type; including ported, vented or suppressed pistols. USA Forged will be offered in a 150-round box of 9mm cartridges with 115-grain full metal jacket (FMJ) bullets that feature a high-quality brass bullet jacket. The rounds, which boast a muzzle velocity of 1,190 fps were extensively tested during development for functionality and reliability. Shooters should expect great on-the-range performance with this new product. For more information you can contact them at www.winchester.com
FAXON FIREARMS RELEASES HOULDING PRECISION RECEIVERS IN CERAKOTE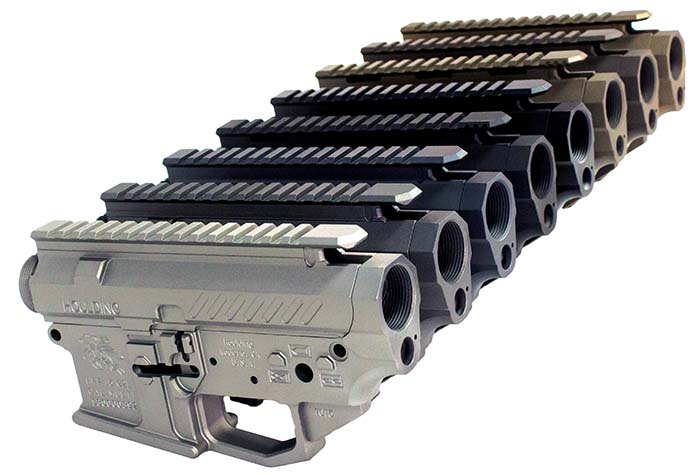 Faxon Firearms, incessant innovators in the firearms industry, is pleased to announce the release of Houlding Precision billet Modern Sporting Rifle (MSR) receivers in custom Cerakote colors. The Cerakote color on Houlding Precision upper receivers are set apart by a superior color application process. Cerakote is applied only after anodizing to maximize the durability and longevity of the receiver. Unlike other offerings where Cerakote is applied directly over virgin material, Houlding receivers have 60 Rockwell anodized aluminum under the coating to ensure a lifetime of high performance. Houlding receivers are 100% CNC machined from 7075-T6 billet aluminum. Featuring hard angles, 3-D surfaces, extreme precision and tight tolerances, the receivers are visually striking. The Picatinny rail features mechanically engraved T-marks for accessory placement and the barrel interface is guaranteed to be square. Houlding receivers feature forward assists and have no dust cover. Uppers feature M4 feed ramps. Faxon Firearms purchased Houlding Precision in early 2015 and moved the company and the Houlding family to join Faxon. Since then, Todd Houlding and the Faxon team have been working to create new products, refine and re-release Houlding offerings, and develop new patentable technologies for the Modern Sporting Rifle and other platforms. Todd Houlding's work on custom billet receivers and the carbon fiber Wraith rifle will continue with new product releases using the new receivers as the heart of the line. See more at www.faxonfirearms.com.
PLANO INTRODUCES MEW MIL-SPEC PISTOL CASE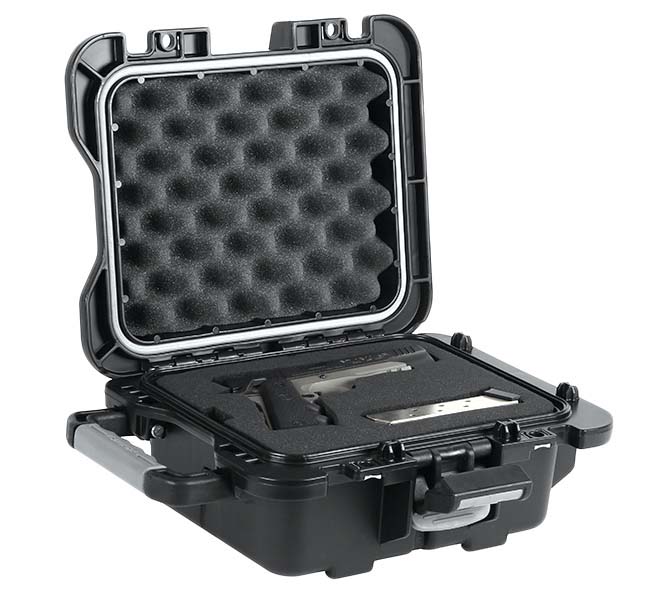 Plano announces the addition of the new Plano Field Locker Medium Pistol Case to the acclaimed Field Locker line, providing a lighter and more compact partner to the existing Large and Extra-Large Field Locker Pistol Cases. With exterior dimensions of 13.24"x11.15"x 6.375" and interior dimensions of 10"x8"x5.75", the Field Locker Medium Pistol Case is just right for secure storage and transport of almost any single pistol, with room to spare for extra magazines. It also makes a great field or travel case for DSLR camera gear or any other small piece of equipment worthy of premium, worry-free protection. A pluck foam interior allows a customized fit to a specific firearm, accessories or other valuable equipment. Like all other cases in the Field Locker Mil-Spec line, the Field Locker Medium Pistol Case sports an extreme-duty reinforced shell with premium componentry. A wide, heavy-duty, draw-down latch turns this case into a veritable vault when closed, sealing top and bottom sections closed around a thick Dri-Loc gasket. The case "breathes" through a high-performance Pressure Release Valve, which equalizes pressure divergence caused by altitude or temperature. A pair of stainless steel-reinforced padlock hasps guards contents from curious kids and crooks, while providing top-tier security during air travel. Easy handling and transport comes courtesy of an over-molded, heavy-duty, swiveling handle. The new case meets MIL-STD-810G specification for immersion, dust, vibration and transit drop. The new case weighs in at just 4.5 lbs. The retail price will be just $69.99. Find out more at www.planomolding.com.
CAA NEW AK MAGAZINESARE NOW SHIPPING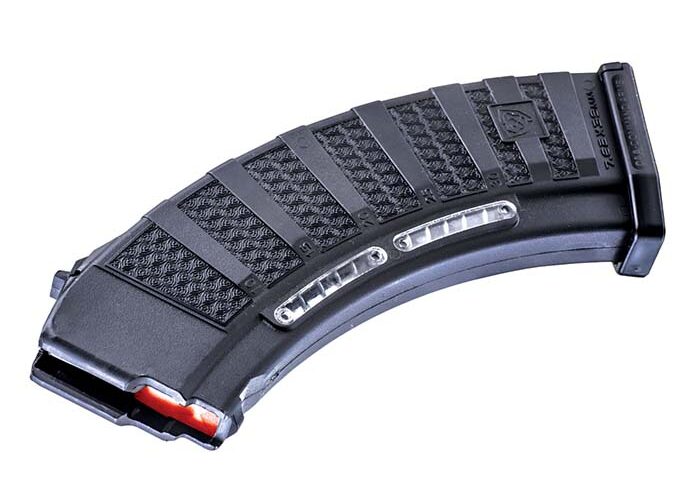 CAA USA is the US based company marketing and distributing world-class, operator-tested firearms accessories from Command Arms Accessories (CAA). CAA, developers and manufacturers of advanced battle-tested firearms accessories, announces its new AK Magazines are now shipping. AK's are famous for their reliability; they still go bang when they're wet, covered in mud or in harsh sandy conditions. Bottom line, they take a beating and keep going. CAA wanted their new AKMAG to be just as reliable, yet keep it lightweight and affordable. They have done just that. The new AKMAG magazines are designed for AK pattern rifles chambered in 7.62x39mm. They feature a polymer construction and have a 30 round capacity. The new magazine has clear window on both sides with an orange anti-tilt follower indicating the remaining number of rounds. The new lightweight magazines weigh just 7.05 oz. and will fit into standard AK mag pouches. The mags also offer a MIL-SPEC heat-treated and long-lasting follower spring and have a textured surface for positive slip-proof grip. The mags have a lifetime warranty and are priced at $27.00 each. To learn more about CAA's new AKMAG, or any of their other innovative products go to www.caagearup.com.
This article first appeared in Small Arms Review V20N7 (September 2016)