by Pierangelo Tendas
By the mid-2010s, the Sabatti company – previously known and appreciated mainly for its extensive line of almost bespoke hunting rifles and shotguns – began to shift its focus, channeling decades of company experience into the manufacture of high-performance, high quality long-range rifles for competition shooting and tactical applications.
The first STR (Sabatti Tactical Rifle) model was launched in 2016 with a dedicated competition shooting version – aptly dubbed the STR Sport – entering the market one year later. Both would be phased out of production in 2021 with the launch of the current iteration of the STR Sport bolt-action rifle.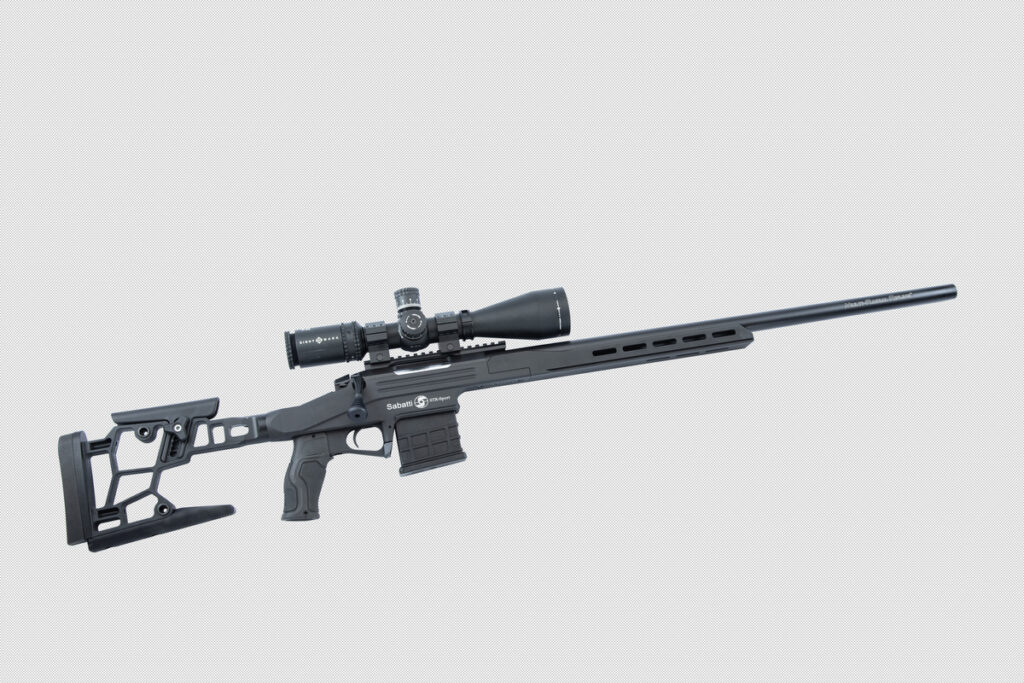 It was pretty ballsy of Sabatti to introduce a new flagship product in the midst of a global pandemic; unlike other manufacturers, whose production and development process slowed down or came to a total halt as COVID-19 struck, Sabatti never lost its focus on innovation, knowing all too well that the market would spark back to life sooner than later, and that by then the competition would be fiercer than ever.
The 2021 iteration of the STR Sport was developed jointly between Sabatti and Victrix Armaments, another well-known Italian manufacturer of long-range rifles. The result of such effort was a good all-round, long-range shooting platform, with an eye on all disciplines, in general, and PRS and F-Class competition, in particular. With the new platform, Sabatti's aim is beating the competition in several key areas of performance and price.
STR Details
The STR line represented Sabatti's first production of chassis rifles, and the 2021 iteration of the STR Sport further elaborates on the concept. Sabatti's expertise with chassis rifles vastly improved with the years, but in the case of the STR Sport, the chassis represents Victrix Armaments' contribution to the design: CNC-machined out of a block of 7075-T6 lightweight aluminum alloy, it is available in hard-coat anodized matte black or bright red colors, and in two versions: standard and F-Class, with the key difference being the handguard.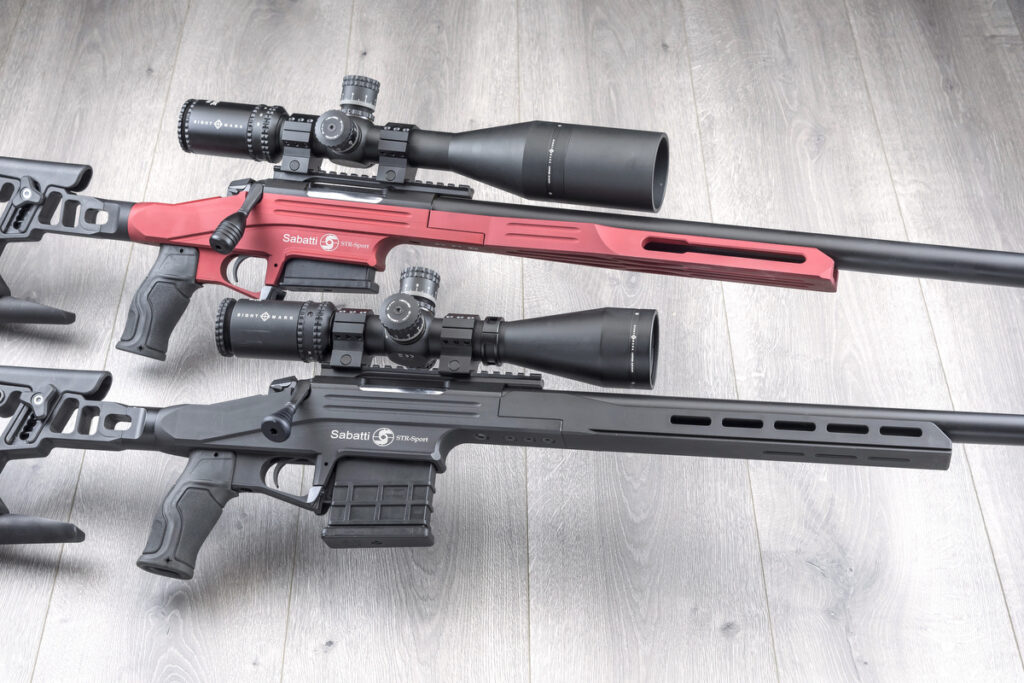 The standard Sabatti STR Sport rifle features a tighter handguard with M-LOK slots at 3, 6, and 9 o'clock, allowing the installation of Picatinny rail segments, bipods, weights, or other useful accessories.
The Sabatti STR Sport F-Class version comes instead with a larger "bag-rider" type handguard, with a wider flat bottom surface and three ARCA Swiss interface guides. Originally conceived for photography, the ARCA Swiss interface has gained wider acceptance among shooters due to its performance as a rock-solid mounting platform, particularly when it comes to the taller bipods and tripods. Anschutz interfaces are also available, upon request.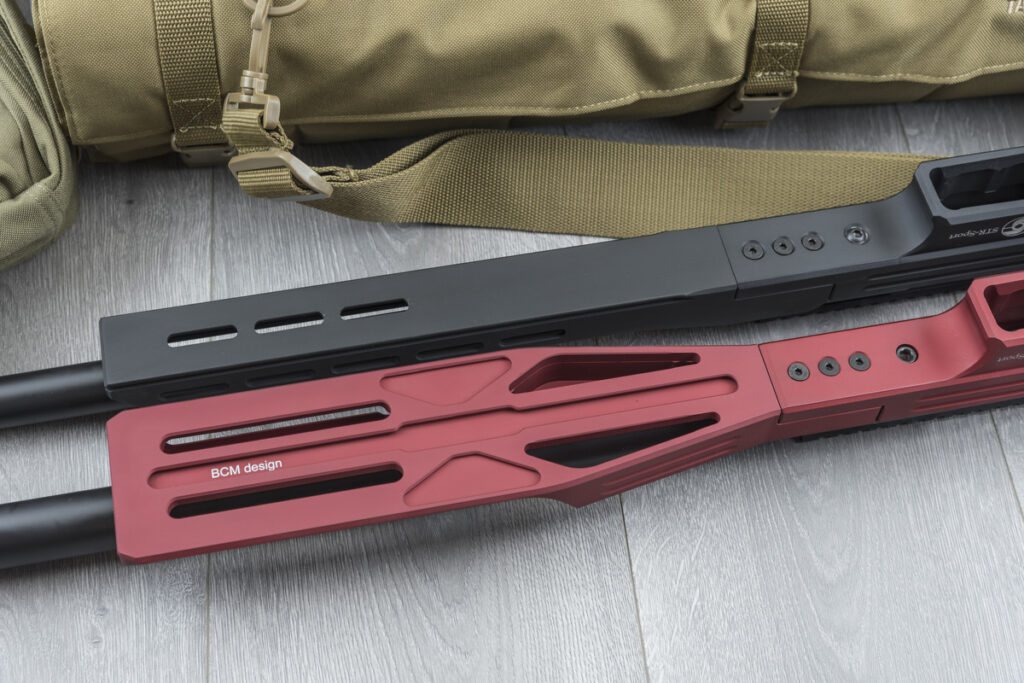 Regardless of the version, the chassis of the Sabatti STR Sport bolt-action rifle is set to accept AR-15 compatible pistol grips. The current iteration of the STR Sport rifle comes issued from the factory with a FAB Defense GRADUS rubberized, reduced-angle ergonomic grip, which can be removed and replaced with any other aftermarket AR-compatible grip at the shooter's will.
The factory buttstock is a fixed, lightweight Sabatti and Victrix design, entirely manufactured out of aluminum, with two Q.D. sling swivel cups on both sides, a flat bag-riding bottom surface, and a manually adjustable cheek riser; a set of rubberized spacers can be used to adjust the length of pull. The buttstock is attached to the rear of the chassis via a screw, and it can be removed and replaced with other aftermarket buttstocks with a similar attachment system, such as those manufactured by MDT (Modular Driven Technologies) in Canada.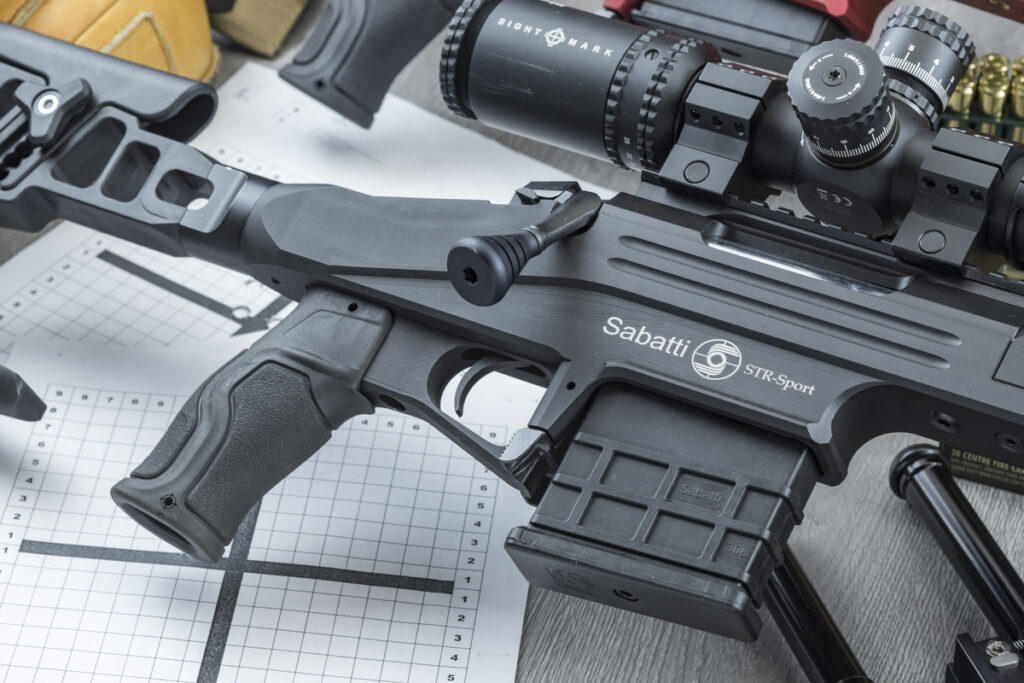 The chassis also includes the magazine well. The Sabatti STR Sport is available in three calibers –.308 Winchester (7.62×51mm), 6.5×47 Lapua, and 6.5 Creedmoor – and feeds through AICS (Accuracy International Chassis System) detachable box magazines whose capacity will vary depending on caliber; AICS magazines are normally available in 5- or 7-round versions, but higher capacity variants are also available from third party suppliers. An ambidextrous paddle release lever is located at the base of the trigger guard, and the shooter can easily access it with the trigger finger.
At the heart of the Sabatti STR Sport rifle is the company's own patented Blizzard action – a short action with a three-lug bolt and a very tight 60° bolt throw for faster follow-up shots. Both the bolt and the receiver are CNC-machined from solid, high-strength special purpose steel; the receiver is then finished in black and features a top Picatinny rail for optics – available in a 0-, 10- or 20-MOA tilt to facilitate holdover in extreme long range shooting – while the bolt body is heat-treated, rectified, and subsequently hard chromed until it reaches the exact level of tolerance requested by the manufacturing process.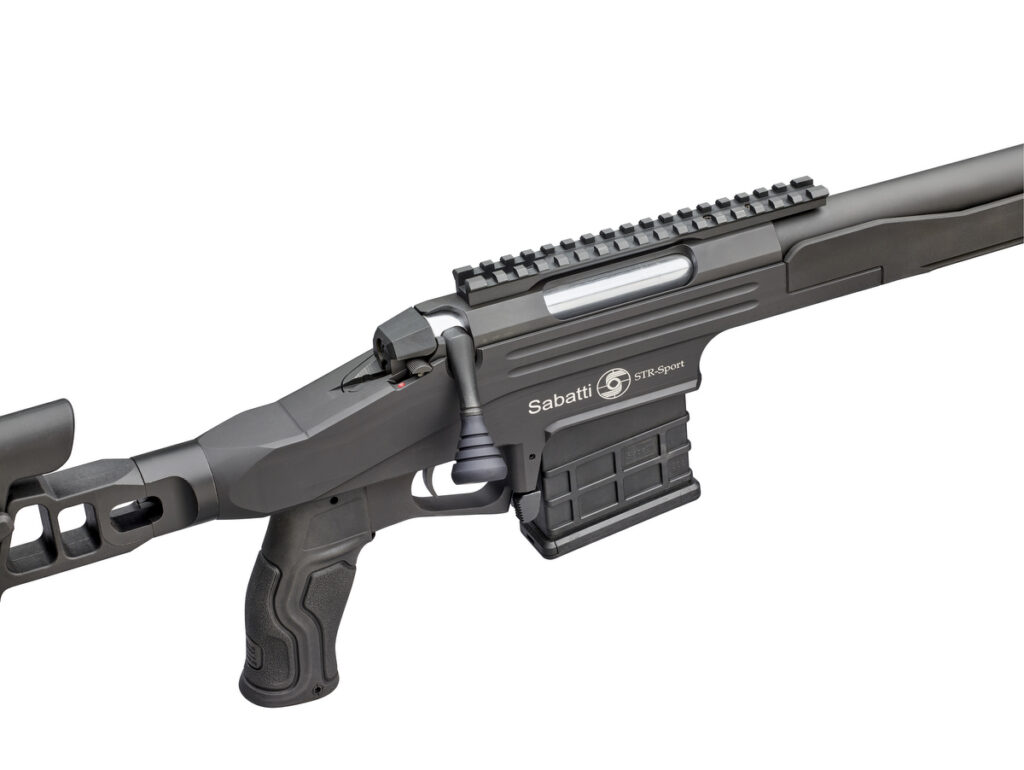 This allows the bolt body to offer both a higher level of resistance against corrosion, wear, and dirt, and to be a perfect fit for the receiver – just loose enough for a smooth, quick operation, and tight enough to prevent any wobble that may be detrimental to the rifle's feel or accuracy. A signature feature of the Blizzard action is Sabatti's own, patented "Guillotine-type" extractor, whose construction – in 17-4PH steel – and positioning were carefully studied to ensure reliable extraction in all conditions and to double as an additional safety feature. Sabatti's "Guillotine-type" extractor is engineered to withstand prolonged use with high-pressure ammunition, to support the cartridge case rim when the bolt is locked, and to make sure that even in the event of massive pressure spikes, cases will be extracted reliably and without rupturing.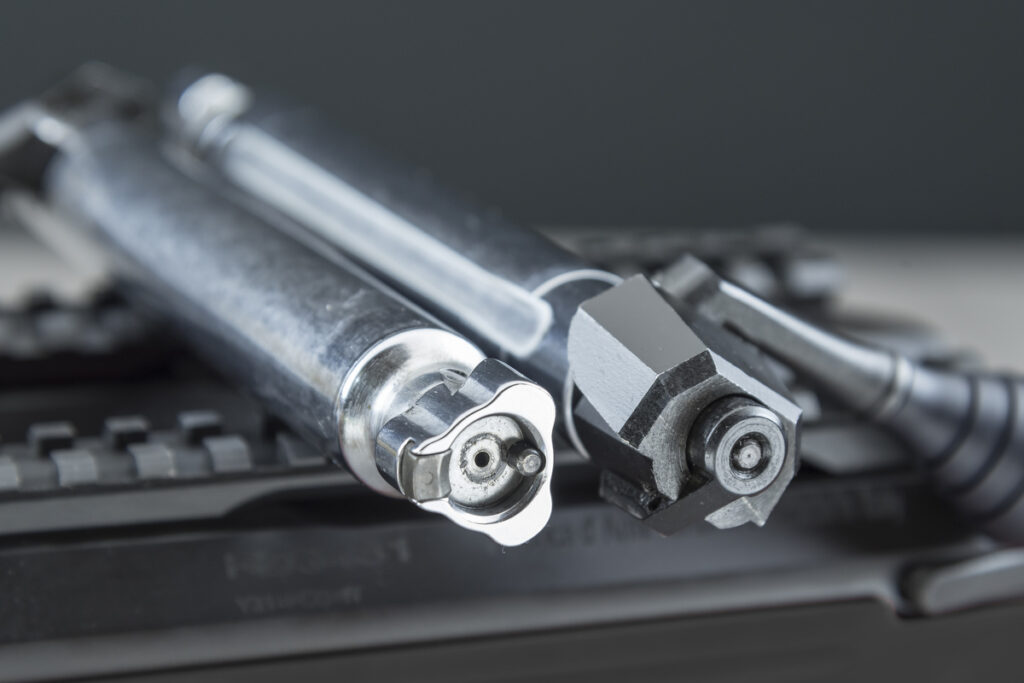 Other features of the Sabatti Blizzard action include a sliding safety located right behind the bolt handle, at quick and convenient thumb reach, and an interchangeable bolt knob, which is attached to the charging handle via a 5/16-inch thread and can thus be removed and replaced with any aftermarket knob to meet shooter's preferences.
The Barrel
The barrel, also manufactured entirely by Sabatti, is probably the cherry on top of the STR Sport. Available in three lengths – 24-, 26- or 28-inch, with a 0.86-inch or 1.10-inch muzzle diameter and a protected thread for flash hiders, muzzle brakes, or sound suppressors – the barrel is cold hammer forged, finished in black, and features Sabatti's proprietary MRR rifling pattern.
MRR stands for "Multi-Radial Rifling": first launched in 2011, MRR barrels are Sabatti's own development, covered by numerous international patents, and are unique to Sabatti products, and heavily featured on the company's tactical and sporting long-range rifles. MRR barrels were developed with accuracy in mind, with the goal to achieve levels of performance that couldn't be matched by existing rifling patterns – including 5R – while at the same time allowing easy manufacture through cold hammer forging, a procedure that Sabatti has mastered over several decades and uses for the entirety of its barrel production.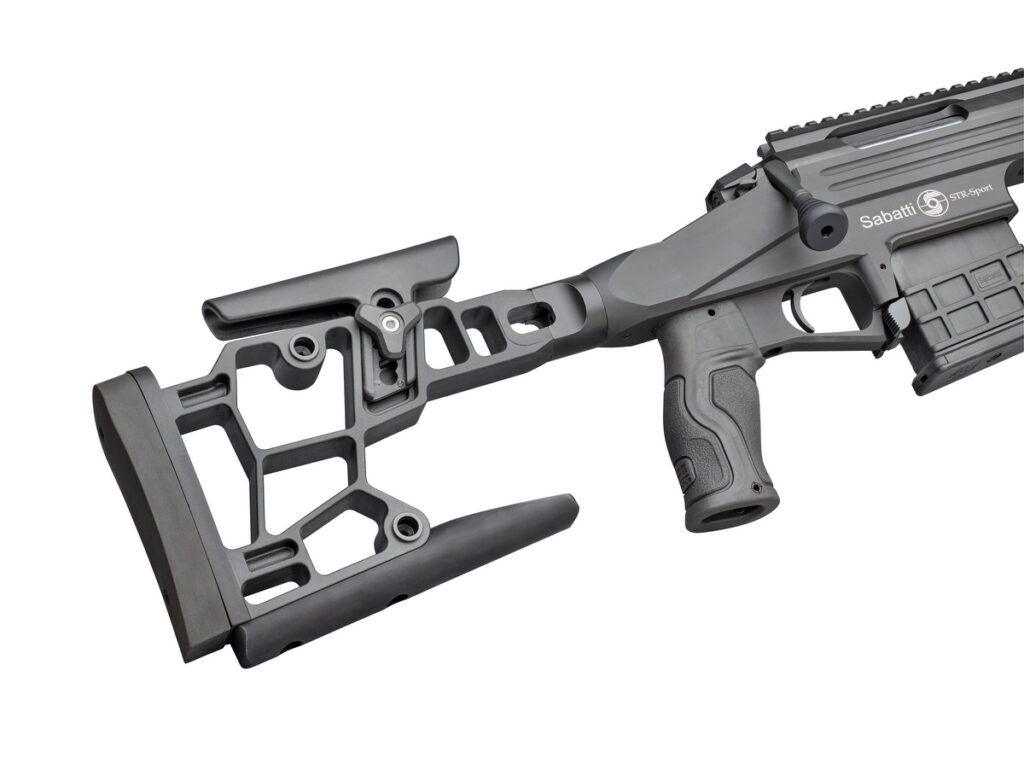 Multi-radial rifling (MRR) can be described as a softer rifling if compared to both standard and polygon rifling, in that lands and grooves aren't pronounced as one would normally find on a standard barrel. Additionally, MRR barrels feature a modified forcing cone geometry, providing for a better fit of the bullet to the rifling and alignment to the bore axis to begin with.
The MRR rifling is overall made to be a tighter fit on a bullet than the vast majority of conventional or polygon rifling patterns. When passing through an MRR barrel, the bullet will be deformed – albeit only ever so slightly, as the company stresses the low bullet deformation factor inherent to MRR rifling – but not cut, avoiding excessive levels of friction that may be detrimental to accuracy and service life. Indeed, not only do MRR barrels require less cleaning and maintenance than standard barrels and deliver muzzle velocities that are higher on average than most of the competition's but are guaranteed from factory to deliver sub-MOA accuracy at 100 meters with factory ammunition.
Trigger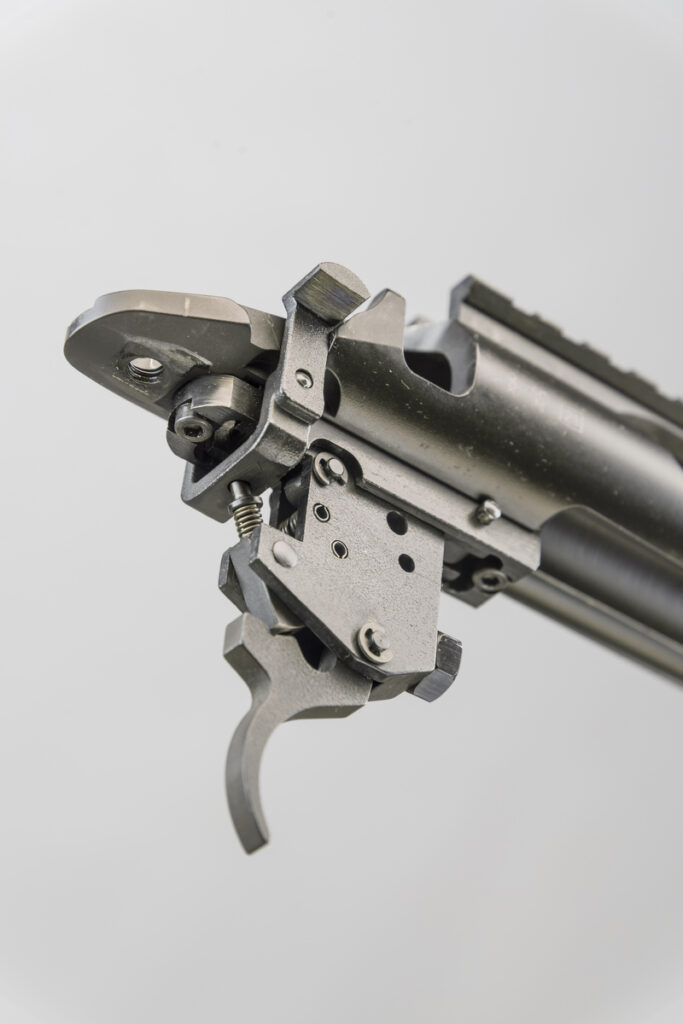 The Sabatti STR Sport comes from the factory with a match-grade, three-lever trigger of Sabatti's own design and production. Sabatti's rifles are currently not compatible with aftermarket triggers – including, sadly, those from the best-known manufacturers of custom triggers such as Elftmann, Timney, TriggerTech, or Jewell – but the truth is, they don't need to be. Sabatti's factory triggers are every bit as good as those highly regarded aftermarket competition alternatives. The STR Sport's Match trigger is set at a 1.21 / 1.32-pound break and can be further adjusted by the shooter upon stripping the rifle.
Action Interface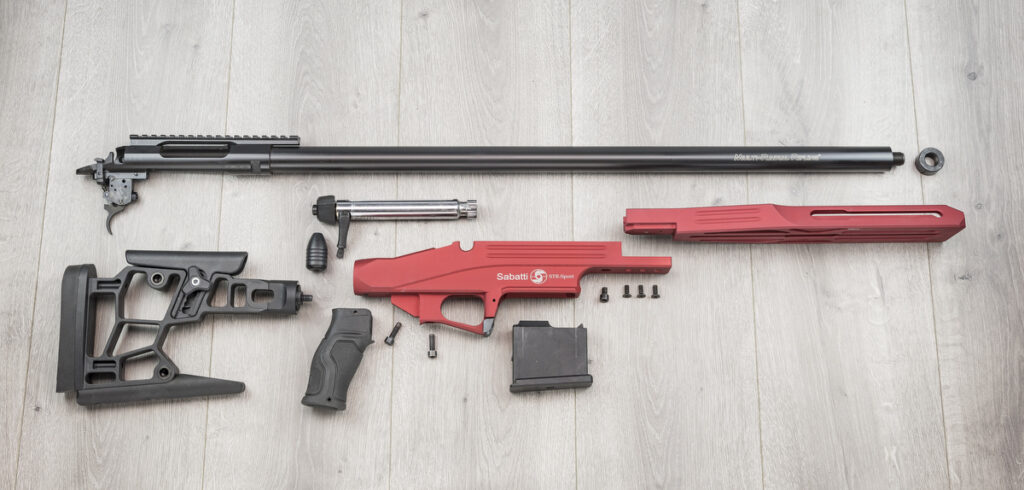 And stripping the STR Sport – as well as any Sabatti rifle with a Blizzard action – is just as easy as taking out two screws, and so is putting it back, with no effect on accuracy. There is no bedding material that keeps the action and the chassis together; the two components are coupled by two hex screws – one behind the receiver, one right underneath the trunnion – in a manner that the company dubs "Azione sospesa" ("Suspended action", or "hanging action"), because aside from those two engagement points, the barreled action is completely free to float over and within the chassis.
This eliminates all coupling tensions, which can potentially cause vibrations that are detrimental to accuracy. Given the construction of the barreled action, removing it from the chassis does not cause it to lose zero. The rifle will hold zero once reassembled as long as the proper torque settings for the two coupling screws are followed: in order to optimize performance, Sabatti recommends 5.9 foot pounds of torque for the rear screw and 6.6 foot pounds of torque for the front screw.
Range Time
Purists may wonder whether such a combination of a unique, almost oddball rifling pattern and a likewise one-of-a-kind coupling system would actually provide enhanced accuracy; we went to test the company claims in a hot, sunny summer day at a beautiful outdoor range just outside of Rome, Italy. Our test bed was a standard model Sabatti STR Sport in .308 Winchester (7.62×51mm), loaded with Fiocchi EXACTA factory ammunition. EXACTA is a commercial version of the loads manufactured by Fiocchi for the Italian Army, police and special forces snipers, and is loaded with American-made Sierra Match King 168-grain hollow-point boat-tail bullets.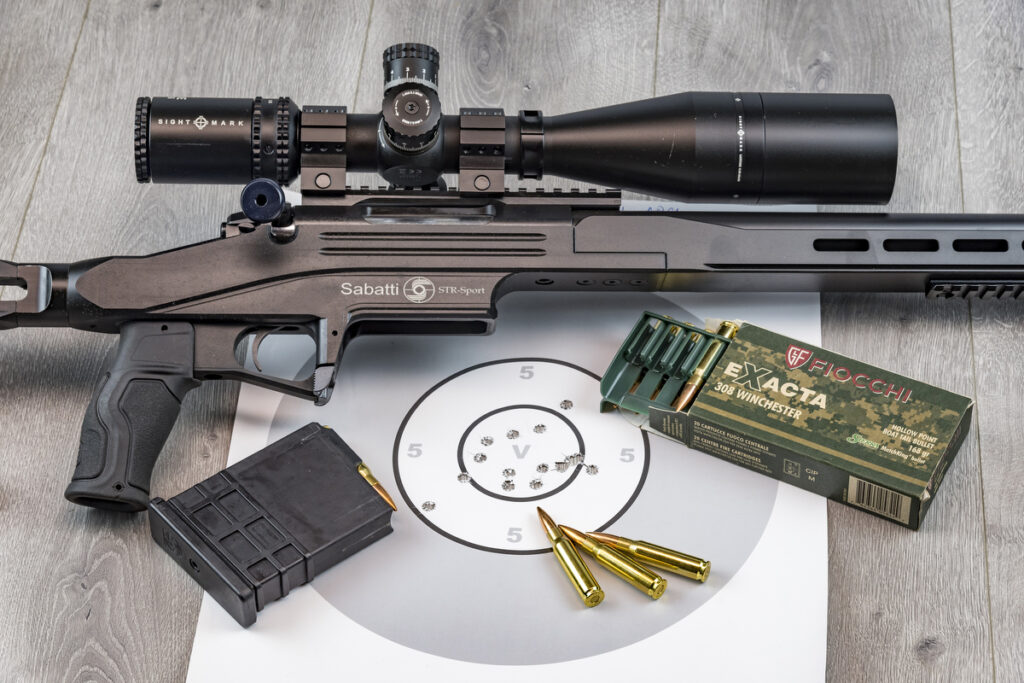 At 300 meters, on a standard long range shooting target, the Sabatti STR Sport kept its accuracy promise, with only four out of fifteen rounds ending up in the second target circle, all others grouping tightly in the bullseye. We did not, unfortunately, have a chance to demonstrate how this level of accuracy improves even more dramatically with the use of Sabatti's own MRR line of monolithic copper bullets, designed and manufactured by the company to optimize the performance of its Multi-Radial Rifling barrels. The Sabatti MRR bullets are dedicated to reloading enthusiasts and experts who want to get the best out of their Sabatti rifle and MRR barrel, and are available in three different lines – Green Hunting, Green Sport, and Green Long Range, all different in terms of specific features and bullet design depending on the intended use – and in .30, .270, 6.5 (.264) and 7mm (.284) calibers.

As this article is posted, Sabatti is preparing a unique version of the STR Sport for the North American market, dubbed the "Sabatti STR Sport US", which will feature a 20-inch fluted barrel and a shorter handguard. The Sabatti STR Sport US rifle will debut in 2023.
The STR Sport rifle is a perfect example of Sabatti's high level of craftsmanship and accuracy; it is a pity that Sabatti rifles aren't better known among sport shooters in Europe and worldwide, because their price point is almost unbeatable for the type of features that they offer, and their quality and performance levels will easily rival or outmatch those of the best-known international brands. But the company is now adopting a more aggressive approach towards global markets, and it's just a matter of time before the Sabatti name gains the recognition that it deserves.