By The Small Arms Review Editorial Staff
ATLAS GUNWORKS
Nemesis Double-Stack .40 Caliber Pistol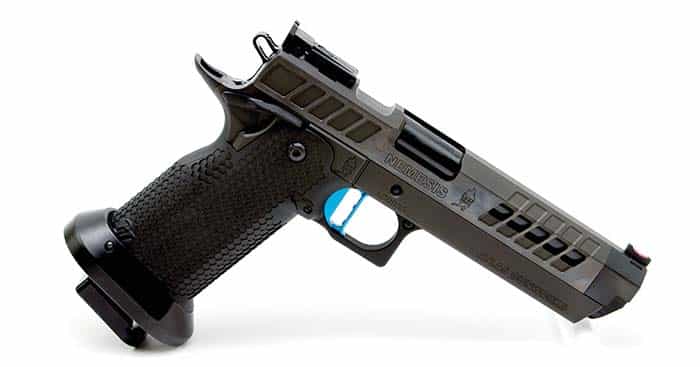 Atlas Gunworks has announced the ultimate competition pistol designed for USPSA Limited Division shooters. The Nemesis double-stack .40 caliber pistol provides shooters with a distinct advantage over those using traditional guns.
The Nemesis' unique feature is a fixed front sight block. This block delivers the benefits of a shorter lightened slide, less reciprocating mass, improved balance point, additional weight at the end of the barrel and a front sight that doesn't move with the slide.
The Nemesis shares the features of other Atlas guns including a tri-top and lightened slide, PT EVO grip, X-Line Vario trigger, KKM 5" bull barrel, flared ejection port and competition magwells. A super-hard DLC coating is standard. atlasgunworks.com
SMITH & WESSON
M&P380 Shield EZ Pistol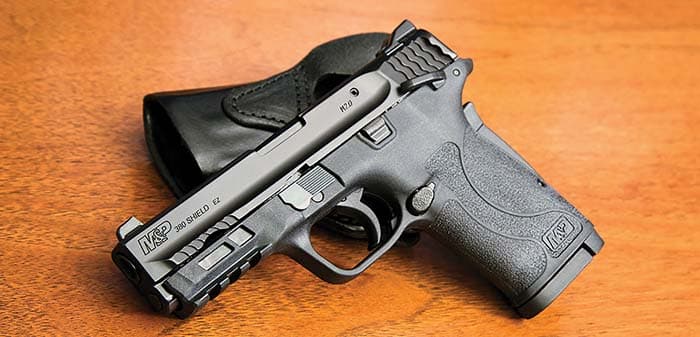 The new M&P380 Shield EZ pistol is built for personal and home protection and is the latest addition to the M&P M2.0 family. The pistol features an 8+1 round capacity and a 3.675-inch barrel. The M&P380 Shield EZ is chambered in .380 AUTO and is designed to be easy to use, featuring an easy-to-rack slide, easy-to-load magazine and easy-to-clean design. The M&P380 Shield EZ pistol ships with two 8-round magazines that include a load assist button for quick, easy loading, as well as a Picatinny-style equipment rail to accommodate accessories. The pistol also features an optimal M&P pistol 18-degree grip angle for a natural point of aim, white-dot front and adjustable white-dot rear sights and a light, crisp trigger. smith-wesson.com
SAFARILAND
Model 17 and 17T IWB Concealment Holsters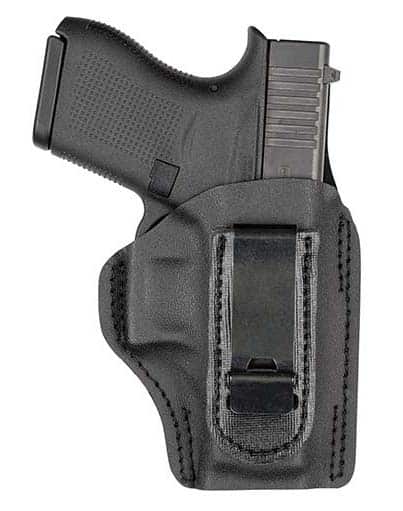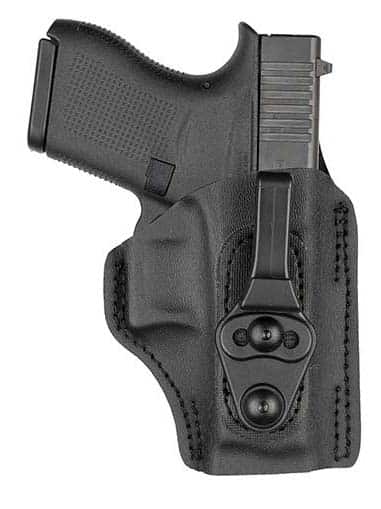 The Model 17 and 17T inside-the-waistband (IWB) concealment holsters. Ultra-thin and flexible, these holsters are lightweight for comfort, yet very durable for everyday wear. The hard shell SafariLaminate thermo-formed construction ensures sturdiness, and they are designed to maintain their shape indefinitely.
The two models are offered to accommodate a variety of attire: The Model 17 has a spring steel belt clip to securely anchor to belts and trousers, while the Model 17T features a cant-adjustable J-Hook attachment that makes it tuckable, further minimizing visibility. Both are constructed of hard-shell SafariLaminate material which allows the holster to stay open for easy re-holstering. Further, the deep contouring in the trigger guard provides a detent that helps retain the handgun, for a secure holster fit. Both models fit up to a 1.75-inch width belt. safariland.com
MEPROLIGHT
MEPRO MicroRDS (Red Dot Sight)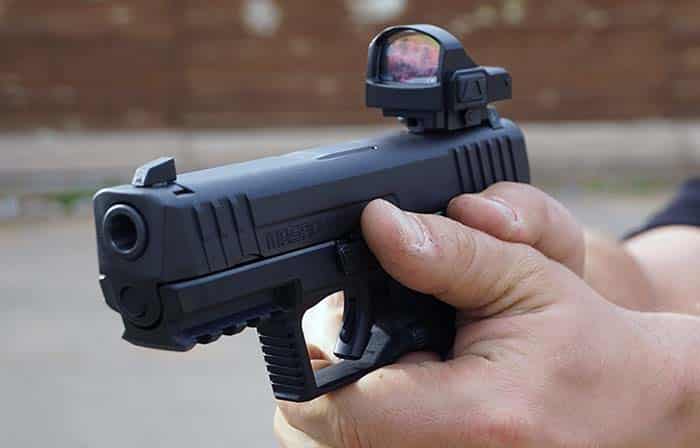 The MEPRO MicroRDS–the latest addition to the MEPRO RDS family–is designed for pistols, rifles and shotguns and is a compact, rugged and energy-efficient sight with a clearly defined red dot for all light conditions and a large display window. Providing thousands of operating hours while utilizing a single CR2032 battery, the micro sight ensures rapid target acquisition with both eyes open and offers various easily switchable reticle brightness intensities. For pistols, it serves as the main aiming sight, offering fast target acquisition at close distances. It fits a variety of weapons thanks to its patented quick-release mounting (MEPRO MicroRDS adaptor). The adaptor allows the use of an optical red dot sight alongside a backup tritium night sight. meprolight.com
A*B ARMS
MOD*X Side Folder Mechanism for the KRISS Vector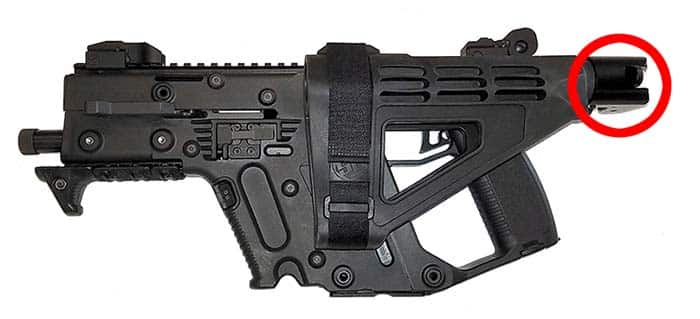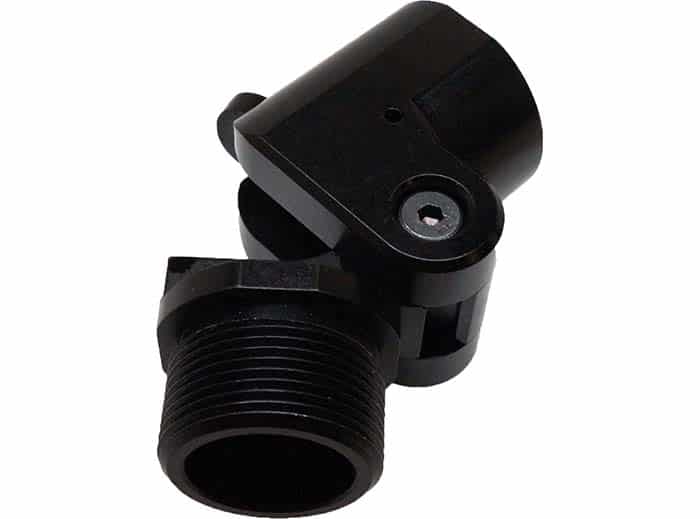 Made in the U.S.A., the MOD*X Side Folder Mechanism is an affordable, lightweight adapter compatible with the KRISS Vector. The MOD*X Side Folder Mechanism allows KRISS Vector owners to add their own AR-style pistol braces or butt stocks to be used in a side-folding configuration. Assembly takes less than 10 minutes and does not require any special tools. The SFM is manufactured with 6061 aluminum and hard coat anodized to Mil-Spec Type III specifications. abarms.com
SAFARILAND
Model 557 Concealment Holster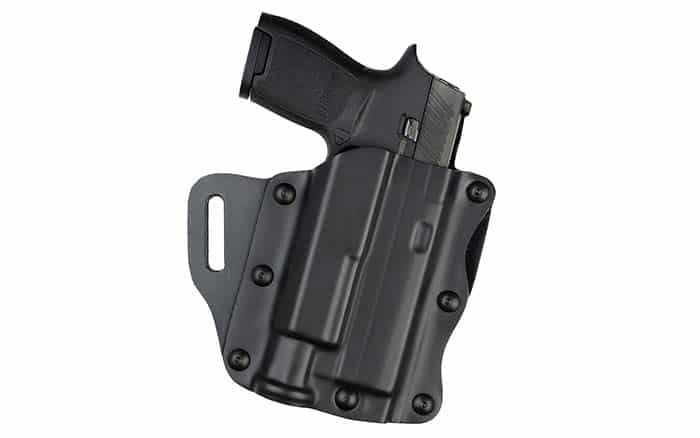 The Model 557 Open-Top Belt Slide Concealment holster is made specifically to accommodate light-bearing handguns. This holster boasts a two-in-one design, as it securely fits the firearm with or without the light attached—an excellent holster option for those that frequently carry light-bearing handguns. safariland.com
FLIR
ThermoSight Pro Series Thermal Imaging Sights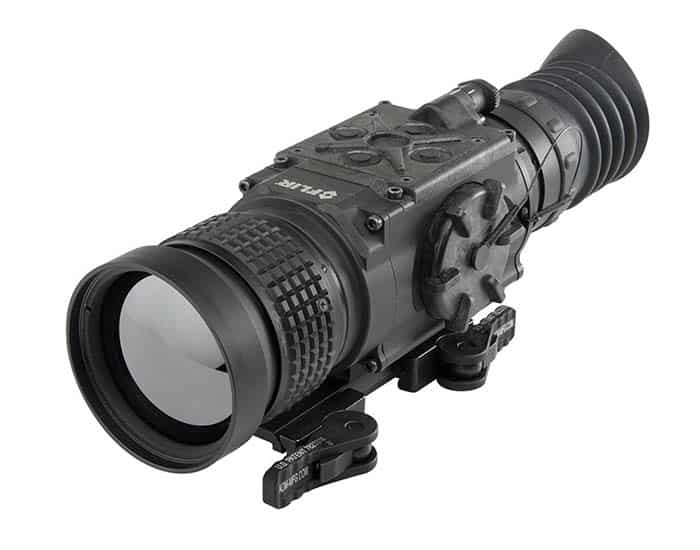 Available in three configurations, the new FLIR ThermoSight Pro Series thermal imaging weapon sights pack greater levels of performance and functionality into a compact and lightweight housing. Each FLIR ThermoSight Pro offers 320×256 thermal resolution, Bluetooth 4.0 and USB-C connectivity and user-controlled imaging palettes and image enhancement filters. Onboard recording allows for the internal storage of up to 2 hours of video or 1,000 JPEG images. All FLIR ThermoSight Pro models also feature a digital compass and inclinometer. The FLIR ThermoSight Pro Series offers improved object detection and classification in the field and clean thermal imagery in any light–from low contrast daylight to total darkness–or through smoke, haze and light fog. flir.com
TRIJICON
4-16×50 AccuPoint Riflescope

Trijicon's new 4-16x50mm AccuPoint riflescope gives tactical marksmen, long-range hunters and precision rifle shooters the ability to accurately extend their range in any light without the need for batteries.
Packed with features for the serious shooter, the new 4-16x AccuPoint is built around an advanced fiber-optic and tritium-illuminated reticle that speeds target acquisition and extends available shooting time. This battery-free, dual-illumination system automatically adjusts the aiming-point brightness to existing lighting conditions. Shooters can also control the brightness of the reticle with Trijicon's unique manual brightness override feature.
The Trijicon AccuPoint provides outstanding optical clarity and brightness with multi-coated broadband anti-reflective glass. The rugged, aircraft-quality, hard-anodized aluminum body offers all-weather protection, and the 30mm tube is compatible with a range of mounting options. A 50mm objective lens provides optimal height above bore and affords generous eye relief for use with heavy recoiling rifles.
The easy-to-use capped turret controls offer precise windage and elevation adjustment. Graduated in .25 MOA or 0.1 mils, the 80 MOA adjustment range provides users click-after-click accuracy and tracking without the need for tools. The 4-16x AccuPoint is equipped with a side parallax control that quickly adjusts focus to engage targets at any range and is available in six of the most popular AccuPoint reticles, including the classic duplex crosshair (green), MOA-dot crosshair (green), MIL-dot crosshair (green) and triangle post (red, green, or amber). Each is in the 2nd focal plane, offering pinpoint accuracy at any magnification. trijicon.com
STREAMLIGHT
Dualie Waypoint
Streamlight Inc. introduced the Dualie Waypoint, a high performance spot and area light that allows for individual or simultaneous use of a forward-facing spot beam for distance and a bottom-facing flood light. Offering high-, medium- and low-intensity modes, the new light uses the latest in LED technology and 4 "C" alkaline batteries (not included) to deliver both extreme brightness and long run times. On high, the front light delivers 750 lumens, 72,000 candela and a 535-meter beam distance; the bottom-facing light offers 450 lumens, 240 candela and 31 meters of beam distance. With the front and bottom lights combined, the Dualie Waypoint provides 750 lumens.
Run times for the light range from 3-55 hours when the two beams are combined to 3.5- 125 and 5.75-170 hours for the front and bottom lights, respectively. streamlight.com
This article first appeared in Small Arms Review V22N6 (June 2018)