By The Small Arms Review Editorial Staff
MAGPUL
Hunter American Stock—Ruger American Short Action

Magpul is releasing the Hunter American stock made from reinforced polymer and an anodized aluminum bedding block with steel recoil lugs. The Magpul Hunter American stock offers users a cost-effective replacement featuring a fully adjustable length of pull, comb height and enhanced ergonomics. Compatible with Ruger American Short Action rifles, this stock requires no bedding and is a true "drop-in" solution for the end user.
FEATURES
Compatible with Ruger American short action rifles*
Bolt Action Magazine Well—Hunter American & PMAG 5 7.62 AC included for reliable detachable box magazine compatibility without any need for custom inletting
Reinforced polymer construction with Type III Hard anodized, machine finished cast aluminum bedding block
High strength steel recoil lugs
Compatible with barrel profiles up to medium palma
Fully adjustable length of pull
Optional 0.00-in, 0.50-in and 0.75-in cheek risers available to adjust cheek weld (stock comes pre-fitted with 0.25-in riser)
M-LOK compatible for additional accessories
*NOTE: PMAG 5 7.62 AC magazine is for the .308 Winchester and similar-sized cartridges. Rifles that use smaller or larger cartridge cases will require the customer to separately purchase an AICS pattern compatible magazine of their choice. magpul.com
GEMTECH
5.56 Suppressed Bolt Carrier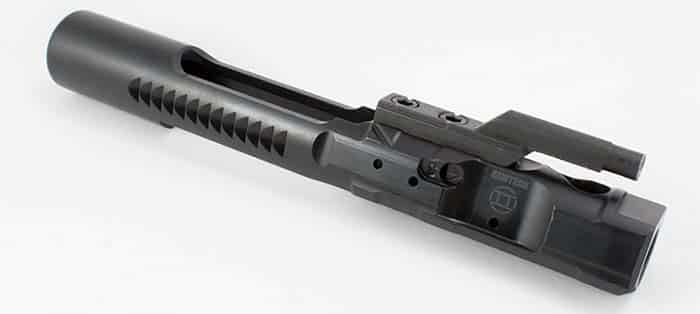 The GEMTECH Suppressed Bolt Carrier is a drop-in replacement and will allow the shooter to choose between suppressed (S) and unsuppressed (U) settings without any permanent modifications to the firearm. No longer will you need to change gas blocks, buffers or any other components. Not only that, but with the GEMTECH Suppressed Bolt Carrier, there is a reduction in carrier speed and less felt recoil, bringing the cyclic rate of the suppressed rifle down to unsuppressed levels. gemtech.com
TUFFY SECURITY PRODUCTS
Model 257 Professional Grade Heavy Duty Truck Bed Security Drawers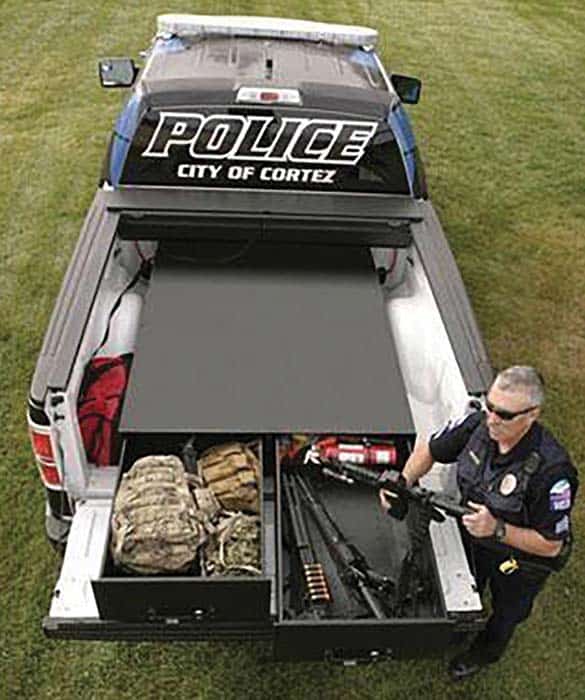 Tuffy Security Products offers four Model 257 professional grade Heavy Duty Truck Bed Security Drawers perfect for securing valuable tactical gear. Tuffy's Model 257 Heavy Duty Truck Bed Security Drawers have easy-to-install, heavy duty steel mounting hardware to attach to the pickup's bed floor, and the drawer assembly can be removed by loosening the mounting hardware.
These security drawers feature superior engineering and are made in the U.S. from 16-gauge steel, with ¼-inch thick (6.35mm) steel latch components and tough structural top-cross supports for exceptional durability. Each drawer can hold up to 400lbs (181.4kg) and ride on slides with precision ground stainless-steel sealed roller bearings to evenly distribute weight for smooth, reliable operation. Designed for outdoor use, the drawers close tightly into the enclosure opening, using premium weather seals to combat moisture and dust intrusion.
Using tab-loc welded construction, plus a pick-resistant, 10-tumbler double-bitted lock, combined with Tuffy Security Products' patented Pry-Guard II locking system, the Model 257 security drawers withstand severe duty use, while deterring theft.
The Model 257 Heavy Duty Truck Bed Security Drawers fit full-size Chevrolet/GMC, Dodge/RAM, Ford and Toyota pickups, plus the Navistar International CXT, and are offered in six sizes for short, standard and long beds. tuffyproducts.com
STREAMLIGHT
Ultra-Light and Low Profile TLR-7 and TLR-8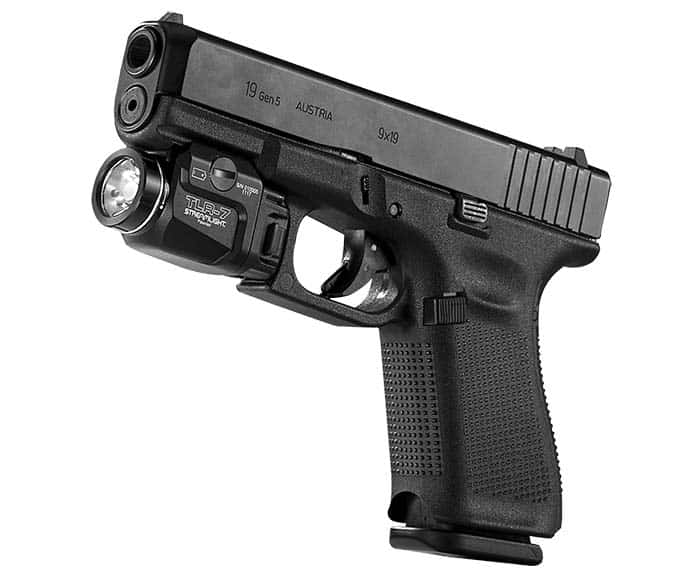 Streamlight Inc. added two new low profile models to its extensive line of TLR rail-mounted tactical lights, the TLR-7 and the TLR-8, which also features an integrated red aiming laser. Extraordinarily lightweight, the new lights are among the smallest rail-mounted lights in the TLR line; each delivers 500 lumens for a variety of tactical uses.
Securely fitting to a broad range of weapons, the new TLR lights feature a one-handed, snap on and tighten interface that keeps hands away from gun muzzles when attaching or detaching them. The lights also include a safe off feature, locking them so they cannot be turned on accidentally. A key kit is included to securely fit each light to the broadest array of hand guns of any light on the market.
The TLR-7 offers two lighting modes, LED-Only or LED strobe, each with a run time of 1.5 hours. The TLR-8 also offers a 640-660nm red laser that increases the user's ability to focus on a target. The light can be deployed in Laser-Only mode to keep the gun on target; in LED-Only mode to provide bright, focused light; or in dual mode using both light sources. Run times are 1.5 hours in LED-Only, LED and Laser, and strobe modes and 18 hours in Laser-Only mode. The new models feature an IPX7-rated design, making them waterproof to 1 meter for 30 minutes. streamlight.com
SPYDERCO
Delica 4 Lightweight Knife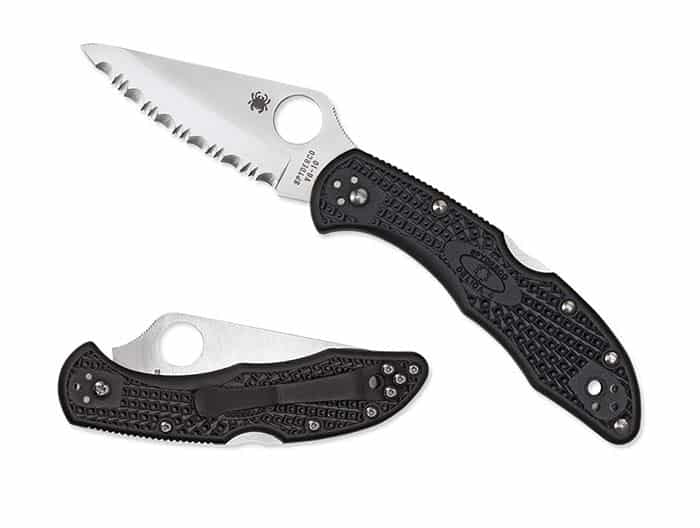 Cleaning and adjusting just got easier with Spyderco's fine-tuned Delica 4 model's screw construction. The fiberglass reinforced nylon handles come molded with Bi-Directional Texturing for preferred traction and improved ergonomics. Inside the handle dual skeletonized stainless steel liners make the knife stronger without adding weight and make an anchor for all external and internal components to attach through adding sturdiness and rigidity.
Their VG-10 blades are flat saber-ground with a stronger tip and larger 13mm opening hole. Added to the blade's spine is slip resistant jimping. Phosphor bronze washers smooth out the open/close action and the clip is upgraded to a four-way tip-up, tip-down, left- or right-handed clip. spyderco.com
GERBER
Center-Drive Multi-Tool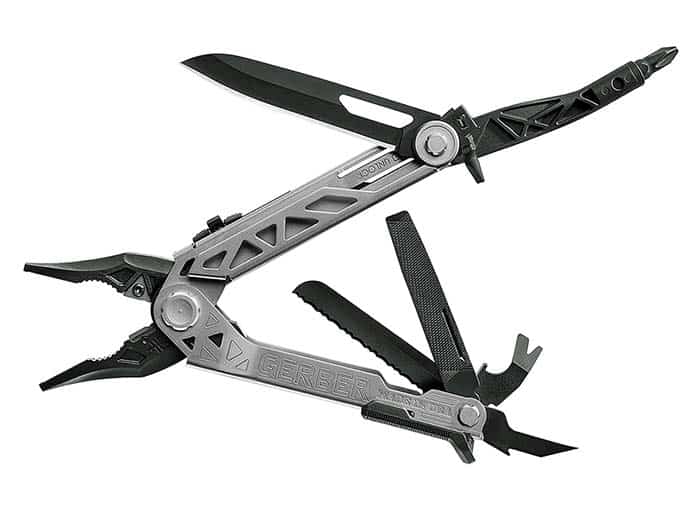 Gerber's new multi-tool offers uncompromising performance through revolutionary design. The innovative center-axis driver opens to align like a real screw driver, yielding maximum torque and rotation. No productivity is sacrificed with the addition of a 30% longer outboard blade and one-thumb opening sliding jaws. Full size, real tools—the multi-tool just got a reality check. gerbergear.com
NIGHTFORCE OPTICS
FC-MOA, FC-MIL and FC-DM Reticles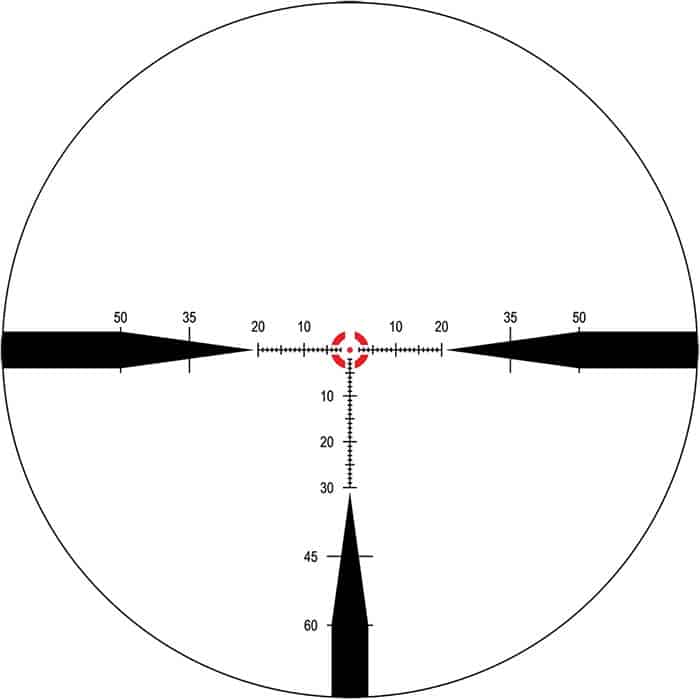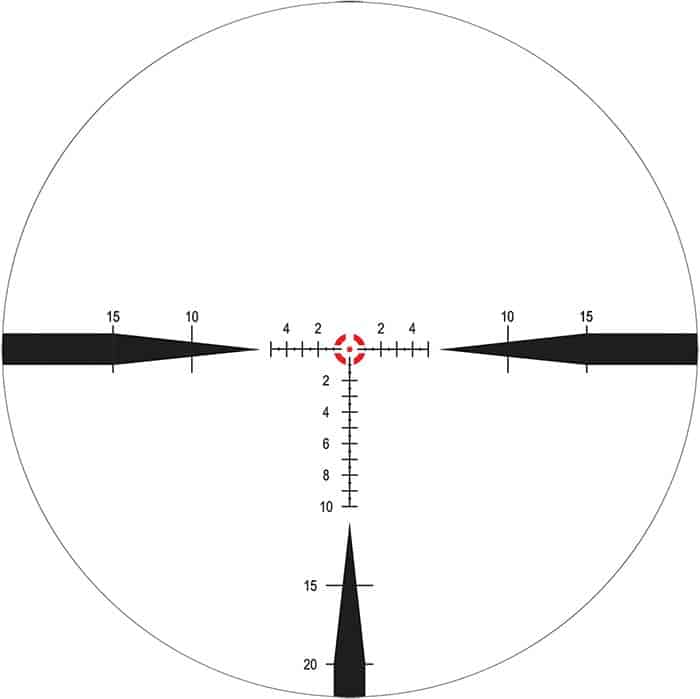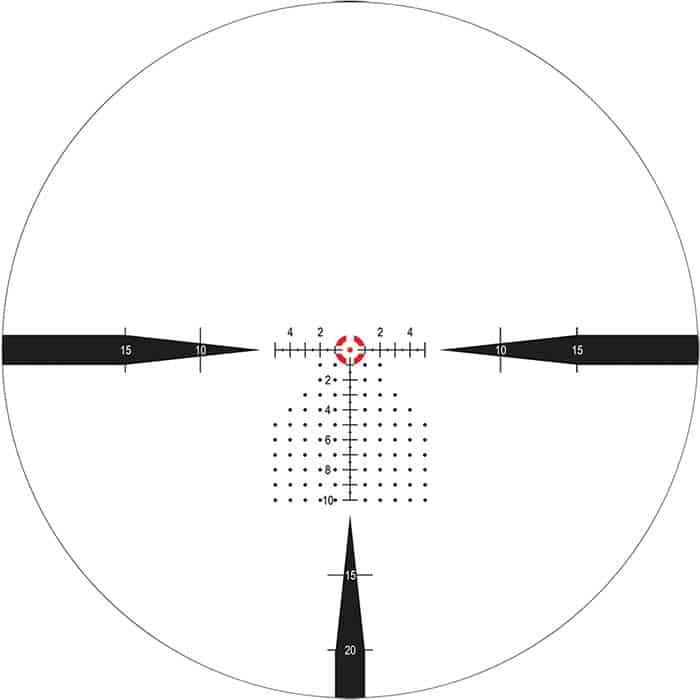 Nightforce Optics, leading manufacturer and marketer of premium sport optics and related products including riflescopes, spotting scopes and accessories announces the introduction of three, innovative first focal plane reticles optimized for low-power variable riflescopes. The FC-MOA and FC-MIL reticles are featured on the newly released Nightforce NX8 1-8×24 F1 riflescope, while the FC-DM outfits the newest addition to the ATACR family of riflescopes, the ATACR 1-8×24 F1. nightforceoptics.com
FC-MOA and FC-MIL Reticles
First focal plane reticle
Elevation and windage markings are valid at every magnification setting, providing precise hold and reference points
At low power, the bright daylight center dot and segmented circle are visible under the harshest light, allowing fast, accurate shots
At higher magnification, the clean 1 Minute of Angle (MOA) markings of the FC-MOA and .5 and 1 Mil-Radian markings of the FC-MIL reticle provide easy hold points for moving targets, wind and elevation hold-offs or for reference
Bold, pointed lines at 3, 6 and 9 o'clock help draw the eye to the center at any magnification
Available in the Nightforce NX8 1-8×24 F1 riflescope
FC-DM Reticle
First focal plane reticle
The 10 Mil-Radian grid allows for precise holds within the reticle
At low power, the daylight bright center dot and segmented circle are visible under the brightest of conditions, allowing for fast and accurate target acquisition
The clean .5 and 1 Mil-radian (Mil) markings provide easy hold points for moving targets, wind and elevation hold-offs or for reference markings
Reference dots are spaced every 1 Mil down to 10 Mils, allowing for hold-offs and shot corrections
For more precise engagements and use at longer ranges, the additional features of the reticle provide fast and easy elevation and windage holds
Available in the Nightforce ATACR 1-8×24 F1 riflescope
MAGPUL
Magpul Pro 700

The Magpul Pro 700 Rifle Chassis is an uncompromising, full featured precision rifle chassis for short action Remington 700 actions and other Remington 700 footprint actions. The Pro 700 combines innovative engineering, precision machining, Mil-Spec quality finishes and an extensive list of purposeful design features with complete adjustability to provide demanding end users with the most comprehensive available precision rifle platform solution for true out of the box performance.
Based on a full billet aluminum skeleton and clad in Magpul polymer for environmental comfort, noise mitigation and ergonomics, the Pro 700 is also fully ambidextrous. Capable of fitting both right- and left-handed actions with the simple swap of a bolt-cutout plate, and with a reversible cheek riser and reversible hinge on the folding version, "lefties" haven't been "left out." magpul.com
FEATURES
Type III hard-anodized machined 6061-T6 billet aluminum V-bedding block, body, adjustment knobs and forend with high strength injection molded polymer body covers
Ambidextrous bedding block can be changed by swapping the QD sling swivel plate and bolt cut out plate for left or right hand actions using a 1/8-in hex wrench
Folding stock with push-button activated durable steel hinge with Melonite finish is reversible for left or right folding capability with the use of a 5/32-in hex wrench. A fixed stock adapter is available for a non-folding stock solution
Folding stock is also designed to avoid interference with the bolt handle when folded and is compatible with a large variety of aftermarket bolt knobs and handles
Optional inline mount for clip-on night vision and thermal imaging devices
Overall LOP adjustment range is 13.25in–15.125in
Butt pad height can be adjusted up 1.33in and down .90in and is adjustable left or right 5 degrees
This article first appeared in Small Arms Review V22N5 (May 2018)