By The Small Arms Review Editorial Staff
ALIEN GEAR
ShapeShift Hook & Loop Holster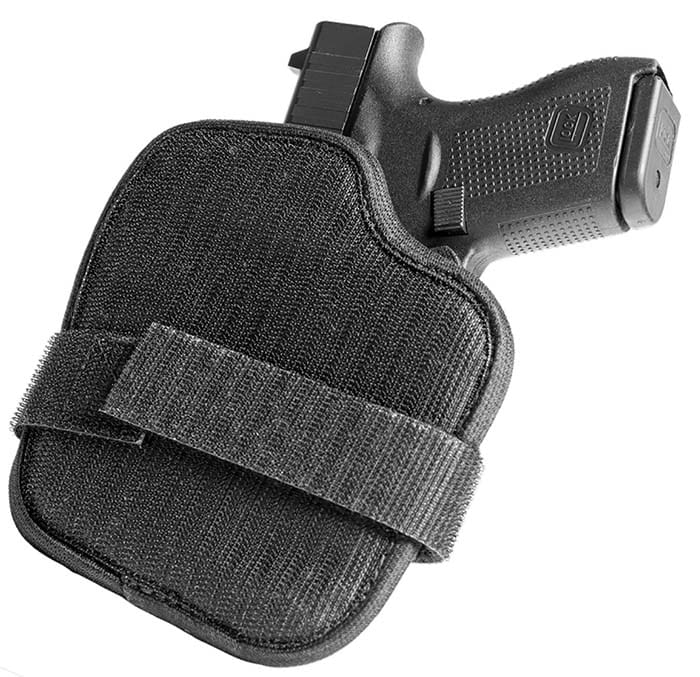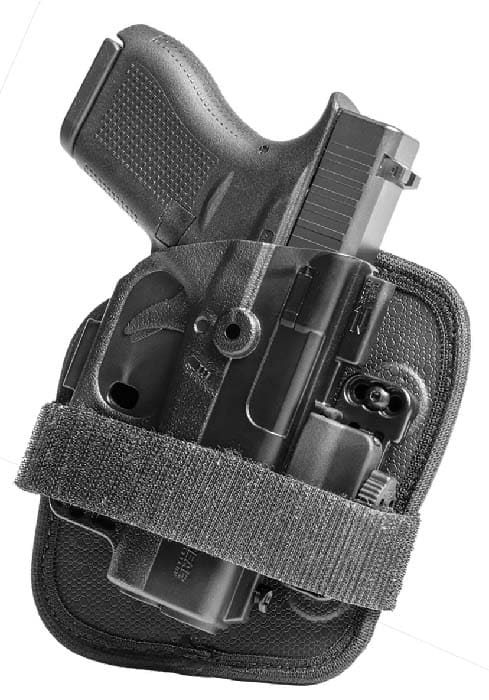 The ShapeShift Hook & Loop Holster is a non-permanent solution for carriers who want their firearm off the body, but within reach—in their vehicle, at their bedside, under their desk or on almost any flat, smooth surface. The hook-and-loop fastener is sewn onto a low-profile holster base, which attaches to a separate industrial-grade adhesive mounting pad.
Without any tools, the pad can be mounted to plastic, metal, plywood and more. The highly adhesive mounting pads have been rigorously tested in heat up to 230 degrees Fahrenheit, and the high life-cycle VELCRO© stays like-new through thousands of holster removals. This holster is also available in Alien Gear's Cloak Series, which is compatible with nearly 600 firearms.
TANGODOWN
Vickers Tactical Carry Trigger for Glocks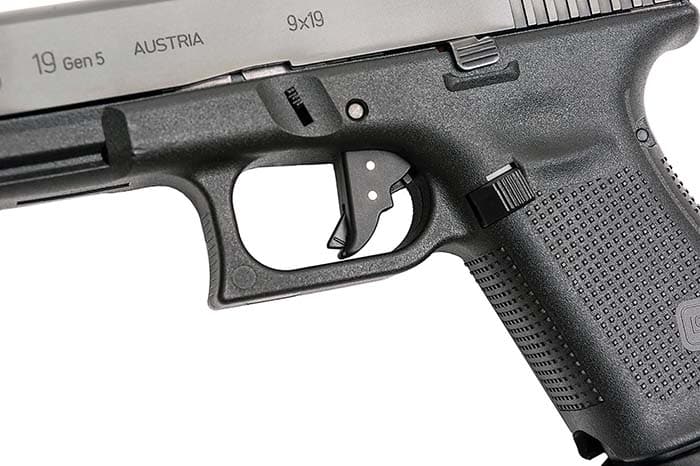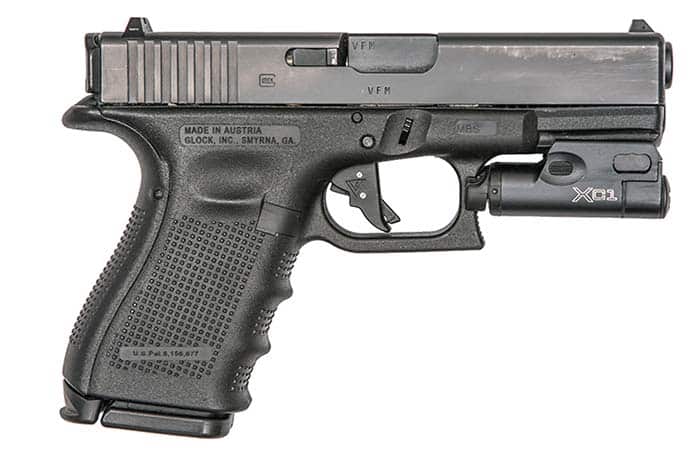 TangoDown Inc. has added the Vickers Tactical Carry Trigger (VTCT). There are two different models which accommodate the large variety of Glock models on the market. The VTCT is a flat-faced polymer trigger. The flat-faced trigger has become quite popular among shooters and offers the perception of a lighter trigger press. When developing the VTCT, the mechanical take-up was not modified. However, over-travel was shortened to offer a quicker reset, which allows for a quicker follow up shot. The VTCT is made from the same material as the OEM trigger, so there isn't the risk of wear/damage to the frame. The trigger is an insulator, not a heat conductor and will not get hot while spending the day on the range. The VTCT is easily installed in minutes by a Certified Glock Armorer.
BIG HORN ARMORY
AR500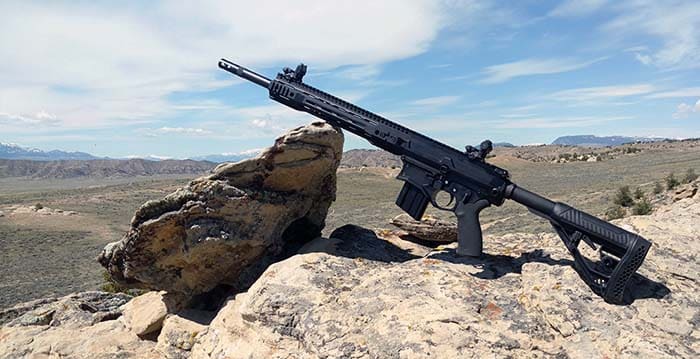 The AR500 in 500 Auto Maxis designed for hunters and law enforcement. Based on a DPMS style AR308, the AR500 features a lightweight aluminum receiver with grooves cut into the front of the mag well and the trigger. The precision-machined stainless steel barrels are surface-hardened to Rc82 with BHA's nitride process for consistent downrange performance and in-the-field dependability. The 18-inch barrel is threaded at a ¾-inch x 28 TPI, standard for most 50-caliber muzzle devices and ships with a standard flash suppressor.
Big Horn Armory's 500 Auto Max is a rimless version of the 500 S&W with the same ballistics. It is capable of feeding and firing any .500 diameter bullet between 200 and 700 grains. The AR500 has an adjustable gas block to allow the user to run subsonic loads using a suppressor.

The Big Horn Armory AR500 rifle is capable of taking any big game animal. For law enforcement or military use, the AR500 is the ultimate checkpoint duty rifle replacing the .50 Beowulf or CQC rifle in a short barrel configuration, or as a powerful breaching weapon capable of clearing any obstruction, including bullet proof glass.
CCP M2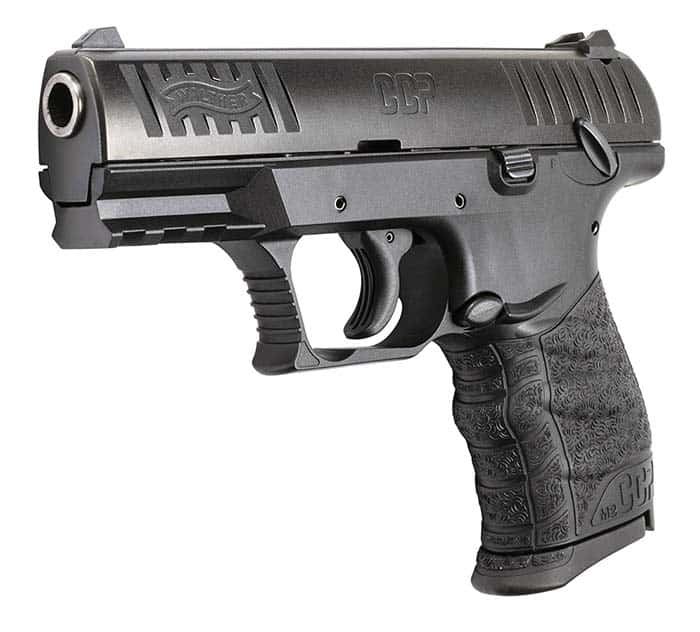 Walther Arms, Inc., announced further expansion of its extremely popular concealed carry product line with its new CCP M2. Retaining all the great features that made the original CCP a great carry option, the CCP M2 incorporates a new visible cocking indicator and an innovative tool-less takedown. With these new features, as well as the soft-coil recoil reduction system and incredible Walther signature ergonomics already found in the CCP, the new CCP M2 is the ultimate concealed carry pistol.
The original CCP was introduced to the market in 2014 and brought with it an innovative design that set a new standard in single-stack 9mm pistols. The soft-coil piston system offered substantial recoil reduction, while also making the slide easier to manipulate. Walther designed the ergonomics to fit a wide range of shooters, offering an extremely comfortable grip, low profile manual safety and reversible magazine release.
TRIJICON
REAP-IR Thermal Riflescope Line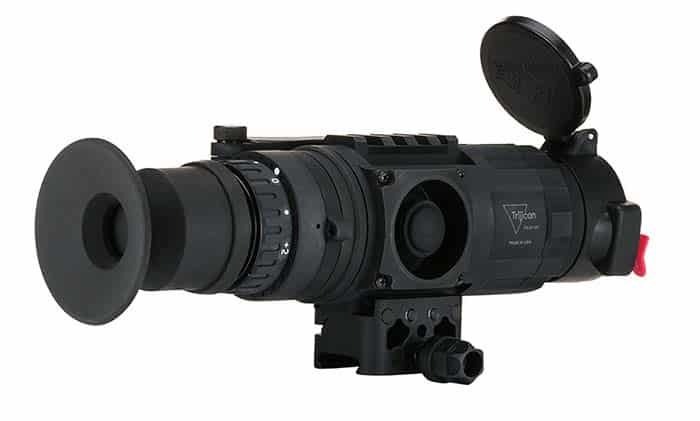 The new REAP-IR models offer two additional magnification options to the 35mm effective focal length variants (2.5x base optical magnification). A 60mm EFL (4.5x base optical magnification) and 20mm EFL (1.5x base optical magnification) configuration will now be available along with the original REAP-IR models.
A simplified "Easy Zero Method" makes sighting in the optic easier and more intuitive. Getting rounds on target is now a simple matter of aligning an on-screen digital icon with bullet impacts using provided MOA readouts. Trijicon also updated the main housing to include an integrated Picatinny rail interface for mounting optional accessories and redesigned the battery compartment to a ruggedized, top-loading compartment with an easy-to-use thumbscrew for simpler night-time operation.
Trijicon's new and improved REAP-IR thermal riflescopes retain leading image quality, ease of use and durability while adding new user friendly features.
GALCO GUNLEATHER
Scout IWB Holster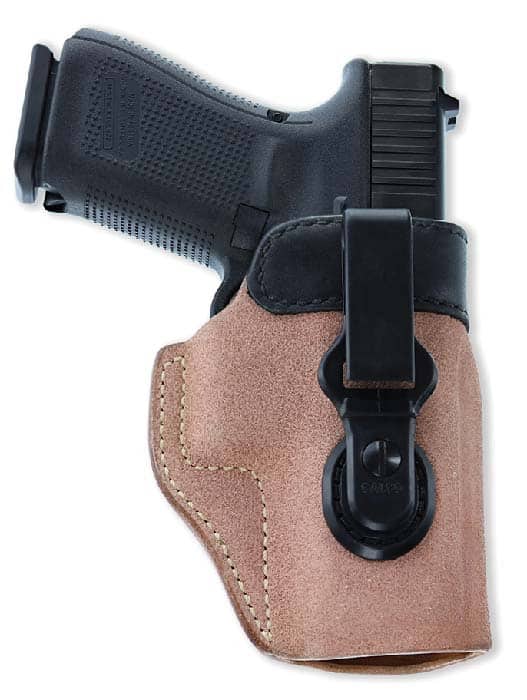 The open-top Scout is constructed with the rough side of the leather out. This construction method provides additional stability in the waistband, as well as a smooth leather holster pocket for a faster, smoother feel on the draw. The reinforced mouth allows for easy return to the holster.
The ambidextrous Scout is supplied with two types of interchangeable tuckable clips. The first is the UniClip, designed to go over the belt, but which also works well without a belt. The second is the Ultimate Stealth clip with hook, which fits on the trouser waistband, under or behind a belt with just the clip showing, for the ultimate in stealthy concealment. Both belt clips are adjustable for cant, making the Scout suitable for strongside-, crossdraw- or appendix-carry positions. Scout is available in natural finish with black mouth band.
CMMG
Mk57 GUARD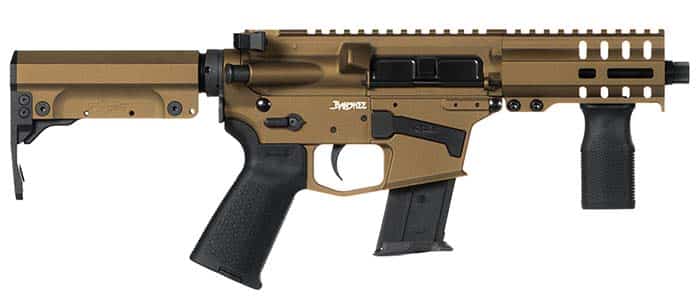 CMMG has announced the release of a new line of AR pistols and short-barreled rifles (SBR's) chambered in FN 5.7x28mm. Available in 5-inch barreled BANSHEE and 8-inch barreled PSB configurations, each model in the new Mk57 GUARD line is fed from FN 5.7 pistol magazines and uses CMMG's patent-pending Radial Delayed Blowback operating system. The Radial Delayed Blowback operating system is designed to minimize felt recoil. It features a rotating bolt that requires the recoil impulse of a round being fired in order to unlock. As each round is fired, a portion of the rearward force is exhausted in unlocking this bolt prior to driving the carrier rearward and cycling the action. With less rearward force to compensate for, CMMG is able to use a lighter carrier and buffer than a standard blowback design would allow, thus reducing the overall reciprocating mass.
NIKON SPORT OPTICS
NEW TREX Modular Optic Carrying System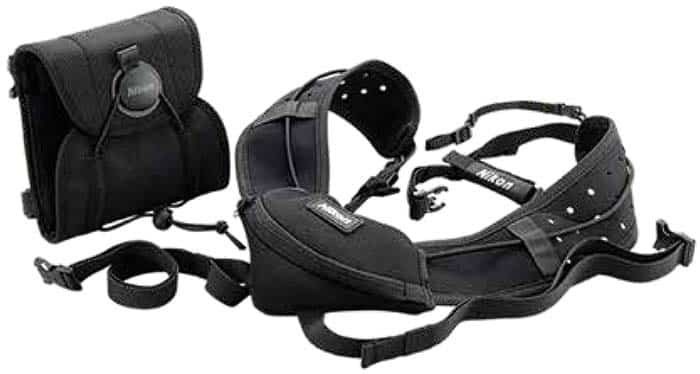 Nikon's new TREX modular optic carry system is headed for dealers' shelves and now available for the serious outdoors enthusiast. The TREX harness comfortably distributes an optic's weight during long miles in the field and is available in three system variants—FreeStyle, EXO and 360—designed to address the degree of optics protection sought for your environment. All components in the system are fully interchangeable, allowing users to modify the TREX into any of the above variants by adding or removing the optic accessory bags. Each model also has a ventilated yoke built into the harness that integrates a stowaway hydration net to allow you to accommodate your own hydration bladder.
At the system's core is the TREX FreeStyle fully adjustable harness with quick-release attachment cords. This feature-packed harness securely holds your optic close to the chest while running or crawling, yet allows fast access for glassing. The TREX EXO carry system integrates a lightweight exoskeleton shell that provides incredibly fast access. In conjunction with the harness's quick-release attachment cords that hold the optic securely in place, EXO offers protection of the eyepiece lenses even when the over-flap is not secured. Rear cellphone pocket has built-in microfiber cleaning cloth for keeping lenses smudge-free. Nikon's TREX 360 adds a water-resistant, padded optic compartment to shield and secure your glass while also keeping it at-the-ready. The patent-pending closure system keeps the case closed tight to shield against water, snow and dirt. Interior cellphone pocket has a built-in microfiber cleaning cloth.
APEX TACTICAL SPECIALTIES
Apex Action Enhancement Kit for the Ruger Mk IV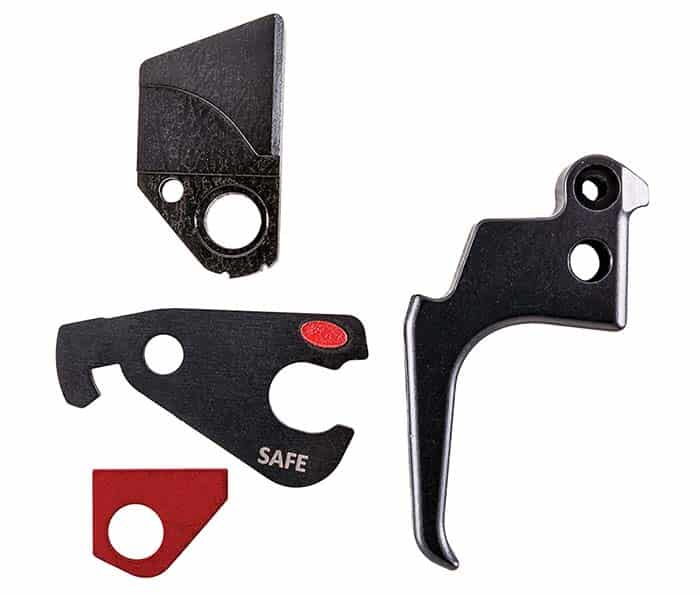 The Apex Action Enhancement Kit for the Ruger Mk IV (only) replaces the factory trigger and hammer and is designed to reduce the trigger pull weight by approximately 40% to around 3.5 pounds. The kit delivers a crisp trigger break while reducing the trigger's over-travel by 50% and overall trigger travel 15%. Also included in the kit is a safety plate to maintain factory safety values, even when drop-tested from 6 feet. The red anodized magazine safety delete, which when installed, allows the pistol to fire without the magazine inserted. This is recommended for competition use only.
POF-USA
Two-Stage Triggers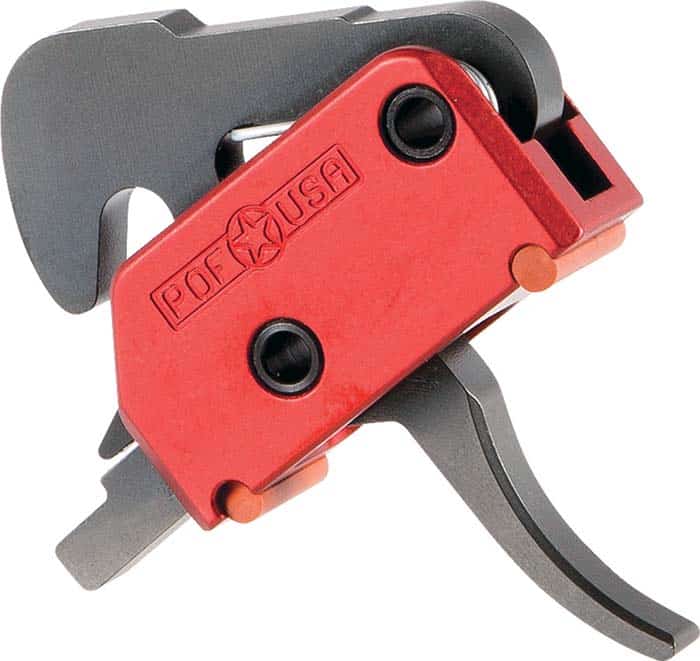 Based on overwhelming demand, POF-USA has delivered to the market a full lineup of two-stage triggers matching the style and final weight of the current single stage offerings. Long hailed in competition shooting realms as the preferred method of trigger operation for many people, two-stage triggers have a brief amount of slack that can be taken up before hitting a defined "wall" at which point the shot can be withheld until the perfect moment with an incredibly clean break. Available in 4.5-pound curved, 3-pound straight and 3.5-pound EFP (Enhanced Finger Placement) final weight models.
RISE ARMAMENT
Legacy Rifle

The Legacy Rifle features a 416R stainless steel barrel with proprietary fluting for an unparalleled combination of accuracy and weight reduction. The aluminum handguard has 32 MLOK connection points and a Picatinny upper rail system for countless customization options and is ergonomically designed for enhanced comfort. The rifle's special-edi-tion Patriot Trigger enables enhanced precision shooting and faster follow-up shots. The Legacy Rifle also boasts the incredibly effective RA-901 Compensator, a high-performance bolt carrier group and a Mag-pul CTR carbine stock.
risearmament.com
BLUE FORCE GEAR
The Tourniquet Now! Pouch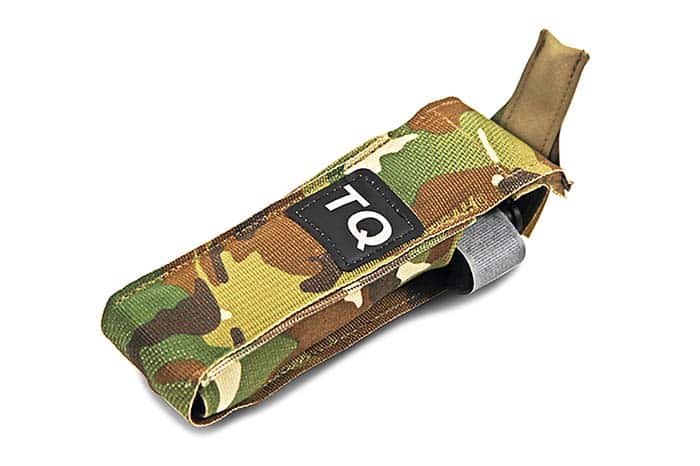 The Tourniquet Now! Pouch was designed around the CAT tourniquet but can fit the SOF, RATS, TK4, SWAT-T or other similar sized tourniquets and serves as a great all-around rapid deploy pouch. The tourniquet fits inside an elastic keeper attached to the lid that is then folded up and secured on the top with a hook and loop field. Lastly a BLIP—or Ball Loaded Index Point makes for the perfect 'pull' with gloved, wet or bloody hands. The ball doesn't rely on friction; the bones in your fingers positively engage it. BLIP's form is both easy to pull and impossible to miss. As with all Blue Force Gear equipment, it is made with excellence in the USA and carries a limited lifetime warranty.
The Tourniquet Now! Pouch starts with the Helium Whisper MOLLE attachment system made of ULTRAcomp—a battle proven, high performance laminate. This creates a small and light yet secure MOLLE attachment for the pouch on any MOLLE war belt, plate carrier, pack or any other platform.

The Belt Mounted Tourniquet Now! Pouch allows you to carry a tourniquet on your belt—easily the most effective life saving device. Whether a trip to the mall, the office or through the woods—a tourniquet should always be with you. The pouch fits on any pants belt or duty belts up to 2 inches wide.
blueforcegear.com
This article first appeared in Small Arms Review V22N8 (November 2018)