Small Arms Review Editorial Staff
GUNWERKS
FireStarter Ultimate Competition Package

The FireStarter is a competition-ready precision rifle package that includes the whole kit and kaboodle needed to start shooting matches. It has everything you need to get your feet wet in one awesome package. It is a package that won't break the bank. It'll allow you to "dabble" in the competition scene and provide the biggest bang for your hard-earned buck.
The FireStarter Competition Rifle System includes:
Rifle (6mm Creedmoor)
Gunwerks GRB action
Proof Research competition contour barrel
MPA competition chassis
Vortex Viper PST Gen II – FFP – MIL reticle
Gunwerks Picatinny rail and rings
APA Little Bastard muzzle brake
TriggerTech Primary trigger
(200) Rounds Hornady ELD-M ammunition
(2) 10-round magazines
(2) Support bags
Magpul bipod
DOPE Arm-board
SAP Two-round holder
DOUBLESTAR CORP
Stronghold Pistol Grip with G10 Panels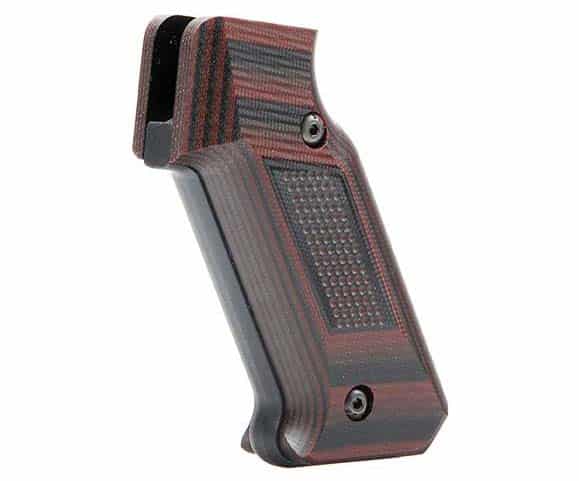 DoubleStar Corp. has taken pistol grips to the next level by combining durability and customization in one awesome package: the Stronghold Pistol Grip with G10 panels. This patent-pending innovative design utilizes a lightweight, anodized aluminum frame and customizable textured G10 grip panels. The palm swell provides a secure but comfortable surface for the shooter's hand, even in gloves. The high-quality, U.S.-made G10 panels round out the package with rugged style. The Stronghold G10 panels ensure the shooter won't drop his or her weapon when conditions are slippery. star15.com 
PULSAR 
Digisight Ultra N455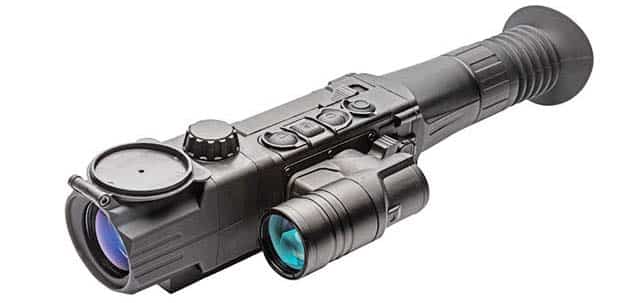 Pulsar continues to enhance night vision technology with the newest member of the Digisight family, the Digisight Ultra N455. Step up your hunting experience with the Digisight N455; take down predators, hogs and varmints day or night. Pulsar fuses a high-resolution 1280×720 CMOS sensor with a 1024×768 AMOLED display for a detection range of up to 550 yards. Designed for day or nighttime use, the N455 boasts a picture-in-picture 4x digital zoom with continuous and 2x, 4x stepped options, wide field-of-view and removable LED 940 invisible IR illuminator. pulsarnv.com 
ADAPTIVE TACTICAL
EX Performance Adjustable M4-Style Stock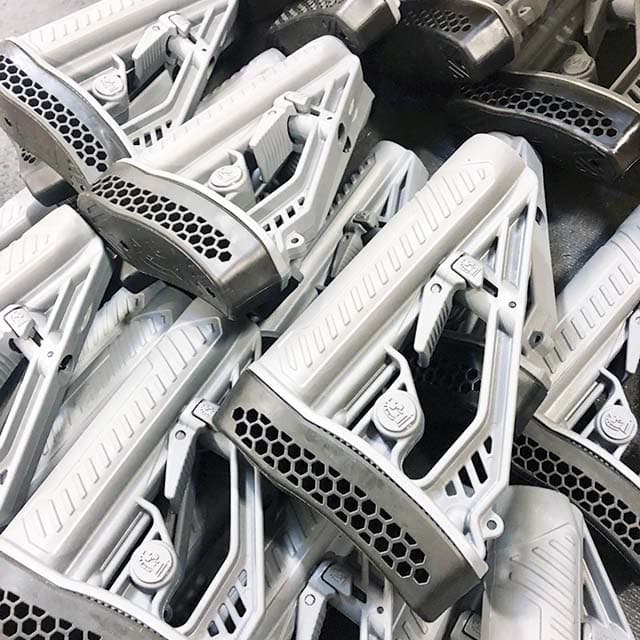 Adaptive Tactical announced that OpticsPlanet.com will be the exclusive supplier of a new gray version of Adaptive Tactical's popular EX Performance Adjustable M4-Style Stock for AR-15/AR-10 carbines. OpticsPlanet.com also offers the EX Performance Adjustable MF-Style Stock in Black and FDE. The EX Performance Adjustable M4-Style Stock includes an easy-to-reach, rapid-adjust lever for custom length-of-pull, giving the user better trigger control and performance capabilities. It also includes an integrated QD swivel attachment and molded-in, non-rust, standard sling swivel attachment for secure mounting to various sling systems. The durable polymer construction with non-slip, vented rubber recoil pad allows for maximum recoil absorption. The oversized extra strength adjustment pin and sleek industrial design make this the perfect addition to your AR-15 or AR-10 carbine.  adaptivetactical.com 
DANNER
Scorch Boots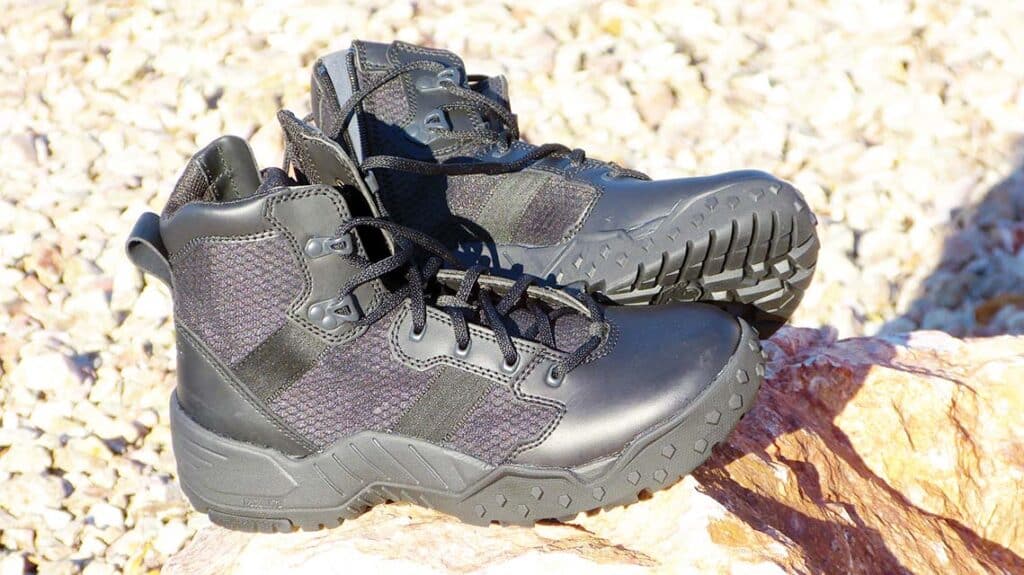 You bring the heat every mission—but when the mission brings the heat right back, the Scorch is here to serve. It's built first for breathability thanks to a lightweight upper patterned with mesh panels. The Plylolite midsole and the speed lace system work together to make it light, agile and ready when you are—while the outsole is slip-resistant and designed for stability. When the heat is on, the Scorch is extra breathable to keep you cool all the way down. danner.com
ADAPTIVE TACTICAL
Tac-Hammer RM4 Ruger 10/22 Rifle Stock

The Tac-Hammer RM4 Stock is the most advanced and versatile stock available for the extremely popular Ruger 10/22 rifle. This innovative stock is loaded with more features than any other on the market. The removable barrel insert provides a custom fit for both standard tapered barrels and .920in bull barrels. The patented Stowaway accessory rail is concealed in the forend. When reversed, the rail is available for a bi-pod or other accessories. Get custom length-of-pull for proper fit and improved performance with the adjustable M4-type buttstock, equipped with ambidextrous storage compartments for two spare Ruger rotary magazines. 
The pistol grip is designed to fit the spring-loaded TacTRED monopod for increased stability (sold separately). TacTRED provides a quick, stable, single-point rest on any surface and ensures maximum tripod-like stability when used with a front rail-mounted bipod or front rest. adaptivetactical.com 
PULSAR 
Thermion Thermal Riflescopes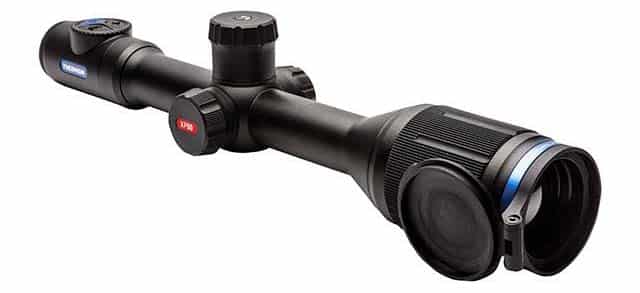 Pulsar unveiled the new Thermion Thermal Riflescope. Pulsar has set a new milestone with the Thermion with its traditional riflescope design. The cutting-edge thermal optic provides hunters clarity when hunting, day or night. Create memories by enhancing your hog, predator and varmint hunts with the Thermion Thermal Riflescope.  pulsarnv.com
MASTERPIECE ARMS (MPA) 
MPA BA Precision Match Rifle (PMR) "Competition Ready" Rifle 

MasterPiece Arms (MPA) introduces the MPA BA Precision Match Rifle (PMR) "Competition Ready" Rifle. This rifle is designed specifically for the Production Class requirements of the Precision Rifle Series (PRS) and has been approved for use within this division. The special "Competition Ready" configuration includes several key accessories, an MPA BA Mount and optic. The MPA BA PMR "Competition Ready" Rifle utilizes the MPA BA Hybrid Chassis, which is machined on MPA's CNC Horizontal Machining Centers to exacting tolerances from 6061 aluminum. The v-bedding system provides additional clearance for glass-bedding action and straight section of the barrel. The chassis also includes a built-in inclinometer, thumb notch, lower-mounted Picatinny rail, 20 MOA scope rail, A2-style pistol grip and is R.A.T. System compatible. The MPA buttstock comes with an adjustable cheek riser and a length-of-pull that is locked in position with a series of set screws that are embedded into the buttstock body. This is the same system MPA uses on its Standard BA Chassis but without the thumb wheels. See website for additional features.  masterpiecearms.com 
STEINEL AMMUNITION
44 Magnum 320 gr. WLNGC and 44 Smith & Wesson Special Self-Defense Ammo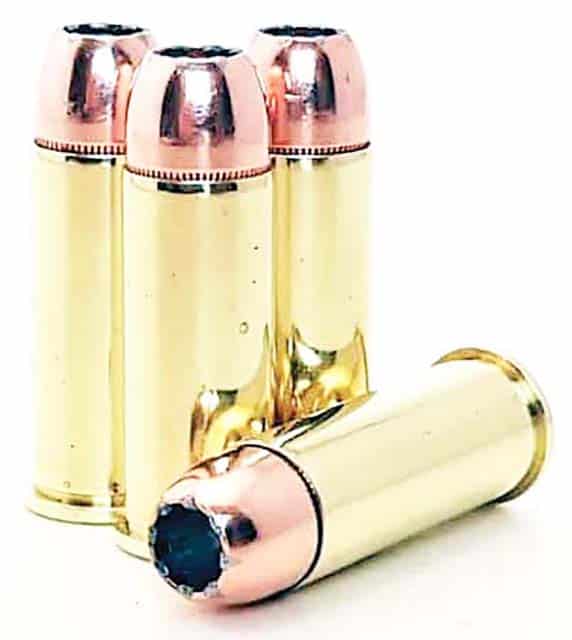 The 44 Magnum is a superior hunting round, powerful enough to stop a tough-skinned big animal, such as North American bears and feral hogs. Backcountry and big game hunters typically carry back up pistols and revolvers in case of a bear attack in camp or afield, and the Steinel Ammo 44 Magnum 320 grain has the penetration ability and low recoil to put a stop to any bear attack. As a hunting round in itself, the Steinel Ammo 44 Magnum's combined penetration and little to no deflection makes it an effective and humane round for bear, elk, bison and other American and African big game. steinelammo.com
This article first appeared in Small Arms Review V23N9 (Nov 2019)