By Alton P. Chiu
Manufacturers Show Off Their Latest & Greatest in Las Vegas
FOREWARD
A good number of manufacturers offered a brace-equipped pistol version of their rifles at this year's SHOT Show held January 23–26 in Las Vegas. Having the Hearing Protection Act waiting in the wings, there were a number of suppressors and related products, with the LMT suppressor being an interesting new design. Also prominent were the number of 1-x variable magnification scopes from various manufacturers.
NIGHTFORCE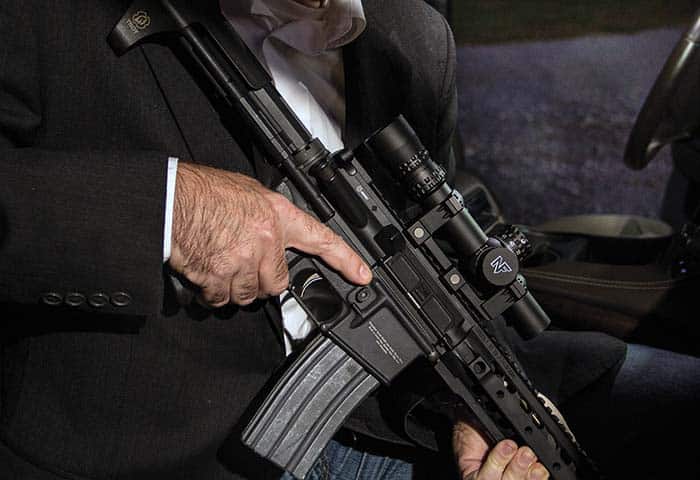 Nightforce introduced two 1-8x scopes with daylight-bright illumination and true 1x: ATACR and NX8 1-8 x 24 F1. The NX8 has a wider field of view (FOV) than ATACR (35.3m vs. 32.0m) at 100m, while both have the same 4.4m FOV at 8x. In reciprocal, the ATACR has a larger 11.3mm exit pupil at 1x in contrast to the 7.9mm of the NX8. Indeed, the author found the ATACR easier to mount during brief handling at the show.
The ATACR has a 34mm tube and weighs more at 21 ounces in comparison to the NX8 with 30mm tube and 17 ounces. ATACR features capped turrets while the NX8 utilizes exposed turrets. Optically, the ATACR utilizes ED glass while the NX8 shares the same elements as the NXS line. The illumination utilizes diffractive grid technology and is powered by a CR2032 battery that lasts about 130 hours. As of writing, the ATACR is on schedule to ship early spring.
DOUBLESTAR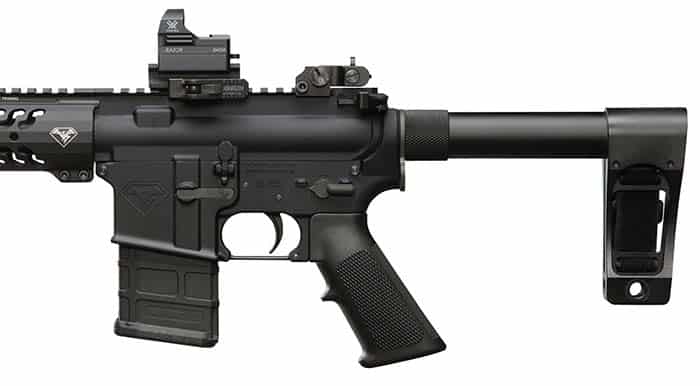 In addition to their staple line-up of AR-15 parts, upper receivers and complete firearms, DoubleStar introduced the Strongarm pistol brace that fits an AR-15 buffer tube and retails under $100. The arm loop is ambidextrous, and the provided sling stud can be mounted on either side.
LEWIS MACHINE & TOOL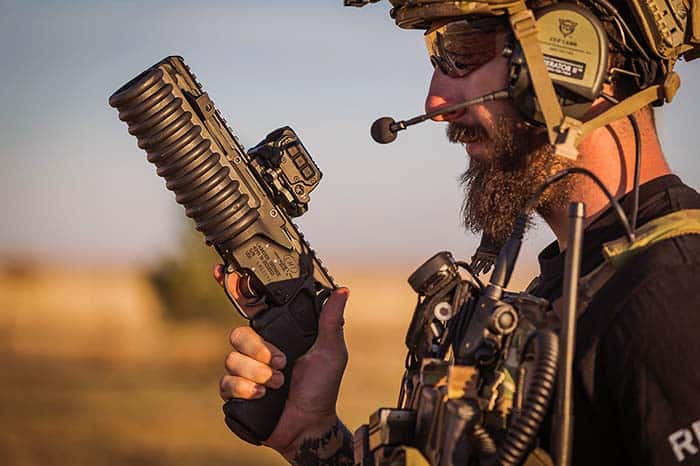 LMT is releasing a short, 7-inch barrel, 40mm grenade launcher with an option for a pistol-grip-only for breeching. This allows users to keep their rifles as light as possible. Its breech is long enough to accommodate the largest of 40mm ammunition.
In addition, the partnership with Laurence Livermore Laboratory bore fruit in the form of an innovative flow-through suppressor. Screwed into standard threads, the muzzle design compresses gases exiting the bore to form a "virtual baffle." This redirects most of the gases around a longer alternate path to prevent them from "chasing" the projectile. This continuous flow of gases reduces back pressure so that cyclic rate remains constant. Company representatives quoted that this design rapidly vents back to ambient pressure, greatly reducing heat transfer from gas to suppressor body. As such, this design is machine-gun rated and is expected to last the lifetime of a barrel. As part of the testing, LMT subjected the suppressor to a continuous 1,000-round belt from a MK48 with no problems. Lastly, LMT representatives indicated the large exit diameter is designed to mitigate muzzle flash. LMT's suppressors range from a mere 8 ounces (titanium Confined Space Weapon integral suppressor) to 34 ounces (for 7.62 belt-fed machine guns). Dimensions range from 1.5 to 2.1 inches in diameter and 6.5 to 8.6 inches in length. Most of the suppressors are an over-the-barrel design which minimizes the added length when mounted.
SAMSON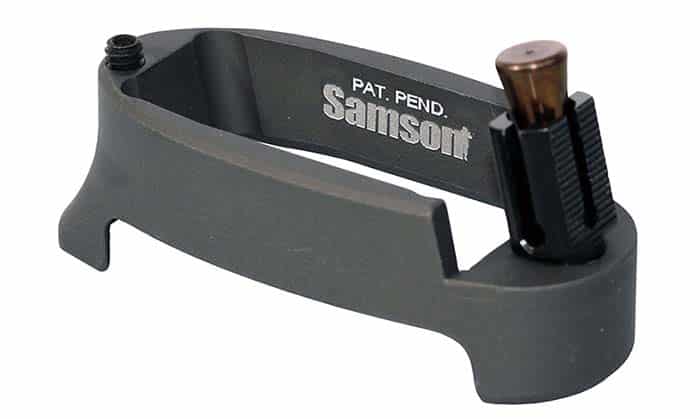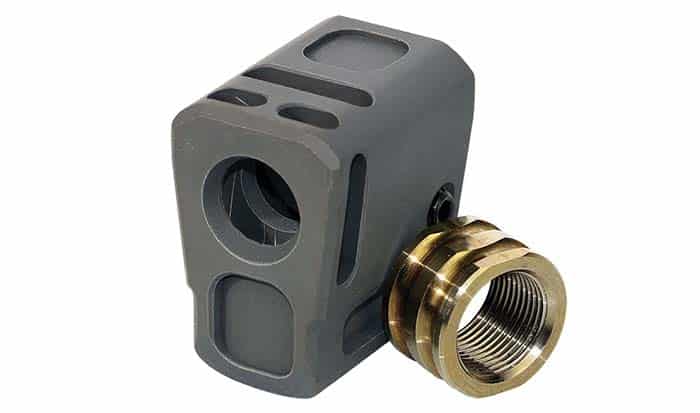 Samson is bringing pistol products to market for the first time in 2018, offering the Pocket Comp, Compact Magwell and Carry Contour +1 Magazine Extension for the Smith & Wesson M&P9 Shield. Pocket Comp, machined from 7075 aluminium, blends with the slide profile to reduce felt recoil. It threads onto a ½ x 28-inch threaded barrel, and the set screws are tightened against a muzzle adaptor to prevent damaging the threads. It functions with the factory recoil spring. While 124gr or heavier projectiles are recommended, 115gr ammunition may work depending on environmental condition and load specification. The patent-pending Compact Magwell requires no gunsmith to install and allows a full firing grip on the M&P9 Shield. It also allows the expended magazine to drop free without shifting one's grip. Lastly, the Carry Contour Magazine Extension adds one more round to the factory 7- and 8-round magazines while utilizing factory magazine springs. The leading edge forms a finger grove to give additional purchase during one-handed reloads or malfunction clearance.
GEMTECH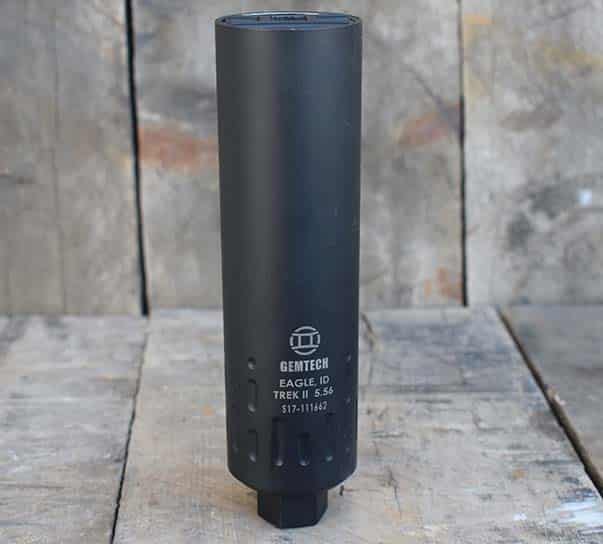 Gemtech is bringing back the wipe-based pistol caliber Aurora with a new design. Measuring only 3.4 inches long, 1.125 inches wide and weighing 3.5 ounces, the suppressor features 13.5mm x 1 left-hand threads on one end, with ½ x 28 inch threads on the other end to accommodate many different pistols. The light weight obviates the need for a Nielson device. The polyurethane wipes are optimized for a service life of 30 to 40 rounds of FMJ only, after which the package must be sent back to the manufacturer to "repack" the wipes. The small, light-weight and cost-effective suppressor allows one to protect hearing on a nightstand or duty firearm.
The company is also releasing a rifle caliber Trek II with the same baffles designed to reduce backpressure. This suppressor features an improved mounting surface to reduce weight by roughly 1 ounce while including a pre-drilled hole for permanent attachment to barrel. This relieves the need for an SBR tax stamp if the combination measures over 16 inches long. The Trek II also utilizes a new weldless design that is serviceable at the factory while retaining the iconic Gemtech front cap with 3/8-inch drive socket.
HECKLER & KOCH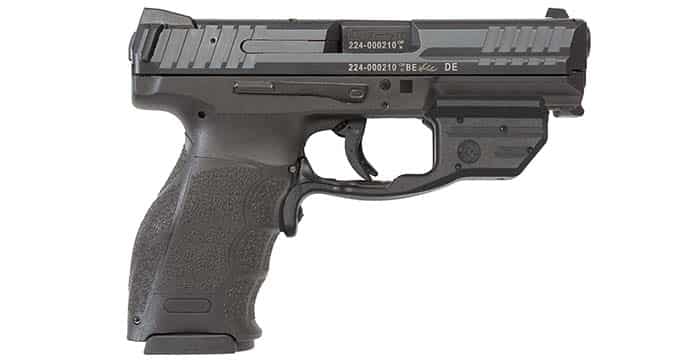 In addition to offering new colors for VP9 frames and Crimson Trace modules for both VP9 and VP9SK, HK continues to expand their US manufacturing spaces and staff in Georgia. The company is expected to begin US manufacture of MR556 rifles and HK45 pistols. Continuing the long-standing relationship between HK and B&T, the two companies partnered to launch an HK line of suppressors for the American market. Lastly, HK joined Hogue in releasing a family of knives: 3.25-inch partially serrated Exemplar Folder, 3.375-inch Hadron Automatic and 3.75-inch Karma Response Tool with glass breaker and strap cutter in addition to the partially serrated edge.
FIGHTLITE
For 2018, FightLite offers compact models of their SCR rifle and MCR belt-fed machine gun in both 5.56 NATO and 300 Blackout. The new Raider pistol is a compact pistol version of the SCR, while the MCR Micro has a shortened barrel. Aside from the shortened gas system and handguard, the Micro shares parts with the full-sized MCR. The company has also indicated that an MCR belt hold pawl is in prototype stages.
SCHMIDT & BENDER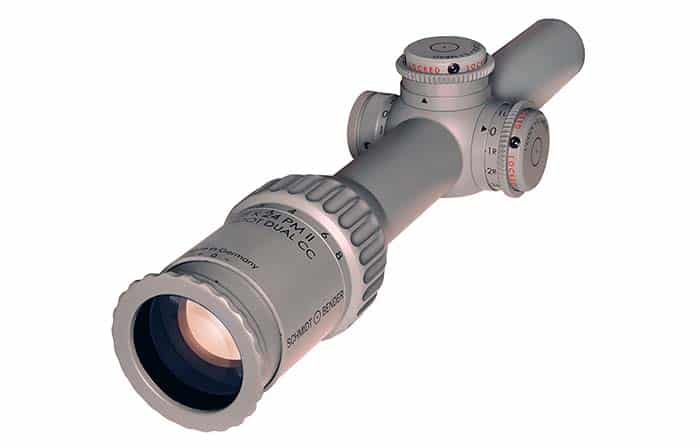 Following up on the 1-8 x 24 CC scope, the 1-8 x 24 CC Dual model features an illuminated first focal plane reticle and a daylight-bright dot in the second focal plane. The version for use with Bundeswehr G28 Patrol rifles has a BDC elevation turret and extra 0.2 mil adjustments at either ends of the travel for CQB use. Customers can also opt for turrets with no over-travel and marked in mils only. The scope also features "more tactile clicks" where the "click" takes more effort every 1 mil and at zero windage for low light use.
The aforementioned diffractive grid technology replaces the split-beam prism for FlashDot illumination. The illumination passes through a grid and forms constructive and destructive interference patterns in order to achieve peak amplitude at the eye. This technology is currently featured in the 1-8 x 24 CC Dual, Polar Second Focal Plane reticles and LR reticles.
In the veins of incremental improvement, S&B now offers a magnification throw lever that is compatible with some current scopes and all new models. Future PM models and current 3-20 x 50 Ultra Short plus 5-25 x 56 High Power scopes feature a locking windage turret with a protruding nub to indicate dialing left. The nub is retracted when dialing right. Also on display is a 3-21 x 50 prototype for hunting and competition use with both First and Second Focal Plane options as well as locking turrets.
AIMPOINT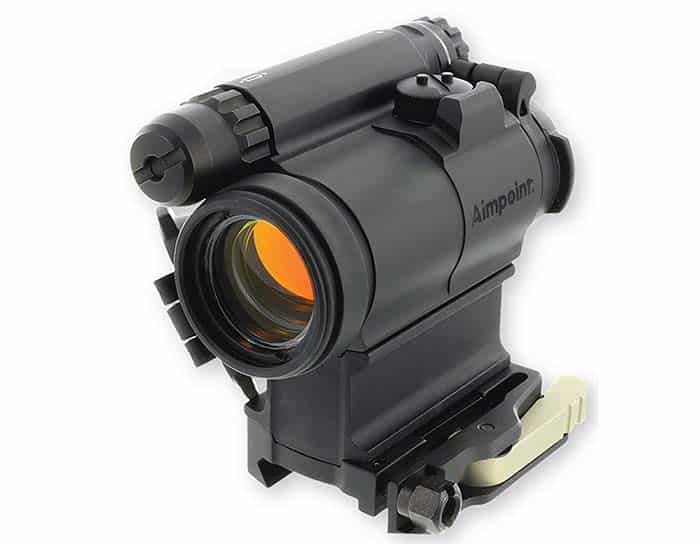 The recently released CompM5 continues to be in the spotlight. The sight has the same 2MOA dot and overall size of the Micro T-2 but utilizes an AAA battery mounted in the same fashion as the CompM4, as well as changing body material to 7075 aluminium. The original Micro T-1 was made of 6061 Aluminium with a 6-in-lb torque spec; the steel screw could strip the threads if misused. The Micro T-2 incorporated a steel Heli-Coil thread insert in the 6061 body to give roughly three repair attempts if the 12-in-lb torque specification were exceeded. The CompM5 changed materials to 7075 Aluminium to maintain the 12-in-lb specification without the need for a Heli-Coil. In addition to the new product, Aimpoint is releasing a limited-run of Micro T-2 sights in Flat Dark Earth.
VORTEX OPTICS

1-6 x 24 Razor Gen II-E reduced weight by about ¼ pound while maintaining the same durability and optical performance of its successful older brother. Different material and lightening cuts in the turret assembly gave the weight savings. Vortex is adding 4-24 x 50 and 3-18 x 44 variants to the Strike Eagle entry-level scope line-up. The new Crossfire Red Dot sight is very reasonably priced and includes a skeletonized mount with two height options. Lastly, Vortex is expanding their target observation portfolio with the Viper HD spotting scopes and Kaibab HD binoculars.
TRIJICON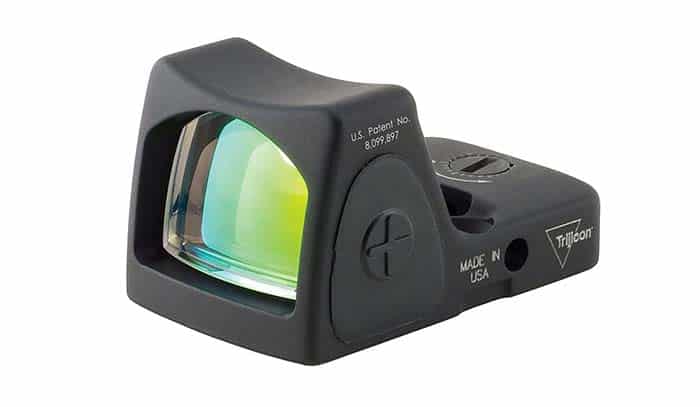 Released earlier, company representatives indicated that the RMR Type 2 continues to be a strong seller. Optimizing for pistol use, Trijicon strengthened the electronics and battery contact in the Type 2 to sate the fast-growing demand of optics-equipped pistols. In addition, the new 4-16 x 50mm Accupoint bolstered the portfolio of tube scopes with dual fibre optic / tritium illumination.
SIG SAUER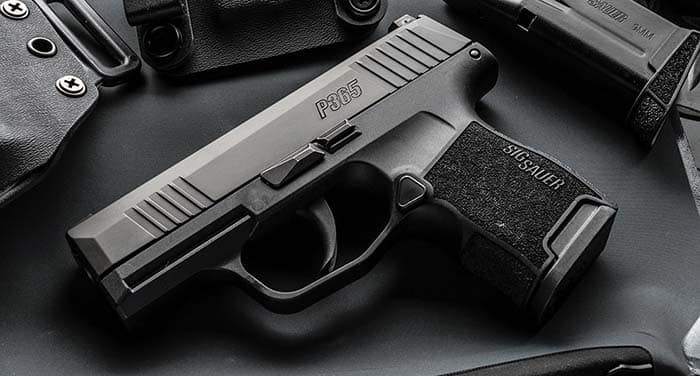 The trend of releasing rifles in pistol form continues with the SIG MCX Rattler, which has a 16-inch overall length when folded and is available in both 5.56 NATO and 300 Blackout. The low profile design features a shaved shell deflector and the more vertically angled pistol grip. The two-position gas regulator can handle suppressor back pressure while the upper can be installed on a standard AR-15 lower with the assistance of a conversion kit.
SIG also debuted the P365 micro-compact pistol featuring a 10+1 capacity and standard night sights. The pistol ships with one flush and one extended magazine, along with modular grips. In addition, a commercial version of the M17 is anticipated for release in the second quarter of 2018.
PATRIOT ORDNANCE FACTORY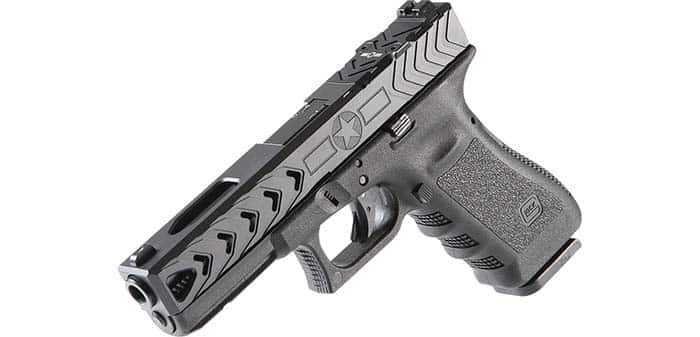 Following up the success of their Revolution rifles, POF is releasing the G series Gentlemen's Slide for Glock 17, 19 and 34 with cutouts to fit the Trijicon RMR. A Glock 43 slide without RMR cutout is soon to be released. Made of 17-4 billet stainless steel and H900 heat treated, it is finished in nitride for protection and durability.
SPYDERCO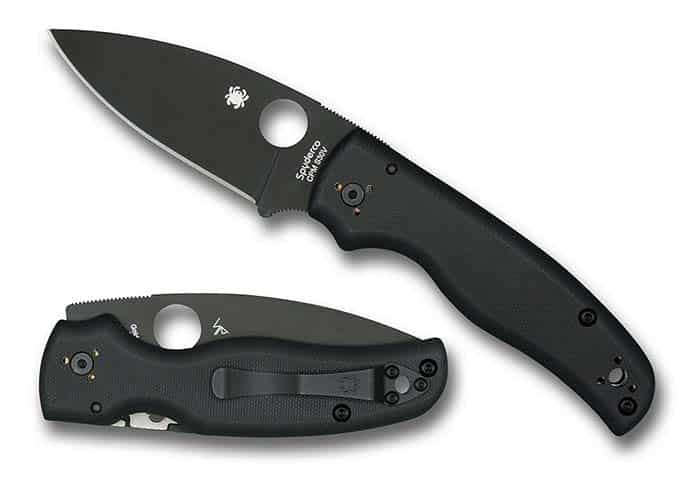 Spyderco debuted several new edged tools for 2018. The Warrior Hawk features a faceted front, a spike and a pry tip. It is made of D2 tool steel with a G10 handle. The US-made Shaman folder utilizes a thick CPM S30V blade with a plain or serrated edge option and secures with Spyderco's patented Compression Lock. The 2.5-inch blade Lil' Native, employing either a back or Compression Lock, was developed with urban-friendly carry in mind. Lastly, the Sliverax flipper folder has an S30V blade and a carbon fiber / G10 laminate handle.
COMBINED SYSTEMS
The less-lethal-focused company offers grenade launchers and four munitions: aerosol, chemical, impact and flashbang. While the company is best known for its flashbang, it also has the highest injury potential from overpressure and heat in close proximity. The company takes safety seriously and requires customer agencies to have staffs that were trained within the past four years before selling flashbangs. In 2018, Combined System is looking to expand their breeching portfolio, to potentially include 40mm in addition to current 12ga munitions.
KNS PRECISION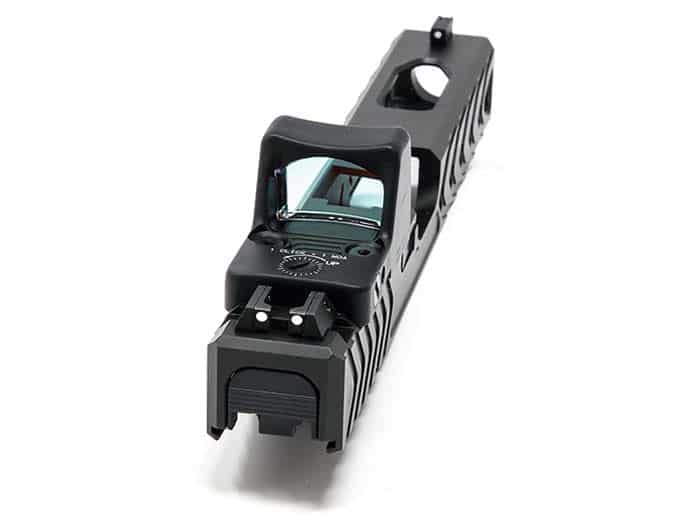 Adapting to the increasingly common use of suppressors and red dot sights on pistols, KNS partnered with Dead Air Armaments to develop the Switch Sight. When flipped down to standard height, it remains compatible with standard holsters while completely clearing red dot sight (e.g., Trijicon RMR) view windows. When rotated 90 degrees to increase height, it clears the top of most suppressors while acting as a backup-sight for red dots. This product is currently in prototype phase.

The adjustable AK piston system on display is already in production. Two versions (one or two vent holes) allow users to fine tune for 5.45 x 39mm or 7.62 x 39mm rifles with a rotating sleeve to control gas venting. It is noteworthy that the KNS piston does not require the difficult process of changing gas block. Company representatives indicated that the adjustable piston slows down the rate of fire to achieve better control and reduces "piston pop" to decrease noise by 5 to 8dB when used in conjunction with a suppressor.
TEAM WENDY
Team Wendy is debuting a lower profile EXFIL Ballistic SL helmet that is rated to NIJ Level IIIA. The helmet is lighter by 15% and sports a new rail mount with 1913 rails forward for light, camera, etc. The new EXFIL Ballistic Visor (featuring lens made by ESS, part of Oakley) and Ear Covers (compatible with in-ear communication and hearing protection) guard against fragments and are ready for sale along with the helmet in March.
OHIO ORDNANCE

New from Ohio Ordnance in 2018 is the M249 drop-in Select-Fire trigger group. It follows the same vane as their patented M240 Select-Fire trigger group while boasting multiple patents itself. Also new is the OOW240 Patrol that reduces weight from 28 pounds to under 21 pounds with lightened parts, dimpled short barrel and M4 collapsible buttstock. The bipod was moved from the gas block to an underside rail that can accommodate a foregrip and other equipment. Lastly, the HCAR is being made available as a pistol as well.
AERO PRECISION
Launched at the show is the new R1 Rail. The company representative also mentioned that a serviceable, 30-caliber suppressor to be fully made of titanium is in the prototype stage. While the direct thread version is anticipated first, the end goal is to develop a QD mount compatible with the VG6 line of muzzle brakes.
DANIEL DEFENSE

Adding upon the previously released MK18 pistol, the 10.3-inch barrelled DDM4V7 is now available in pistol form chambered in either 5.56 NATO or 300 Blackout. Equipped with the SB Tactical SOB brace, users can also choose to add a Law Tactical adaptor for a 20.75-inch folded length.

Building upon its Aimpoint Micro mount, Daniel Defense is introducing a 30mm single-ring mount for the likes of Aimpoint Comp M3 and PRO as well as a cantilever mount made from 6061 Aluminium for 30mm and 1-inch scopes. The bottom half of the ring is integral to the mount with torque specifications engraved to remind users.
LEUPOLD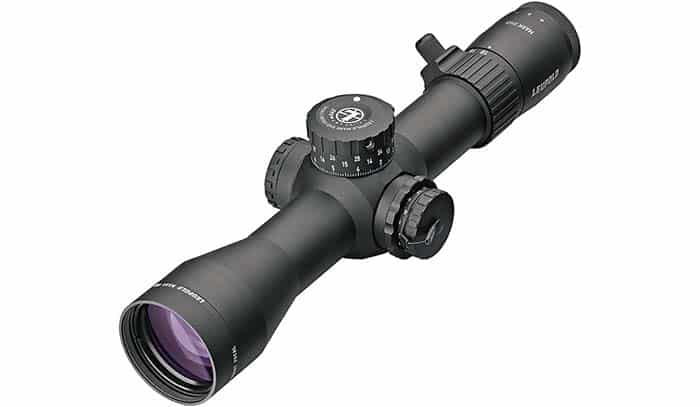 Two Mark 5 HD scopes are new for 2018: 3.6-18 x 44mm and 5-25 x 56mm using 35mm tubes. The series feature a three-revolution elevation turret with 10 mils per revolution, along with physical indicators to prevent users from "being lost in the dial." In the first revolution, the zero lock protrudes while the pin is flush. The second revolution retracts the zero lock while the pin is still flush. The third revolution keeps the zero lock retracted while protruding the pin. When running the elevation dial across the zero stop, the lock automatically secures the turret at "0." An extra 1 mil adjustment is included below the zero stop to accommodate point-of-impact shift from suppressor or clip-on night vision. The throw lever gives quick and smooth zoom adjustments and is placed to avoid blocking the rifle bolt handle at maximum magnification.
The new VX Freedom series provide entry level 1-inch scopes, with the 2-7x and 3-9x models being rimfire-specific. Also of note is the new rubber armoured RX2800. The 2800-yard-capable range finder continuously ranges as long as the button is held down.
KINETICS RESEARCH GROUP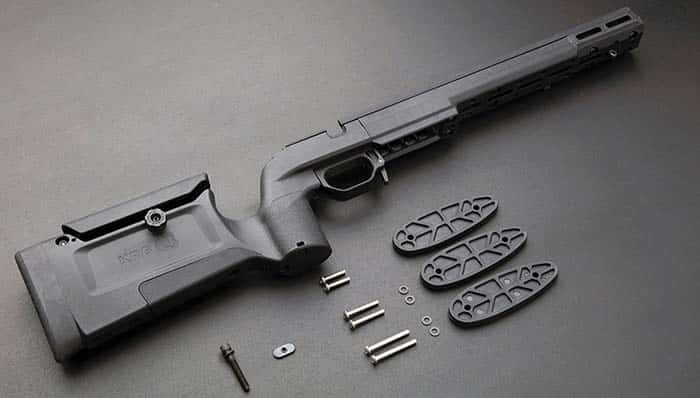 Against the backdrop of $1000USD precision rifle chassis, KRG is offering the $350, 2.9-pound Bravo Chassis for short- and long-action Remington 700 as well as Tikka T3. Although the price and specifications differ slightly amongst versions, all feature tool-less adjustable check piece and ship with three spacers for length of pull fitment. The bottom of the stock can be smooth or hooked (for rear bag) by undoing a screw to remove a cover. For bedding, the chassis utilizes an aluminium backbone that runs to the tip of the forend. For feeding, it utilizes the ubiquitous Accuracy International magazines. For now, the chassis is only available for right-handed rifles.
FN AMERICA
Newly available to US law enforcement and military, the SCAR SC is a select-fire 5.56 x 45mm subcompact carbine with non-reciprocating charging handle and telescoping buttstock. Sporting a 7.5-inch barrel, the overall length can be collapsed to 21.1 inches. In addition to the PDW type stock, other options available through FN Herstal for international customers include a helmet version meant to accommodate face shields as well as a standard SCAR stock. FN representative indicated there are no current plans for a commercial semi-auto version or additional stock options for the US market at this time.

On the commercial side, FN is offering an AR pistol version of their popular FN15 chambered in 5.56 x 45mm and 300 Blackout, with a brace available as an accessory for a one-stop-shop. The company is also offering California- and Maryland-compliant versions of the FN15. Lastly, there is a limited run of dual tone FDE & Black for pistols, FN15 Tactical II and M249S.
QUANTICO TACTICAL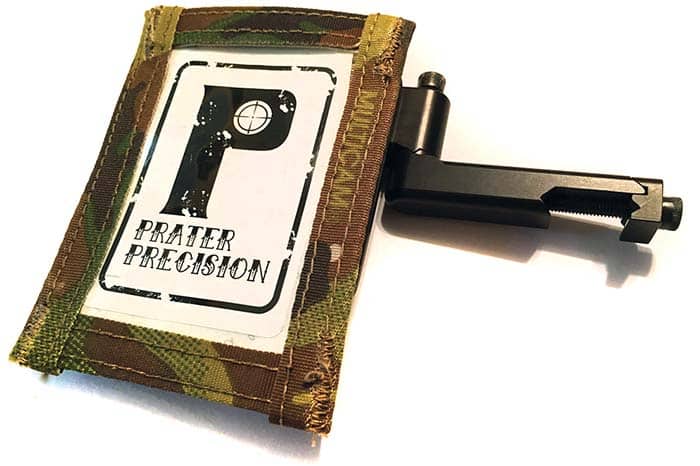 The newly available Hunter Data Board builds on the Sniper Data Board (already in operational use) with the addition of a bubble level in the mounting arm. Attaching to the top Picatinny rail of a rifle, it reduces rifle cant and folds out to provide quick Data on Previous Engagement (DOPE) reference while maintaining cheek weld. The company representative described this product as "by snipers, for snipers;" inspiration stemmed from a target escaping while the sniper changed body position to reference his sleeve mounted DOPE card. With the Hunter/Sniper Data Board, the card is inserted into a water resistant holder which velcros to a 6061 Aluminium assembly. This US-made product provides a ready reference while increasing awareness. The Sniper Data Board can be retrofitted with the Hunter arm. The Hunter/Sniper Data Board will be available soon through Quantico Tactical's extensive GSA Schedule.
GORILLA AMMO
The company offers ammunition with a polymer body and metallic case head to achieve 30% weight reduction in 5.56 x 45mm, 7.62 x 51mm and other popular calibers. The company representative related the enhanced accuracy and reduced chamber temperature. As the polymer case does not transfer as much heat to the chamber walls, the heat is expelled with the gases instead.
BERETTA
Beretta acquired Victrix Armaments and is now offering the 50BMG Corvus as a new addition to their precision rifle line. The rifles are made in-house in Italy with barrels sourced from Benchmark in the US and coated with PVD so as to not require oil. Although the rifles are fixed caliber (e.g., no swap kits to go from 7.62 x 51mm to 6.5 Creedmore), the Victrix line-up covers a variety of calibers such as short-action 7.62 x 51mm, long-action 338 Lapua Magnum, 408 Cheytac and the venerable 50BMG.
MEOPTA
The storied Czech optics manufacturer debuted a new line of tactical red dot and magnified sights. MeoRED T Mini has a more square shaped lens while the T2 Mini has a tube body similar to the Aimpoint T2. The T2 offers three reticles: single dot, two dots for hold-over and a circle-dot reticle. Scheduled for release in May, the MeoRED T is a tube type, full-size, red dot sight utilizing a AA battery for a minimum 2000hr run time at medium brightness. All red dot sights can be paired with the new MeoMag 3x Magnifier for versatility.
The MeoACE 3 x 20mm scope features an etched Ballistic Drop Compensating reticle culminating in a AA-illuminated chevron. The right half of the stadia is calibrated for 5.56 x 45mm and 180gr 7.62 x 51mm, while the left half is calibrated for 7.62 x 39mm.
KNIGHT'S ARMAMENT COMPANY
Two new QDC suppressors are offered: CS and PRS with the former designed for carbines and the latter for precision rifles. Both are designed to reduce back pressure and are expected to ship in the second quarter. A company representative remarked upon their effects in reducing group sizes.
Of interest to "clone" builders, KAC will offer "The Vault" line this year where a rotating selection of legacy accessories is reissued. Four free float RAS AR-15 handguards are slated for 2018: Carbine, Too Long, Mid-Length and MRE. One run is scheduled for the end of first quarter with another in the third quarter. Additionally, KAC is also reissuing the XM9 snap-on wipe based suppressor.
This article first appeared in Small Arms Review V22N5 (May 2018)