By Retired Major Walter Christian Håland
?eská zbrojovka Shows Off Their Latest & Greatest in Las Vegas
CZ in the U.S.
2018 is a year of anniversaries at CZ-USA; 20 years ago ?eská zbrojovka a.s. Uherský Brod (CZUB) established a foothold in Kansas City, setting up CZ-USA to handle importation and everything else that's involved in getting CZs to U.S. shores. In the beginning they were selling very European guns to a very American audience; outside of a few niche groups, they were relatively unknown. As CZ-USA grew, the company filled their ranks with employees who shoot and hunt as a way of life, and over the years the company has been able to evolve their line to better meet the tastes and shooting styles of U.S. consumers. The combination of Czech craftsmanship and American firearms culture has resulted in products CZ-USA is proud of. CZ products are imported exclusively by CZ-USA, a wholly-owned subsidiary of the parent company, ?eská zbrojovka a.s. Uherský Brod of the Czech Republic. In 1997, CZUB recognized the need to control its own destiny in a market as big as the U.S. Initially based in Oakhurst, California, the CZ-USA headquarters and warehouse facility was moved to Kansas City in January 1998. All distribution, warranty work and repair work is located in the Kansas City location, as is their well-stocked parts department.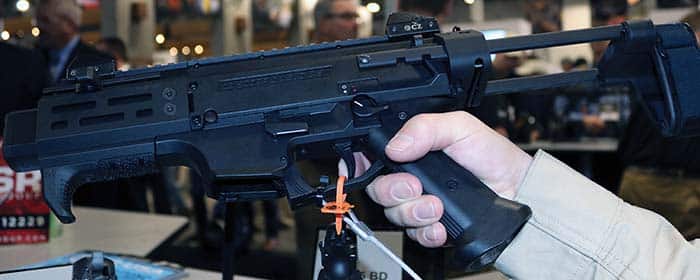 CZ-USA at SHOT Show 2018, Las Vegas, Jan. 23–26
It was so crowded by eager persons who wanted to know about ?eská zbrojovka's guns at CZ-USA's booth, that this author hardly could get an opportunity to talk to an employee of CZ-USA. Back at SHOT Show 2017, CZ-USA presented their new striker-fired pistol CZ P-10 C. At SHOT Show 2018, CZ had added two new variants to the P-10 C line of polymer framed pistols. Joining the Urban Grey series of pistols, one new variant wears a mix of flat dark earth and light gray colors. It also has suppressor-ready barrel threaded 1/2×28, and an extended base pad that boost capacity to 17+1. The other variant is the CZ P-10 FDE White Nitride 9mm pistol. The white nitride used on this slide offers the same hardy surface protection as the standard black nitride. Now available with an OD green frame and a set of metal night sights, the new CZ P-09 full-size and compact variants carry all the features that make P-09/P-07 pistols desirable. For those wanting a braced pistol package out of the box, CZ-USA has added the SB Tactical folding arm brace to the Scorpion pistol. This pistol is ideal for those who already own a 9mm suppressor because most 9mm cans fit on the inside.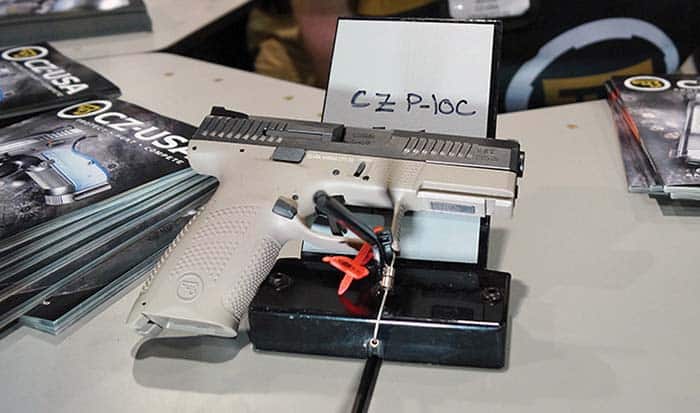 CZ S2 TI REFLEX
With increasing use of Scorpions by Law Enforcement, ?eská zbrojovka made a suppressed variant to meet the demands of some of the special units the company works with. Not only that, a suppressor was needed that could maximize the available real estate of the Scorpion package while keeping the overall length as short as possible. The resulting gun is the Scorpion EVO III S2 Micro in a pistol form. That's something one cannot find in the market place, and it required ?eská zbrojovka to make it themselves. Teaming up with the airflow specialists at Aerocharger, they were able to achieve the suppression of large calibers but in a much more compact package. Comparing it directly to a standard Scorpion with one of the most popular micro 9mm cans on the market, the combination of the Scorpion Micro and the S2 Reflex are nearly 3 inches shorter, while further dampening by almost 10 dB. A fully welded titanium can, the S2 Ti Reflex is designed to fit under an HB Industries handguard. Allowing it to have a 2-inch reflex blast chamber and giving it the volume of much larger cans while only protruding from the muzzle 5.83 inches (14.8cm). This full titanium can weighs in at just 9.6 ounces (0.27kg) and spits out 147-grain defensive loads less than 130 dB. Also showcased were the Scorpion EVO 3 S1 Carbine and the CZ Bren 2.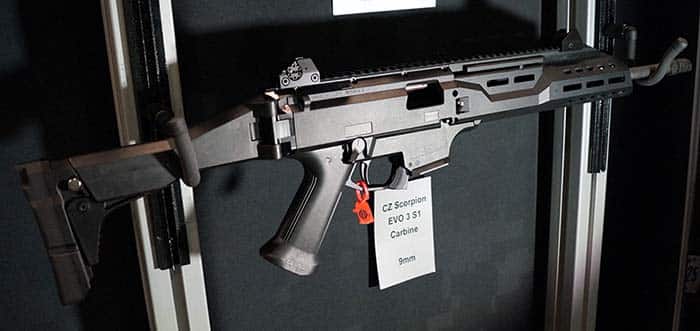 CZ Scorpion EVO 3 S1 Carbine
The Scorpion Carbine is a whole new gun. Building on the submachine gun platform that first hit the U.S. civilian market in pistol form in 2016, the Carbine has a 16.5-inch barrel fitted with either a compensating muzzle brake or a faux suppressor built specifically for CZ-USA by SilencerCo. Fit with the factory's adjustable stock, the carbine features a number of U.S.-made parts to make it fully 922(r) compliant. One of the nicest features of the weapon is the carbine-length forend, which is covered in M-LOK attachment points to keep the profile slim while still being big enough to swallow most pistol-caliber suppressors if one decides to convert it to an SBR for use with a suppressor.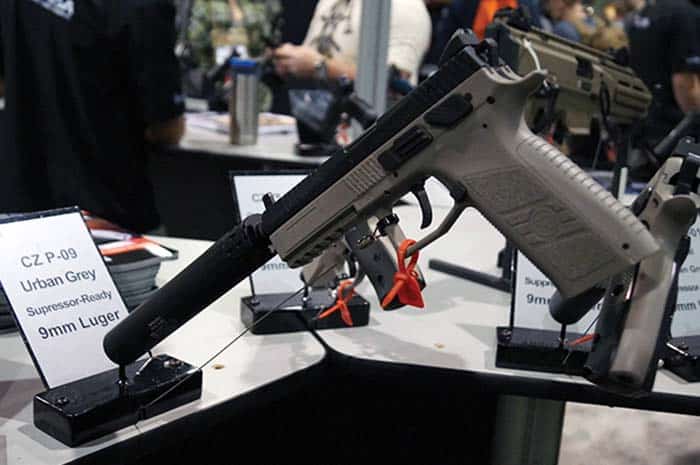 CZ Bren 2
The Bren 2 was built to a specific set of predetermined requirements, over a period of two years of input and data from use in the worldwide war on terror, and CZ put it all together in a smaller and lighter Bren platform. A shorter gas system allows for barrel lengths down to 8 inches, while giving settings for normal use or in adverse conditions. Compared to the CZ 805 Bren A1, the aluminum receiver is shorter and thinner, shaving weight from the rifle. Modular and built to fit between chambering and barrel, the Bren 2 is available in three barrel lengths in .223/5.56X45mm and one in 7.62x39mm. Gone is the reciprocating charging handle; in its place is one that remains forward while the action cycles but can be used to charge the rifle via a ratcheting mechanism that allows it to be used as a forward assist if needed. All controls are ambidextrous, including a bolt release located inside the trigger guard. For those who are familiar with the M16/AR-15 platform, a paddle-style bolt catch/release is located on the left side of the weapon. The Bren 2 is select-fire, currently only available for military/LE special order.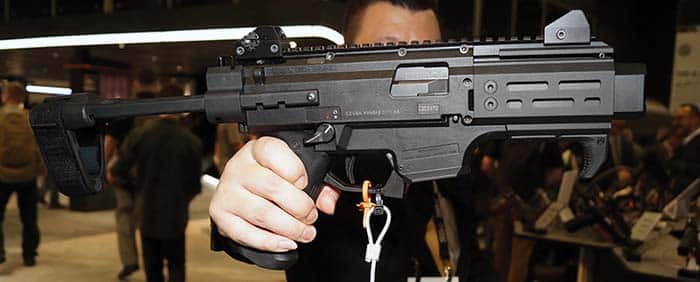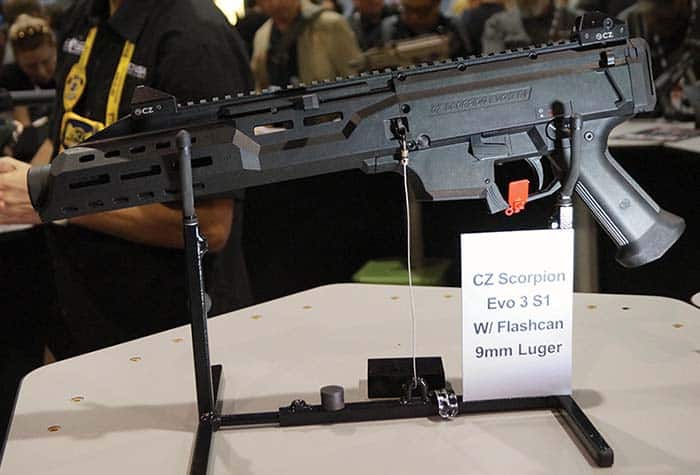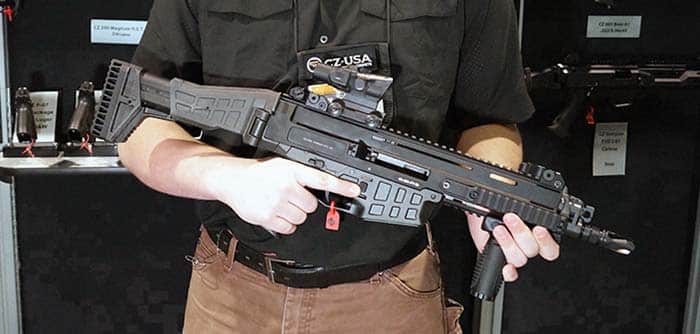 This article first appeared in Small Arms Review V22N6 (June 2018)