By Todd Burgreen
The plethora of 1911 manufacturers currently in the marketplace would boggle the mind of John Browning himself. The shapes and sizes the 1911 has morphed into would surely impress Mr. Browning. One specific style I would be curious of old John's opinion of is the polymer/steel hybrid frame double-stack 9mm variants. The arrival of this form can be marked in the late 1980s; and really taking off in the 1990s. Over time, these competition-based weapons morphed into more serious tactical and personal defense offerings.
Mention of 1911 chambered in 9mm will cause many purists a side-eye. However, the quest for the 1911-style 9mm handgun is not a new phenomenon. After World War II it was recognized that a smaller frame 1911 versus the issued "Government Model" would aid in ease of carry for officers. A U.S. procurement solicitation issued requirements for a handgun chambered in 9mm (yes—9mm) not to exceed a 7-inch length or weigh more than 25 ounces. Candidates for this trial included Browning Hi-Power variants by Canada's Inglis, Belgium's Fabrique Nationale, Smith & Wesson's S&W Model 39 and Colt. Colt developed a modified version of its M1911 pistol that was chambered for 9mm with an aluminum alloy frame, a 4.25-inch barrel, and a 9-round magazine. The Colt offering eventually spawned into the company's "Commander" and "Officer" model 1911s.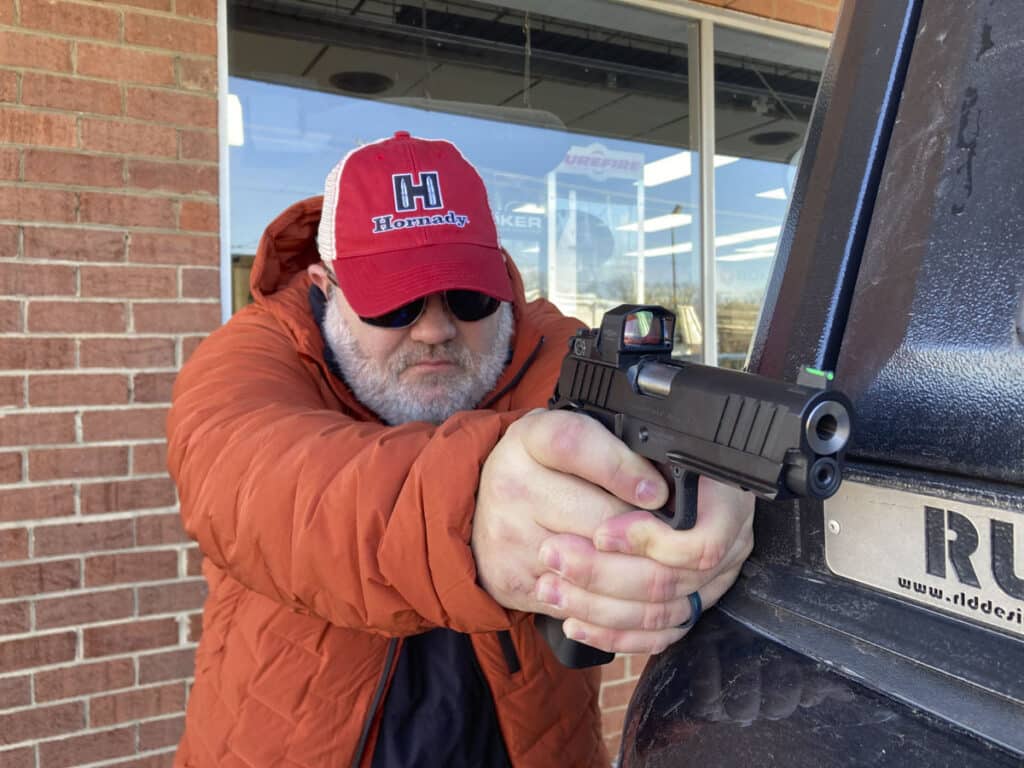 Springfield Armory Joins the Double-Stack Club
Springfield Armory enjoys a solid reputation in the all-metal single-stack 1911 world. Their entry into the double-stack hybrid frame arena with 9mm 1911 DS Prodigy AOS surprised many. It shouldn't. The last several years have shown Springfield Armory expanding into ARs, bolt actions, bullpups, classic Hi-Power variant etc. Each category has Springfield Armory providing a feature packed model. The saying "a lot of gun for the money" rings true here.
The 1911 DS Prodigy AOS serves notice with its features, price point, and performance. Certain entities in Texas and Arkansas immediately took note when the DS Prodigy was announced. Two Springfield models are available in the Prodigy line up—5-inch and 4.25-inch barrels with a factory mounted Hex Dragonfly red dot sight as an option.
One definition of prodigy is, "An amazing or unusual thing, especially one out of the ordinary course of nature." Not only is the DS Prodigy AOS a good representation of the hybrid frame genre, but the pistol's price is hundreds of dollars less than competitors.
Springfield stays away from any reference to a "2011 frame," likely due to trademark or patent reasons. Since 1994 "2011" has been associated with another well-known manufacturer. With that said, the 1911 DS Prodigy's frame is a modular two-piece design consisting of a forged steel sub-frame and polymer grip. The steel frame contains the rails that the slide runs on, fire control group, ambidextrous thumb safeties, grip safety, slide stop, and railed dust cover.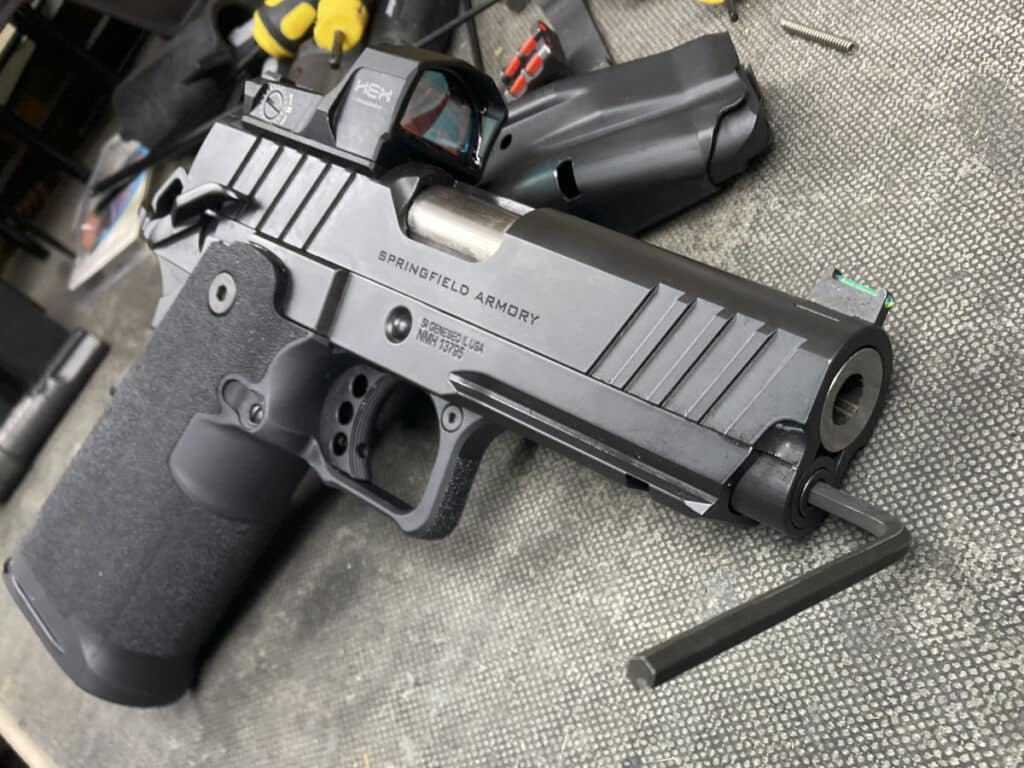 The DS Prodigy polymer grip is contoured to maintain 1911 characteristics while accommodating high-capacity double-stack magazines. The same grip texture used on the Springfield Hellcat Pro is found on the DS Prodigy. Use of polymer in the grip construction minimizes the material thickness required. The DS Prodigy grip circumference is not that much bigger than a single-stack, steel-framed 1911.
It is the high-capacity nature of the Prodigy that attracts so many. Springfield uses U.S.-made DuraMags with steel bodies and polymer followers and base pads. The standard magazine holds 17 rounds with 20- and 26-round mags available. For many, even for 1911 lovers, the consideration of handguns chambered in 9mm becomes more feasible as capacity increases. The Prodigy ships with one 17 and one 20-rounder. The 17-round mag sits flush, with only the small base pad extending below the frame. With the 20-round mag in place, the extended base pad extends almost an inch below the bottom of the frame. The 26-round magazine extends a little over 2-inches inches below the grip. Nothing like carrying most of a box of 9mm ammunition in one magazine.
A match grade 4.25-inch stainless bull barrel is fitted inside Prodigy's carbon steel slide. The Prodigy uses a full-length two-piece guide rod system The steel slide features angled front and rear slide serrations. All external metal components have a black Cerakote finish. The full-length dust cover provides a resting place for lights/lasers. It also serves to reduce muzzle flip, especially if sending multiple rounds downrange quickly. Overall weight of the DS Prodigy 4.25-inch is 32.5 ounces.
My hands are average size yet have no issue working the trigger or other DS Prodigy controls. Trigger break measured 4.5 to 4.75 pounds. The grip size/angle combined with single action trigger help make 1911s the most accurate handgun in most arsenals. It is accurate and conducive to precise shot placement. No one can argue that there is a more instinctive handling weapon than the 1911-pattern handgun.
Raison D'Etre
The Springfield Armory DS Prodigy 4.25 9mm represents portability, capacity, reliability, controllability, and lethality. These are poster child traits for a duty, tactical, personal defense handgun. The commander-length slide with 4.25-inch barrel provides the optimum mix of sight radius, concealment, weapon balance, and reliability in a 1911 pattern handgun. With that said, sight radius for our purposes is not that important. The DS Prodigy arrived with a Hex Dragonfly red dot factory mounted. Typical of Springfield Armory, their path to red dot usage was well studied and meticulously applied.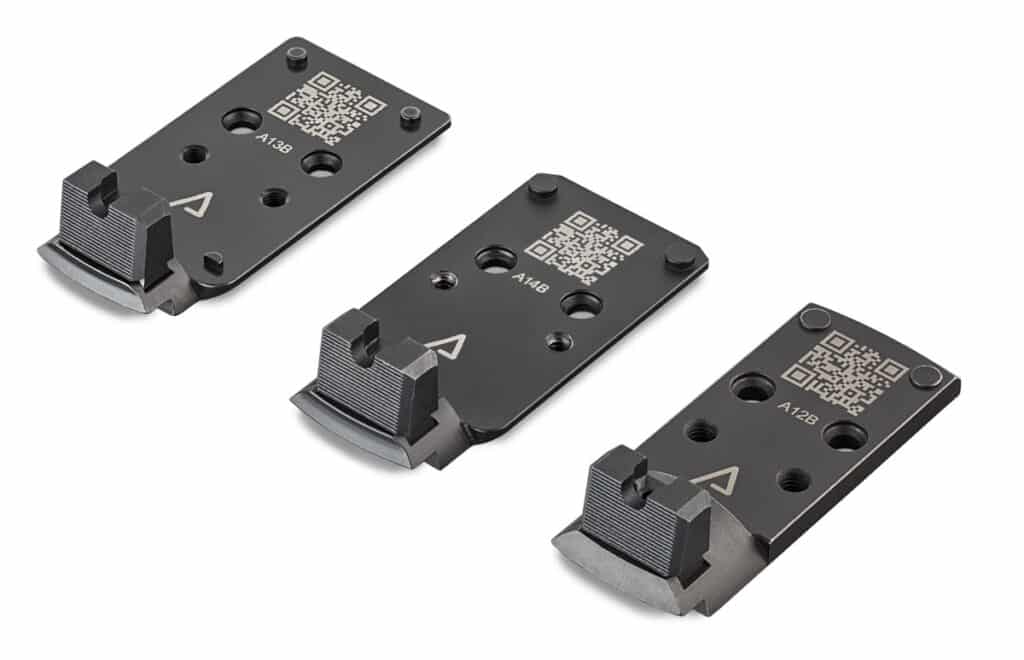 Developed in collaboration with Agency Arms, the AOS (Agency Optic System) are red dot mounting plates designed exclusively for the 1911 DS Prodigy line up. Machined from billet steel, each plate is designed specifically to deliver proper optic height for intuitive sight picture and instant target acquisition and features an integral rear sight. For a tactical/personal defense weapon the ability to co-witness iron sights with red dot is a must.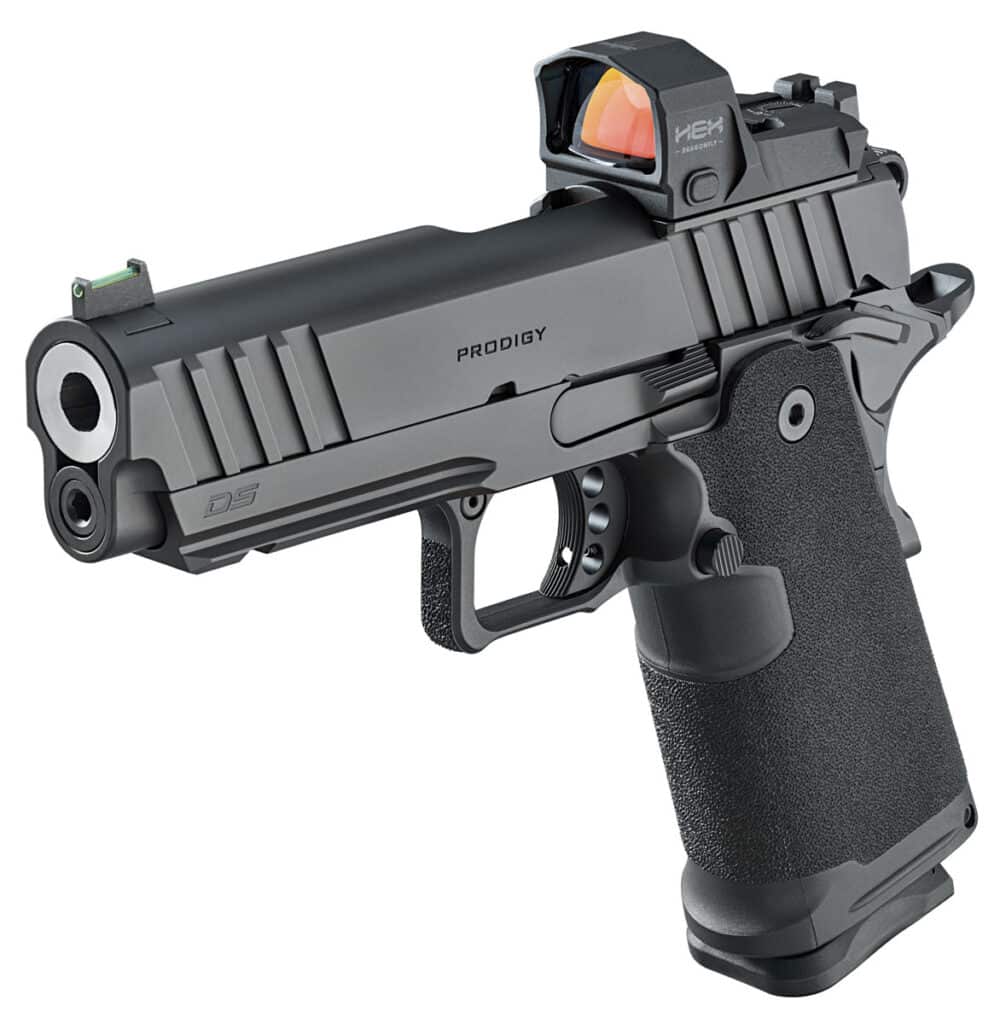 Users of the DS Prodigy equipped with the Hex Dragonfly find that they no longer have to switch focus from target to sights, invariably eliminating the "front sight focus" so difficult maintain when using iron sights, especially under stress. Handgunners with a red dot-equipped weapon can now do as nature intends for them to do—focus on the threat/target. The red dot will be there for aiming purposes. Moreover, because the indexing of a red dot is far easier than aligning two separate protruding pieces of steel, shooters can make accurate shots beyond what was considered possible with iron sights.
Supporting Staff
One of the unspoken benefits of choosing a 1911/2011 for use is the plethora of available holsters. Versacarry Compound and Decree OWB holsters with a Versacarry Double Stitch gun belt were used with the Springfield DS Prodigy.
Versacarry continues to innovate beyond its initial ZeroBulk offering from ten years ago. Versacarry's new hybrid Compound series takes their known use of premium water buffalo leather and combines it with Kydex by infusing it between leather layers. This offers better support and retention for your handgun. The holster is built with a recessed area in the Kydex to keep the front sight from snagging when the firearm is drawn. The draw tension is adjustable to give owners the flexibility to adjust the holster to their firearm for customized retention.
Versacarry's line up is admirable in how many handgun models their holsters accommodate. This is because Versacarry holster sizing is based off of trigger guard and frame size, rather than specific features of one given pistol model. Since most handguns share a lot of the same design similarities, Versacarry can fit hundreds of different handguns into three main holster sizes using this method.
The Compound and Decree holsters were mated to a Versacarry Double Stich gun belt. The importance of a quality gun belt is overlooked at the user's peril. You do not want gear hanging loosely or flopping around on your waist. Versacarry uses double ply water buffalo leather that has been vegetable tanned. Heavy duty, industrial-grade, bonded nylon thread is used for double stitching. The nickel belt buckle is removable.
The Versacarry Decree and Compound holsters kept the DS Prodigy tight to the body and at the proper cant, facilitating a proper draw stroke. Weight was distributed well between the Versacarry holster and belt.
5.11 Tactical is a company not only helping equip our military, law enforcement, and private security contractors, but has not forgotten civilians either. The LV6 Waist Pack 2.0—do not call it a "fanny pack"—has been updated with quick release buckle waist strap that facilitates being worn around the waist or slung across the body like the cool people do. Interior pockets accommodate various items you see fit to carry along with a hidden slip compartment for a compact handgun such as the Springfield Armory DS Prodigy. The LV6 can also be attached to the larger 511 Tactical LV18 Backpack 2.0, if desired.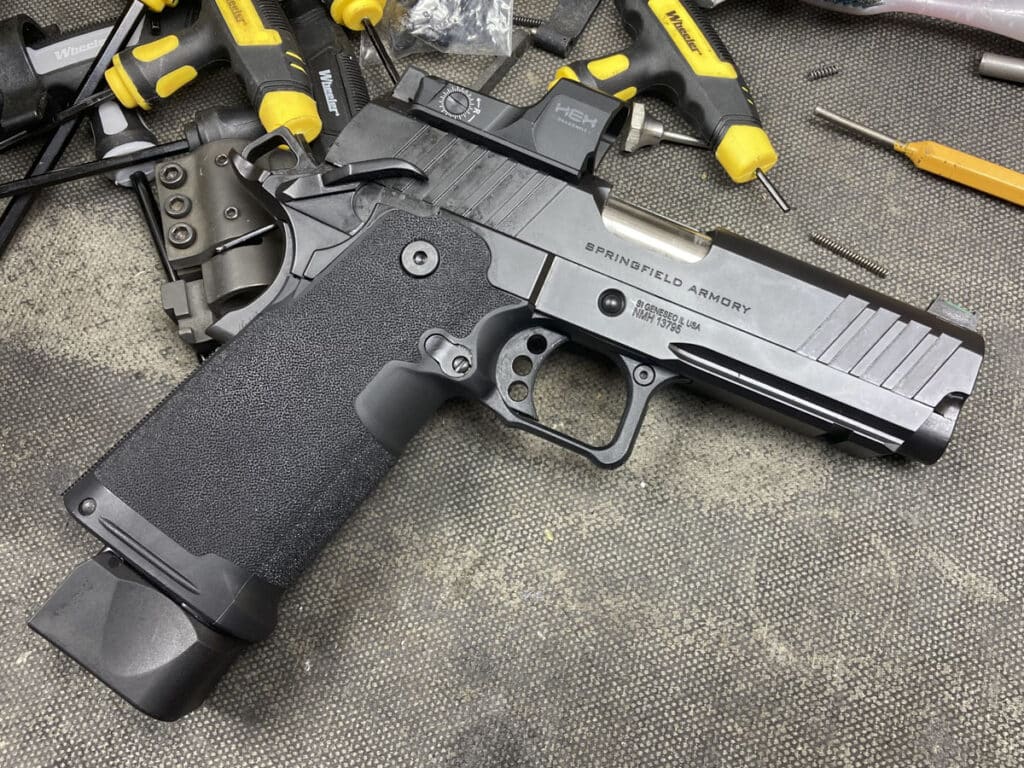 The LV18 Backpack has an ambidextrous side entry CCW compartment with increased hook/loop area for holster retention strap for keeping a handgun discretely close by. The padded laptop sleeve has been expanded in size, as well. A second set of webbing loops offer an attachment point for the LV6 Waist Pack 2.0 when extra cargo space is needed, as mentioned previously. Additional features include side compression straps, a padded back panel with a flex cuff channel, and quick-release shoulder straps with a removable sternum strap. Let's face it, the world is only becoming a more dangerous place, not only overseas but also here in the US. 5.11 Tactical is here to assist in keeping you safe.
Range Time
Range testing purposely included Versacarry holsters and 511 Tactical packs to determine if DS Prodigy was worthy of being considered for daily carry duties. The Versacarry holsters featured a generous open cut top to use with the co-witness sights and Hex Dragonfly red dot topped slide.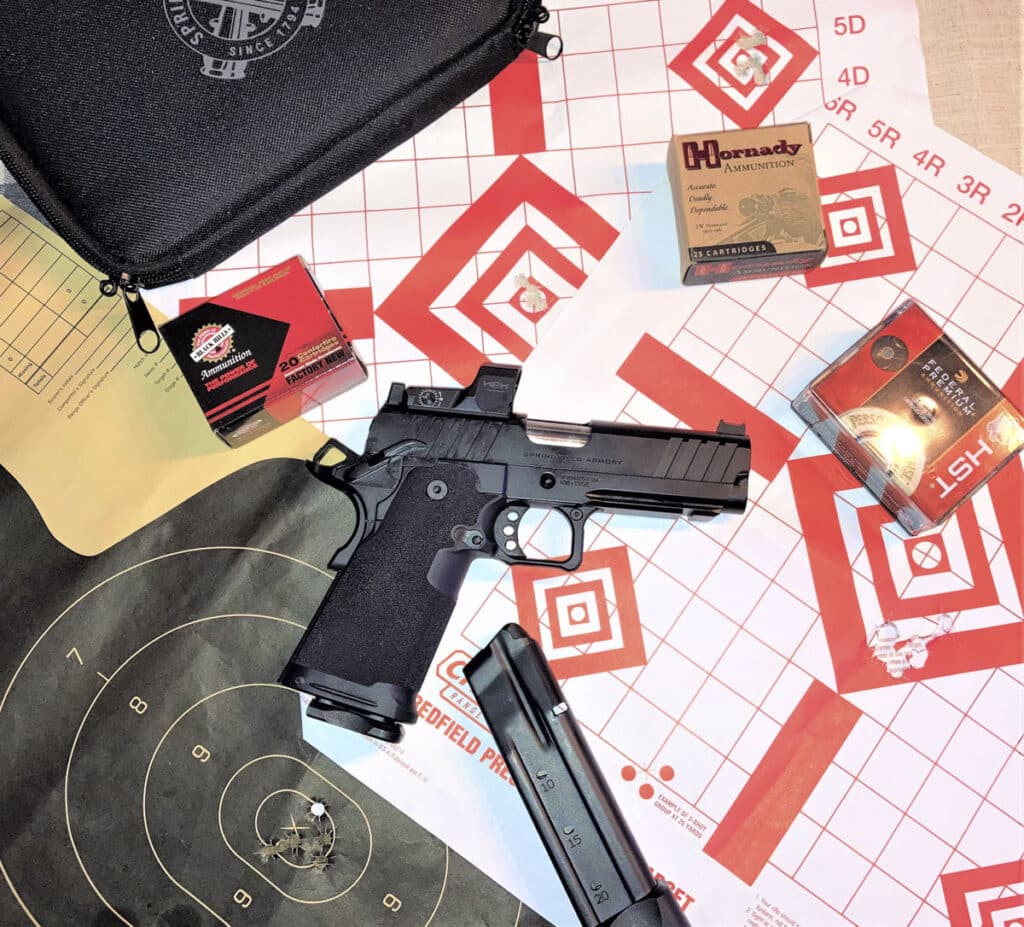 Drills consisted of drawing from concealment to see if the red dot was easy to obtain when operating in haste. Various scenarios engaging targets from behind cover or on the move were also utilized. Magazine change drills were done for the dual purpose of getting a feel of manipulating DS Prodigy with Hex Dragonfly installed and making sure the red dot was seamlessly picked up after reloading and the pistol is brought back on target.
The Springfield DS Prodigy has great potential in terms of accuracy, speed, and extending effective engagement distances. The sight radius of the DS Prodigy 4.25 is not an issue with the Hex Dragonfly mounted—in fact it is irrelevant, thanks to the red dot.
In terms of ammunition, the DS Prodigy handled all brands, bullet types, and weights with equal aplomb. Black Hills Ammunition, Remington, Federal, and Hornady were used. Loads fired spanned 115-grain to 147-grain with hollow points and FMJ bullet types utilized. The DS Prodigy 4.25 generated 1.5- to 2-inch groups at 25 yards. No malfunctions were experienced while test firing over 350 rounds during multiple range visits. The overall balance of the 32-ounce DS Prodigy made recoil negligible.
PERFORMANCE
Springfield Armory DS Prodigy 4.25
| | | |
| --- | --- | --- |
| LOAD | VELOCITY AVG. | ACCURACY@25yds |
| Federal 124gr HST | 1139 fps | 1.75 in |
| Hornady 147gr XTP | 981 fps | 2.25 in |
| Black Hills 115gr FMJ | 1194 fps | 2 in |
| Remington 115gr FMJ | 1117 fps | 2.33 in |
Accuracy test consisted of three five-shot groups with each ammunition type; group sizes were averaged. Velocity figures obtained by averaging five rounds fired over Caldwell Precision Shooting chronograph.
Final Thoughts
What sets the DS Prodigy apart is the amount of product development and field trials it received from Springfield Armory. For example, a key element of the DS Prodigy is the Agency Arms' AOS method of mounting red dots allowing for co-witnessing with the handgun's iron sights. Anything electronic can fail, no matter how rugged; it's important to have back up sights ready. Another advantage of retaining elevated irons around the red dot is that it provides instant verification of zero. If the red dot has been knocked off, the iron sights are there for instant back up.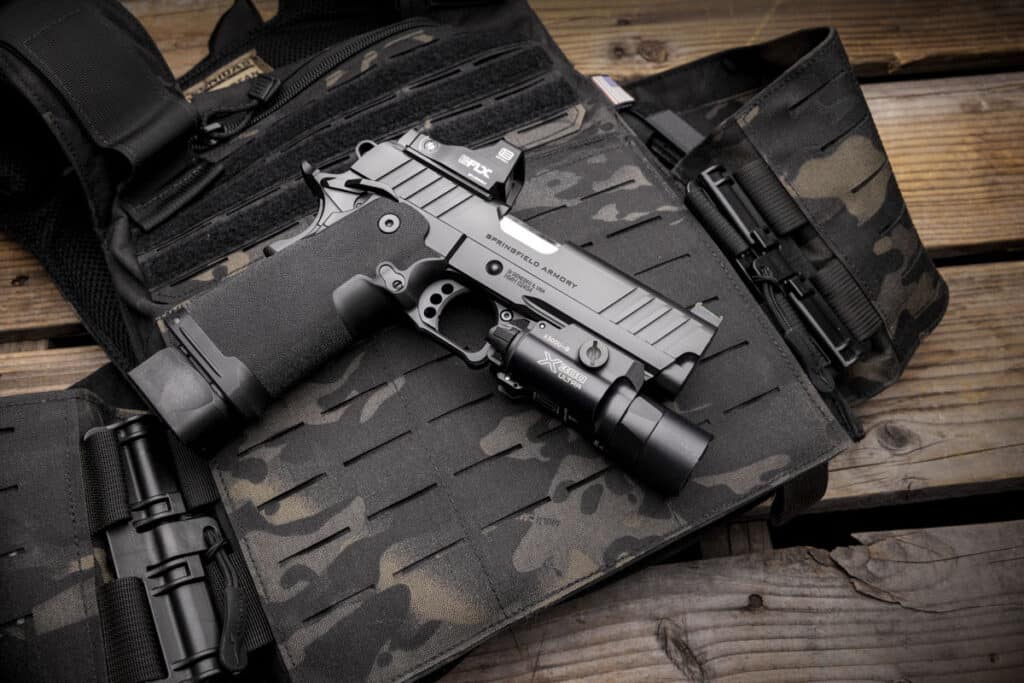 The key point with the Springfield DS Prodigy is that it is eminently adaptable. Everyone from homeowners, law enforcement officers, to elite tactical team members will find the DS Prodigy a handgun worthy of consideration. The DS Prodigy arrives ready to go right out of the box. The DS Prodigy is a potent package due to its accuracy, reliability, and capacity.
SPECIFICATIONS
Make: Springfield Armory
Model: 1911 DS Prodigy 4.25″ AOS w/Hex Dragonfly
Caliber: 9mm
Magazine Capacity: 17-round and 20-round magazines arrive with pistol
Barrel Length: 4.25in
Overall Length: 7.8in
Height: 5.5in
Width: 1.15in
Weight Empty: 32.5oz
MSRP: $1699
URL: www.springfield-armory.com