During a recent visit to the Springfield Armory National Historic Site Museum in Springfield, Massachusetts, Small Arms Review was granted access to the area of the museum where weapons not on display are stored. Only 16-percent of the museum's collection is currently on exhibit.
One might wonder why some of the more unique, one-off firearms are not on display. I have asked this question of several museum curators over the years, and the answer is always the same. The average military museum visitor is interested in seeing a rifle or handgun that was issued to them, their father or grandfather. Most are not interested in one-of-a-kind prototypes.
High Standard T48 7.62mm FN FAL Rifle Serial Number HS-1

One of the rarest FN FAL rifles was manufactured by the High Standard Corporation, Hamden, Connecticut in 1954. The Belgian FN FAL rifle, as originally manufactured in Europe, was produced using the metric system of measurement. Canada, Great Britain and the United States all used the Imperial system of inches. Any rifle produced in these countries would need to adhere to their standard of measurement. One of the obstacles encountered with the Belgian rifle was that all the factory drawings were done using the metric system.
The Springfield Armory was busy with the T44E4 rifles and numerous other projects and decided to turn the task over to a commercial entity. Bids were taken for the project, and the contract was eventually awarded to the High Standard Corporation. As part of the agreement, High Standard was to manufacture at least 12 functional FN FAL T48 rifles from their final drawings. Harrington and Richardson received a contract and manufactured 510 inch-pattern T48 rifles for testing and evaluation.

Inland M1 Carbine Serial Number 1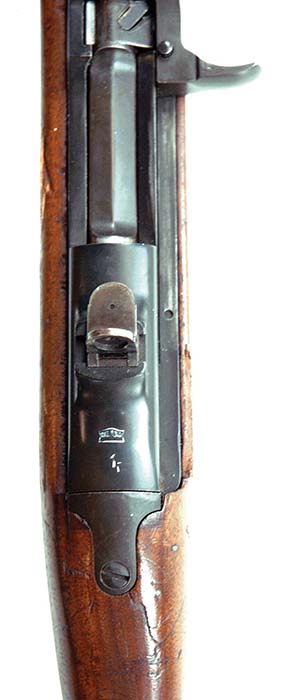 The M1 carbine was manufactured during World War II, issued to primarily arm personnel who were not engaged in front-line infantry fighting. The carbine used a new 7.62x33mm cartridge with a 110-grain bullet at a muzzle velocity at approximately 1,970 feet per second. The carbine was designed to supply a more effective weapon to those who would normally be issued a handgun. The M1 carbine was manufactured by a large number of contractors. One of those contractors was the Inland Division of General Motors. In the museum's holdings is the first production M1 carbine made by Inland, serial number 1, with two unusual characteristics: a "web" forward of the trigger guard and a corrugated curved butt plate. The first five tool room models of the Inland carbine were made by R.F. Sedley, Inc., Philadelphia, PA.
T29 .30 Caliber Grease Gun Serial Number X38

The experimental T29 submachine gun was developed by the Guide Lamp Division of General Motors during the fall of 1944. The T29 is a straight blowback M3A1 "Grease Gun" chambered for the .30 carbine cartridge. The barrel is 14 inches in length; the overall length is 28.8 inches. Development was terminated with the introduction of the select-fire M2 carbine.
Savage Submachine Gun .45ACP Serial Number X-1

The experimental Savage submachine gun, caliber .45, was manufactured by Savage Arms, Utica, New York. Equipped with a folding spike bayonet, magazine and sling, this submachine gun shares many features with the production Reising M50 submachine gun and feeds from a 20-round Reising magazine. The weapon was designed in the 1940s by Eugene Reising for Savage Arms.
High Standard Submachine Gun .45 ACP Serial Number 7

The High-Standard Submachine Gun Caliber .45 was designed by Carl G. Swebilius of High Standard with the patents assigned to the corporation. The .45 caliber prototypes were made by High Standard; production UD42 9mm models were manufactured by Marlin for the United Defense Supply Corporation. Reportedly only seven weapons in caliber .45 ACP were made for submission to various testing boards.
Submachine Gun Thompson M1A1 .45 ACP Serial Number 1244194

Manufactured by Savage for the Auto-Ordnance Corporation, Bridgeport, Connecticut, this is a presentation M1A1 Thompson submachine gun with a polished blue finish. The serial number represents the total number of Thompson submachine guns; 1928, M1 and M1A1 models made by Savage. The weapon was donated to the Springfield Armory NHS by Savage Arms, Westfield, Massachusetts on October 17, 1978.
Swedish-K, 9mm Caseless Ammunition Serial Number 356615

A submachine gun that was introduced to the Navy SEALs at Fort Bragg and remained in their inventory through the Vietnam War, was the Swedish Model 45, also known as the m/45 or Swedish-K.
A Swedish-K submachine gun, serial number 356615, was converted by the U.S. Smith & Wesson Corporation to electrically fire caseless 9mm ammunition. The m/45 was followed by several S&W Model 76 submachine guns that were designed for caseless ammunition before the program was terminated.
Smith & Wesson Model 76, Caseless Ammunition Serial Number X219

Model 76 serial number X219 was one of several Model 76 submachine guns converted to fire caseless ammunition. The ammunition was fired electrically. Power was supplied by a 30-volt dry cell battery located in a compartment forward of the trigger guard. The magazine release lever was redesigned to clear the battery box. Note the on-off safety switch on the pistol grip (barrel is missing from the weapon).
U.S. Rifle, M1 Caliber .30 Serial Number 1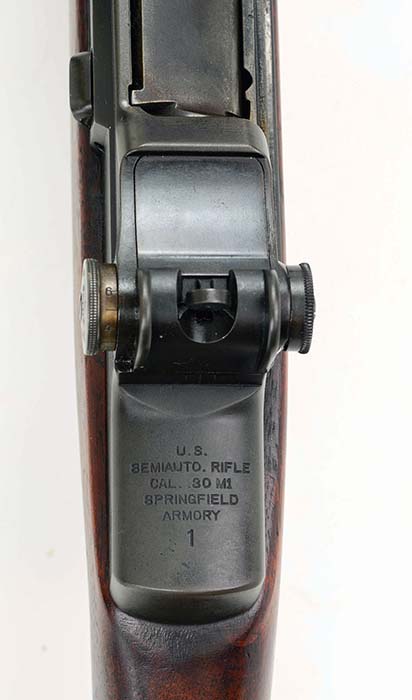 Manufactured by Springfield Armory, Springfield, Massachusetts in May 1934, this is the first model shop semi-automatic, gas-operated (gas-trap) M1 Garand rifle with 8-round clip feed mechanism. Manufactured by semi-production, tool room methods in the Model Shop at Springfield Armory under direct supervision of John Garand. The cost to the government for the 80-model shop M1 rifles was $1,831.00 in 1934, or $32,268.51 in 2018 dollars.
U.S. Rifle, M1 Caliber .30 Serial Number 81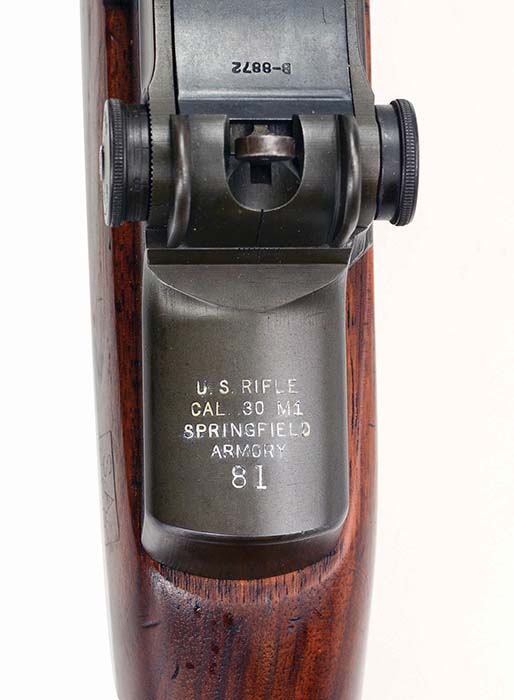 This M1 was manufactured by Springfield Armory, Springfield, Massachusetts in 1937. It is the first series production model M1 gas-operated, semi-automatic rifle with 8-round clip feed mechanism. Parkerized finish with many small parts blued. This is the first production line M1 manufactured in 1937 at a cost of $214.54. Serial numbers 1 to 80 were tool room models.

U.S. Rifle, T20 Caliber .30 Serial Number 1

The T20 was manufactured at Springfield Armory, Springfield, Massachusetts in October 1944. Experimental gas-operated, select-fire rifle, essentially a modified M1 adapted to a 20-round detachable BAR box magazine. The receiver was made .3125-inch longer than a production M1 to solve a problem feeding from the BAR magazine. The weapon was designed to fire from open bolt in the full-auto mode; closed bolt in semi-auto mode. The open bolt feature did not adequately solve cook-off problems.
Muzzle velocity was 2750 feet per second and cyclic rate of fire 500rpm. Weapon has an overall length of 44.5 inches, a barrel length of 24 inches and weighs approximately 10 pounds without accessories. Development of the T20 model was terminated in January 1945 with recommendations that minor changes and strengthening of various components be made. A rifle incorporating these minor design changes was designated as the T20E1.
Remington T22E2 .30 Serial Number 1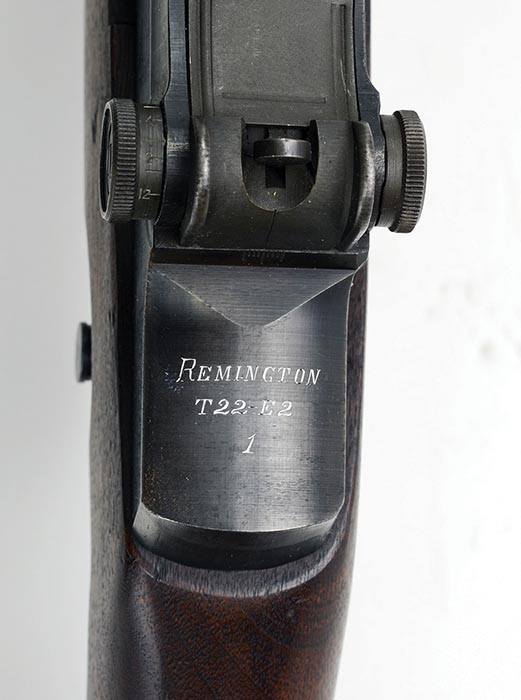 Concurrent with Garand's work on the T20 rifle, a competitive contract was awarded to Remington Arms Company to develop an improved M1 rifle. Remington's prototypes were designed around a standard length M1 receiver. Like the T20, the T22 used a BAR-style 20-round magazine. Manufactured and developed by Remington Arms, Ilion, New York. The T22E2 was essentially an M1 converted to select fire and modified for a detachable box magazine.
Belt-Fed German Fallschirmjagergewehr, FG42

After World War II ended, the idea to develop a new U.S. general purpose, light machine gun was renewed. A captured World War II German weapon, a late model FG42, was examined and adopted as a base design. The FG42 (Fallschirmjagergewehr, or Paratroopers Rifle) was a limited production, shoulder-fired, rifle caliber weapon intended solely for the German paratroop forces, produced from stampings and welding.
The mechanical solution for the conversion was engineered by the Bridge Tool & Die Works, Philadelphia, Pennsylvania, in 1946. The resulting weapon is a conversion of the Type 2 FG42 German paratrooper rifle with the belt feeding mechanism of the Maschinengewehr 42, a German, belt-fed general purpose machine gun, fabricated from sheet metal stampings. The Bridge Tool & Die conversion weapon is a gas-operated, blowback type combination—air-cooled; bipod supported; with forward handgrip and rear shoulder stock. The receiver cover is marked WaA 147.

T33 Clarke Arms Rifle Serial Number 8

The Clarke Arms Company of Boston entered their T33 series rifles in the U.S. Ordnance Department's lightweight rifle competition. The T33 rifle development program was begun in March 1949. The weapon was a lightweight, selective full- and semi-automatic rifle. The purpose of the lightweight rifle program was to replace the M1 rifle. This project was suspended in late 1950, because the weapon lacked sufficient ruggedness and demonstrated poor performance under adverse conditions. The Clarke Arms Company dissolved on December 22, 1954.

T44 Rifle Serial Number 1
The first 7.62mm T44 rifles were built on .30 caliber T20 receivers. Spacers were used in the receiver to adapt the T20 receiver for the shorter 7.62mm cartridges. A new short receiver, specifically designed for the 7.62mm round, was introduced on the T44E4 model.

First Production M14 Rifle Serial Number 2000
The first U.S. M14 rifle off the series production line at the Springfield Armory in 1957 was serial number 2000. The presentation grade rifle was finished in a high polish blue with a fine black walnut wood stock.
M14E2/A1 Rifle Prototype, Springfield Armory M14 Serial Number 6488

The M14 rifle as issued, was very difficult to fire accurately in full-automatic. As a result, many were issued with selector locks, limiting their operation to semi-automatic-only. In attempt to design an M14 that could effectively use its full-auto feature, the USAIB/M14 was conceived at Fort Benning, Georgia, by Captain Durward D. Gosney. The Springfield Armory M14 Serial Number 6488 was fitted with an in-line pistol grip stock, wooden foregrip, muzzle stabilizer and commercial rubber recoil pad. In this configuration, the M14 demonstrated that the automatic fire accuracy requirements could be consistently achieved.
Due to size limitations, only a small portion of the unique firearms stored at the Springfield Armory Museum are featured in this article, as are the brief descriptions. Watch future issues of Small Arms Review for more in-depth articles and photos on many of these weapons.
Special thanks to Curator Alex MacKenzie and the entire museum staff.
For more information about the museum:
Springfield Armory National Historic Site
One Armory Square, Suite 2
Springfield, MA 01105-1299
Phone: 413-271-3976 Website: nps.gov/spar
This article first appeared in Small Arms Review V23N1 (January 2019)