By Tom Murphy

The ZVI Falcon is a bullpup bolt action anti-materiel rifle firing either the .50 BMG (OP96), or the 12.7x108mm Russian machine gun round (OP99). Its action is fashioned after the Mauser locked breech system. The barrel has a very effective muzzle brake and, combined with a spring loaded recoil pad, secures the high felt recoil shock absorption. The Falcon consists of two detachable parts; the weapon casing with a sight and a barrel with a bipod. The Falcon can be taken down by removing the barrel via a quick release barrel operating on the interrupted thread method of attachment. The take down enables rapid disassembly and assembly without any tools.

The rifle holds only two rounds, which limits its usefulness as a repeater, as reloading is slow. It can be converted to a single-shot weapon by the installation of a protective cover. At one time a bayonet attachment was envisioned but it never materialized.

The Meopta ZD 10×50 riflescope is well suited for military sniper work. The elevation control is set up as a bullet drop compensator. The horizontal reticle has a chevron in the center and ranging/drift corrections out to the sides.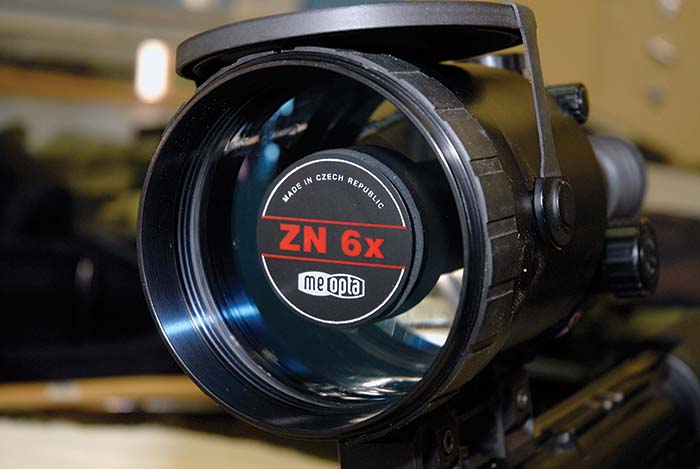 The passive night scope, Meopta ZN 6x, has a 1,000 meter effective range. The red reticle, powered by two AA batteries, has variable brightness adjustments. Battery life is said to be greater than 50 hours. The scope's robust construction makes it a perfect match for large caliber, high-recoiling anti-materiel rifles. The rifle does come equipped with iron sights, but obviously for use only in extreme emergency situations.

Transport is facilitated with a standard carrying case; or a backpack is available for airborne operations.

Like most Eastern bloc weapons, not much is known about the Falcon. Accuracy and efficiency depends entirely on the quality of ammunition as is typical in similar types of anti-materiel weapons. The Falcon is being successfully used by Czech Armed Forced and has proven its reliability under extreme conditions on missions in Afghanistan.

Manufacturer: ZVI, Czech Republic
Caliber: .50 BMG (OP96)/12.7×108 mm (OP99)
Service date: unknown
Weight: OP 96 – 13.4 kg; OP 99 – 12.9 kg
Length: OP 96 – 1,380 mm; OP 96 – 1,260 mm
Barrel length: OP 96- 927 mm; OP 99 – 839 mm
Action: Bolt, rotary with double-lock.
Single shot or two round detachable magazine
Effective range: 1,600 meters at day; 1,000 meters at night
Optics: Day – Meopta ZD 10×50;
Night – Meopta ZN 6x
Stock: Synthetic
Penetration: 25 mm armor at 100 meters
Bipod: Standard equipment
Muzzle Brake: Standard equipment
This article first appeared in Small Arms Review V18N5 (October 2014)