By Chris A. Choat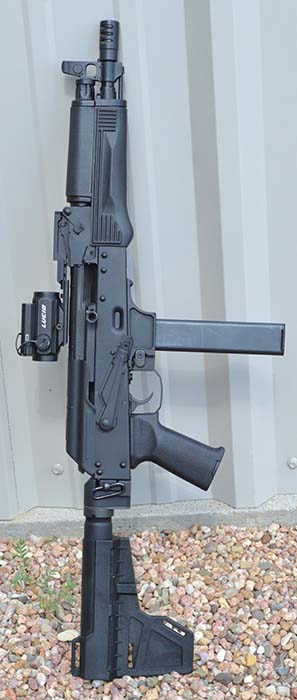 When one thinks of the AK-47 rifle you automatically think of the 7.62 X 39 round that it fires. Some people classify any firearm with that prolific profile as an AK-47 regardless of caliber whether it's 7.62 X 39, 5.45 X 39 or even 5.56x45mm. But when you see an AK-47 type gun with a 9mm magazine protruding from the mag well it causes everyone to take notice. This author had known that there was a 9mm version of the famous, or infamous as one might say, AK-47 for years. YouTube has quite a few videos of home builders making 9mm versions of the rifle with varying degrees of success. There actually have been several factory versions of 9mm AK's produced over the years. These included the Bizon and Vityaz PP-19 submachine guns both made by Ishmash as well as the Molot Vepr 9mm. Ishmash is now also producing their Saiga AK 9mm carbine. This gun was specifically designed for sale to the US market but it doesn't look like that will be happening now. The Bizon uses a 64-round drum magazine. It is a helical feed style magazine much like Calico uses in the Liberty line of pistols, rifles and submachine guns. The magazine is mounted underneath the barrel and also acts as a forearm. It comes with either a side or top folding stock but is only available with a short barrel. The Ishmash Vityaz has a more conventional look and uses polymer stick magazines. It has a side-folding stock and comes equipped with the standard Russian left side mounted, quick attach scope mount. As none of these weapons can now be imported into the US regardless of their configuration, if you want a copy of these elusive weapons you are now left with only two choices. You can build your own or do what this author thinks is the best and purchase one of the new AKX 9mm guns from Atlantic Firearms, that is being built by Definitive Arms.
The new AKX-9 is a collaboration between Atlantic Firearms LLC () and Definitive Arms LLC ( Definitive Arms is one of several premiere AK builders in the US. They are known for their high quality builds and prior to the AKX-9 they pioneered magazine well conversions for the Russian VEPR and Saiga series of rifles in both .223 and .308. They don't build mass produced guns but rather hand build each gun one at a time. This makes for a more expensive AK but it is a gun that will be the best functioning and best looking by far. They stand behind every gun they sell and if there is a problem they will correct it. Needless to say, they have few, if any, "do overs".
The AKX-9 comes in four different models. There is a classic rifle version with laminated wood forearm, buttstock and wooden pistol grip. There are also two other rifle variations. Both have black synthetic forearms and MagPul MOE pistol grips with one model featuring a fixed black synthetic non-folding stock and the other a side-folding metal triangular stock. The fourth model is the AKX-9 pistol which naturally has no stock. All models feature a 1 in 10 twist barrel which is just slightly over 11 inches in length. On the rifle versions the barrel has a permanently attached barrel extension which brings them to legal length. The barrels on the AKX-9 are actually set back into the receiver so that only 8.5 inches of barrel sticks out of the front of the receiver. This gives the guns the impression of having a shorter barrel than they actually have. This also gives the guns increased accuracy and velocity. All of the barrels are threaded ½ x 28 with the pistol version featuring a removable muzzle brake. This muzzle brake appears to be an exact copy of the one used on the Ishmash Vityaz PP-19 submachine gun. While on the subject of the gun's barrel, it should be noted that all of the AKX barrels have a full auto tapered chamber. This distorts or swells the empty brass slightly more than a straight wall chamber. It also improves the reliability of the guns with any ammunition used. The author ran some of the fired brass through a reloader sizing die to see if this caused problems reloading. The empty brass was sized easily with no problems at all. All models have a side-mounted optic rail and are finished in KG GunKote for a nice even dull black finish.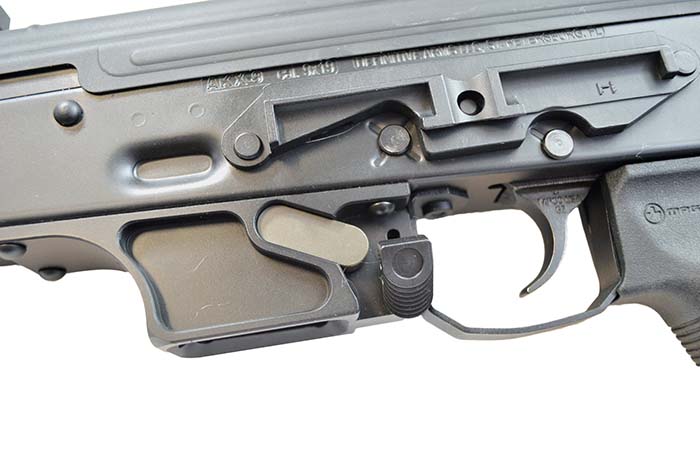 Other features of the AKX-9 include a last round bolt hold open, a left hand side bolt release and a right hand side AR-15 type push button magazine release all fitted into the machined magazine well. This mag well is also flared for rapid magazine changes. The gun uses Colt style 9mm stick magazines which are both inexpensive and plentiful. The magazines drop free even when empty when the mag release is pushed.
The gun that this author requested for this article was the AKX-9 pistol. I was interested in this model because it looked like the original Russian PP-19 Vityaz submachine gun sans the stock, of course. While the gun looked like the Russian subgun, internally it is very different. The AKX-9 was designed from the ground up to be a 9mm gun. It is not an AK-47 or AK-74 chopped up and converted to 9mm. All major components of these guns are blueprint designed and US made. They are not cobbled together using surplus parts. A note of interest here though is that the AKX-9 series of firearms are built on AK-74 receivers. In fact the receivers are so marked on the bottom, in front of the magazine well.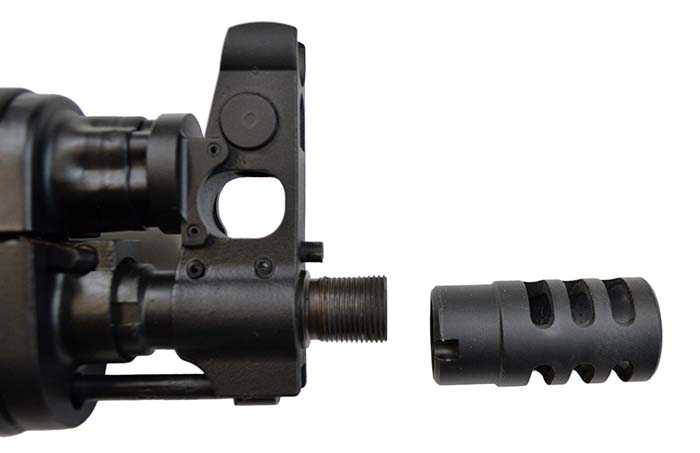 The pistol version of the gun comes with its rear trunion notched, drilled and tapped to accept any of the Pignose Ace style stock adapters. This makes turning this gun into a registered SBR a piece of cake. It also allows for the addition of a pistol stabilizing arm brace should the user not want the hassle or expense of turning it into an NFA weapon. Wanting to make the gun look more like its subgun cousin I chose to install a Shockwave™ Blade™ pistol stabilizer (www.shockwavetechnologies.com). This stabilizer is made from high-strength glass reinforced polymer and comes in either black or flat dark earth. It weighs just 5 ounces and will fit all AR pattern pistol buffer tubes. Best of all it is veteran designed, marketed and sold right here in the good old USA. It also has three sling mounting loops. The Blade was installed using an ACE Folding Stock Mechanism. This device has a threaded socket that accepts an AR-15 buffer tube.
For a buffer tube I used the KAK Shockwave model built by KAK Industry LLC ( This buffer tube was specially designed for the Blade stabilizer. The buffer tube has 12 divots milled into the underside of it. These divots accept a pointed hex head screw built into the bottom of the Blade to lock it into position. In fact it will lock it into any of 12 positions giving the user the adjustability of a collapsible stock. While by ATF rules you are not allowed to shoulder a pistol equipped with stabilizing brace, with this setup you can tailor it to fit into the crook of your arm at the elbow to lock it into position. It also gives the gun the look of having a stock but has been ATF approved as a pistol arm stabilizer. With these parts installed the arm brace can be folded to the left side of the weapon, when not in use, to make for a very compact gun.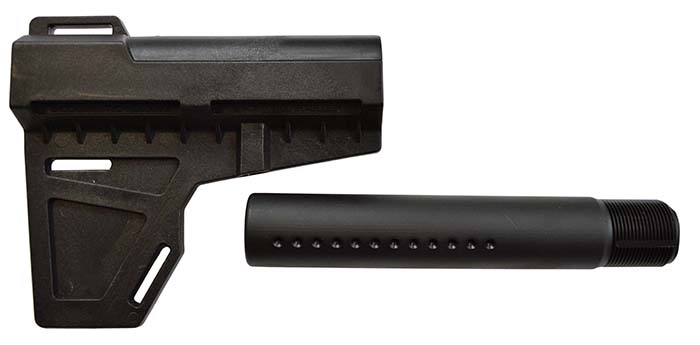 The AKX-9 comes with standard AK front and rear sights. The rear is a common AK rifle sight adjustable out to 1000 yards which is quite a bit farther than the distance a 9mm pistol round is effective to. While the stock sights worked very well for the gun and it was as accurate as this type of sights allow, this author wanted a more precise aiming option. First I mounted a Russian side mount scope mount but found that it would not allow the side-folding arm brace to fold all the way against the side of the receiver. Not liking that option I installed a new rear sight rail that has just been released by Strike Industries ( Strike Industries makes accessories for both AR and AK platforms as well pistol and tactical accessories. They are now marketing a new AK Rear Sight Rail (AKRR2) which is an optic mount that replaces the AK's rear sight with an optic mounting rail. This rail comes back over the dust cover to locate the optic down as close to the firearms' bore as possible. The mount also comes with a short section of rail that mounts at a 45 degree angle off to either side of the mount. With this mount you can put a magnified scope on the mounts main rail and a red dot optic on the offset rail for close in targets. The mount in very innovative as it also has a slot cut through its center to act as a rear sight to use with the AK front sight. This gives a rudimentary back-up sight system. It is installed by simply removing the AK rear sight and replacing it with the AKRR2 with one screw. There are then three small hex screws which are installed from the mounts top side to lock it securely to the gun. These screws can also be used to adjust the angle of the base. All hardware is included with the mount. The host gun can still be disassembled with the mount in place.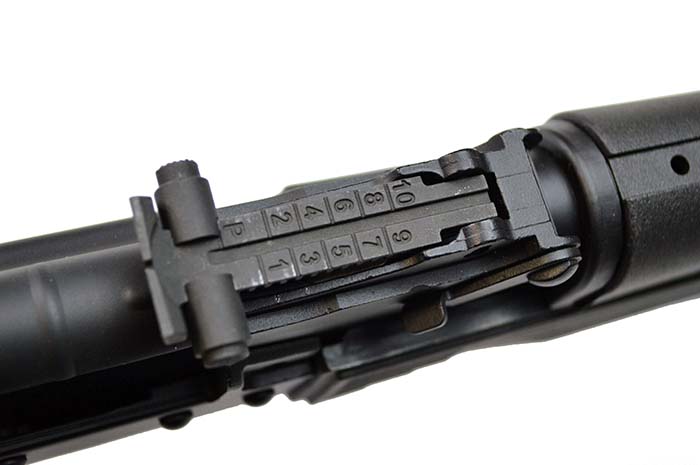 To the mount I added one of Lucid's M7 Micro Dot red dot optics. This small sight is a 1X optic that features a 2 MOA dot inside a 25 MOA circle. This low mount optic has an auto brightness sensor that senses ambient light and automatically adjusts the brightness of the reticle. The reticle can also be manually adjusted to any one of 7 brightness levels. The optic has a built-in rail mount that fit the Striker Industries mount perfectly. The tiny sight is waterproof, fogproof and recoil proof up to .458 Socom caliber. It also has a feature that every red dot optic should have. It automatically shuts down after 2 hours to help conserve battery life. This tiny scope runs on a single AAA battery. Its sight will also work with either of Lucid's magnifiers if you need some magnification for that longer shot. Lucid also offers a Rail Riser so that you can use this sight with an AR-15. It allows the M7 to co-witness lower 1/3 with standard AR-pattern sights. Best of all the M7 retails at just $229.00.
When the author first received the pistol for testing it was shot with the original sights and no arm brace. Accuracy was about what you would expect from this type of gun. It was no tack driver but that was more of the shooter not being able to hold the gun steady enough. Several hundred rounds were put through the gun with no malfunctions. In typical AK fashion the AKX-9 just fired everything that was fed into it. It was not until the Blade arm brace, the Strike optic mount and the Lucid red dot sight were added that the AKX-9 really started to shine in the accuracy department. This 9mm pistol proved to be one of, if not the most accurate pistols this author has tested in a long time.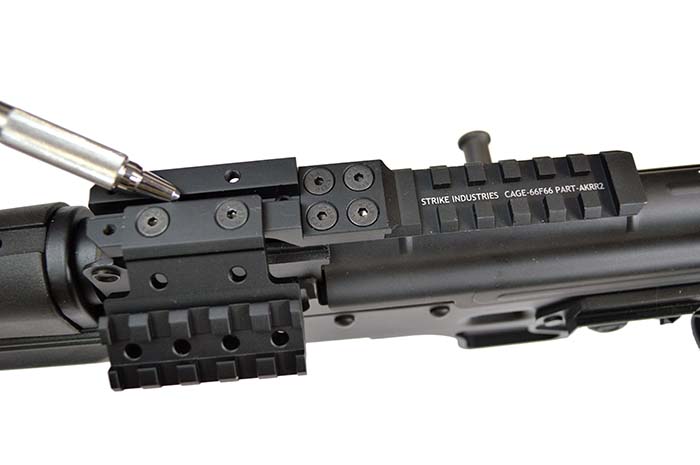 Most of the testing of the pistol was done from between 10 and 50 yards but it was also shot out to 100 yards. While this yardage is longer than your average 9mm pistol is used, the AKX-9 proved that it was capable of very good accuracy even past the 100 yard line. With an 11 inch barrel and a pistol stabilizing arm brace the gun shoots more like a short barreled rifle than a pistol. From a sandbag rest at 50 yards the gun would shoot 10 round groups of right at 1.5 inches regardless of ammunition used. On the subject of ammunition all types were used in the testing. We used 115 grain range grade practice 9mm as well as some of the hottest 9mm +P defense hollow point loads. Every type of ammunition we tried shot very well.
In fact, as this is being written there has been over 750 rounds of ammunition fired through the gun without a single failure to feed, function or eject. This gun functions just like all AKs, it just keeps on shooting no matter what. It's a fun gun to shoot with 32-round magazines being emptied in short order. The gun works with all capacities of Colt type magazines from 10 round up to 50 round stick magazines. It will also work with 9mm drums such as the Beta C-Mag 9mm 100 round drum or the 50-round drum from X-Products.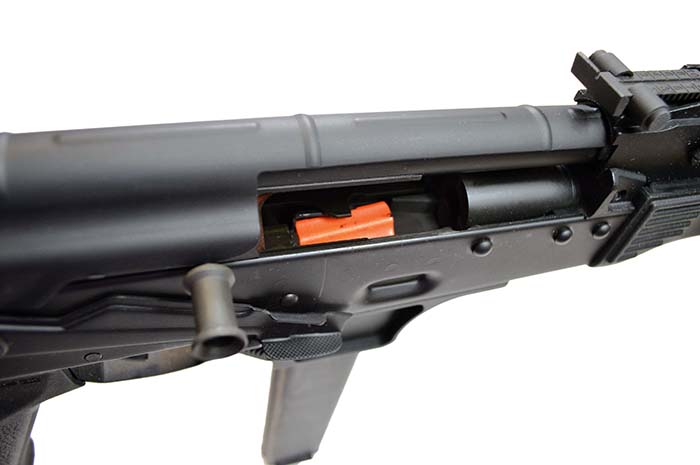 The only issue that we had with the gun was very minor and is now being addressed by the manufacturer. The receivers that are used to make the guns have no detents for the selector lever to lock into. With no detent for the selector after about 30 rounds or so are fired the selector lever will vibrate up on the side of the receiver toward what would be the full-auto position on a select-fire gun. In doing so it would come in contact with the reciprocating bolt handle making the handle in turn contact the gun's dust cover. It didn't cause any malfunctions but did cause the bolt handle to dent the bottom edge of the dust cover. On future models this issue will be resolved by the manufacturer.
So whether you are looking for an AK style 9mm rifle or a copy of the Russian Vityaz submachine gun check out the Atlantic Firearms AKX-9. It is a little more expensive than most AK's but it is highly accurate, built to perfection and never fails to go bang when you pull the trigger.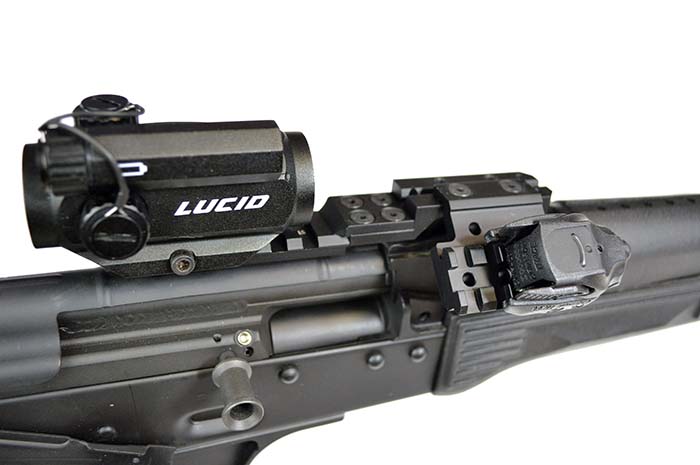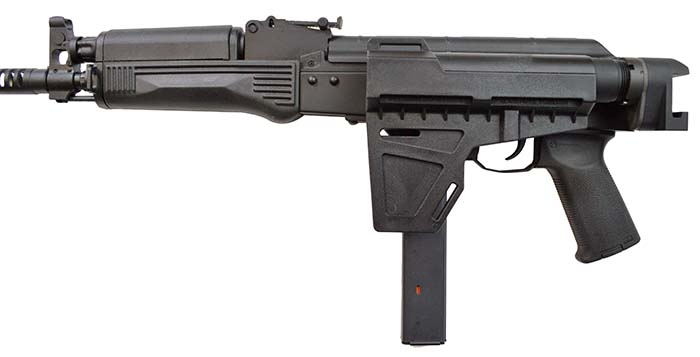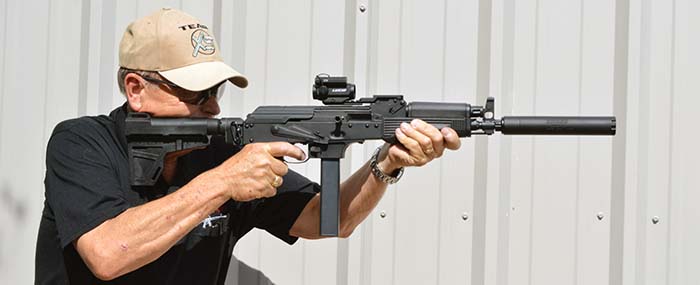 www.atlanticfirearms.com
www.definitivearms.com
www.mylucidgear.com
www.kakindustry.com
Mail to: info@strikeindustries.com
This article first appeared in Small Arms Review V20N5 (June 2016)